Sunday, June 4, 2023
J.A. Roby 2500 Cuisiniere Wood Cookstove - Not EPA Approved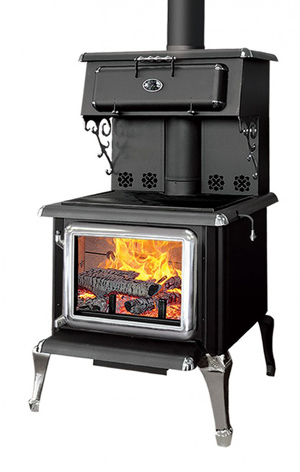 J.A. Roby has done it again with the Roby 2500 Cuisiniere compact and fuel efficient wood fired cookstove! The little sister to the J.A. Roby Cuisiniere SE, the 2500 Cuisiniere is a small, clean burning stove that would fit perfectly in your home or cabin where space is limited. With a heating capacity of up to 2,500 sq feet and a 22 hour optimum burn time, the 2500 Cuisiniere is sure to give you peace of mind and keep the family comfortably warm all night long. Measuring just 26" wide, the J.A. Roby 2500 Cuisiniere wood fired stove packs a punch into a petite, contemporary cookstove and gives you the ability to cook a feast on the cook top or warm leftovers in the convenient warmer.
Note: This stove is NOT EPA approved, and thus cannot be sold into most states. This product can be shipped into Canada only.
Click on the tabs below for useful information, owner's manual, photos, and more!
Description
Specifications
Photos (6)
Pricing
Extended Info
Videos (4)
Add Review
Note: This stove is NOT EPA approved, and thus cannot be sold into most states. This product can be shipped into Canada only.
Features
Cast iron and glass firebox door
Convection and radiant heat
Glass air wash system
Easy access ash drawer
Low clearances to combustibles
Refractory brick lined firebox for better heat distribution
Stainless steel secondary-air system to improve gas combustion
Warming closet
EPA exempt (learn more here)
Washington State Approved (learn more here)
Mobile home approved
Intertek tested and approved
Options
Chromed cast iron legs
Firescreen
Outdoor air intake
Chromed square cast-iron door
Two 150 CFM blower and thermodisc
Clearance to Non-combustibles
Minimum clearance of 12 inches to the rear wall (for a smoke simple pipe with a heat shield) and 18" lateral MINIMUM clearance
In the case with a smoke simple pipe without heat shield, you must installed the cooker stove that the smoke pipe is to 18 inches of all non-combustible material therefore the MINIMUM clearance at the rear of the stove will be 16¼" (41.3cm).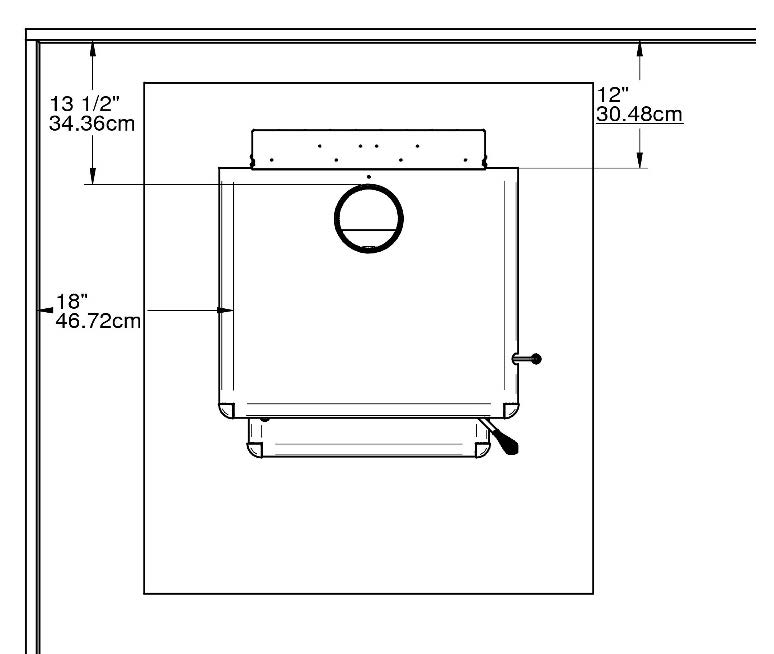 For a 45° corner installation, or other corner installation, the minimum clearance between the cook stove and non-combustible material must be 18".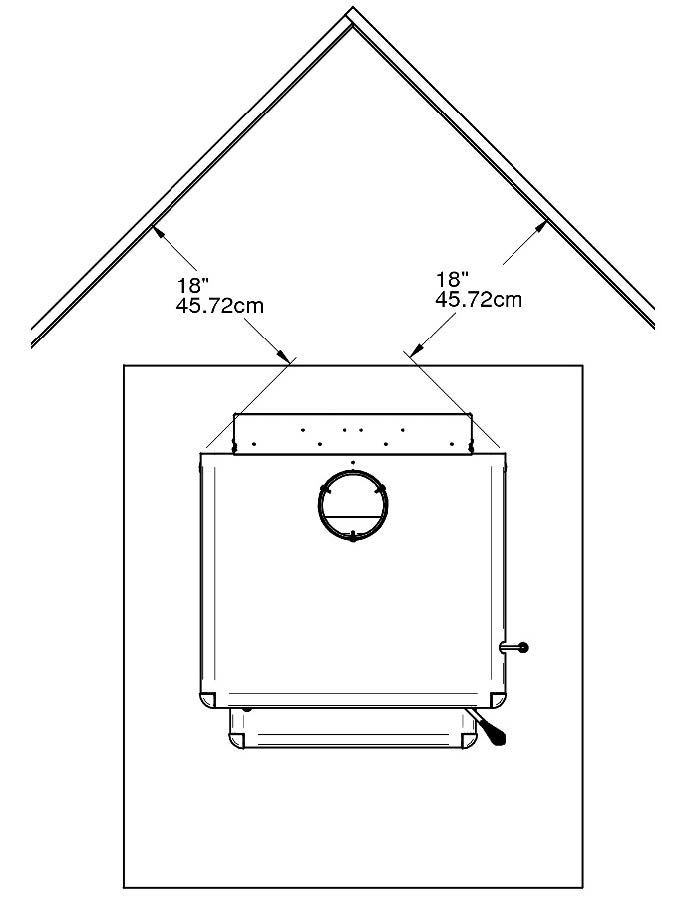 Floor Protection Minimum Clearances
Your stove must be installed on a non-combustible material plate to protect the floor and avoid fire would be caused by:
Projections of sparks when door opening or loading logs
The heat radiation when stove runaway should have an ignition to the floor and the coating.
Flow of creosote when there is a fire chimney
The coating used must be non-combustible and approved according to standard UL1618 for USA or approved to the locals codes (Example: cement, brick, ceramic tiles...)
Floor protection plate minimum dimensions.
The following dimensions are the minimums values and it can be higher.
Canada
41-7/8" (106 cm)
47-5/8" (115.88 cm)
3/8" thickness (1 cm)
Unites States
41-7/8" (106.42 cm)
45-5/8" (115.88 cm)
3/8" thickness (1 cm)
It's necessary to protect the floor behind the horizontal connecting pipe section to the chimney of 2" (5cm) besides connecting pipe and up to the vertical connecting pipe. You can extend the protection plate while respecting the clearances of each side of stove.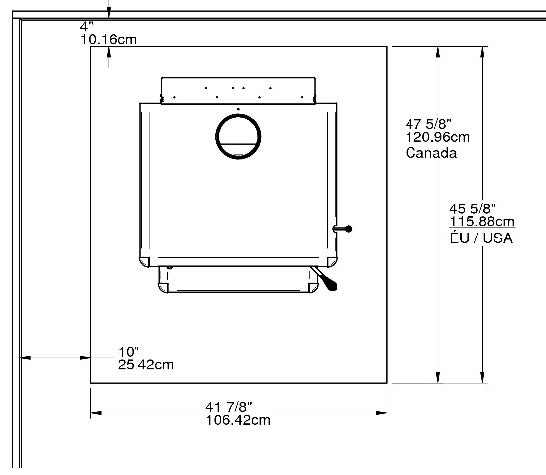 Resources:
| | |
| --- | --- |
| Specifications | J A Roby 2500 Cuisiniere Wood Cookstove |
| Fuel | Wood |
| Model | Legs |
| Overall Dimensions | 27.75″ W x 54″ H x 30.75″ D |
| Exterior Dimensions with Oven | 27.75" W x 54" H x 30.75" D |
| Firebox Dimensions | 19″ W x 12.25″ H x 19.75″ D |
| Weight | 440 lbs |
| Heat Output | Up to 95,000 BTU/hr |
| Heat Capacity | Up to 2,500 sq.ft. |
| Burn time | 6-22 hrs |
| Baffle Material | Fibre Ceramic |
| Maximum Log Length | 19" |
| Flue | 6" |
| Recommended Chimney Height | 12 ft. |
| Emissions | 1.3 gr/hr |
| Efficiency | 88% |
| Emissions Tested | B415.1-10 Certified |
| Safety Tested | ULC STD S627.00 and UL1482-7 |
| LHV | 78.6% |
| Color | Metallic Black |
*This item is mobile home approved, UL / ULC Tested, Washington State approved
J.A. Roby Cuisiniere Cookstove in Black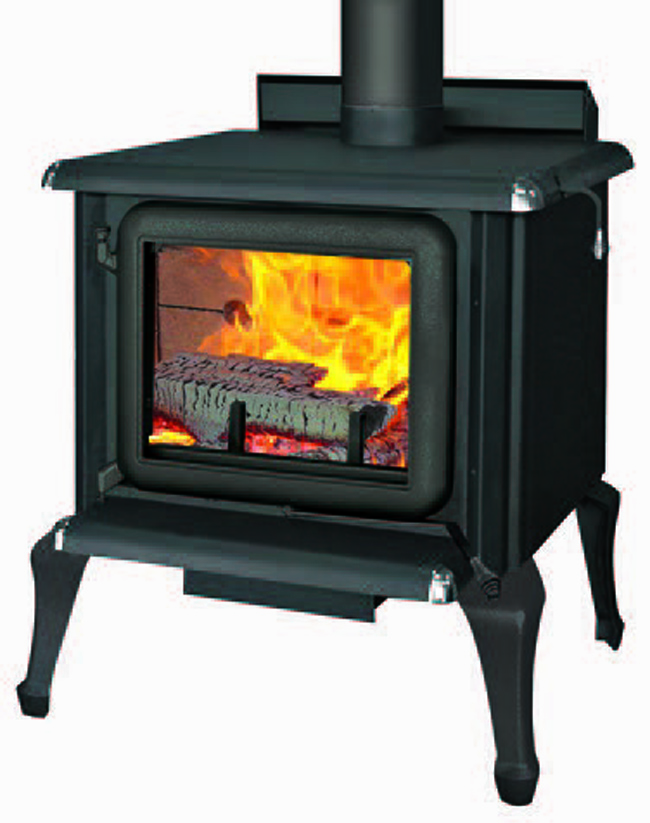 J.A. Roby 2500 Cuisiniere Cookstove Specs

J.A. Roby 2500 Cuisiniere Cookstove, Showroom View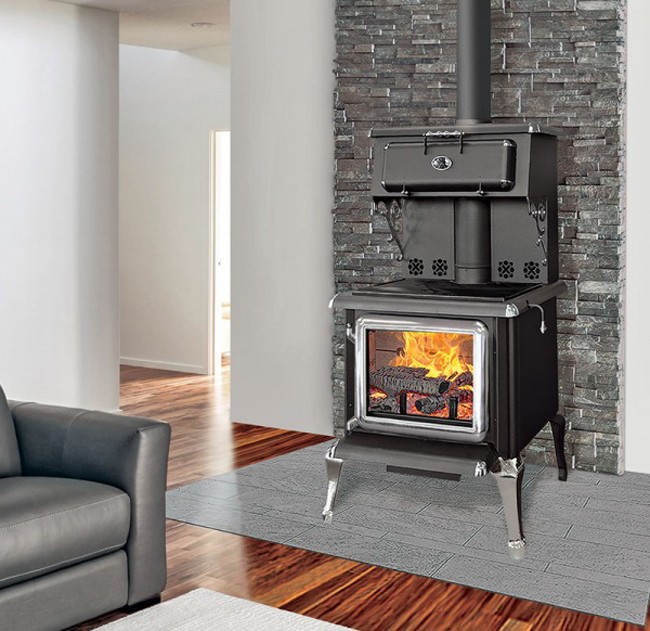 J.A. Roby 2500 Cuisiniere Cookstove, Back view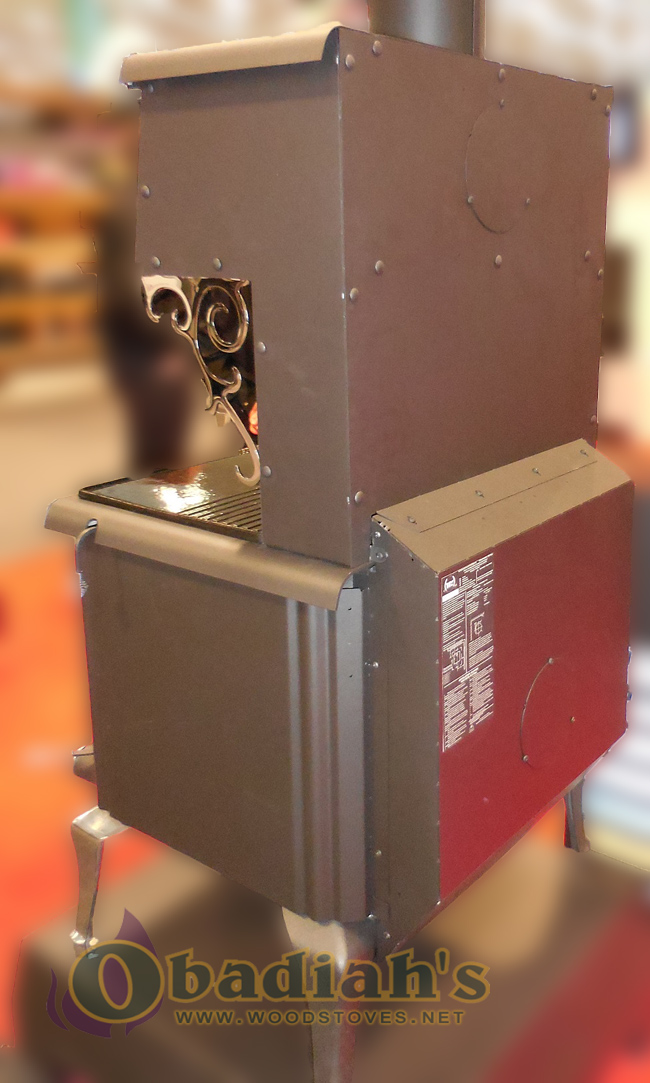 J.A. Roby 2500 Cuisiniere Cookstove, Front View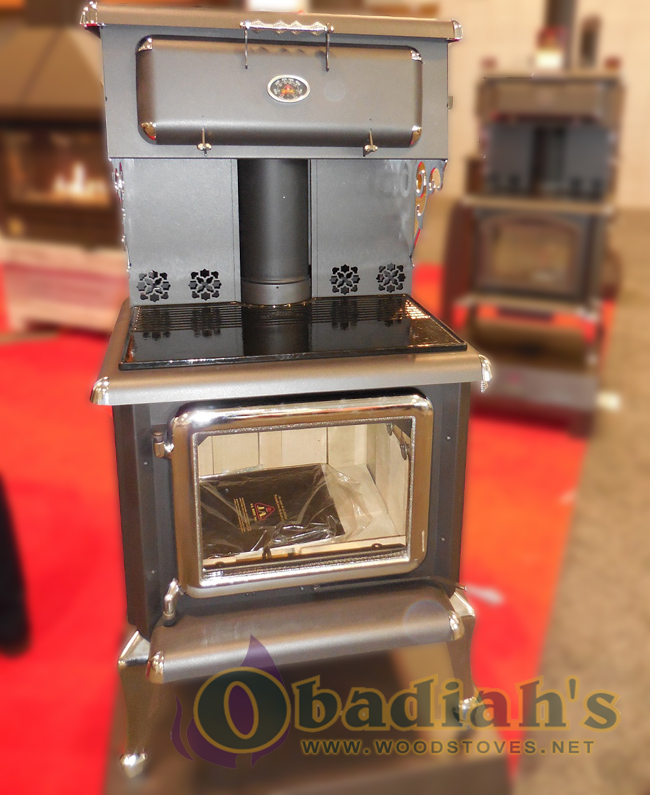 J.A. Roby 2500 Cuisiniere Cookstove, Side View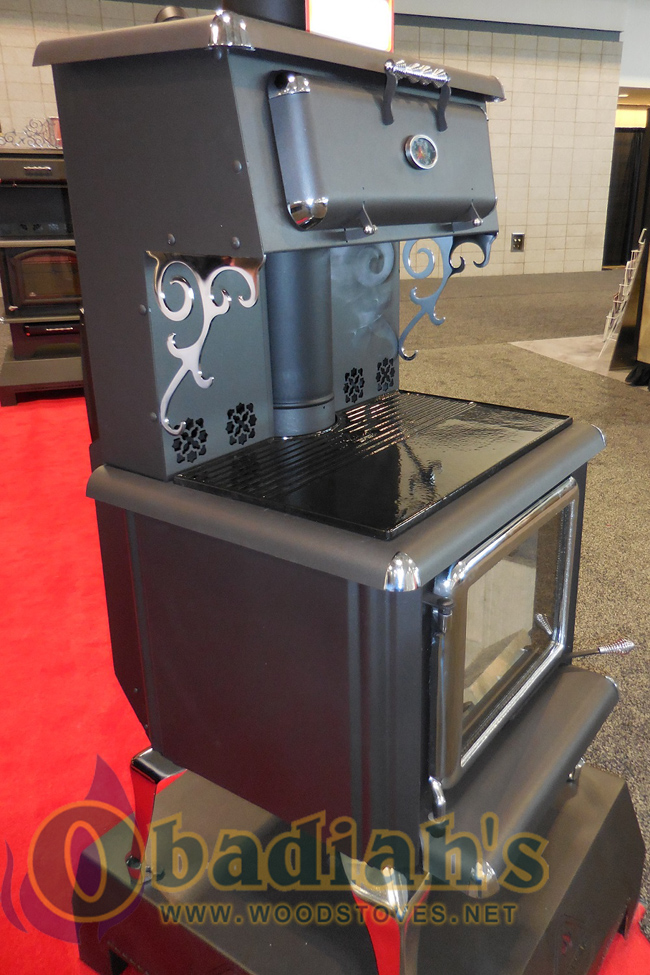 ** Residential, curbside delivery via freight truck with a lift gate is included for shipping in the Continental U.S.A. (some exceptions may apply). Please inquire with our sales staff if you have specific shipping needs such as international, freight terminal and/or business deliveries or if you need a smaller truck size. Click here to see Obadiah's Shipping Terms.
Please call or email us today to order! One of our sales consultants will help you on your way to great, home wood-fired cooking!
Be sure to check out our newly improved Cookstove Community website cookstoves.net; the best place online to connect with other cookstove users over stoves, self-sufficient living, alternative energy, and more! Take a look at our selection of videos, articles, and photos, and be sure to visit the forums to connect with like-minded folks from all over.
If you are planning to cook with a cookstove, you will need to understand some basic fire safety. Remember, extinguishing a grease or oil fire with water is not a good idea.
For help choosing and installing a wood boiler, see the links and posts below.
Pouring Water on an Oil Fire
Stove Delivery and What To Look For
Boss of the Swamp: Woodstove & Chimney Maintenance (Part 1)
Boss of the Swamp: Woodstove & Chimney Maintenance (Part 2)