Sunday, December 3, 2023
J.A. Roby Cuisiniere SE / Cuisiniere LX Wood Cookstove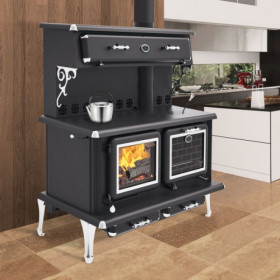 The Cuisiniere SE wood-fired cookstove is a redesign of the original Cuisiniere by J.A. Roby, with upgraded performance features, like the clean-burning EPA firebox! This classy and contemporary stove maintains warmth in your home and gives you the ability to cook your favorite foods, all in one efficient appliance. Also now available, the New Cuisiniere LX! The same great features of the SE model but offers a black door with inner chrome trim.
Description
Specifications
Photos (26)
Pricing
Extended Info
Videos (12)
Add Review
Note: Please note that there are consumer reviews posting about the quality of the baking oven. As of 2015 J.A. Roby redesigned the engineering of the baking oven. Prior to 2015, the baking oven was not convection, thus the heat did not flow around the baking oven. In 2015, J.A. Roby redesigned the Cuisienere Wood Cook Stoves to include a convection baking oven. Thus, the heat flows in the top left side (when facing the stove) and flows downward, up the right side, and accross the top oven the oven and out the flue stack. Since this resdesign, we have had many customers reporting oven temperatures up to 550 degrees!
The Cuisiniere by J.A. Roby has been an exciting wood-fired cookstove since Obadiah's first introduced it to the US market last year. Our hope was to provide a clean-burning wood cookstove for folks who live in areas where particulate is an issue. The original Cuisiniere was unique in that it was utilizing a clean-burning EPA firebox (The Tison) that was modified into a cookstove. Unfortunately, the Tison firebox design did not work well and some customers reported back to us that the oven would not heat effectively and cooking on top of the cooktop was difficult unless you had a raging fire that would cook you out of the kitchen. We pulled back from recommending this cookstove to folks who wanted something more than a great clean-burning heater. For those looking for a wood-burning stove that they could cook and bake in, we steered them to another model that would meet their needs better.
Today, we are pleased to announce that J.A. Roby took our suggestions seriously and made several changes to the design of the Cuisiniere Cookstove and has introduced phase 2 of this model. Looking carefully at the first edition compared to the second edition you can see it has the oven now on the right where the firebox used to be and the firebox is on the left where the oven used to be. Now the smoke travels across the underside of the cook-top and around the rear of the oven so it gets hotter faster and cooks more evenly. These improvements will make a huge difference in how well this Cuisiniere SE performs in our opinion. The first edition has been retired but some folks may still have some inventory around so we wanted to clarify what the differences are so you can make an informed decision if you're researching the Cuisiniere for your home or retreat.
There is a bit of confusion now between the Cuisiniere and the Cuisiniere SE, which some folks think means "second edition" when in fact means "Special Edition", the Special Edition Cuisiniere is just that, a special edition only available to specialty hearth retailers like Obadiah's Woodstoves. These units are on legs instead of a pedestal and are also available with chrome doors. The firebox door is also square, not curved on top like the standard Cuisiniere Cookstove. Both models are available to Obadiah's so no worries, if you like the old style we can still get it in the new more efficient design that will cook, bake and heat better than the first edition.

The details of this new design are also aesthetically pleasing with a new chrome door option with chrome legs. The Cuisiniere SE looks classy instead of clunky. There are several other upgrades like a porcelain cook-top that can be added that helps keep the cook-top cleaner in case of boil overs or spills typically associated with cooking food on any stove. There is even a smaller version of the Cuisiniere that does not have an oven for those who want a smaller stove. Obadiah's hopes you will be pleased with these new upgrades and we look forward to serving all your wood cookstove needs with the largest inventory of wood cookstoves you will find anywhere. We are proud to partner with J.A. Roby in bringing you this wonderful line of fine stoves.
Features
Model with two cast iron doors (chrome available as an option)
High efficiency CSA B415.1-10 certified appliance
MONTREAL ISLAND APPROVED
Recommended Heating Area (sq.ft.): 1500 – 2300
Color: Metallic black
Model: Legs
Convection and radiation heating system
Air-wash system on firebox side
Glass air-wash system
Easy to access ash drawer
Cooking area 16" X 47"
Glass oven door
Food warmer
Thermometers on oven and food warmer
Handles, corners and chrome ornaments
Low clearance to combustible material
Baffle: Fiber ceramic
Outdoor air intake
Firebox lined with refractory bricks for better heat distribution
Stainless steel secondary air system improving gas combustion
Recommended chimney: 6''
Optimum efficiency 88%
Low emissions 1.3 g/h
LHV 78,6%
Log length 19"
Tested as per applicable standards by Intertek
EPA Exempt (learn more here)
Washington State Approved (learn more here)
Options
Black enameled cast-iron cooking plate
Decorative chrome and mirror top accent
Decorative metallic and mirror top accent

Resources:
Specifications
J A Roby Cuisiniere SE / LX
Fuel
Wood
Color
Metallic Black
Model
Legs
Overall Dimensions
50 3/8" W x 55" H x 28" D
Oven Dimensions
17" W x 14" H x 19-1/8" D
Warmer Dimensions
46-1/4″ W x 10″ H x 12″ D
Firebox Dimensions
19" W x 12-1/4" H x 19-3/4" D
Floor to Cooktop
31 3/4"
Firebox Size
2.87 cubic ft
Weight
580 lbs
Maximum Log Length
19"
Flue
6"
Flue Location (To Center of Flue)
15" from Stove Right Side / 7" from Rear of Stove
Recommended Chimney Height
12 ft
Baffle Material
Fibre Ceramic
Heat Output
Up to 95,000 BTU/hr
Heating Capacity
Up to 2,300 sq ft
Efficiency
88%
LHV
78.6%
Emissions
1.3 gr/hr
Emissions Tested
CSA B415.1-10
Safety Tested
UL 1482 / ULC STD S627
Mobile Home Approved
No
Minimum clearances to combustibles
Back (using double wall black stove pipe)
12"
Back (using single wall black stove pipe)
16 1/4"
General Stove Installation Steps
1) Read the entire owner and installation manual before installing and using your stove.
2) Choose a spot where to install your cook stove. Read section about floor protection dimension, localisation of stove over the floor protection plate, and combustible material clearances. Once you have decided where to install the stove, mark the roof at the center of the chimney. To be sure that the vertical center of the chimney is set, then use a plumb line and mark the center on the floor.
3) Check if it possible to pass chimney without damaging the structural integrity of your house and if so, you will need to move the stove to a different location while keeping the minimum clearances in mind. If you can't move the stove and have to cut through a beam, be sure to keep the structural integrity of your house by following State and National building code.
Note: This appliance has to be connected to 6 inches factory built chimney, HT UL 103 or CAN/ULC S629 compliant, or a 6 inch masonry chimney with a homologated sleeve inside.
4) Install the chimney following the manufacturer's instruction.
5) Put the stove directly on the floor, aligned vertically with the center of the chimney, and trace the side of the stove on the floor and remove it.
6) Trace the protection floor at 8 inches offset clearance from the side and the back of the stove and then trace the front offset clearance at 16 inches in US and 18 inches in Canada, from the front of the door opening.
7) Install the floor protection plate inside the last mark. (It must be non-combustible.)
8) Put the stove on the protection floor plate and respect the offset clearance set at step 6. Be sure to center the chimney with the flue collar. We recommend to attach the stove to the floor with the bolt in the slot made for the legs.
9) If you have an outside air inlet, you must use 4 inches of flexible aluminum pipe. The pipe must be sealed with thermal resistant sealant.
10) Install the chimney connector on the stove collar first and screw it with 3 screws, then continue with the next chimney connector section up to the chimney support collar. Always use 3 screws on each joint section.
Note:
· The single wall or double wall chimney connector must be 6 inches diameter and have a minimum thickness of 24 gauge.
· Do not use a galvanised steel chimney connector.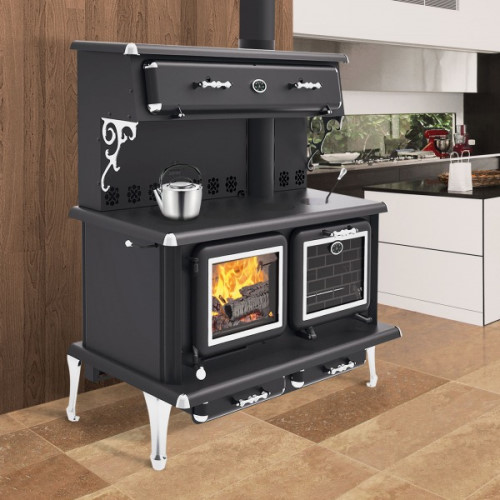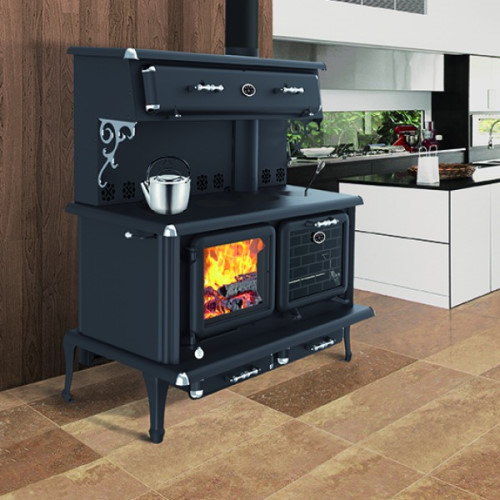 Cuisiniere SE Wood Cookstove with Black Door and Legs

Cuisiniere SE Wood Cookstove Front View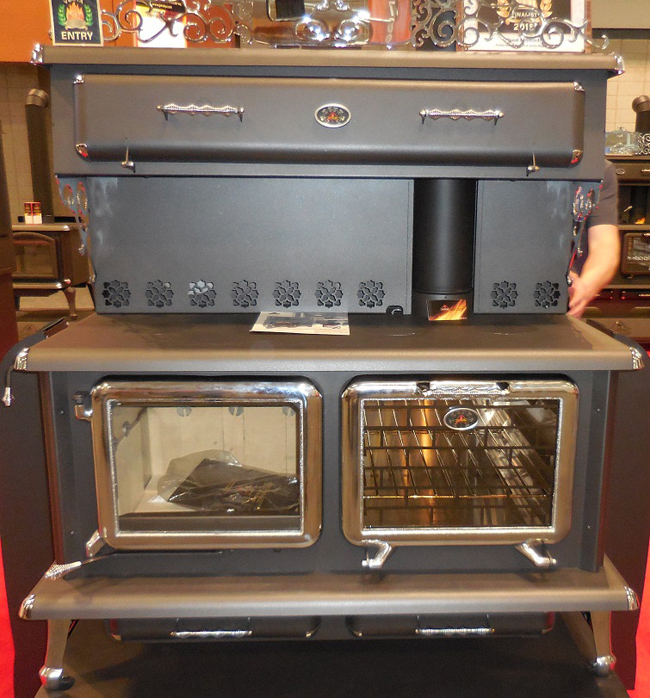 J.A. Roby LX Cuisiniere Wood Cookstove Black Door with Chrome Trim (Combo)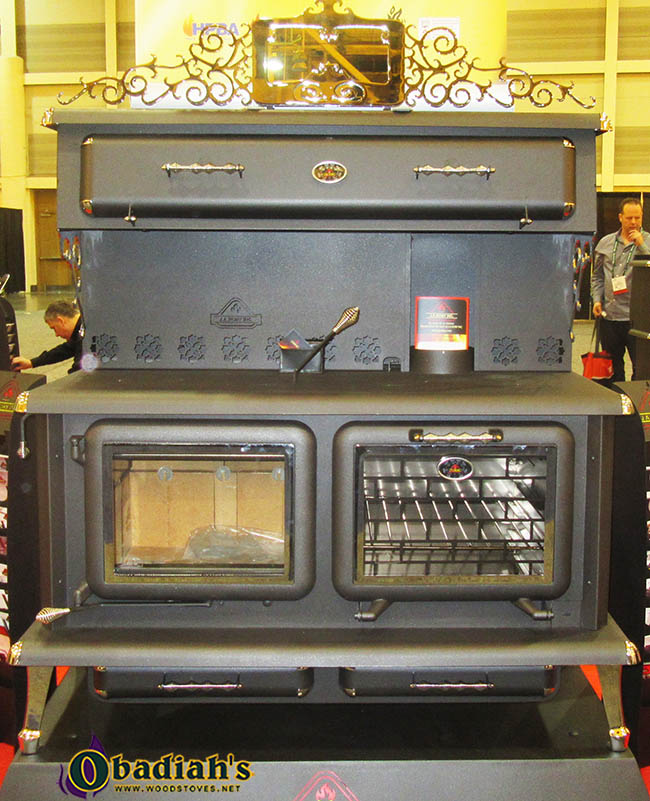 J.A. Roby Cuisiniere LX Wood Cookstove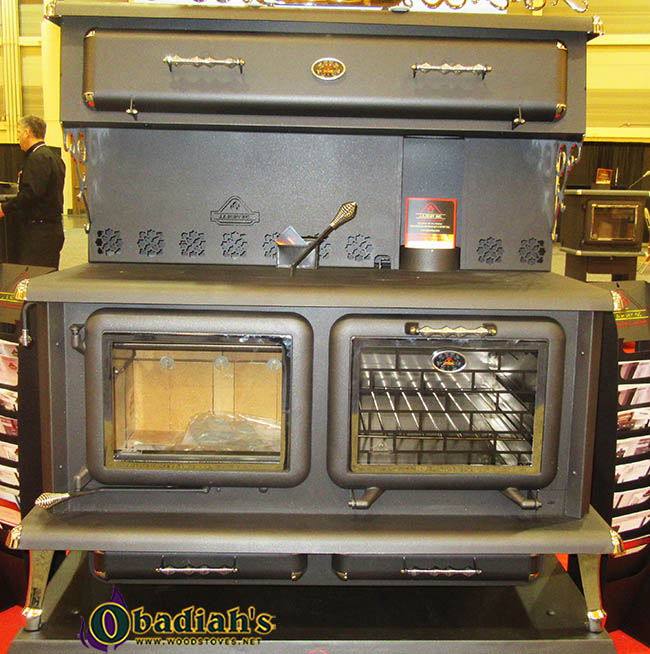 J.A. Roby LX Cuisiniere Wood Cookstove Side View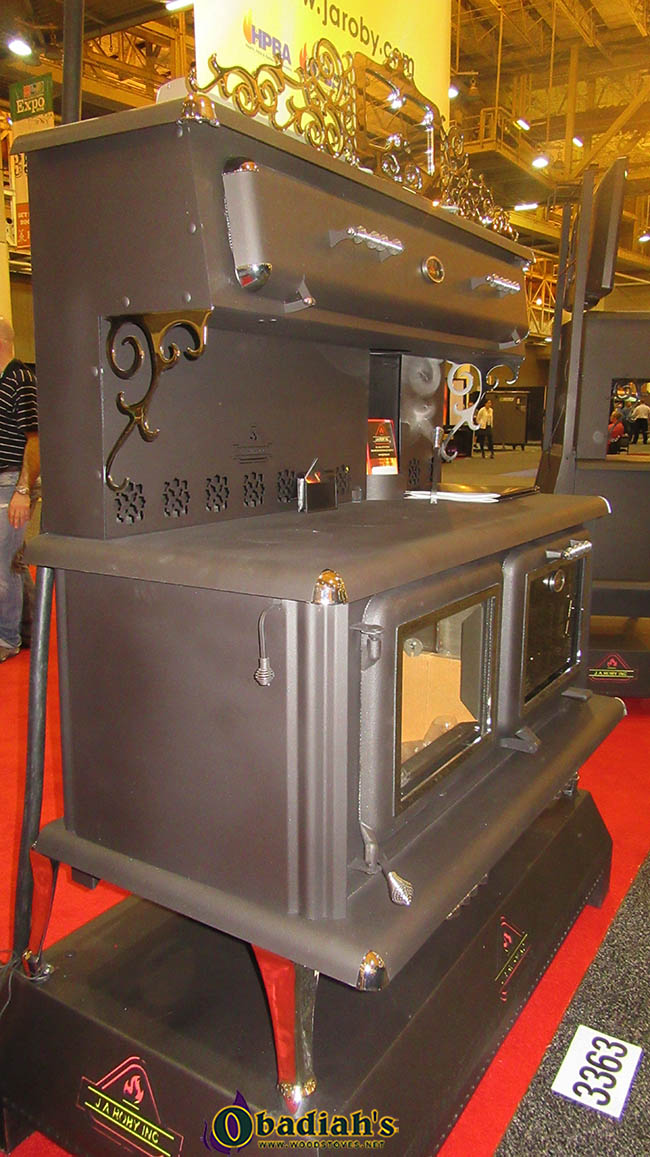 Cuisiniere LX Wood Cookstove black door with inner chrome trim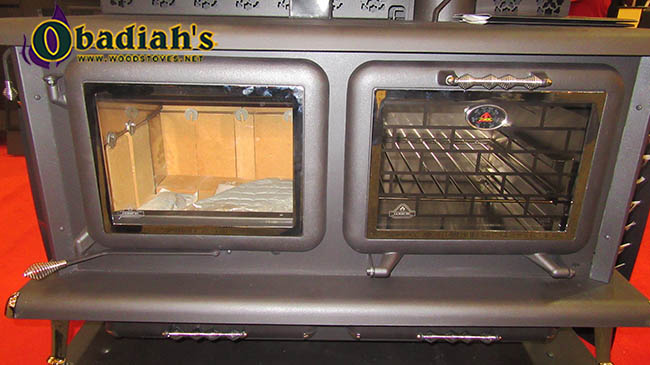 Cuisiniere SE Wood Cookstove Corner View with Porcelain Cooktop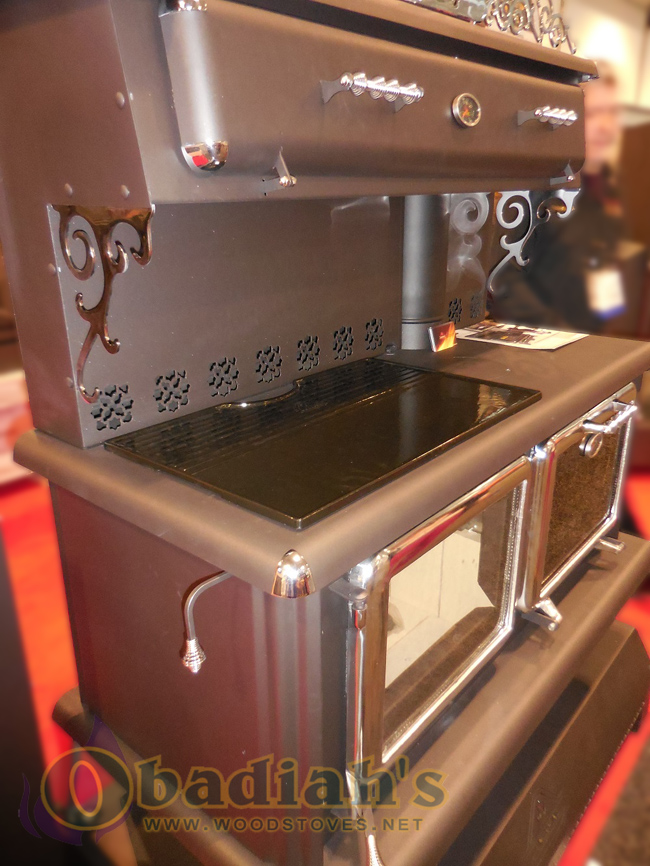 Cuisiniere SE Wood Cookstove Corner View with Porcelain Cooktop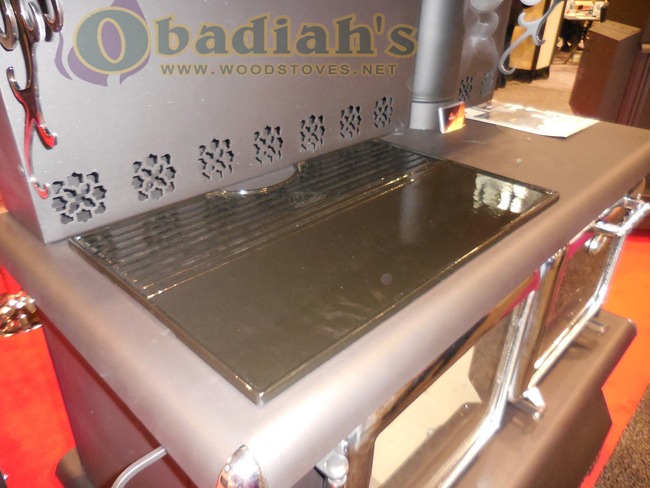 Cuisiniere SE Wood Cookstove Close up Firebox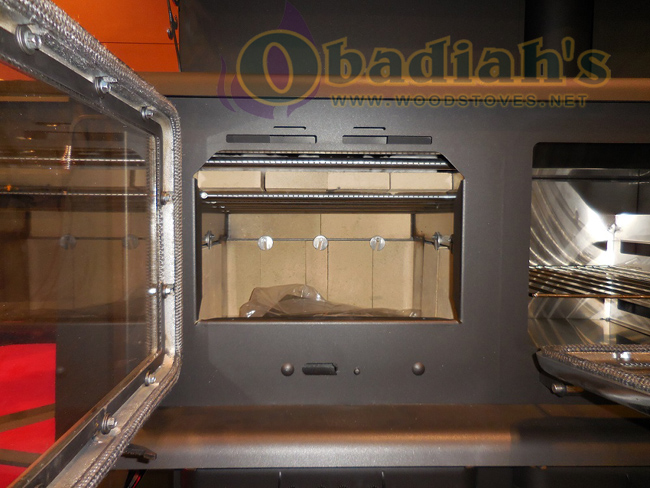 Firebox door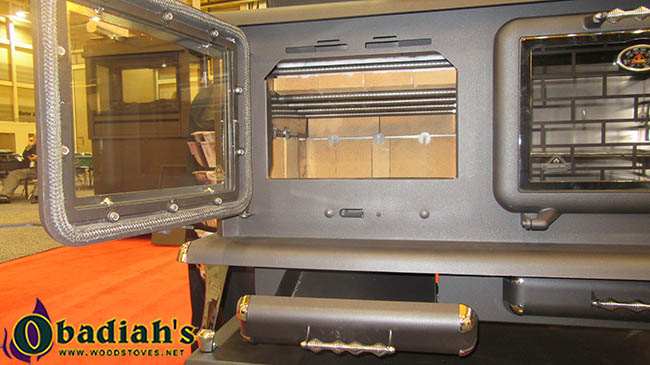 J.A. Roby Cuisiniere Wood Cookstove Firebox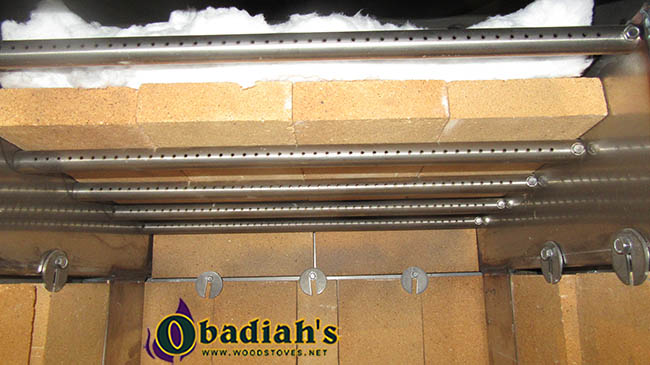 Cuisiniere SE Wood Cookstove Open Oven and Firebox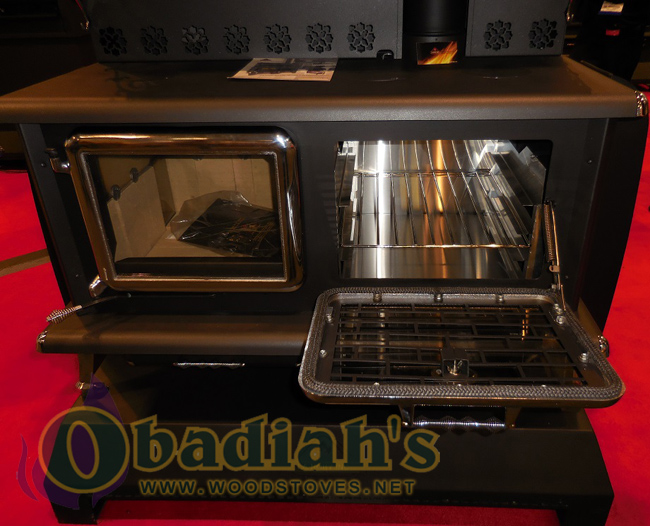 Cuisiniere SE Cookstove Close up Porcelain Cooktop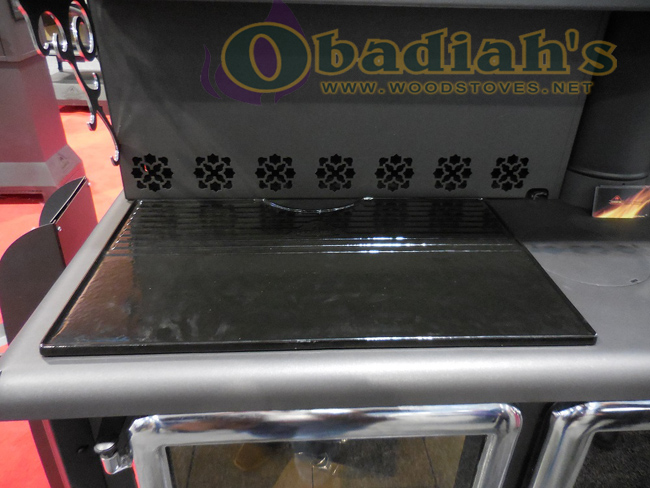 J.A. Roby Cuisiniere Wood Cookstove Oven Door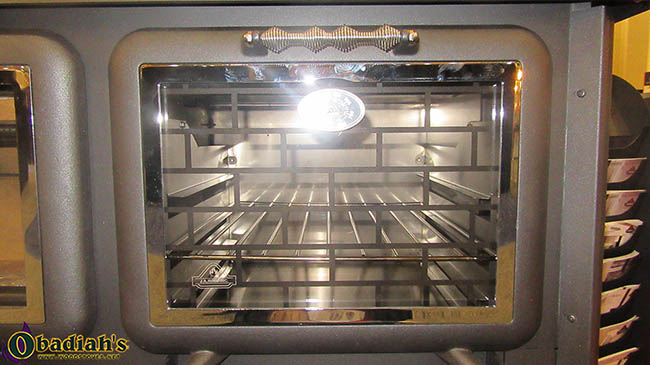 Cuisiniere SE Cookstove Close-up Oven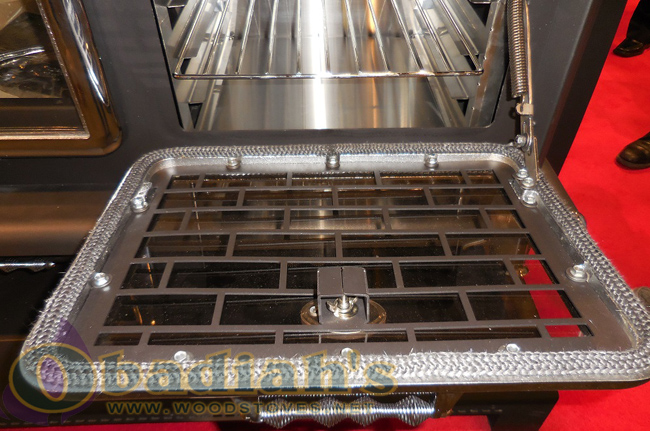 Cuisiniere Wood Cookstove Oven Door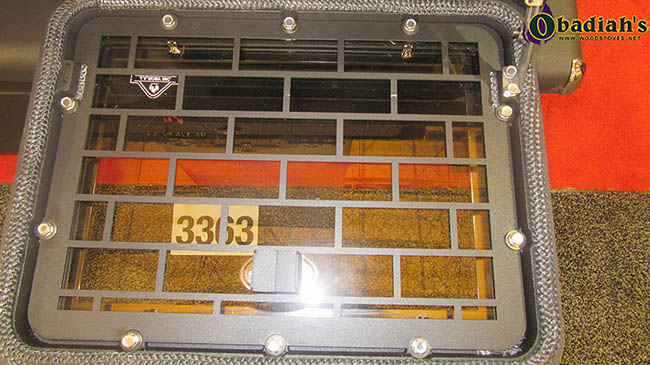 J.A. Roby Cuisiniere Wood Cookstove Oven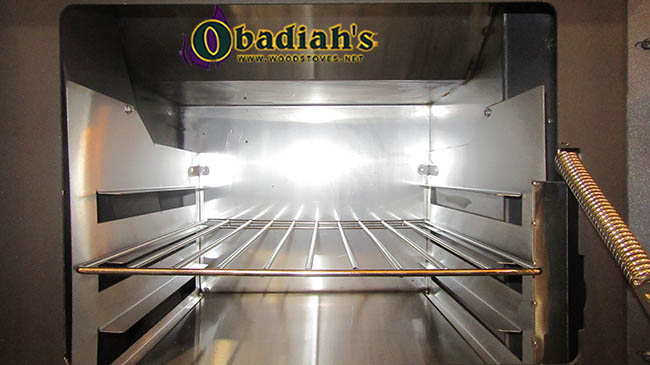 J.A. Roby Cuisiniere Wood Cookstove Pan Drawer Below Oven (used for storage)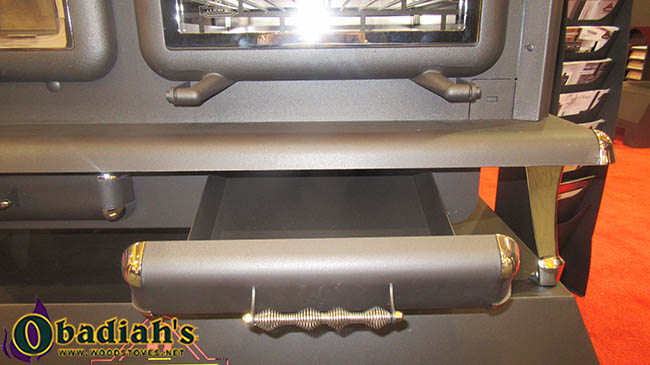 J.A. Roby Cuisiniere Wood Cookstove Warming Oven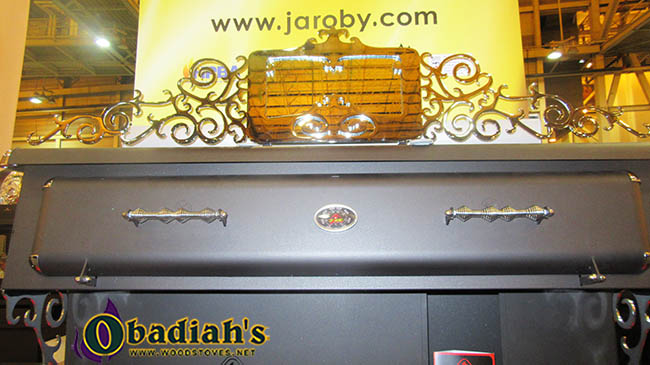 Cuisiniere Wood Cookstove Warming Oven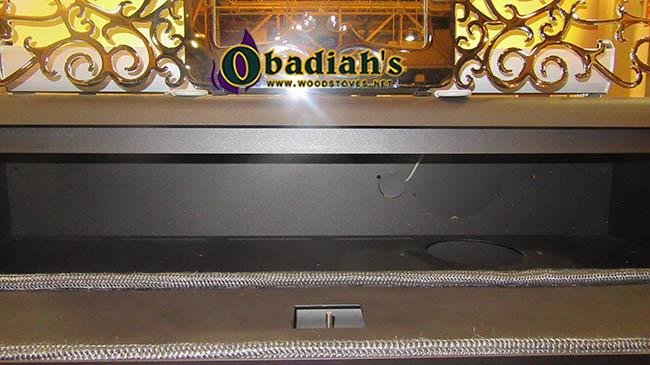 Cuisiniere SE Cookstove Side View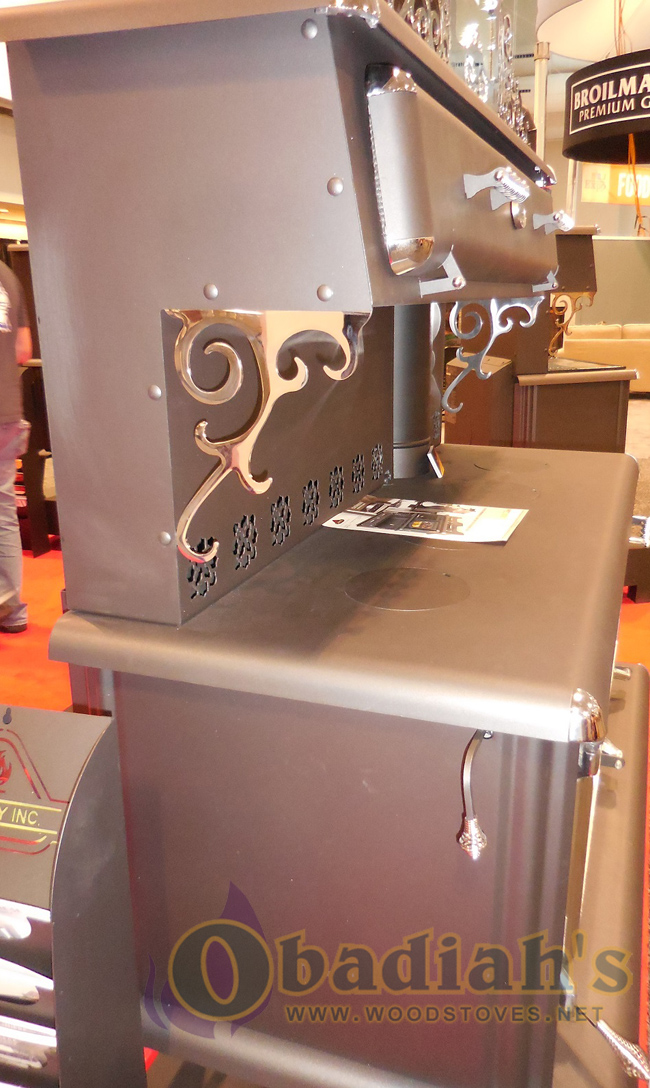 J.A. Roby Cuisiniere Wood Cookstove Top View with Cook Plate removed

J.A. Roby Cuisiniere Wood Cookstove Rear View

Cuisiniere SE Back View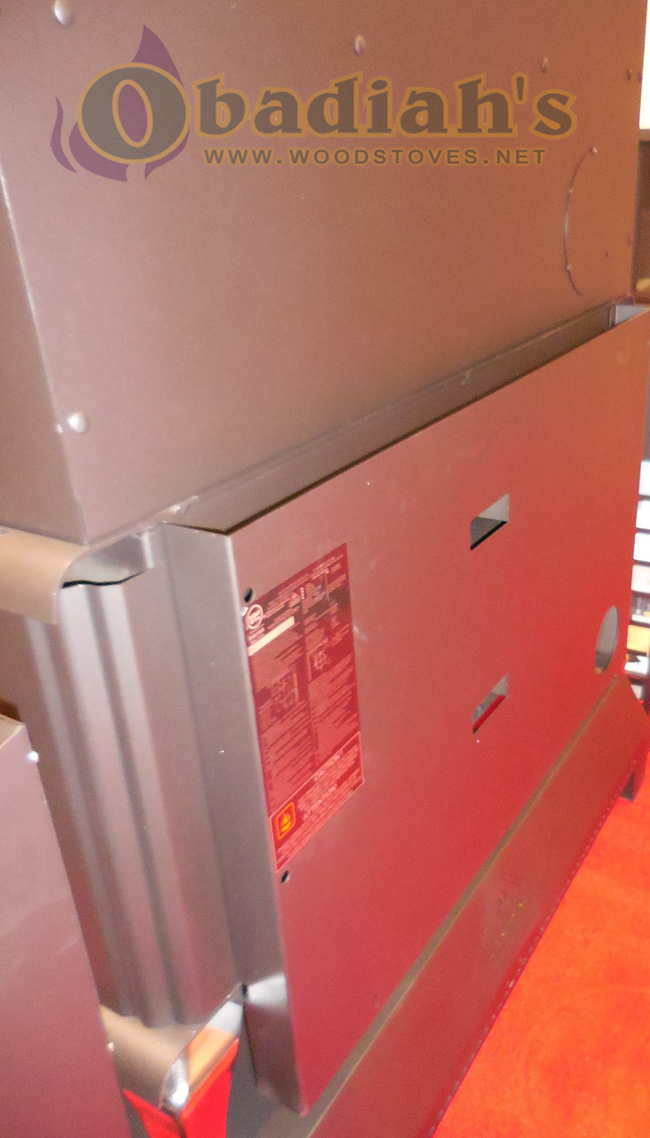 ** Residential, curbside delivery via freight truck with a lift gate is included for shipping in the Continental U.S.A. (some exceptions may apply). Please inquire with our sales staff if you have specific shipping needs such as international, freight terminal and/or business deliveries or if you need a smaller truck size. Click here to see Obadiah's Shipping Terms.
Please call or email us today to order! One of our friendly sales consultants will help you on your way to great, home wood-fired cooking!
CLICK HERE TO VISIT OUR NEWER WEBSITE WHERE YOU CAN FIND PRICING AND MORE INFORMATION
Be sure to check out our newly improved Cookstove Community website cookstoves.net; the best place online to connect with other cookstove users over stoves, self-sufficient living, alternative energy, and more! Take a look at our selection of videos, articles, and photos, and be sure to visit the forums to connect with like-minded folks from all over.
If you are planning to cook with a cookstove, you will need to understand some basic fire safety. Remember, extinguishing a grease or oil fire with water is not a good idea.
Stove Delivery and What To Look For
Boss of the Swamp: Woodstove & Chimney Maintenance (Part 1)
Boss of the Swamp: Woodstove & Chimney Maintenance (Part 2)
J.A. Roby Cookstoves - Chief Wood Cookstove General Overview
J.A. Roby Cookstoves - Chief Wood Cookstove Technical Overview
Obadiah's: What Cookstove is Right For You?
J.A. Roby Cookstoves - What Comes With Your Stove?
Obadiah's: J.A. Roby Cookstoves - Uncrating Your New Stove
J.A. Roby EPA Wood Cook Stove - Product Comparison - Chief vs. Cook LX Wood Cookstove
How To Custom Paint A Wood Cook Stove
J.A. Roby EPA Wood Cook Stove - Cookstove Model Comparison
Why Purchase a J.A. Roby Wood Burning Stove?