Saturday, December 2, 2023
Hitzer Model 608 Energy Master 1 Stoker Stove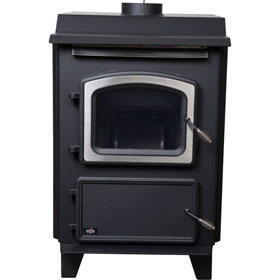 The Hitzer Energy Master I Stoker is one of the most efficient and technologically advanced stoves on the market today. It's intuitive design and new technology has made the Hitzer 608 Stoker a top choice stove. As a HPBA Vesta Award Finalist, the 608 Stoker has credibility, intuition, and capabilities that go far beyond your expectations. The overall capabilities of such an efficient, easy to operate stove will leave you amazed. Thanks to the astounding Coal-trol design system, it has incredible functions that allow you complete control over your fire. Having a digital thermostat this enables push button control of your stove that require no labor involved.
Combining the technology of the Coal-trol with the intuition of the Stoker, this stove will maintain the exact temperature you set. The 608 Energy Master I Stoker has the unbelievable capability of producing as little as 7,000 btu's or up to 90,000 btu's of consistently warm heat. There are so many feature that this astonishing stoker provides.
One of the most convenient and popular features available for this stove is the ability to be operated with a power vent, which means by having the 608 stoker compatible with the power vent system no chimney is required. Other added features include a large fire view window to enjoy the warming glow of your fire and a 90 pound hopper and large ash tray, which allows long extended burn times before disposal. Be utterly amazed with the easy to operate technology and the efficiency found in the Hitzer 608 Energy Master I Stoker. This stove is sure to make warm and happy friends.
Description
Specifications
Photos (4)
Pricing
Add Review
The Hitzer Model 608
Heats up to 2,500 sq. ft. max
Steel Construction
Stove Color Cast Iron Fuel Door
Large Removable Ash Pan
Stainless Steel 90 lbs. Coal Hopper
Coal-trol Digital Thermostat
25 ft. Thermostat Wire
Coal-trol Control Module
Combustion Blower
Cast Iron Burning Grate
8 ft. Power Cord
320 CFM Blower
Optional Features
Outside Air Kit
Power Vent
Gold Trim for Fuel Door
Pewter Trim for Fuel Door
Stove Bright Paint in Black, Charcoal, or Honey Glo Brown

Resources:
| | |
| --- | --- |
| Coal Stove Specifications | Hitzer Model 608 Energy Master 1 Stoker Stove |
| Heat Area | up to 2,500 sq ft. |
| Burn Grate Dimensions | 8"W x 3"D x 10"H |
| Stove Dimensions | 25.25"H x 28"W x 39"D |
| BTU Output | 7,000 - 90,000 BTU |
| Flue Pipe Diameter | 6" |
| Clearance to Combustibles | Hitzer Model 608 Energy Master 1 Stoker Stove |
| Unit - Side / Back | 18 " / 18" |
| Flue - Side / Back | 27" / 21" |