Wednesday, September 27, 2023
Obadiah's 2000 Wood Cookstove by heco - Not Available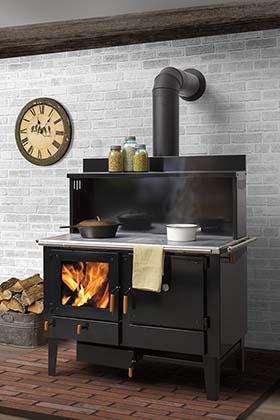 This stove is currently unavailable.
Introducing Obadiah's first private label wood cookstove, Obadiah's 2000 wood-burning heating and cooking stove, manufactured by heco wood cookstoves. The Obadiah's 2000 Wood Burning Stove with Baking oven is handcrafted and built-in Lancaster County, PA - Amish country!
The model 2000 is a base model wood cookstove designed and built for functionality, at a no-frills price. The glass firebox door provides a large viewing area, so you can enjoy a clear view of the crackling fire. The oven door is also available in a glass option, so you can see your baked goods without opening the door and risking a fall in your delicious cakes and loaves of bread.
Page updated 4/30/21
Description
Specifications
Photos (16)
Pricing
Extended Info
Videos (8)
Add Review
Note: This stove is not UL listed. Check with your local code and homeowners insurance to see if a UL listing is required.
We are so excited to represent the new line of heco wood cookstoves! The heco wood-fired cooking stoves are the latest wood cookstoves available from the Amish market. The heco product line of cookstoves offers the quality you expect from the Amish, with the added features of modern-day cooking. Best of all, the 2000 wood-burning cookstove provides the oven cleanout on the front of the stove for easy cleaning, especially in tight clearance applications.
The heco wood cookstoves are manufactured and produced by the Amish in PA, however, Obadiah's has contributed various design ideas that have been collaborated into these wood-burning cook ranges. We are confident you will be pleased with all the added features you've always wanted and the craftsmanship of these American made wood cookstoves.
All heco cookstoves meet WA State Standards for Wood Cook Stoves. All Wood Cook Stoves are currently exempt from EPA regulations.
Obadiah's is the exclusive online retailer for heco wood cookstoves.
Features
Heating capability up to 2,500 sq. ft.
Ash Pan below Firebox
Oven Cleanout located directly below Baking Oven
Burn times up to 16 hours
Black porcelain enamel finish standard
Large firebox with easy loading access
(3) damper controls - Front Primary Bottom Air Feed, Front Airwash, Rear Chimney Damper
Food-grade porcelain enamel lined oven
Removable tray in the bottom of the oven for easy cleanup
1/4" ribbed memory steel cooking surface with two 10" cast iron lids
Oven Thermometer
Airtight Firebox and Oven Doors
Stainless steel protective rods surround the cooktop
EPA Exempt (learn more here)
Washington State Approved (learn more here)
Options
22 Gallon Water Reservoir
Glass Firebox Door
Glass Oven Door
Water Coil (For Domestic Hot Water Heating)
Interested in using this stove to heat Domestic Hot Water? Check out the Vaughn Range Boiler for more information on setting up a Domestic Hot Water system.

Note: View our article on how to properly connect a wood burning cook stove to domestic hot water.

Resources:
2000 Wood Cook Stove Product Specifications
Overall Dimensions
33" L x 50" W x 34" H
Height to Warming Shelf
50.25" H
Hearth Pad Requirements
61" W x 48" D
Cooking Surface
46" W x 20.25" D
Warming Shelf
7" x 37"
Back
37" W x 21" H
Firebox Glass Viewing Area
14 3/4"W x 8 /3/4"H
Oven Glass Viewing Area
16"W x 10 3/4"H
Oven Dimensions
22" D x 16.5" W x 14" H
Oven capacity
8-9 Loaves
Firebox Dimensions
19" L x 20" W x 20" H
Firebox Size
4.4 cubic feet
Minimum Chimney Height
20'
Log Length
19"
Firebox Door
15.5" W x 12.5" H
Approx. Burn Time
Up to 16 hours
Approx. Heating Area
1,400 to 3,500 sq. ft.
Output
Up to 90,000 BTU/h
Flue Outlet Size
7" round
Water Reservoir Capacity (sold separately)
22 gallons
Weight
850 lbs.
Clearances - Stove to Combustibles
Side
18"
Rear
18"
Clearances - Flue Pipe to Combustibles
Single Wall Pipe
18"
Double Wall Pipe
12"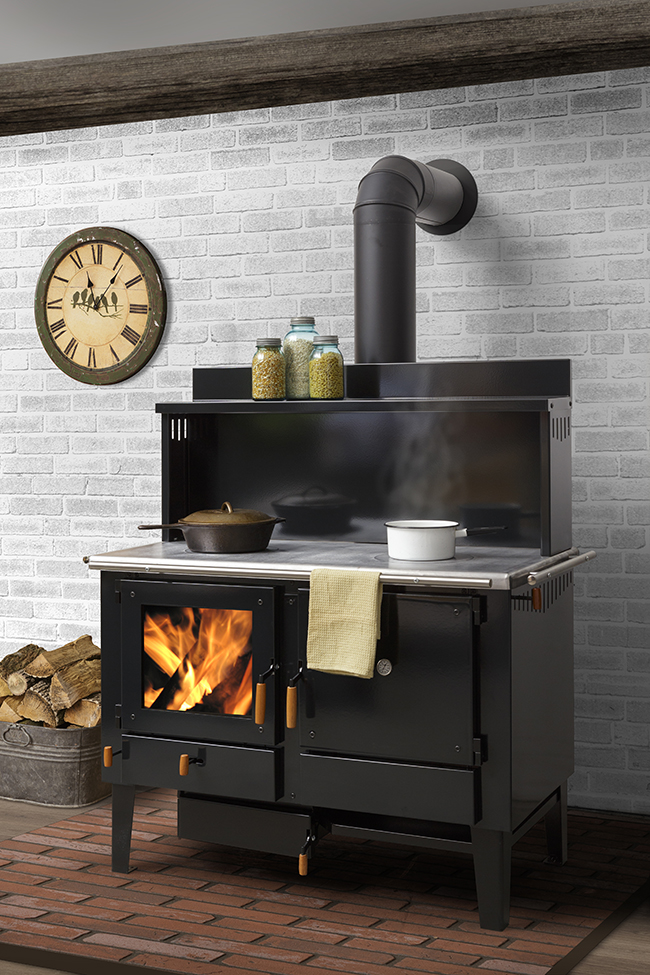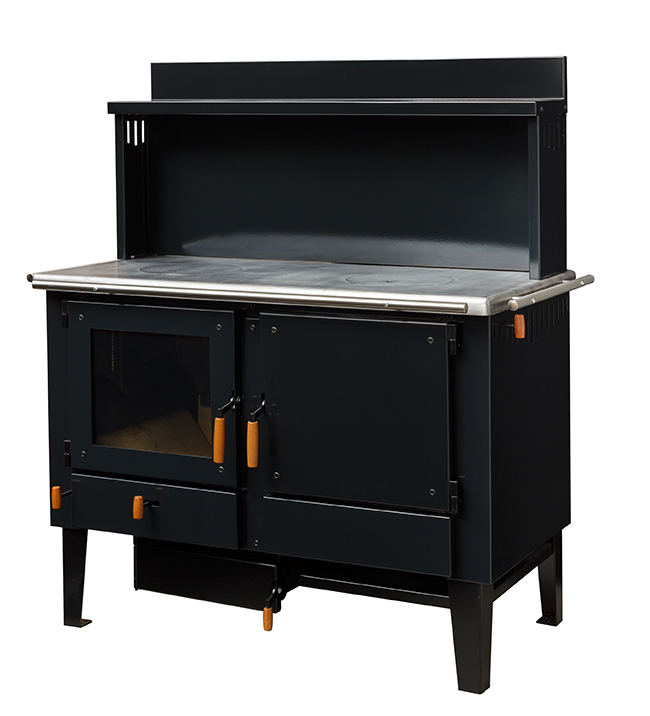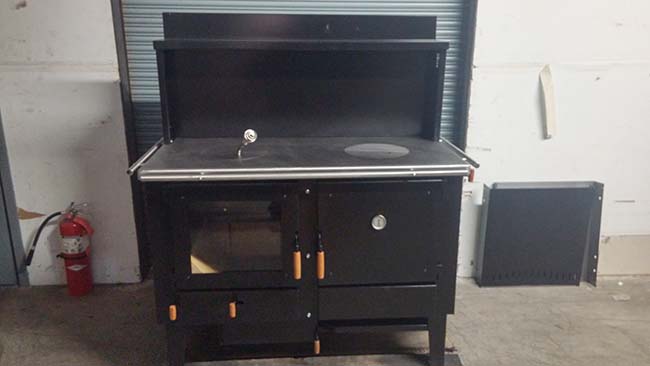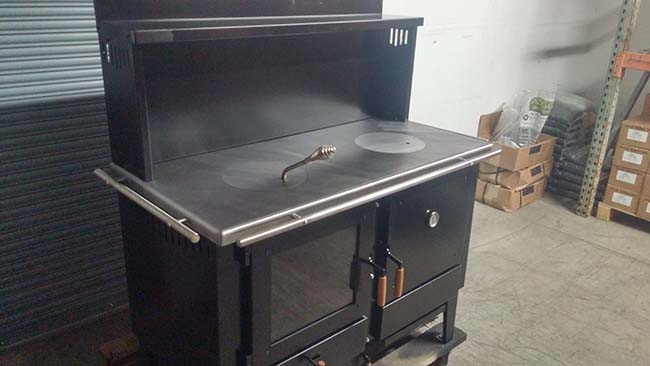 2000 Wood Cook Stove - Side View Cooktop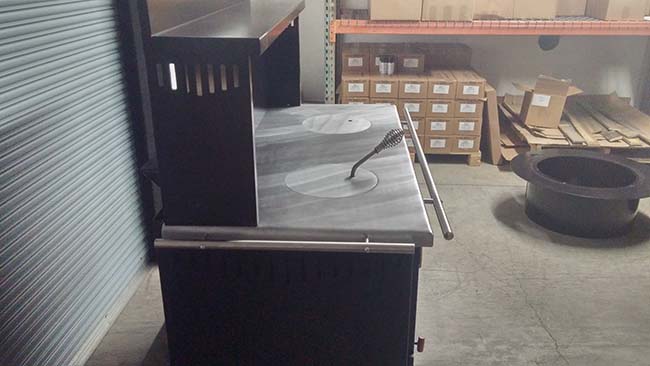 2000 Wood Burning Stove with Oven - Removable Lid on Cooktop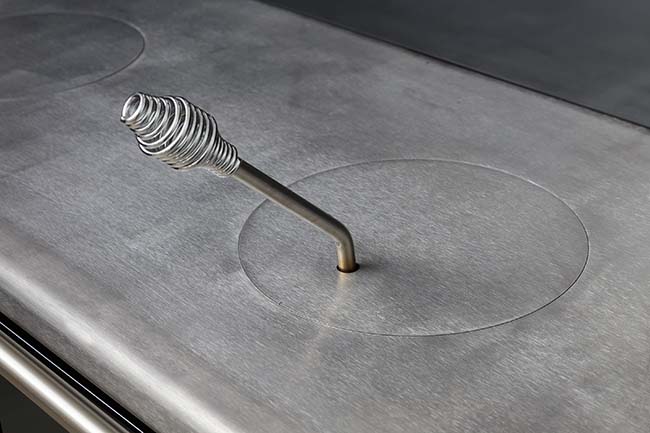 2000 Wood Cooking Stove - Front & Side Safety Rails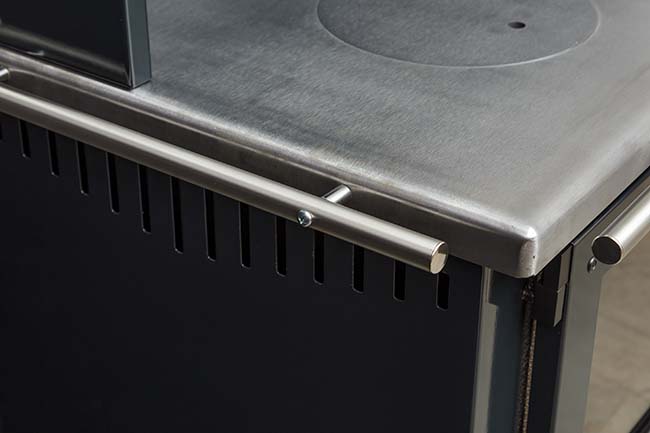 2000 Wood Fired Cook Stove- Oven Damper Control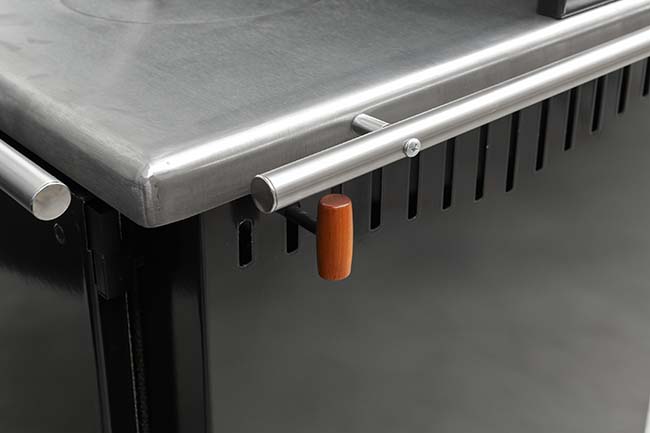 2000 Wood Burning Cook Range Firebox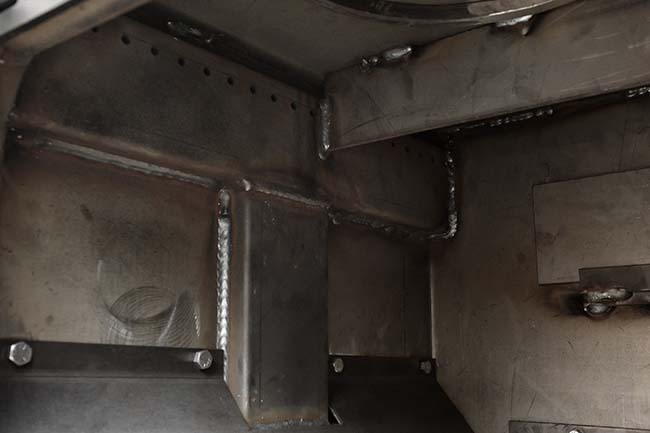 2000 Wood Cook Stove Firebox with Firebricks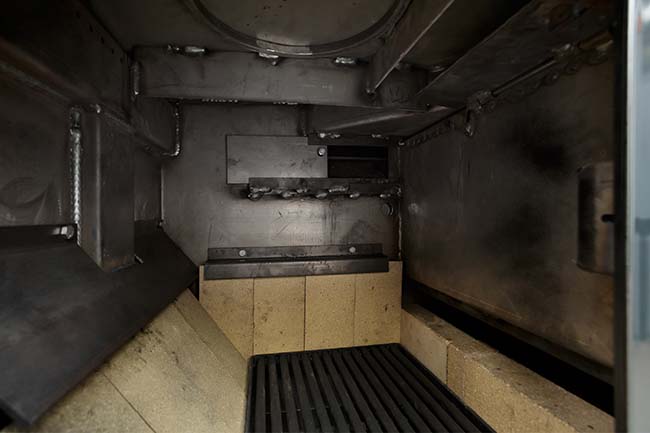 2000 Wood Burning Stove with Oven - Air Tight Firebox Glass Door with Gasket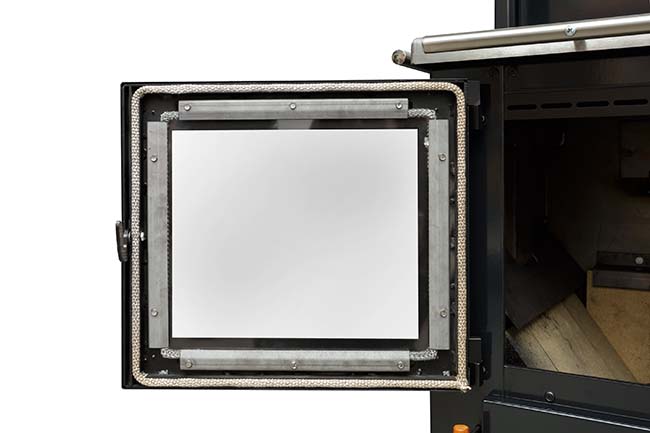 Obadiah's 2000 Wood Cook Stove Glass Oven Door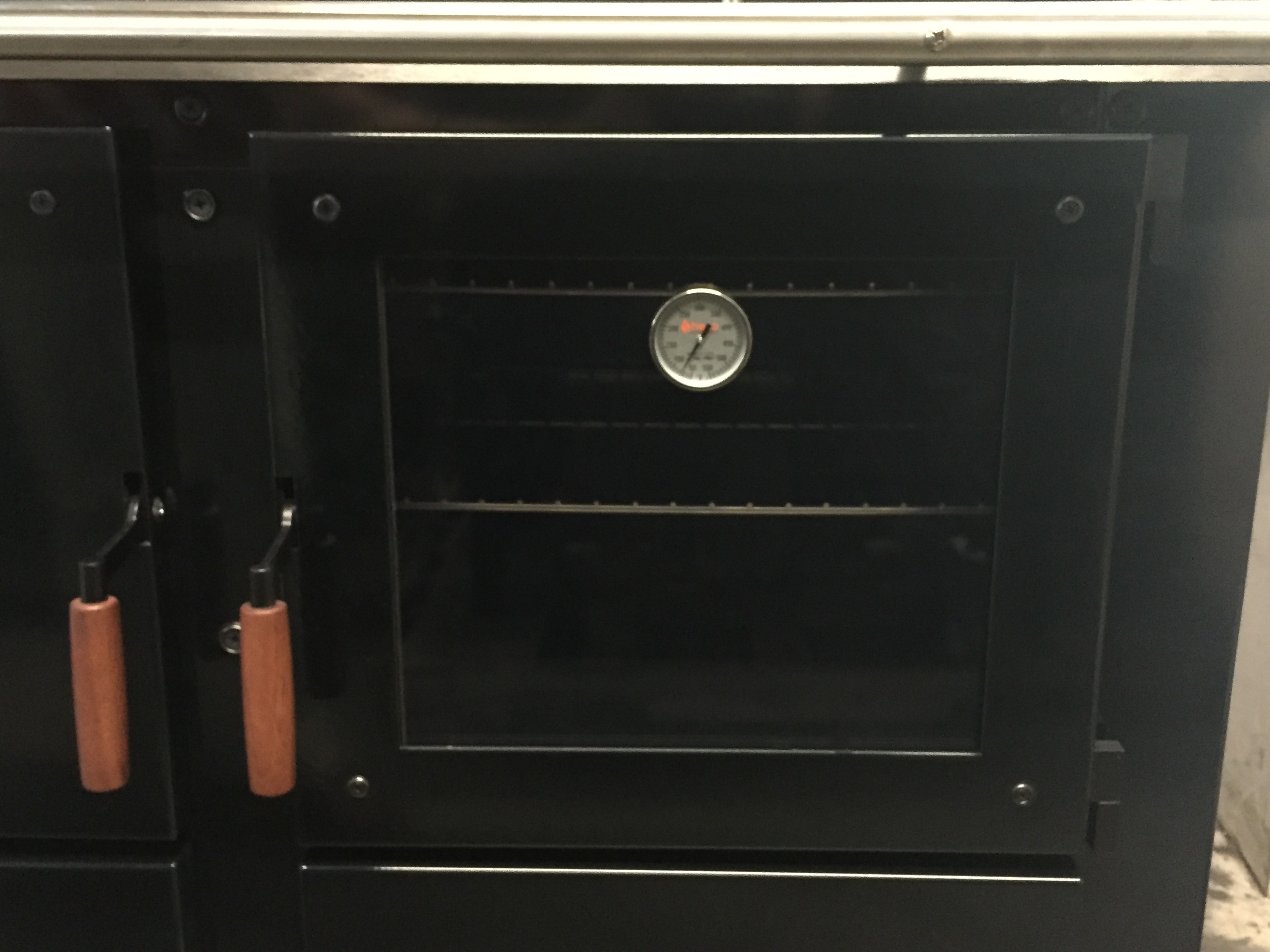 2000 Wood Cooking Range - Ash Pan

2000 Wood Cooking Range - Damper Control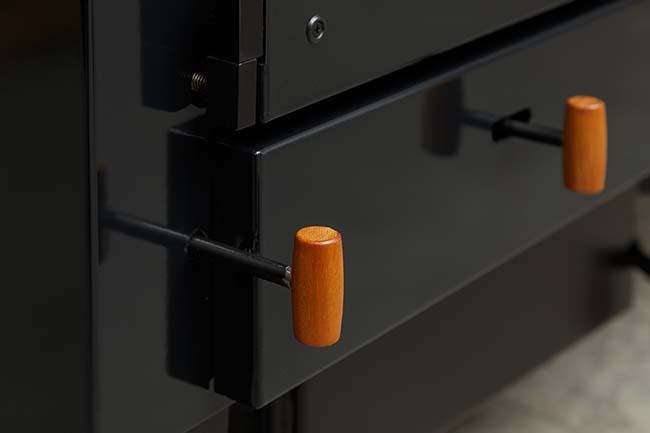 2000 Wood Cookstove - Oven Clean Out (front access)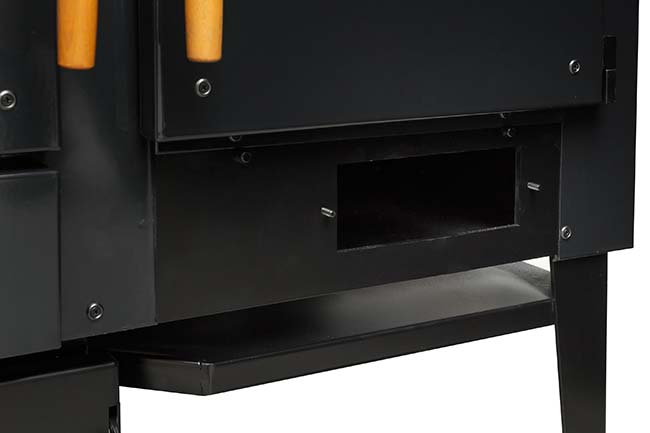 2000 Wood Cook Range - Chimney Damper Control & Water Coil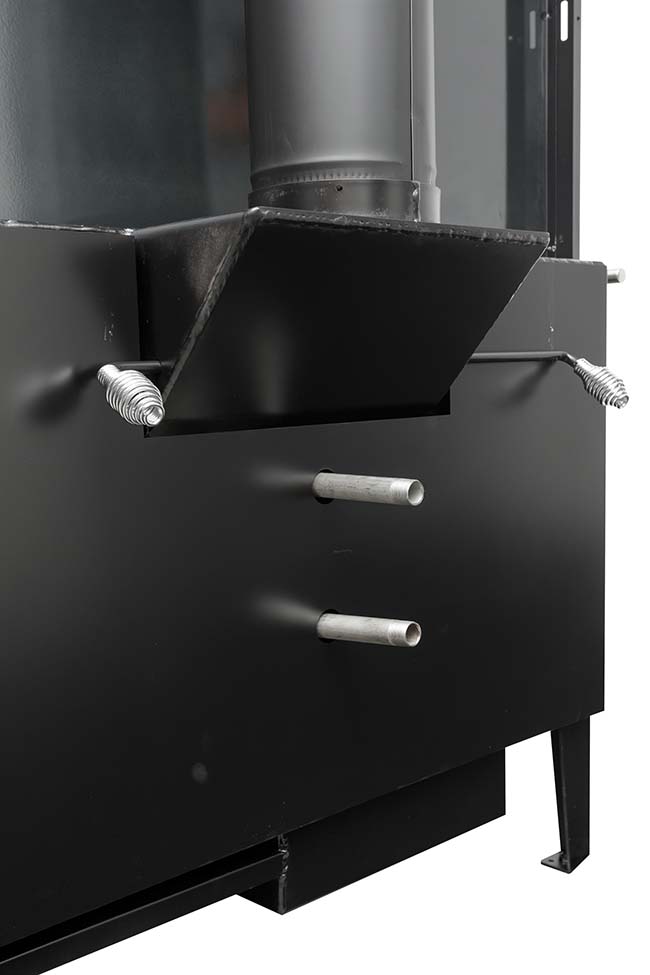 ** Residential, curbside delivery via freight truck with a lift gate is included for shipping in the Continental U.S.A. (some exceptions may apply). Please inquire with our sales staff if you have specific shipping needs such as international, freight terminal and/or business deliveries or if you need a smaller truck size. Click here to see Obadiah's Shipping Terms.
Please call or email us today to order! One of our sales consultants will help you on your way to great, home wood-fired heating!
Be sure to check out our newly improved Cookstove Community website cookstoves.net; the best place online to connect with other cookstove users over stoves, self-sufficient living, alternative energy, and more! Take a look at our selection of videos, articles, and photos, and be sure to visit the forums to connect with like-minded folks from all over.
If you are planning to cook with a cookstove, you will need to understand some basic fire safety. Remember, extinguishing a grease or oil fire with water is not a good idea.
Obadiah's 2000 Wood Cook Stove - Product Overview
Obadiah's 2000 Wood Cookstove vs. Kitchen Queen Cook Stove - Product Review
Cooktop Review: Obadiah's 2000 Wood Cookstove by Heco
Heco Wood Cookstove Comparison - 420, 520, and Obadiah 2000 Cookstove
Changes to Heco Cook Stoves
Heco Cookstoves - Options For Heco Cookstoves
Obadiah's 2000 Wood Cookstove - The Firebox
Shopping Cookstoves - What Wood Cook Stoves Have Water Reservoirs?