Thursday, May 28, 2020
Hearthstone Manchester 8361 Wood Stove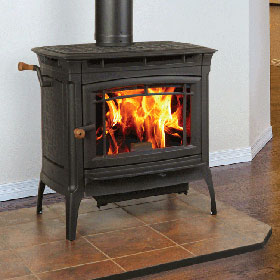 No Longer Available from Obadiah's.
The Hearthstone Manchester 8361 is a cast iron wood stove built with a soapstone lined interior. This wood stove exploits the excellent heating capabilities of cast iron and soapstone, so that fires burn hot and efficiently to not only heat your house well, but to do so for up to 14 hours on a full load of wood.
Description
Specifications
Photos (3)
Pricing
Extended Info
Add Review
This cast iron stove integrates a convective air system with a heat exchanger, which produces a superior amount of heat to warm any large building (up to 2,400 sq. ft.). A soapstone lined interior of the fire box absorbs heat from the fire and gradually releases it, resulting in a longer duration of heat output. An optional left or right side loading door built into this Hearthstone wood stove makes putting a few pieces of wood on the fire more convenient than using the front door. An open and close ash grate, and removable ash tray, results in easy ash disposal. Obadiah's Wood Stoves is proud to offer you this exceptional wood stove constructed with artistically crafted cast iron, and beautiful natural soapstone, which also features a non-catalytic combustion system, resulting in a cleaner burning fire, and less creosote build up.

All of this great heating capability coupled with an optional left or right side door, and the intricate craftsmanship of a stove made of cast iron results in a fine product you cannot pass up. If you're looking for a great wood stove at a superb price, look no further than this efficient cast iron wood stove from Hearthstone.
Features
Side load door - Available as a right or left side-load with exclusive extra deep fold-down ash lip to keep ashes within the firebox.
Cast Iron Construction - High performance convective cast iron firebox with integrated heat exchanger.
Soapstone lined interior - 50lbs of soapstone refractory extends the HeatLife™.
Unmatched Fire Viewing - Large single door allows an unobstructed view of the dazzling fire.
Single air control - Stove operation is easy; the performance controlled and consistent.
Non-catalytic combustion - Clean-burning, complete combustion provides more heat from less wood and reduces creosote accumulation.
Open-and-close ash grate and removable ash tray - Easy, clean ash removal.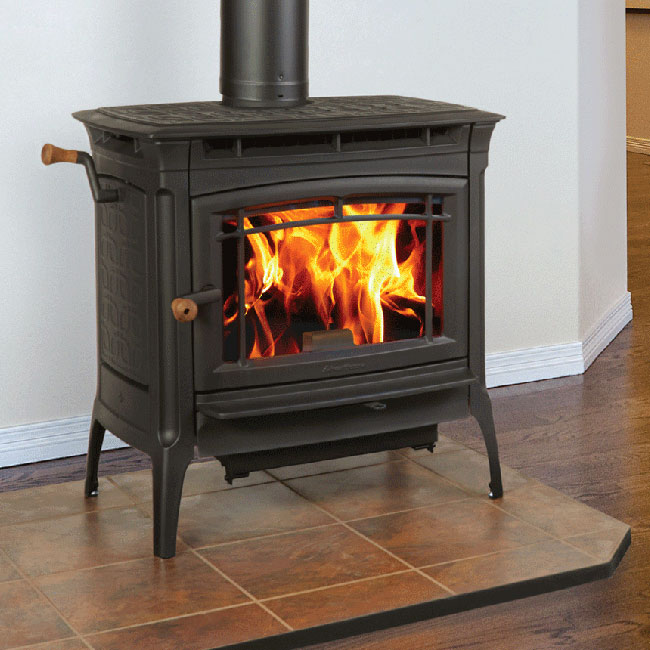 Resources:
| | |
| --- | --- |
| Specifications | Hearthstone Manchester 8361 |
| Heating capacity | 2,400 sq.ft. |
| Max burn time | 12 hr. |
| Max heat life | 14 hr. |
| Heat output | 78,000 BTU |
| Efficiency | 80% |
| Overall dimensions | 31.5"W x 31"H x 20"D |
| Firebox capacity | 2.9 cu.ft. |
| Maximum log length | 24" |
| Flue outlet (Top or Rear) | 6" |
| Weight | 515 lbs. |
| Clearances | Single wall pipe & no rear heat shield |
| Side | 18" |
| Rear | 16" |
| Corner | 9" |
| Clearances | Double wall pipe & rear heat shield |
| Side | 16" |
| Rear | 6" |
| Corner | 9" |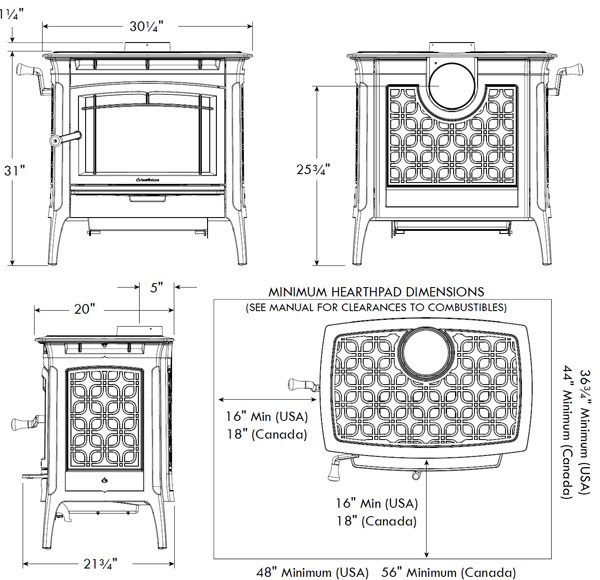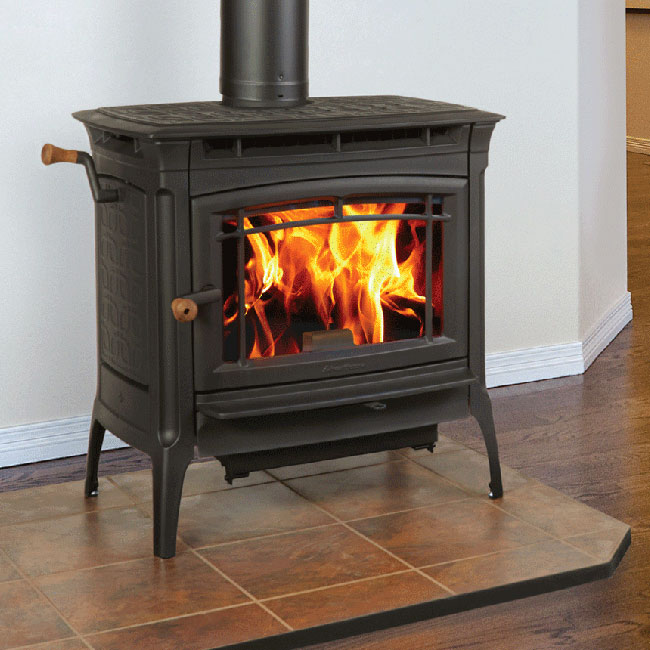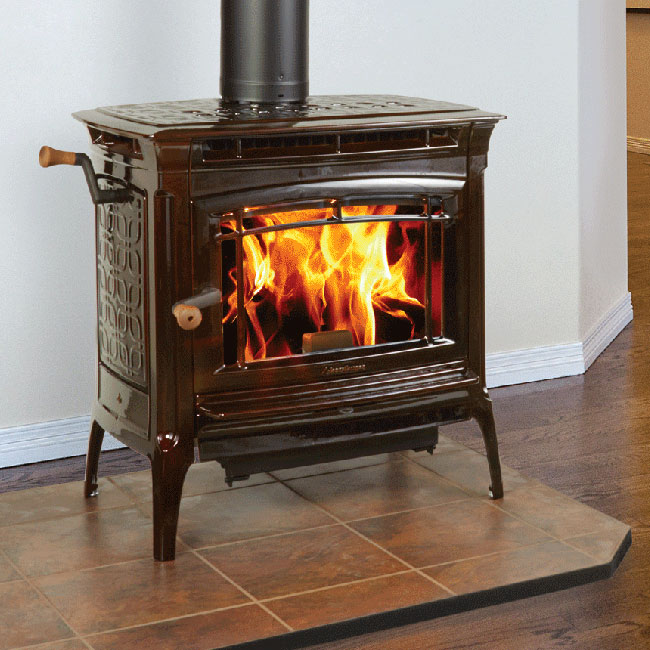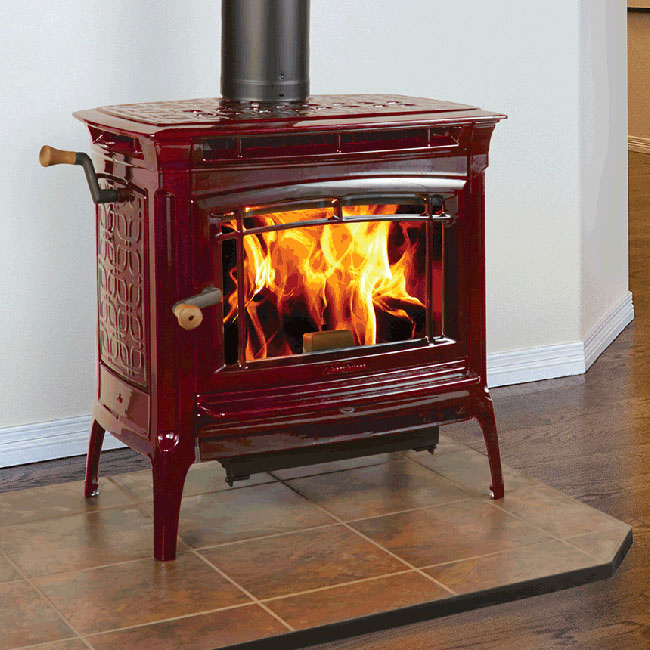 | | |
| --- | --- |
| Prices | |
| MANCHESTER: BLACK MATTE – LEFT SIDE LOAD | $3,199.00 |
| MANCHESTER: BLACK MATTE - RIGHT SIDE LOAD | $3,199.00 |
| MANCHESTER: BROWN ENAMEL – LEFT SIDE LOAD | $3,699.00 |
| MANCHESTER: BROWN ENAMEL – RIGHT SIDE LOAD | $3,699.00 |
| MANCHESTER: RED ENAMEL – LEFT SIDE LOAD | $4,099.00 |
| MANCHESTER: RED ENAMEL – RIGHT SIDE LOAD | $4,099.00 |
| Options | |
| OUTSIDE AIR KIT: EQUINOX/MANCHESTER | $89.00 |
| BLOWER: MANCHESTER | $409.00 |
| REAR HEATSHIELD: MANCHESTER | $69.00 |
| SPARK SCREEN: MANCHESTER | $129.00 |
| SIDE DOOR LOCK KIT: MANCHESTER | $29.00 |
A large freight truck (18-wheeler up to 60' long) is standard on all deliveries. If you need a smaller truck, please call our office (406) 300-1776 to request a smaller truck size. Note: an upcharge may apply for small trucks.
Please inquire with our sales staff if you have specific shipping needs such as international, freight terminal and/or business deliveries or if you need a smaller truck size. Click here to see Obadiah's Shipping Terms.
Obadiah's offer's a 20% discount and free shipping on most complete chimney systems. Contact our chimney specialists for an exact quote.
Be sure to check out our newly improved Cookstove Community website cookstoves.net; the best place online to connect with other cookstove users over stoves, self-sufficient living, alternative energy, and more! Take a look at our selection of videos, articles, and photos, and be sure to visit the forums to connect with like-minded folks from all over.
If you are planning to cook with a cookstove, you will need to understand some basic fire safety. Remember, extinguishing a grease or oil fire with water is not a good idea.
For help choosing and installing a wood boiler, see the links and posts below.