Thursday, September 20, 2018
Hearthstone Tribute 8050 Stove - Not Available*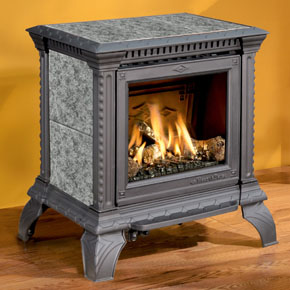 *PRODUCT NOT AVAILABLE - this page is for informational purposes only.
The Hearthstone 8050 Tribute soapstone direct vent gas stove complements any home or cabin with its natural beauty. Being made from natural soapstone, this direct vent gas stove radiates a soothing, and relaxing wave of heat that will keep an area both warm and comfortable. This gas burning stove's exquisite cast iron finish beautifully complements the natural beauty of the soapstone to give you a fantastic looking option for a gas stove. And with different color finishes and stone sets to choose from, you can customize a gas stove to match with the decor in your home or cabin.
Description
Specifications
Photos (4)
Pricing
Add Review
*PRODUCT NOT AVAILABLE - this page is for informational purposes only.
The Hearthstone 8050 Tribute is a soapstone direct vent gas stove that radiates a soft, soothing heat that keeps areas up to 900 square feet warm and comfortable. And with all of the technologies implemented into this fine gas burning stove, you can enjoy a beautiful and efficient product.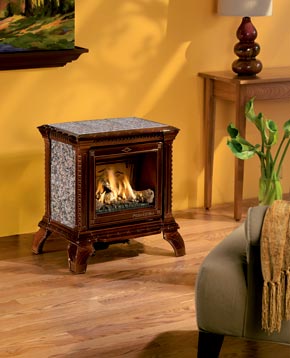 Using a sealed firebox and direct vent technology, this soapstone gas stove reduces cold air drafts and creates a more efficient combustion by drawing in air from outside the home, instead of using air from inside. At the already affordable price that this direct vent gas stove is available at, your installation costs are cut (saving you more money) by the fact that you do not need a hearth for this product. A double heat exchange system directs hot air from the fire toward the large viewing glass window and out into your home, giving this gas stove even more heat output. You can also control the intensity with which the fire burns by using the adjustable heat output.
With a variety of stone and color finishes, you can choose the perfect Hearthstone Tribute to complement your home or cabin. And with all of the features built into this gas burning stove, you know that own a beautiful, and efficient product that will keep producing radiant heat that you will enjoy for years to come.
Features:
Large fire viewing area; realistic logs and flame picture
A perfect focal point for relaxation and enjoyment.
Adjustable heat output
All the pleasure of fire viewing ambiance, even when little room heat is required.
Certified room heat with double heat exchange system
Increased stove efficiency; less heat lost up the chimney means more usable heat for less money.
No hearth required
Stove can be installed directly on a wooden floor so less floor space is required; installation costs are less.
Sealed firebox/ Direct-Vent technology
Air for combustion is drawn from outside the home, reducing cold air drafts; greater efficiency due to not using heated room air for combustion.
Through the wall venting option
Vent pipe can be installed through an exterior wall with only a short rise of vertical pipe exposed. An inconspicuous terminus on the outside wall completes the installation. Vent pipe can be installed through an exterior wall with just the pipe elbow exposed. Special terminus on the outside wall required to provide necessary vertical rise.
Through the roof venting option
Stove can be installed in an interior location with the vent pipe terminating above the roof. Stove can also be installed through an existing fireplace or Class A chimney using special adapters; great option if replacing a wood stove.
Color Finishes:
Black Matte

Brown Enamel

Stone Sets:
Gray Soapstone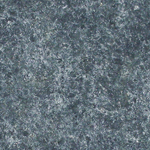 Titanium Pearl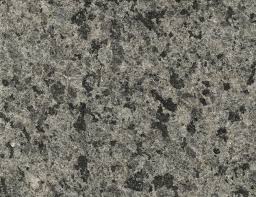 Autumn Brown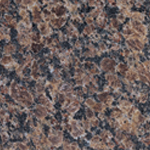 Schematic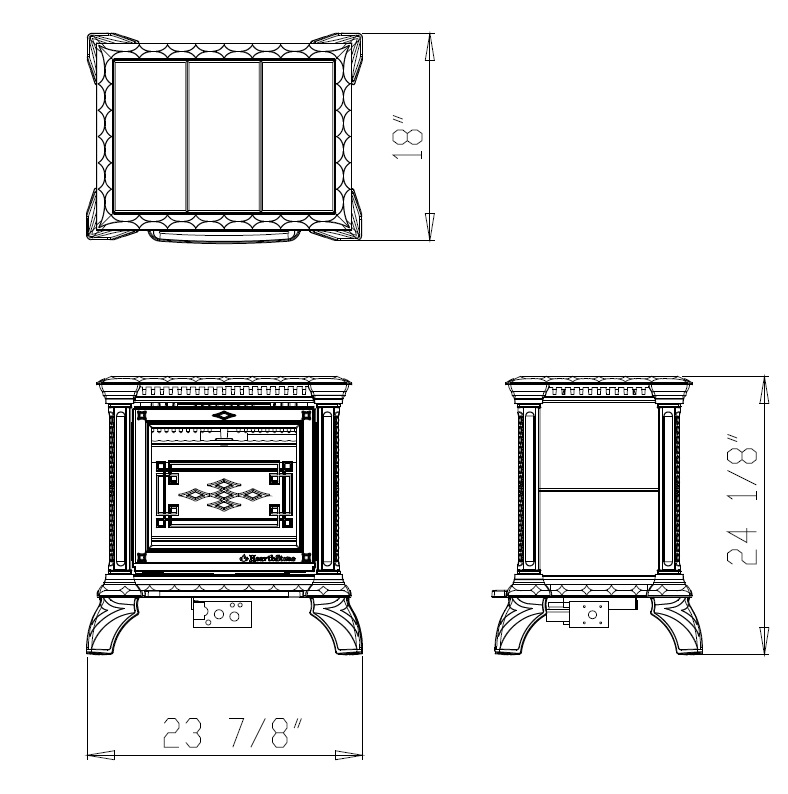 Clearances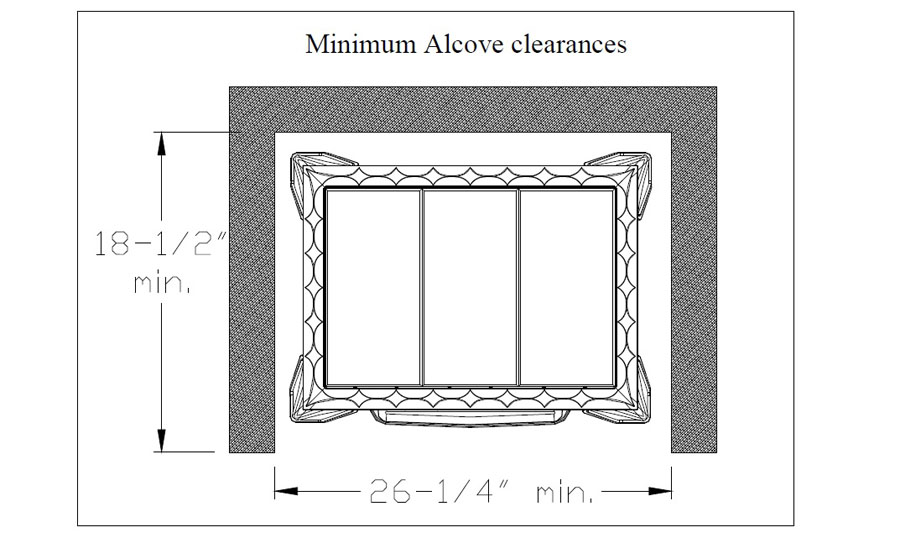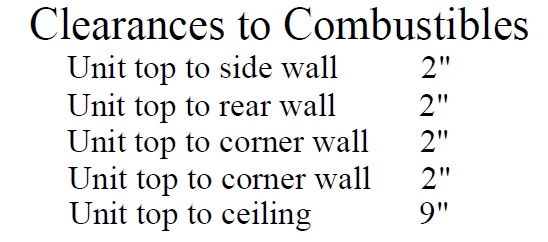 Specifications
Hearthstone Tribute 8050
Heats Up To
900 sq. ft.
Burn Rate Range
10,500 - 18,000 BTUs/hr.
Steady State Efficiency
70 82%
EnerGuide Rating
63.3% (NG), 66.3% (LP)
Width
23-7/8"
Height
24-1/8"
Depth
18"
Flue Diameter
4" x 6-5/8"
Flue Exit
Rear
Available for NG or LP
Yes
Optional Blower Kit
Yes
Remote Control Compatible
Yes
Built-In Three-way "On-Off-Thermostat" Switch
Included
Wall Thermostat and Thermostat Wire
Included
Actual Weight (lbs.)
185
Mobile Home Certified
Yes
Programmable Thermostat Compatible
Yes
Clearances (minimum clearances to combustibles)
Side
2"
Rear
1-1/2"
Corner
2"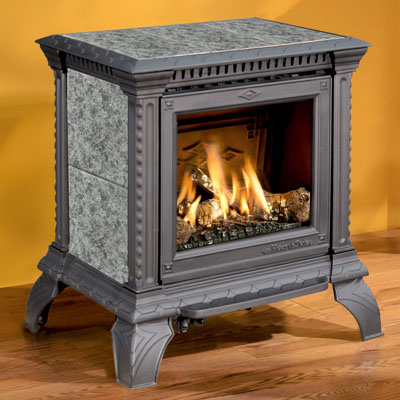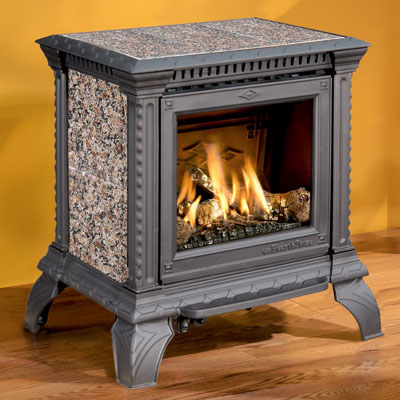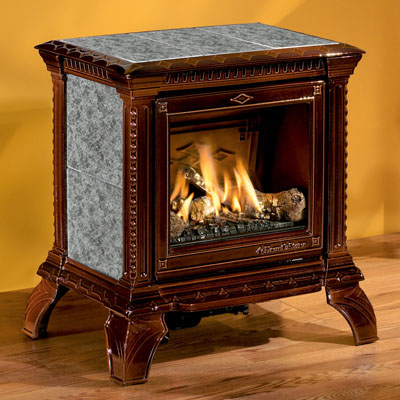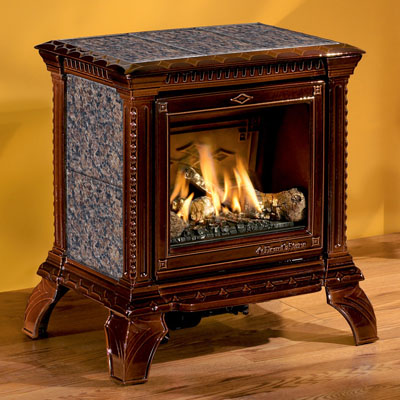 This unit not available for purchase.
All Retail Prices Include: Residential, curbside delivery via freight truck with a lift gate is included for shipping in the Continental U.S.A. (some exceptions may apply). Please inquire with our sales staff if you have specific shipping needs such as international, freight terminal and/or business deliveries or if you need a smaller truck size. Click here to see Obadiah's Shipping Terms.
Obadiah's offer's a 20% discount and free shipping on most complete chimney systems. Contact our chimney specialists for an exact quote.