Sunday, December 3, 2023
Hearthstone Deva 100 Model 8220 Wood Cookstove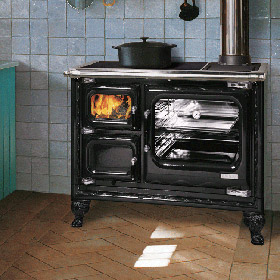 The Deva 100 Wood Cookstove is not your mother's typical range cooker. Integrating lasting quality with remarkable versatility, the Deva 100 captures the essence of what a cookstove should be: warm, stylish, serviceable, and sensational. From the classic good looks of its durable, solid cast-iron-with-nickel-trim construction to the contemporary performance of its state-of-the-art technology and user-friendly controls, the Deva 100 makes spending time at the stove a joy instead of a burden. Modern styles include enameled cast iron surfaces with chrome and nickel details.
Check out the tabs below for useful information, pictures, and more!
Description
Specifications
Photos (9)
Pricing
Extended Info
Videos (4)
Reviews (3)
Add Review
Made to last and amazingly versatile, the Deva 100 Model 8220 is everything you should expect from a wood-fired cookstove: inviting, stylish, maintainable, and remarkable. From the beauty of the stove's durable, cast iron and nickel trim construction to the modern, state-of-the-art technology performance and easy to use controls, the Deva 100 is a joy to use!
Features
Generous oven: with 2.47 cubic feet of cooking space, enough to bake a 20 lb turkey
Glass oven: and flame view doors
Vitreoceramic cooktop: for modern convenience and style, easy to keep clean and efficiently transfers heat
Single oven temperature control: with the dual thermometer showing both Fahrenheit and Celsius
Single Lever Stove control: Consistently performs with easy operation
Non-catalytic combustion system
Top or rear exit flue
EPA Exempt (learn more here)
Washington State Approved (learn more here)
Options
Color:


Resources:
Deva 100
Specifications
Fuel
Wood
Fuel Loading Door Dimension
7" X 9 3/4"
Stove Dimensions
33 3/4"H X 40"W X 23 3/4"D
Oven Dimensions
17 1/4"W x 16 1/2"D x 15"H
Oven Capacity
2.47 cu ft
Firebox Dimensions
11 3/8"W x 17 1/4"D x 14 1/2"H
Firebox Capacity
1.6 cu ft
Flue Orientation & Size
Top or Rear - 6"
Heat Output
Up 46,000 BTU/hr
Heating Capacity
Up to 2,800 sq. ft.
Weight
484 lbs
Maximum Log Length
17"
EPA Rating
EPA Exempt
Ash Pan
Included
Clearances
Single Wall Pipe
Double Wall Pipe
Side
10"
4"
Rear
16"
14"
Schematic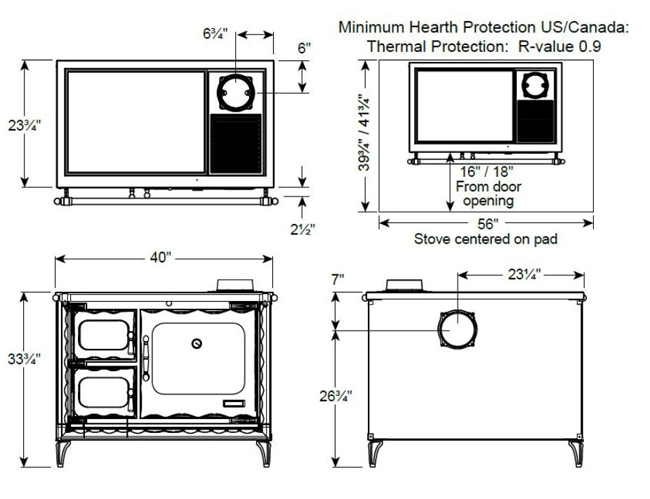 Clearances to Combustibles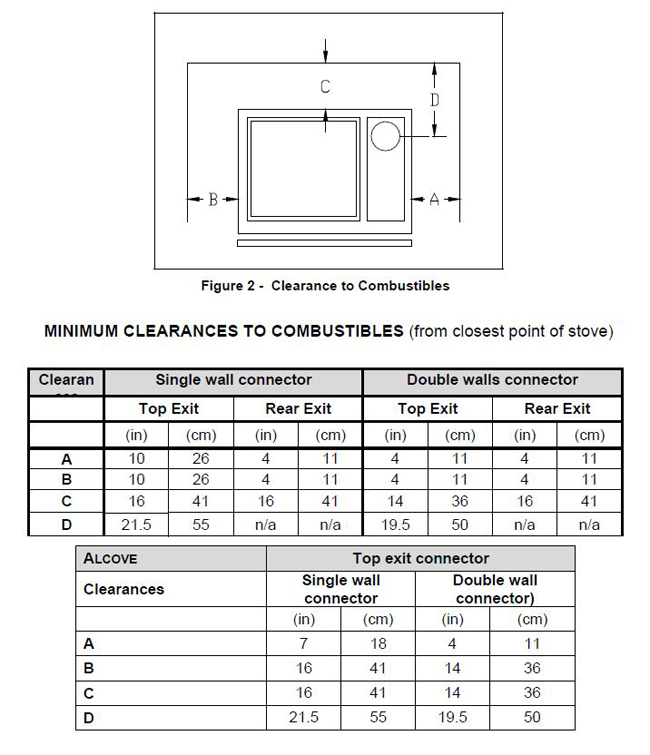 Chimney Connector Clearances to Combustibles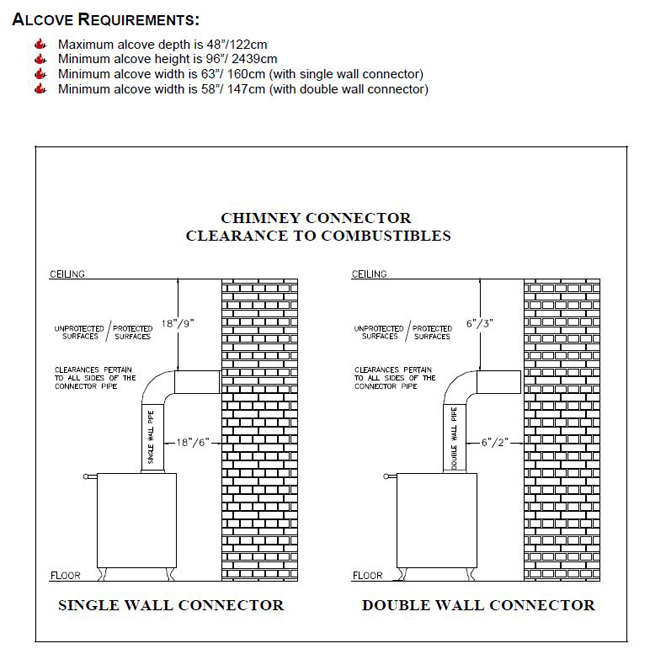 Hearth Requirements for Top Vent Installations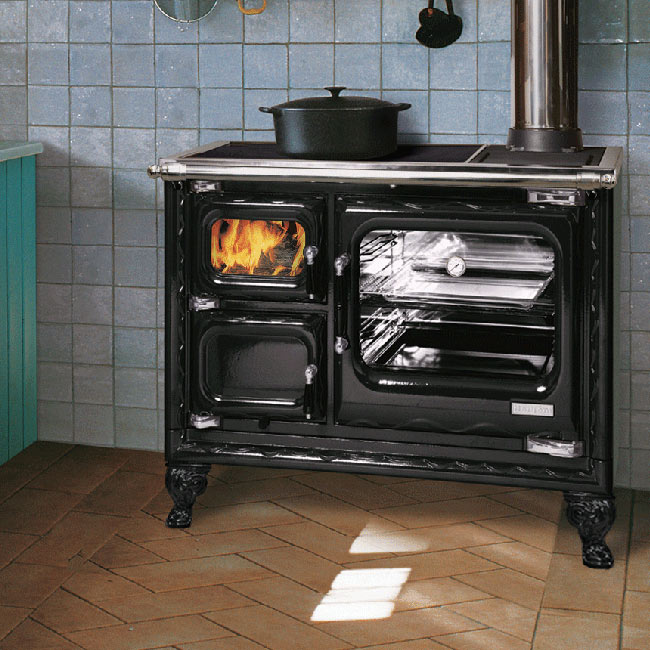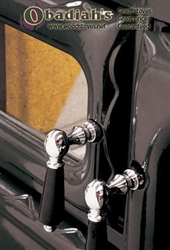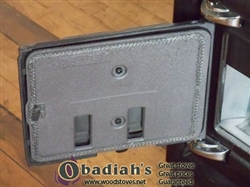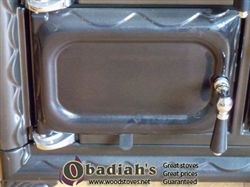 Top View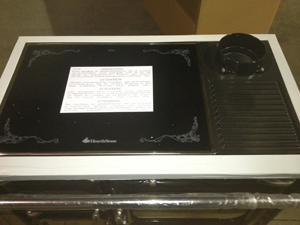 Front View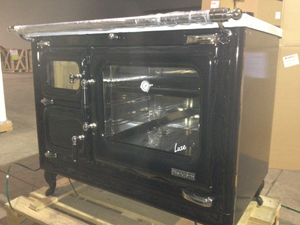 Rear View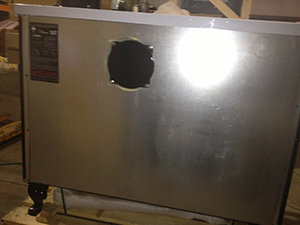 Firebox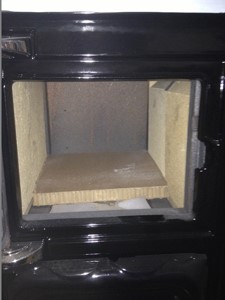 ** Residential, curbside delivery via freight truck with a lift gate is included for shipping in the Continental U.S. and some parts of Canada. Please inquire with our sales staff if you have specific shipping needs such as international, freight terminal and/or business deliveries or if you need a smaller truck size. Click here to see Obadiah's Shipping Terms.
Please call or email us today to order! One of our sales consultants will be happy to get you on your way to great, home, wood-fired cooking!
A large freight truck (18-wheeler up to 60' long) is standard on all deliveries. If you need a smaller truck, please call our office (406) 300-1776 to request a smaller truck size. Note: an upcharge may apply for small trucks.
Please inquire with our sales staff if you have specific shipping needs such as international, freight terminal and/or business deliveries or if you need a smaller truck size. Click here to see Obadiah's Shipping Terms.
Obadiah's offer's a 20% discount and free shipping on most complete chimney systems. Contact our chimney specialists for an exact quote.
CLICK HERE TO VISIT OUR NEWER WEBSITE WHERE YOU CAN FIND PRICING AND MORE INFORMATION
Be sure to check out our newly improved Cookstove Community website cookstoves.net; the best place online to connect with other cookstove users over stoves, self-sufficient living, alternative energy, and more! Take a look at our selection of videos, articles, and photos, and be sure to visit the forums to connect with like-minded folks from all over.
If you are planning to cook with a cookstove, you will need to understand some basic fire safety. Remember, extinguishing a grease or oil fire with water is not a good idea.
Pouring Water on an Oil Fire
Stove Delivery and What To Look For
Boss of the Swamp: Woodstove & Chimney Maintenance (Part 1)
Boss of the Swamp: Woodstove & Chimney Maintenance (Part 2)
Deva 100
May 21, 2019
Reviewer: Mountain Man
we use this stove in our off grid home in Rural Alaska, our home is 1488 SQFT. and the Deva will absolutely run you out of the house, it is easy to use, easy to light a fire and the oven is a huge, Huge.... we cook in and on it all the time, we have a conventional oven, but the Deva is always burning in the winter, and therefore used most of the time. I have a couple of things I would have liked to have on the stove... one being a water jacket, for heating water, and although I like the Vitreo Ceramic cook top, I would also like to have had the option of Cast Iron. that being said i honestly have no complaints about the stove or the heat output and ease of use for cooking, heating sitting back and watching the fire, I am sure there aint much else out there that will compare with this stove, especially when you look at aesthetics, and performance, this is a big stove in a small-ish package, I would highly recommend it to anyone wanting a wood cook stove.
Hearthstone Deva 100
January 1, 2019
Reviewer: Chris Sorrels
we have owned this stove for a couple of years and love it, it is a great stove, cooks very well, and is easy to clean, and simple to operate, this stove fills the bill on all counts, we have a 1286 SQFT House, and it works well even in the coldest part of winter here in Alaska, the only drawback is the fact that it doesn't have a provision for a water Jacket.
the vitrio ceramic cook top heats nicely and is very forgiving to water droplets hitting on it when the stove is snorting. ( running on High )
The Deva has one of the largest ovens on the market
May 12, 2016
Reviewer: Terry
The Deva's oven actually swallows up a 14 lb. turkey with enough room to spare to roast the rest of the dinner. There likely isn't a turkey that wouldn't fit inside of it.
Mid-size Workhorse
March 28, 2016
Reviewer: AK Bear
The Deva is a nice mid-sized cook stove that hides a real workhorse. For cooking and baking it has a fully usable cooktop across the entire top with an easy to clean and modern vitro-ceramic glass. The cooktop quickly reaches 700 degrees over the firebox, and it has a fully stainless steel oven that can easily fit a 14lb turkey inside of it. Easy controls make this a stove that anybody can run, having only one draught control and a bypass that can maximize the draw. For cleaning purposes there isn't a cook stove available that has easier or more complete access as both the top and grilling plate; simply lift off the top! From a heating standpoint it produces almost 2.5 times the heat of the Esse Ironheart, having 46,000BTUs. Its boasted cast iron elements that retain heat and gradually release it long after the fire goes out eliminate the need to reload so often and makes relighting a snap. Despite the surprising heat output this cook stove only requires 4 inches of side clearance due to its insulated sides that prevent build-up of dangerous creosote and ash collection in the down-draught channel. Built in Spain this is a cook stove that would be at home in both a country kitchen and a modern glossy architectural showplace.
Great stove!!!
October 13, 2013
Reviewer: Tonya
This is a very simple stove to use. I love the look of it and the dependability of it.