Wednesday, December 19, 2018
Hearthstone Clydesdale 8491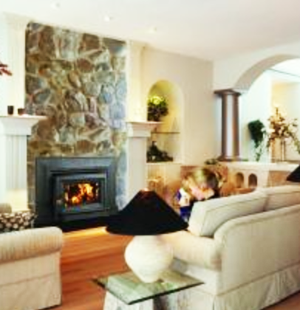 The Clydesdale 8491 wood burning fireplace insert is hand-crafted in Vermont by Hearthstone and is designed to heat a large space straight from a fireplace and with its thick soapstone panels that line the inside of the firebox, the unit will be warm long after the fire has gone out. The Hearthstone 8491 wood-fired insert has generous depth and width allowing for loading wood up to 22" long to provide a strong burn time of up to 10 hours.
Description
Specifications
Photos (7)
Pricing
Videos (5)
Add Review
This stunning wood burning insert, the Clydesdale 8491, is in the Hearthstone Hergōm Cast Iron Collection - Hergōm being the Spanish foundry where every Hearthstone cast iron wood stove has its distinctive European beginnings. Hearthstone has also incorporated into this beauty the benefits of advanced wood burning technology - without the cost and maintenance of a catalytic converter - to produce large amounts of heat and be clean burning being EPA certified. Clydesdale 8491: warmth plus style!
Features:
2.4 cubic foot firebox holds up to 48 lbs of wood
Firebox soapstone-lined to ensure longer HeatLife (TM)
Large front door allows logs up to 22" in length for easy loading
Solid cast-iron with improved door handle and latch
Reversible door can be opened from the left hand side or the right
Three piece surround
Single Air intake – stove control is easy and can produce more consistent heat
Unmatched fire viewing –large glass door allows unobstructed view of the entire firebox while flame/light is present from gases ignited off the burning wood by a secondary air tube, even with low burning rate
Non-catalytic combustion system – complete combustion which equals 1) greater efficiency; more heat from less wood, and 2) clean burning; reduced smoke and creosote build-up
Quieter convection blower system mounted in rubber bushings with easy access speed control helps spread heat evenly throughout the home, the rheostat controls the blower speed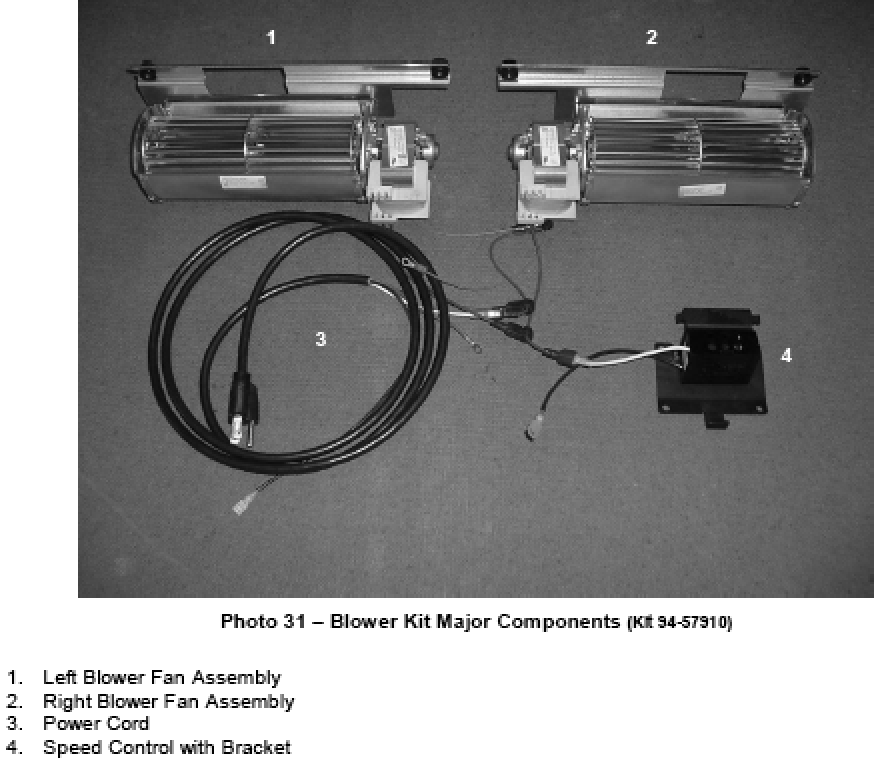 Removable baffle and secondary air plenum allow flue cleaning without moving the insert
Sealed convective air chamber allows better air flow and improved heating performance
Easy access to blower for cleaning
Easy access to draft test port
2 position flue collar for installation flexibility
Depth adjusting surrounds for unit to fit more fireplaces
Leveling legs to adjust after installation in the fireplace
Optional Features:
Color Choices

Mantle Heat Shield reduces clearance requirements allowing more placement options
Screen for open-door fire viewing and listening
Surrounds caps to fill for raised firebox installations or simply to beautify
Aluminum Surround extension (36"H X 59"W)

Resources:
Specifications
Clydesdale 8491 Wood Insert
Heats up to
2,000 sq. ft.
Burn Time
Up to 10 hours
Heat Life
Up to 12 hours
Size
75,000 BTU
EPA Rating
3.2 grams per hour
Efficiency
79% (LHV)
Width (without surround)
31-1/2"
Height
23"
Depth (includes ash lip)
24-1/2"
Depth (minimum behind surround)
12-3/4"
Maximum Log Length
22"
Firebox Capacity
2.4 cubic feet
Flue Exit & Diameter
Vertical, or 30 degree rear, 6" flue collar
Convection Blower
Factory Installed, Standard
Ash Pan
No
Surround Size w/surround extensions
36" H x 59" W
Surround Size
30" H x 47" W
Optional Screen
Yes
Actual Weight (lbs.)
550
Mobile Home Certified
No
Optional Mantle Shield Kit
Yes
Minimum fireplace dimensions
Width at Front
31"
Width at Rear
24"
Height at Front
22-1/25"
Height at Rear
21"
Depth
15"
Depth of Lintel
9" (maximum)
Clearances (Combustible Surface)
Top of Insert to Mantle or Top Trim
27"
Top of Insert to Mantle with Shield Kit
11"
Side of Insert to Side Wall
12"
Side of Insert to Side Trim
9"
Hearth Pad
Minimum Size (US)
39" W x 18 " D
Minimum Size (Canada)
100 cm x 46 cm
Accessories Description
Hearthstone SKU
DRAFT METER: WOODSTOVES
90-99000
Gloss Blue-Black Spray Paint
90-58159
Gloss Brown Spray Paint
90-58120
Matte Black Spray Paint
90-58110
SCREEN, CLYDESDALE
94-69900
SURROUND EXT, CLYDESDALE
94-5990010
TOUCH UP BLUE BLACK ENAMEL
90-58059N
TOUCH UP BROWN ENAMEL
90-58004N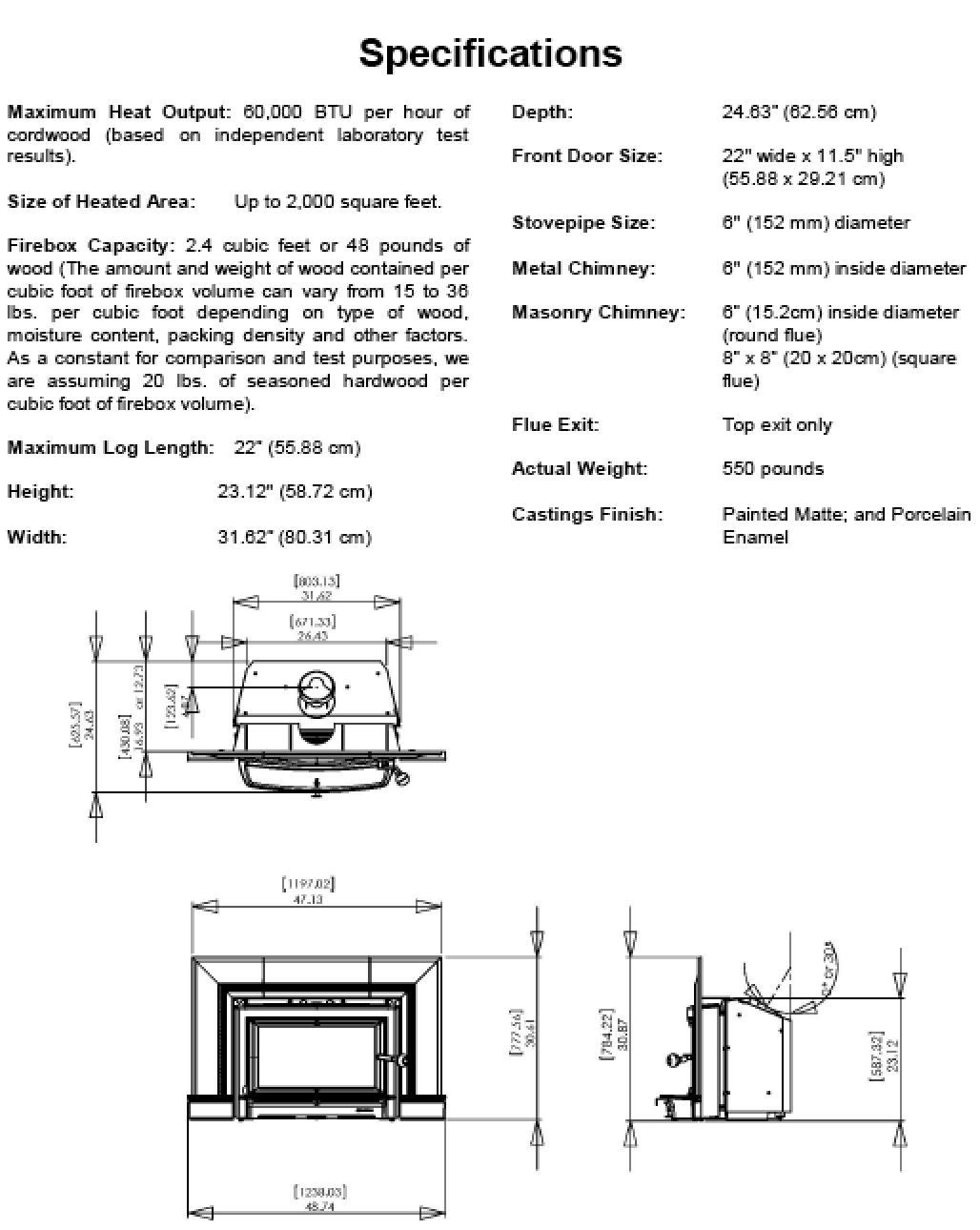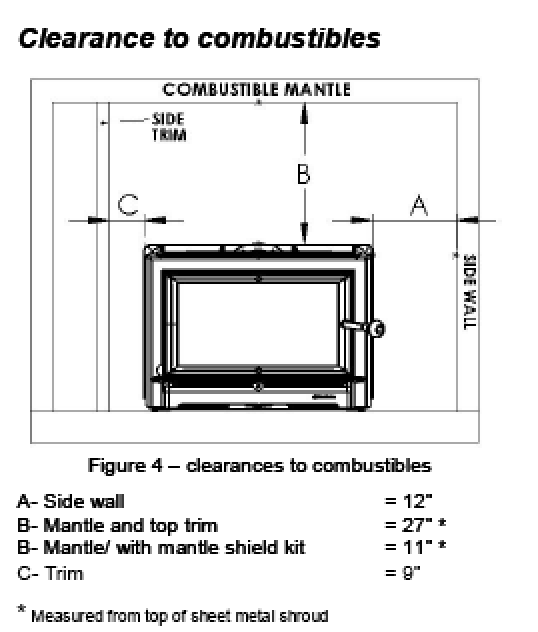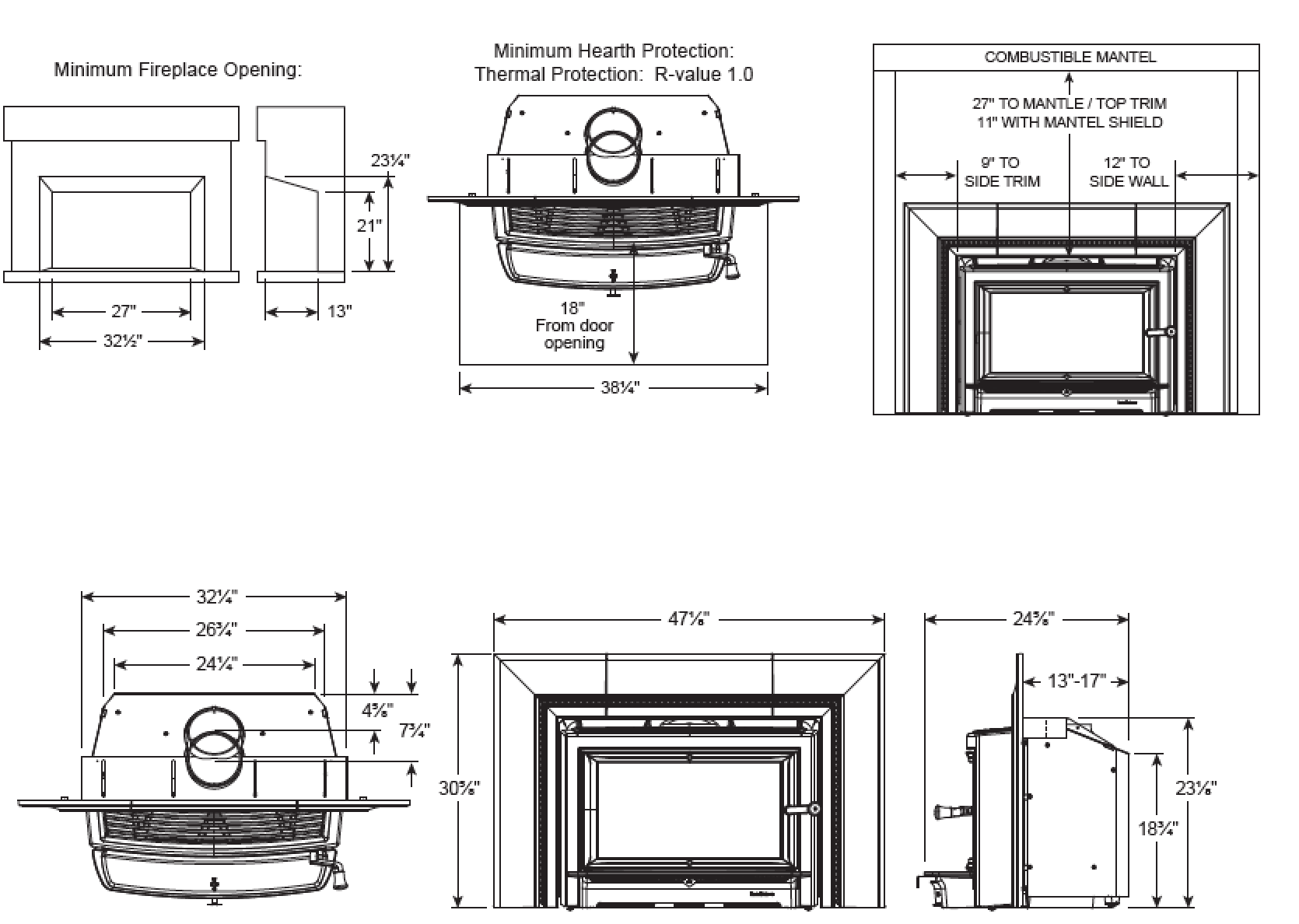 HearthStone Clydesdale Wood Insert Shown in Black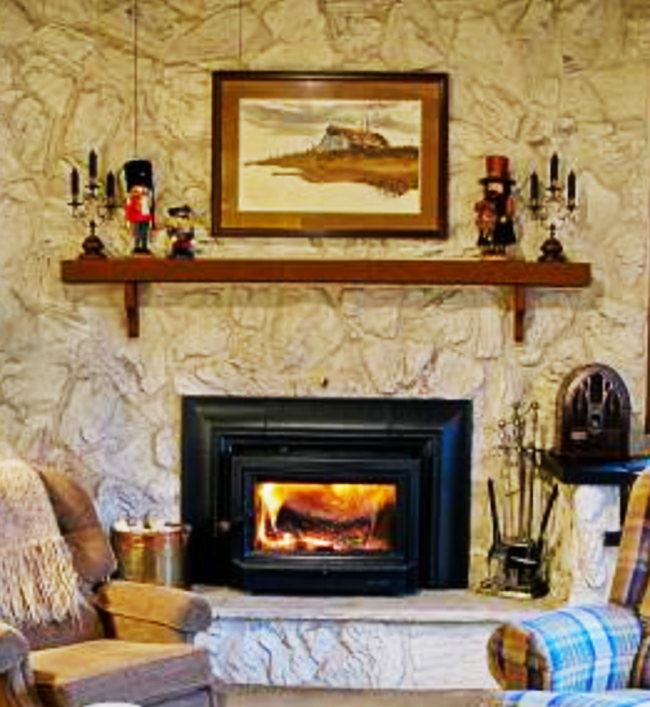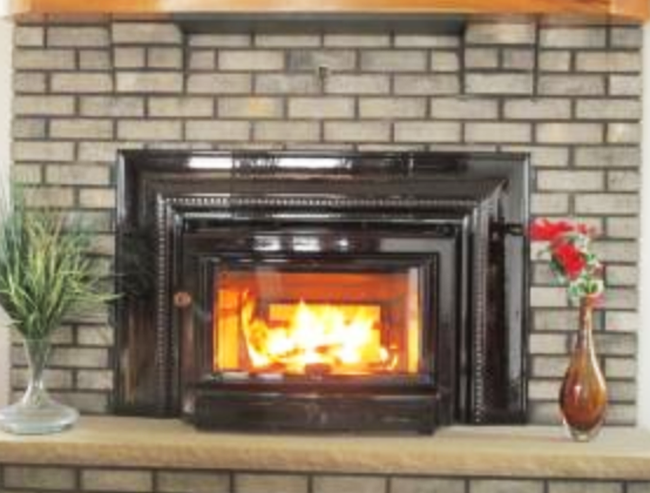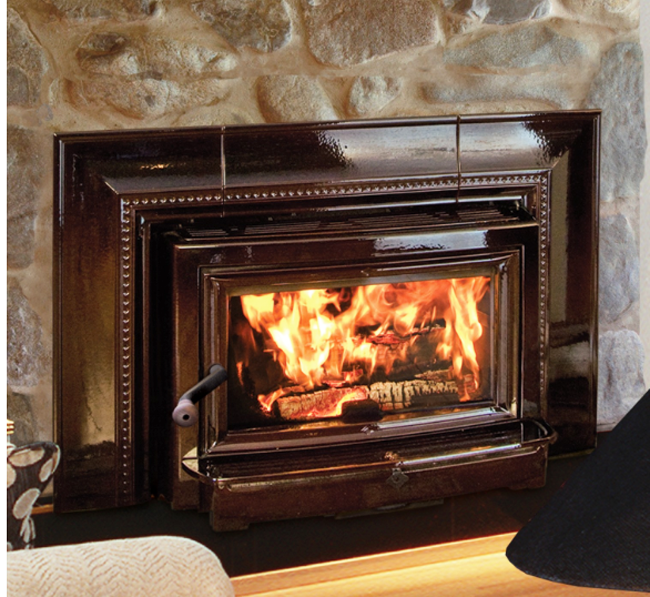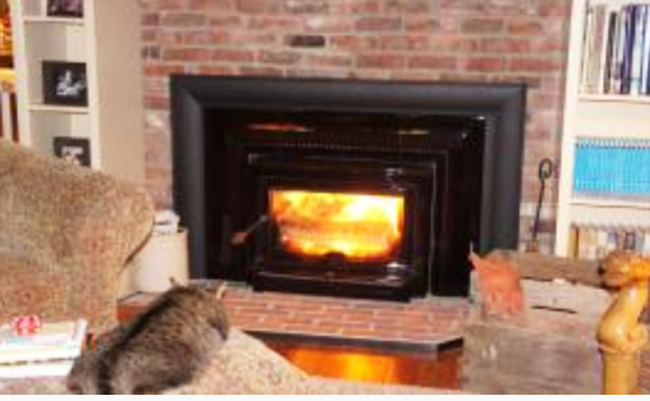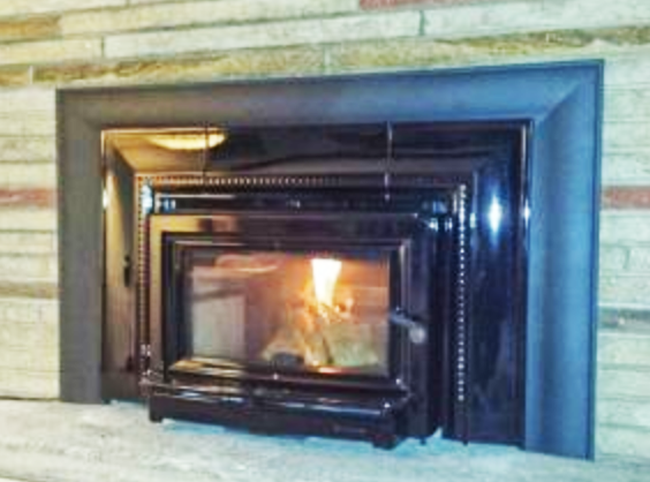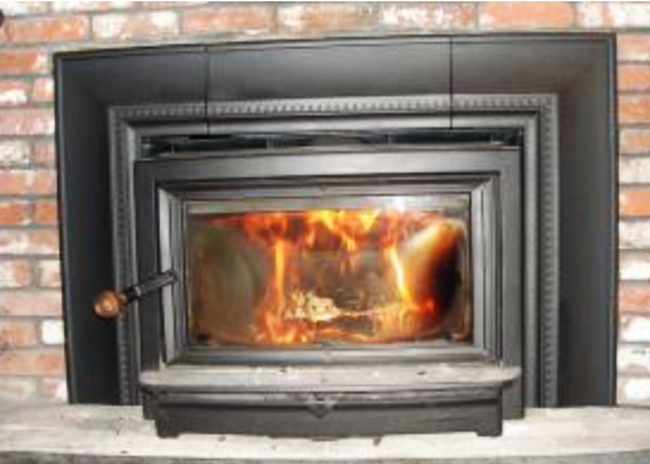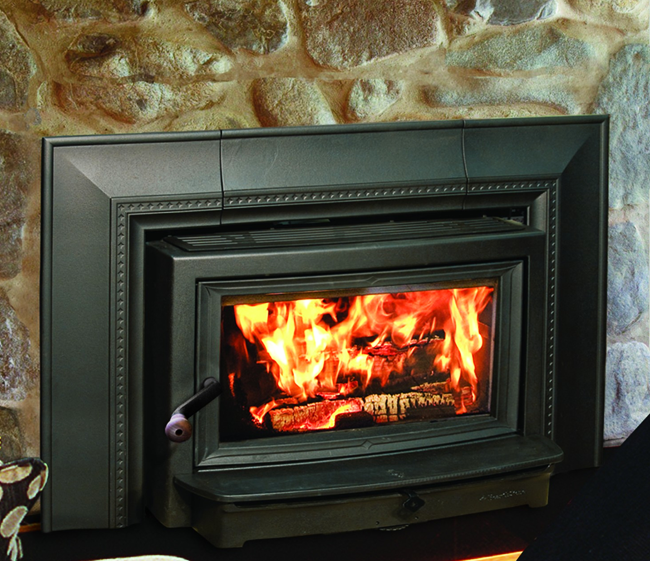 | | |
| --- | --- |
| Fireplace | Price |
| Clydesdale - Matte Black | $3,599.00 |
| Clydesdale - Brown Enamel | $3,999.00 |
| Optional Accessories | Price |
| Surround Base Cap Set - Matte Black | $77.00 |
| Surround Base Cap Set - Brown Enamel | $110.00 |
| Surround Extension 59" x 36" | $279.00 |
| Spark Screen | $121.00 |
| Mantle Shield | $121.00 |
This product qualifies for free residential delivery with lift gate service within the lower 48 states. A large freight truck (18-wheeler up to 60' long) is standard on all deliveries. If you need a smaller truck, please call our office (406) 300-1776 to request a smaller truck size. Note: an upcharge may apply for small trucks.
All Retail Prices Include: Residential, curbside delivery via freight truck with a lift gate is included for shipping in the Continental U.S.A. (some exceptions may apply). Please inquire with our sales staff if you have specific shipping needs such as international, freight terminal and/or business deliveries or if you need a smaller truck size. Click here to see Obadiah's Shipping Terms.
Obadiah's offer's a 20% discount and free shipping on most complete chimney systems. Contact our chimney specialists for an exact quote.
Chimney Liner Installation - Chimneys 101
Chimney Liner Installation Part I - Preparing the Liner
Chimney Liner Installation Part 2 - Inserting the Liner
Chimney Liner Installation Part 3 - Connecting the Liner & Damper Insulation
Chimney Liner Installation Part 4 - Final Touches