Monday, December 4, 2023
Greenwood 200 Hydronic - Discontinued*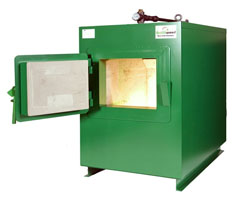 *PRODUCT DISCONTINUED - This page is for informational purposes only.
The Greenwood Hydronic Wood Furnace represents the latest innovation in wood burning boilers. Based on a tested design developed more than 20 years ago, the Greenwood wood boiler is the most efficient, wood burning boiler you can buy for your home. It is safe to operate, burns smoke- and creosote-free, and saves you up to 70% on your home heating bills. Our wood boiler is also easy on the environment -- the fuel you burn is a renewable resource and does not contribute to global warming. Finally, the Greenwood hydronic wood furnace is easy to install and works with a variety of heating systems and applications.

No Warranty available on these units
Description
Specifications
Photos (3)
Pricing
Add Review
*PRODUCT DISCONTINUED - This page is for informational purposes only.

Pro Fab Industries the manufacture of the Greenwood Boiler, for Greenwood is being liquidated by Pro Fab.

Obadiah's is not and never has been a Greenwood dealer as the Seton Boiler is made here locally and Fred Seton lives in our valley during the summer months.

We have been Pro Fab dealers since 2001. We have been asked to help liquidate these boilers as Pro Fab would like to see them sold properly by someone who can support them in the future.

Pro Fab has lowered the price and these boilers are being sold as brand new without a warranty for below what they cost to build.

When they are gone they are gone and will never again be available at this price.

If you are looking for a high efficiency boiler that is designed to burn full rounds and operate without blowers to create clean combustion, this is your stove.

These boilers are based on the Seton Boiler which is still being manufactured in our hometown of Troy Montana, by Fred Seton.


We also offer the "original" Seton Boiler with a full 10 warranty from Fred Seton.

Parts and service advice are available through us to support most Seton Copy Boilers.

We also offer a "Fred Seton Upgrade System" which will restore the Greenwood back to Fred's original design.

We will even provide the original Seton Boiler manual with each Greenwood Boiler so you can install the unit as Fred intended.

The issues you may have found concerning this boiler can usually be attributed to improper installation and or operational knowledge.

Installed properly this boiler is an excellent boiler and has an long list of very satisfied customers.

Fred has gone out of his way to support his design even if it was not built by him. He still provides design service and will design a complete system for a fee.

He has over 50 years in the boiler field and is widely recognized as a leader worldwide in Radiant Heating.

Fred has posted lots of free info here to assist you in many ways.

THINGS TO THINK ABOUT...

All shipping is not created equally some dealers want you to pay an additional $100 to insure the shipment and leave you to file your own claims if you have any damage.
The Greenwoods they sell are on a pallet and are not crated. The risk of shipping damage is high as plumbing is exposed.
As the unit is improperly packaged the freight company will not pay the claim which is why they want YOU to purchase insurance.

We at Obadiah's do not operate that way we regularly ship stoves furnaces and boilers all over North America..
We will not ship anything which is not properly crated therefore we charge a $225 crating fee to ship a Greenwood to assure it arrives free of damage.
Our huge shipping volume allows us to deliver the boiler curbside to your home for about the same price as the competition charges to deliver to a shipping terminal which may be hours from your home.
You can skip the crating fees if you want to pick it up in TN.



With Obadiah's we handle everything for you, no need to insure anything. In most areas we use Fed EX Freight, or UPS Freight.
Our volume allows us to request smaller trucks with liftgates for residential delivery.
Your boiler will arrive in front of your home curbside delivery.
Load your boiler on a trailer or the back of your pick up as the driver lowers the boiler off the truck with a liftgate.
Move it from there where it needs to go.
Be aware, boilers can weigh as much as a ton. They also should be professionally installed by a licensed plumber to meet your local codes.

Most installers are familiar with moving large boilers.

If you are installing in a basement and do not have a walk out, make sure your steps can support the weight of the boiler!!!!!!

As long as you inspect your shipment before you sign and note any damage on the Bill of LandingObadiah's will take care of everything if there is damage.
We'll ship you replacement if a fork truck put a hole in the side, no additional charge, simply take a picture of the hole and write refused.

The boiler will be returned to the terminal for further inspection, if deemed irreparable, a replace we be sent and we will take care of the damage claim for you.

(If that happens with other Greenwood sellers, you will have to file your own claim with the Freight Company and battle the insurance company to see how will pay. Meanwhile, you will have to pay for your replacement boiler and pray you get reimbursed)

Lastly ask yourself a few more questions before you spend your hard earned money anywhere else.


If you have problems with your Greenwood will the dealer troubleshoot your problems or provide you with replacement parts.
How much experience do they have with wood boilers?
Can they answer your questions about the installation or operation of this unit?
How much experience do they have with these boilers or are they just trying to blow them out the door?

Do they understand Fred Seton's original design and can ask questions from the Fred himself?
The Greenwood Boiler is a Seton Boiler copy which is still be manufactured right here in Troy Montana.
So we can get you replacement parts for every aspect the Greenwood.

We can show you how to properly install and upgrade your boiler so it will provide years of trouble free operation.


We can also supply the Seton Control Package which includes a 24"x 41/4" Manifold3 Honeywell Aquastats.
30# Press Relief Valve210, degree Relief ValveLWCO Port and 2-1 1/4" FIP Fittings
provide protection against over temperature, over pressure and auto air bleed.
Restores boiler back to original Seton Design. $700

Obadiah's specializes in wood heating including boilers; our customer service before during and AFTER the sale is unsurpassed.
We have been in business over 32 years and have been online since 1999.

We are former Builder/General Contractors and licensed HVAC Contractors, both residential and commercial.

We have been out in the field and we understand the things you will encounter in your installation.
Our reputation says it all 'Great Service, Great Prices, Guaranteed."
Features:

How the Greenwood is Different

Most wood burning furnaces and wood boilers on the market today are unable to sustain a temperature of 1100º F or higher. They are built with a firebox made of steel which is surrounded by a jacket of water. This water jacket serves two purposes: it transfers heat from the firebox to the home heating system, and it cools the steel firebox and keeps it from melting. The problem is, by keeping the firebox cool, the water jacket also cools the fire and prevents it from burning at temperatures needed for complete combustion. That's why these units produce irritating smoke and potentially dangerous creosote.

Greenwood's hydronic wood furnace is built in an entirely different way. Our firebox is made of super-duty ceramic refractory, cast four to six inches thick, and surrounded by outer layers of insulation designed to keep the heat in. The natural draft system pulls air into the furnace which fans the flames and creates a roaring fire with sustained temperatures of 1800º to 2000º F. Heat from the fire is captured by a water tube heat exchanger located above the firebox in the path of the escaping superheated gases. The furnace extracts heat from these escaping gases, not the fire below.

This innovative design enables the Greenwood wood boiler to burn cleanly and operate at a very high level of efficiency. By the time the escaping gases leave the furnace, they have cooled to around 300º F. The 1700º F difference in temperature between firebox and the vent represents the amount of energy captured to heat your home. The Greenwood hydronic furnace burns clean and delivers up to 85% of the wood's thermal energy to your home heating system.

· The Features of Greenwood's Hydronic Wood Furnace:

Combustion efficiency(how much of the wood mass is converted to energy?): nearly 100%

Thermal efficiency (how much of the wood's energy is transferred to the home heating system?): up to 85%

Ceramic refractory fire chamber, cast up to 6 inches thick and capable of withstanding temperatures of 2500° F

Highly efficient water tube heat exchanger charged with a

propylene glycol

solution to avoid freezing and prevent corrosion

Updraft flame path and downdraft thermal transfer

Aquastats:

one to control operation of the furnace and a strap-on aquastat to interface the furnace with your home heating system

Heat exchanger (optional add-on) to transfer heat from the furnace to your home heating system

Simple, direct-acting, electro-mechanical controls

Supports either

open

or

closed system

installation

Burns unsplit logs -- dry or seasoned wood

Resources:
| | |
| --- | --- |
| Model | Greenwood 200 |
| Furnace Output (BTU/Hr) | 200,000 BTU |
| Approx Heating Capacity | 4,000-10,000 ft sq |
| Furnace Dimensions | 42" x 52" x 48" |
| Max Log Length | 18" |
| Max Log Diameter (Door Height) | 28" |
| Approx Weight | 3,000 lbs |
| Firebox Volume | 12.9 cubic feet |
| Firebox Dimensions | 29" x 32" x 24" |
| Flue Size | 7" |