Monday, December 4, 2023
Glenwood Econo Flame 7550 Waste Oil Boiler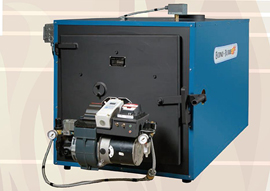 The Glenwood Heaters Econo Flame 7550 Waste Oil Boiler gives you an environmentally safe alternative for the disposal of your waste oils. You can produce tens of thousands of BTUs to heat a large building, while simultaneously ridding yourself of waste oils such as: cooking oil, motor oil (up to SAE 50), hydraulic fluids, and more! With 1/4" A36 steel plate, you can burn confident in the durability of this furnace. Despite the ruggedness of this waste oil heater from Glenwood Heaters, it is easy to operate and maintain.
Description
Specifications
Photos (9)
Pricing
Videos (3)
Add Review
The Glenwood Heaters Econo Flame 7550 is a waste oil boiler that gives you a way to burn your waste oils in a clean, environmentally friendly way, while giving you tens of thousands of BTUs to heat any large building (up to 16,000 square feet).
There are a large variety of waste oils that you can burn in this environmentally friendly waste oil boiler. You can properly dispose of the following oils by burning them in this waste oil heater: cooking oils, motor oils (up to SAE 50), hydraulic fluids, transmission fluids, and heating oils. With 1/4" A36 steel plates, this rugged boiler has superior heat efficiency thanks to a fire tube type heat exchanger with spiral baffles that emit the available heat into the water jacket. The frequency with which you have to clean this waste oil burning boiler is reduced by 4 inch tubes that handle the higher residue that comes from burning such oils.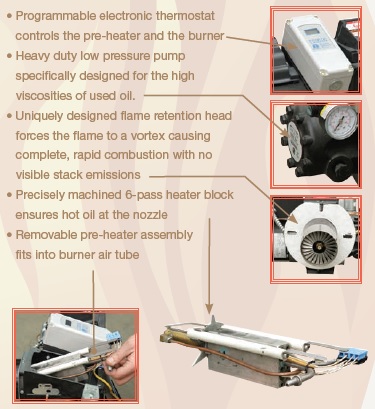 Whether you need to heat a residential, commercial, or agricultural building, there is an Econo Flame high efficiency waste oil boiler model that can satisfy your heating needs. Plus, while providing heat, you help the environment by disposing these materials properly in a manner that emits no visible emissions.

Click here for Single Line PEX Pipe
Click here for Dual Line PEX Pipe



Features
| Burns | Heats |
| --- | --- |
| Cooking Oils | Shops and Warehouses |
| Motor Oils | Greenhouses |
| Hydraulic Fluids | Livestock Confinement Buildings |
| Transmission Fluids | Make-up Air |
| Heating Oil | Kilns and more!! |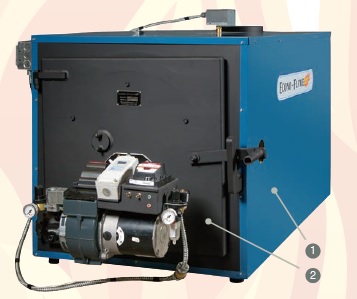 1. Tough powder coat finish.
2. Insulated swing out burner door provides access to the nozzle, retention head, and electrodes for easy servicing. Also provides easy access to the combustion chamber for cleaning.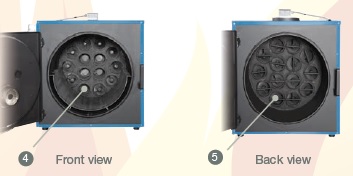 4. High efficiency heat exchanger with aggressive spiral baffles transfers all the available heat into the water jacket. The baffles can be easily removed for cleaning.
5. 4 inch tubes handle the higher residue that from burning waste oil, helping to reduce cleaning frequencies.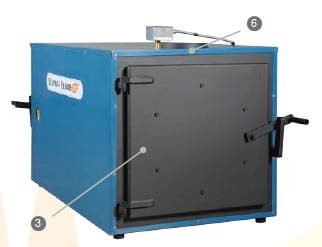 3. Swing out door allows easy access to the heat exchanger for cleaning.
6. The spend combustion gases enter the stove pipe through the water jacket for increased heat extraction.

Resources:
Specifications
Econo Flame 7550 Waste Oil Boiler
Dimensions (W X L X H)
42" X 114" X 42"
Water Capacity (Gal.)
80
BTU Output
500,000
Will Heat* (sq. ft,)
16,000
Fitting Size (inches)
2
Flue Size (inches)
10
Approximate Weight (lbs)
2000
BTU Values
Fuel
BTU's
Unit of Measurement
Wood Shavings/Sawdust

2,000,000

16,000,000

Cubic Yard

Ton

Wood Chips
12,000,000
Ton
Wood Pellets
16,000,000
Ton
Coal
26,000,000
Ton
Rubber
32,000,000
Ton
Liquid Propane
92,000
Gallon
Heating Oil
139,000
Gallon
Waste Oil
190,000
Gallon
Diesel Exhaust
1800
Horsepower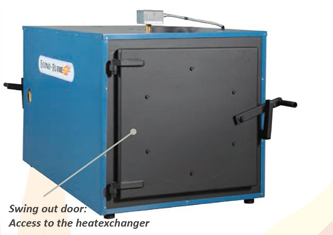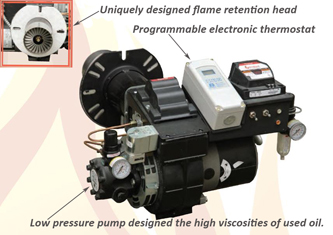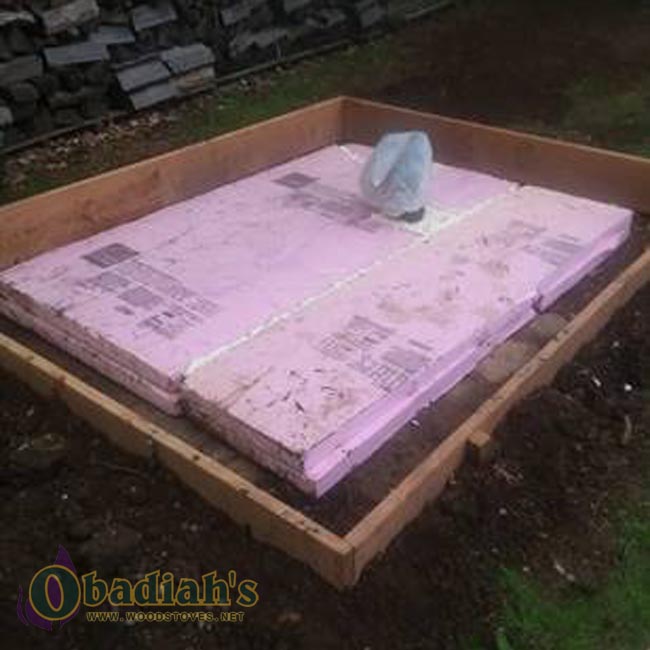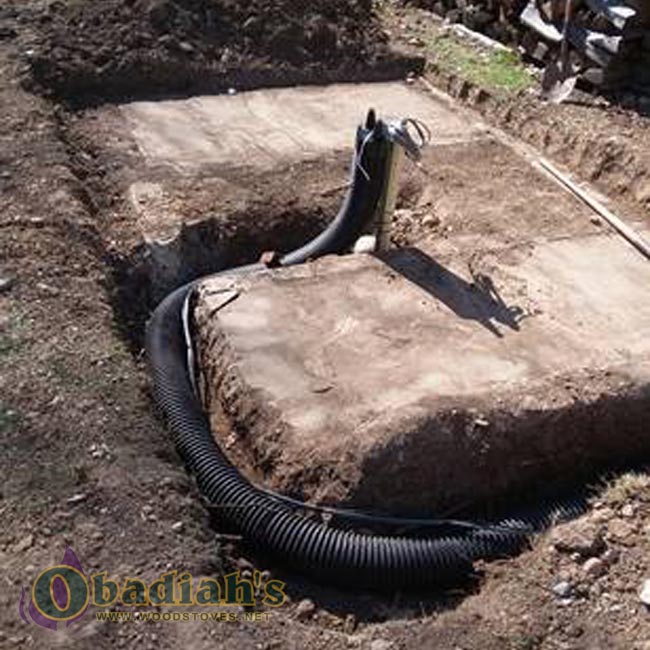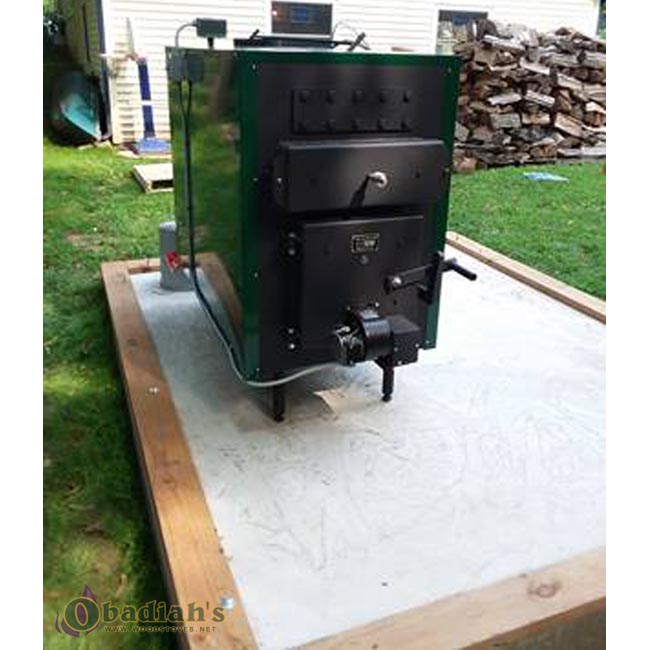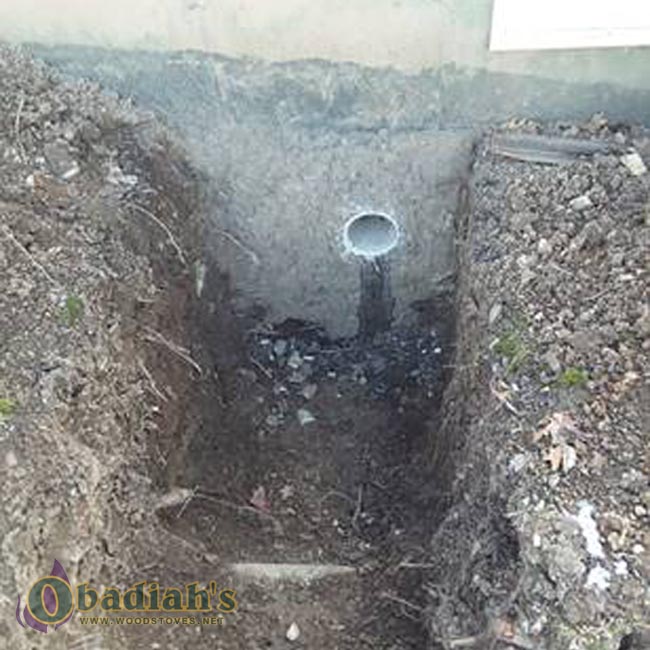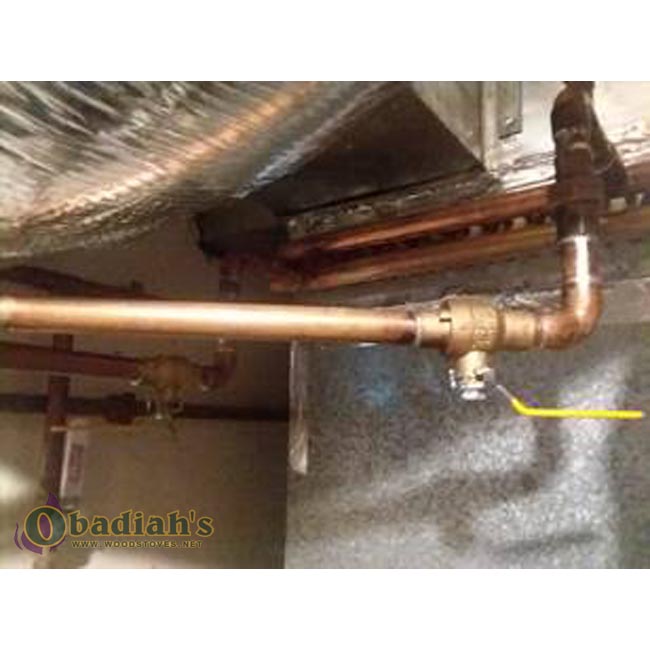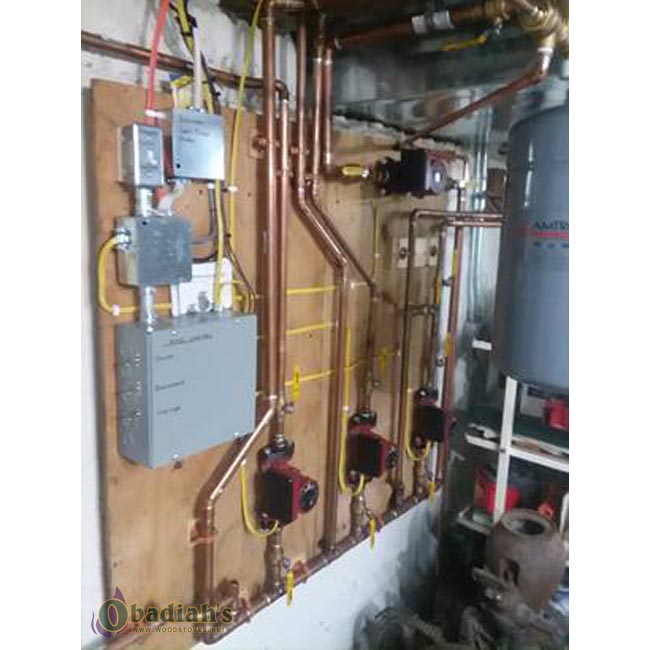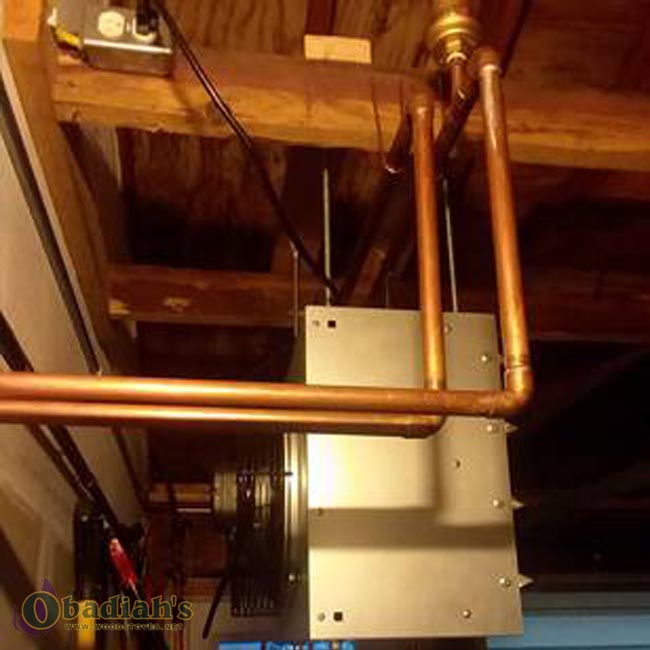 Top Five Reasons We Choose Glenwood Boilers
Glenwood Boilers - Frequently Asked Questions
Glenwood Boilers - Wood & Gas Combo Boiler, and Auto Ignition