Sunday, December 3, 2023
Esse Ironheart Cookstove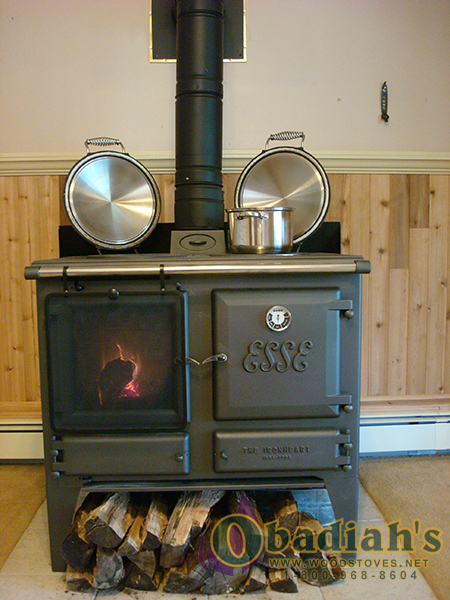 The Esse Ironheart is a traditional steel and cast iron wood cook stove from England. This stove will gently warm your kitchen, as well as providing the capacity to bake and cook your family feasts! While most cookstoves hide the fire, the Esse cooker provides a glass window to view the flames and offer a cozy ambiance to your room.
This cookstove is UL 1482 and ULC S627 tested.
Looking for parts? Check out Esse Ironheart Replacement Parts on our Website, Click Here.
Check out the tabs below for useful information, photos, videos and more!
Description
Specifications
Photos (13)
Pricing
Videos (16)
Reviews (2)
Add Review
The Esse Ironheart wood cook stove is pricier than most cookstoves on the market but when you understand the difference in the way it's built you'll understand the reason. Europeans value quality cooking appliances and openly design them with generations of use and durability in mind. The ovens design offers gentle and indirect heat that won't dry out your food. Pizzas, for example, will be piping hot and evenly cooked from edge to center while toppings remain moist and the bottom is baked to perfection. Cooking temperature can be reached in approximately 60 minutes from cold start. The firebox is spaciously designed to accommodate 18" wood lengthwise. By using larger wood, you can avoid restoking the stove while baking and struggling to regulate the changing temperature.
Features
Cast-iron and ceramic glass flame view door
Cast-iron cook top and oven, ash and flue access doors
Bottom and rear heat shields
Fire brick lined firebox
Stainless baffle
Oven temperature gauge
Wire shelf and oven tray
Spacious firebox
Firebox grate and generous ash pan for easy ash removal
Two textured satin steel hotplate covers
Graphite finished cooking surfaces
Two dog-bone hotplates
Designated heat zones for easy "pan slide" operation from simmer, to slow boil, to boil
Air-wash control lever to regulate the fire while keeping the glass clean
Large oven with vented extraction so cooking odors disappear up the flue
Simple push/pull action control lever to regulate oven temperatures
Anthracite finish (dark charcoal)
Operating tool
EPA Exempt (learn more here)
Washington State Approved (learn more here)
UL 1482 and ULC S627 tested
Options
Steel or glass water boiler capable of running a single radiator and providing domestic hot water (depending on your needs) - Not recommended for water pressure over 30PSI.
Note: The Enamel Cooktop has been Discontinued.
At Obadiah's we feel knowledge is power! Please check out our videos on the tab above for info on everything from how to clean your Esse Ironheart to starting a fire. Can't find the answers for your questions? Call or email us and speak to our knowledgeable staff with 50+ years of combined wood burning experience!

Resources:
Specifications
Esse Ironheart
Model
Legs
Overall Dimensions
35.5" W x 35.43" H x 24" D
Oven Dimensions
13" W x 13" H x 17" D
Firebox Dimenisions
10" W x 13" H x 19" D
Heat Output
Up to 20,800 BTU/h
Weight
800 lbs
Maximum Log Length
18"
Type of Fuel
Wood or Coal
Fuel Consumption
4lbs. Seasoned wood an hour
Efficiency
72%
Flue
6"
Tested
UL 1482 and ULC S627
Clearances
USA
Canada
Back Wall to Connector
13.5"
15.5"
Back Wall to Stove
13"
15"
Side Wall to Connector
26"
30"
Side Wall to Stove
11"
15"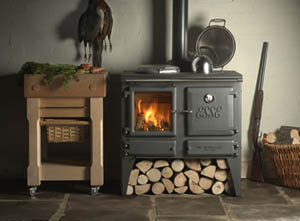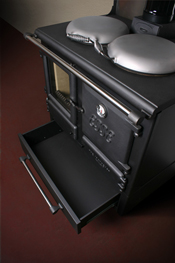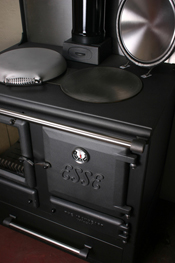 Heat shield installed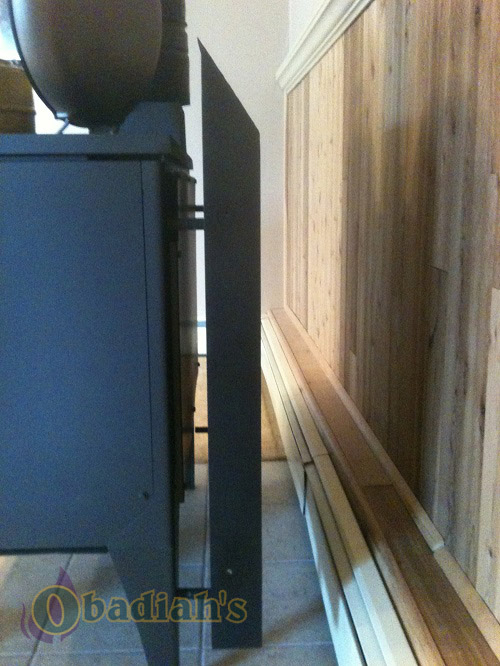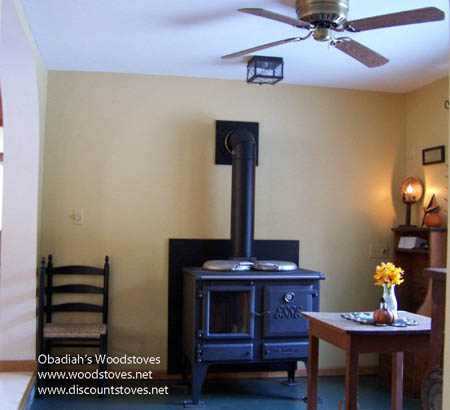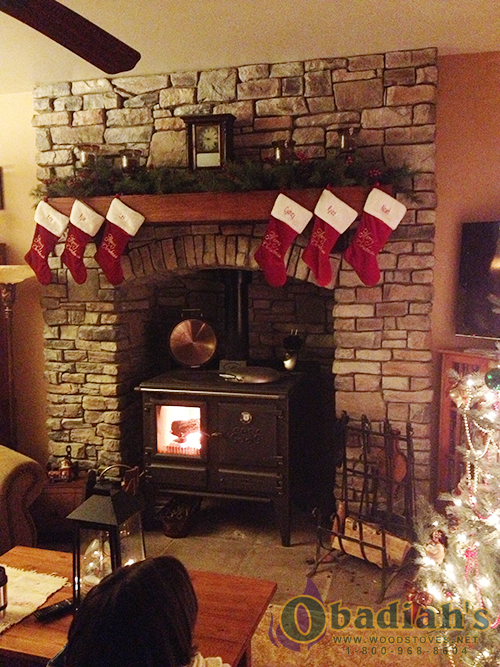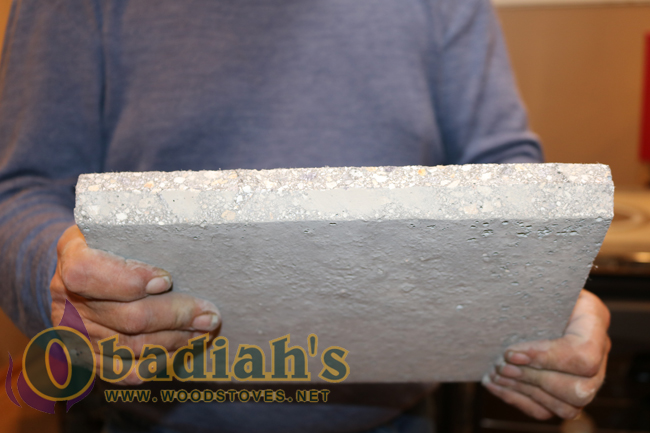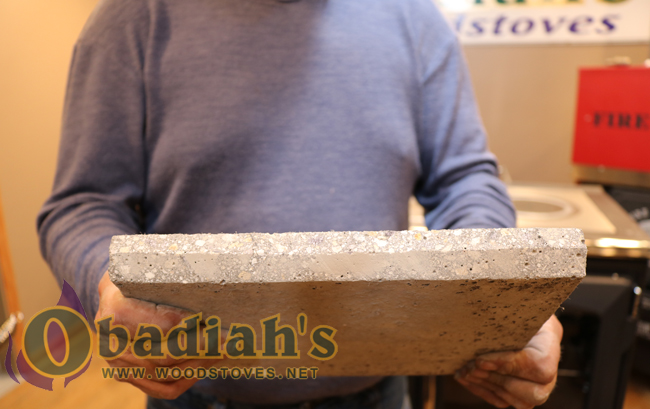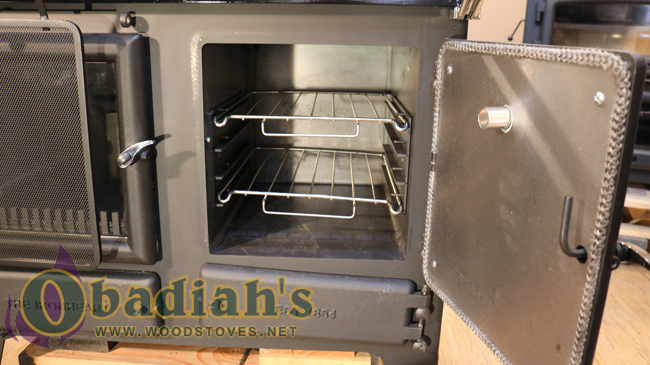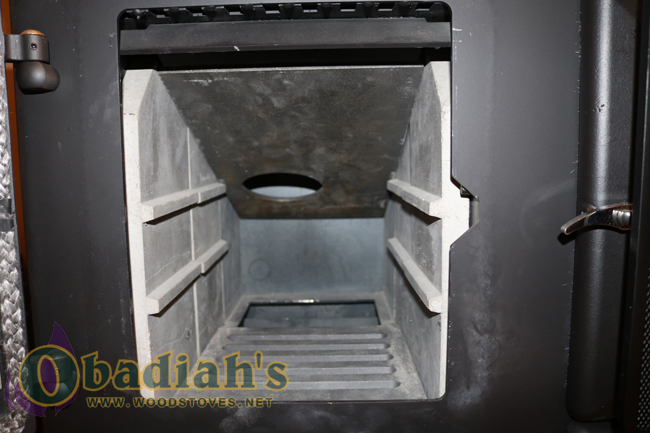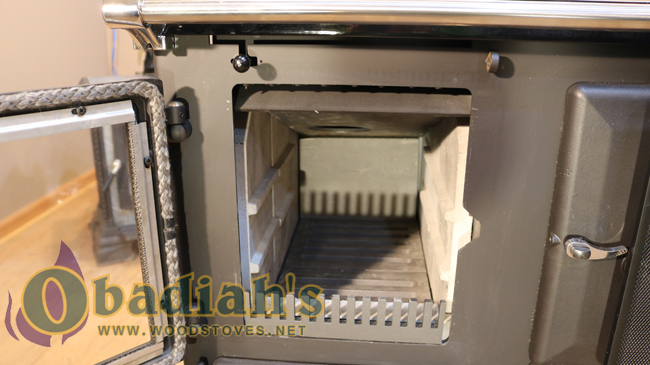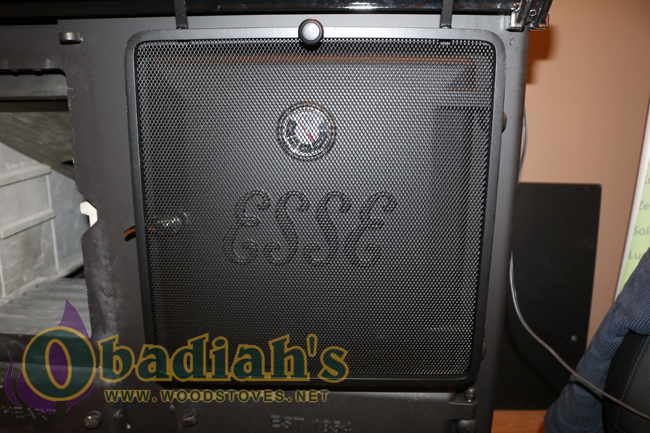 Please note! The following products have been discontinued.
Ironheart with pan drawer base
Ironheart warming oven
Ironheart glass-lined boiler
Satin Lids (special order)
Warming Oven & Backsplash
Enamel Cooktops are Special Order Contact Us for Availability Contact Us for Availability
Shipping is additional. For a shipping quote or to place your order please call or email our office with the preferred model, accessories, and your postal code and one of our sales consultants will return your inquiry during our business hours. We do our best to coordinate the lowest shipping available based on your delivery needs. Click here to see Obadiah's Shipping Terms.
Note: Stainless Steel Polished Lids must be ordered with the Black Enamel Top.
* Optional Steel Boiler is factory fitted 4.7kW (16,046 BTU) boiler capable of running hot water & 1.2 600mm x 1000mm radiators (double, single finned). This is not recommended for domestic hot water or radiant in-floor heat.
**This design is best for multifuel burning. However, for improved efficiency, if you will be burning logs only, you can order an Extended Wood Box that replaces the grate and ash pan with a solid, deeper firebox that allows a bed of ashes to build up.
CLICK HERE TO VISIT OUR NEWER WEBSITE WHERE YOU CAN FIND PRICING AND MORE INFORMATION
The Esse Ironheart Wood Cookstove - Review
The Esse Ironheart - Domestic Water
The Esse Ironheart - The Construction
The Esse Ironheart - Cleaning
The Esse Ironheart - The Firebox and Fire Starting Tips
Obadiah's: The Esse Ironheart - The Hob
Obadiah's: The Esse Ironheart - Extended Woodbox and Burn Times
Obadiah's: The Esse Ironheart - Draw Collar Draft Inducer
Obadiah's: The Esse Ironheart - Replacing Hinges and Latches
Obadiah's: Moving an Esse Ironheart with an Escalera
Obadiah's: The Esse Ironheart - The Controls
Stove Delivery and What To Look For
Wood Stoves with Domestic Hot Water View Review
Esse Wood Cook Stove Hot Water Boiler System Video Review
Esse Ironheart Wood Cookstove - Overview
Esse Ironheart Wood Cookstove - Changes to the Stove
Pleased with the overall performance of this stove
January 5, 2023
Reviewer: Dark Otter Enterprises
Quality built stove with excellent airtight burn. I am impressed with the design and solid clean fire. The controls are tricky to learn, must use only well seasoned wood as creosote can build up quickly like any stove. Tends to belch smoke when loading if not managed absolutely perfectly.
Oven temperature gauge reading is vague and seems to read higher than actual oven temp. Needs a very hot burn to get oven up to high temperature. We can get an overnight burn with coals in the morning if loaded correctly. After a long learning curve I am happy with my purchase. I regret not purchasing the water heat exchange unit.
our stove after 3 weeks
January 12, 2016
Reviewer: Cathy Jones
I love this stove!
It is extremely well made. Engineered to heat a small or large home.
Cooking surface and oven space are perfect for most things.
The oven will hold two quarter sheets or two 12 cup muffin pans.
two 10 inch cast iron or other pans, baking evenly and does not dry things out. With a moderate fire the stove top stays 400 - 500 all the time. The oven is always 300-350 and with a larger log will heat higher and maintain temp.
It burns clean and efficiently. With the wood box adapter it is deep and makes no ash mess. The hob lids helps control the amount of heat into the room.
It puts out an incredible amount of heat. In a large house, positioned well, it would be an awesome heat source.
In our home we build small fires. Our house is a 1500 sq. ft. two story timber frame. The stove is in a 2x6ft. alcove ( we had to build out to meet code for the chimney, making distance from two outside dormers.) We have put registers at ceiling level to move heat passively. Heat is even throughout. Fires are easy to start with very little paper and kindling. It keeps our house warm all night with just a small fire. The volume of iron and steel continue to heat long after the fire is gone.
You would not want to load this stove up with a full box of wood without understanding how it works.
I spent a year deciding on this stove. Obadiah's helped me with many ???? and made it easy when purchasing. I am grateful for their knowledge and integrity.
Heartily Recommended!
February 5, 2014
Reviewer: Barry Fink - Eureka Springs AR
We finally finished with the permanent destination for our Esse Ironheart just in time for Christmas, so I am sending these photos. We are very happy with the Esse and would heartily recommend it to any one. My wife cooks on it frequently and has baked pies, bread, cakes and other foods in the oven, as well as using it to warm up leftovers. It keeps the house nice and warm and is easy to start a fire in. The baffle has been staying in place and the fire brick you sent fits perfectly now.

I can't say thank you enough for your help with the stove and your guidance in constructing the alcove for it, Woody. I will be recommending Obadiah's Woodstoves to others.