Wednesday, September 27, 2023
Esse 990 Triple Oven Wood Cook Stove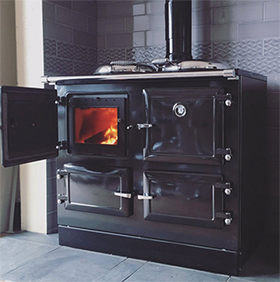 New for 2018 - Esse 990 Triple Oven Wood Burning Cook Range, imported from England.
As they say, the English do it best. The beautiful Esse 990 wood cookstove is perfect for baking. Offering (3) seperate baking ovens, with the ability to maintain separate oven temperatures, is a bakers wish come true. The large cook top allows to fit up to (6) pots, perfect for cooking for large families, or holiday meals. As always, Esse does a perfect job when it comes to attention to detail. The 990 is engineered to provide high efficiency cooking and baking - the perfect modern upgrade to your grandmothers traditional wood cook stove.
Note: Does not include catalyst when sold in USA.
Description
Specifications
Photos (15)
Pricing
Extended Info
Videos (4)
Add Review
The Esse 990 Cast Iron Wood Cookstove is designed with traditional wood cooking in mind. The expansive cook top, allows for plenty of space for even large pans. With (3) baking ovens, you can cook multiple foods at the same time. The 990 was engineered with convenience and functionality in mind. This Large Wood Fired Cooking Range will produce enough heat for approx. 700 sq. ft. perfect for small spaces, or heating the kitchen.
Options
Available in 20 Different Color Choices - Enamel finishes: black, claret, classic green, cream, dusky violet, lava, fern green, lavender, nightingale, pewter, pastel green, penumbra, shadow, powder blue, primrose, royal blue, oxford blue, white, teal green. Flat Finish: matte black.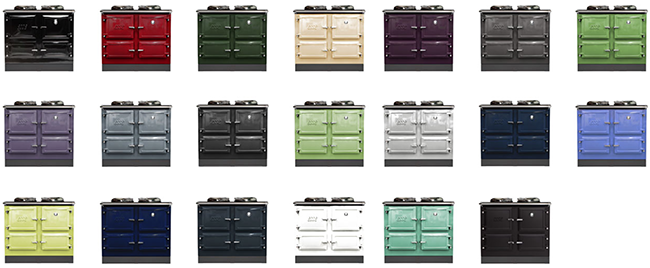 *Anthracite Finish and Black Enamel are the standard stocked color. Other colors may be custom orders with a 4-6 month lead time. Contact us for a quote. Special premium colors available on the 990 are Claret, Lava, Nightingale, Fern Green, Primrose - $1300 Upcharge.
Features
Solid Cast Iron Construction
Large Firebrick lined firebox holds burn times up to 12 hours
(3) Baking Ovens
Made in Great Britain
Dog Bone Hot Plate Stainless Steel Cook Top
Stainless Steel Hob Lids
Push-Shut Door - Don't have to lift handles
Inner Glass Fireview Door - Radiates additional heat and allows view of fire

Resources:
| | |
| --- | --- |
| Specifications | Esse 990 Wood Cookstove |
| Dimensions | 35.43" H x 38.97" W x 23.62" D |
| Top Oven Dimensions | 13.78" W x 11.81" Hx 18.11" D |
| Top Oven Size | 1.71 cubic feet |
| Bottom Oven Dimensions | 13.78" W x 7.87" Hx 18.11" D |
| Bottom Oven Size | 1.12 cubic feet |
| Firebox Dimensions | 18" Log |
| Firebox Door Dimensions | 10.24"L x 10.43"H* |
| Fire Door Dimensions | 9.1" H x 11.0" W* |
| BTU Output | 17,010 BTU's |
| Efficiency | 74.8% |
| Weight | 992 lbs. |
| Flue Outlet | 6" |
| Flue Outlet Position | Top Vent |
| Fuel | Wood |
Esse 990 Wood Cook Stove Measurements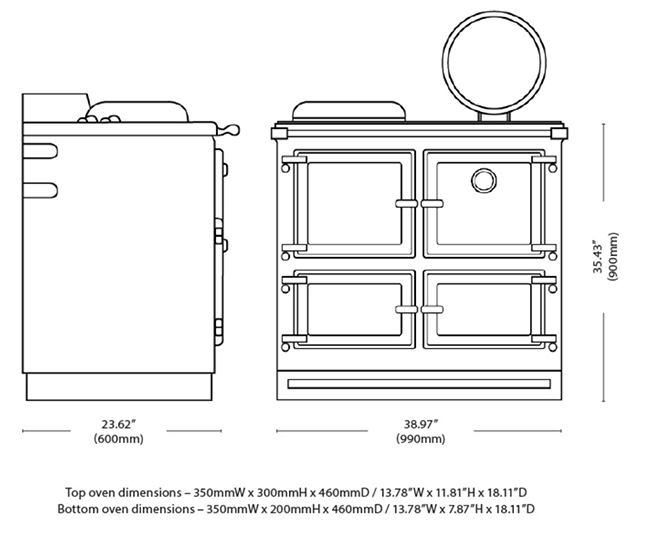 Esse 990 Wood Cook Stove Black Enamel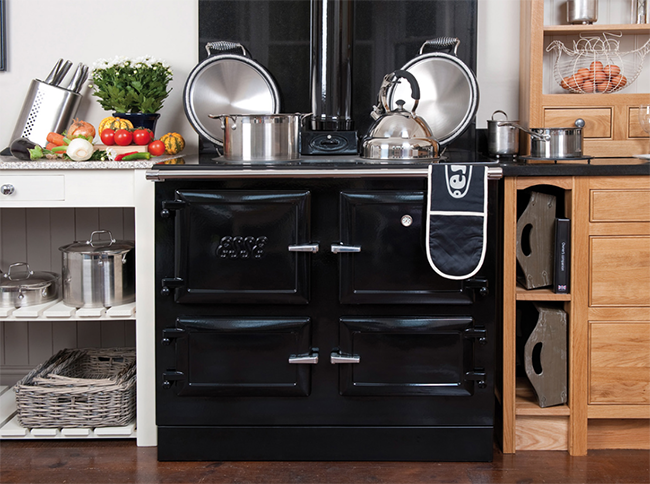 Esse 990 Wood Cook Range Black Enamel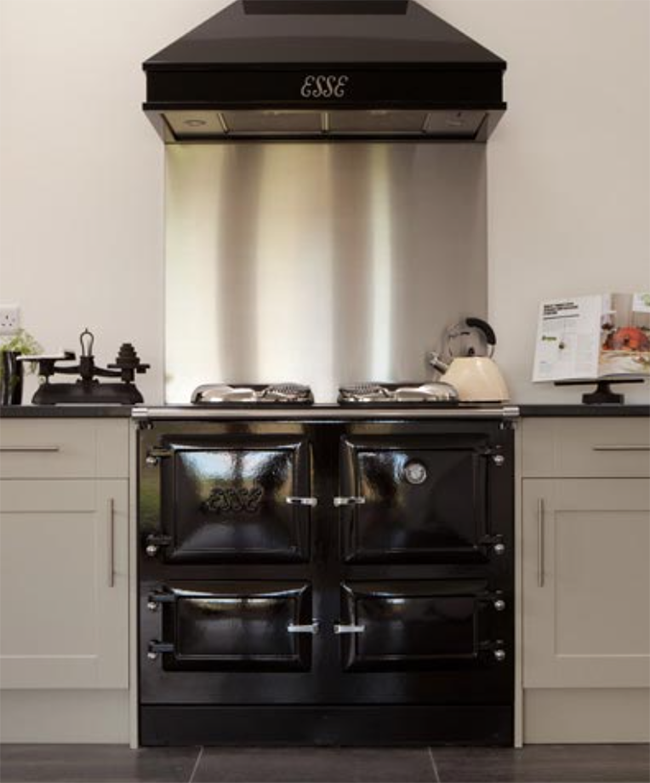 Esse 990 Wood Cookstove Black Enamel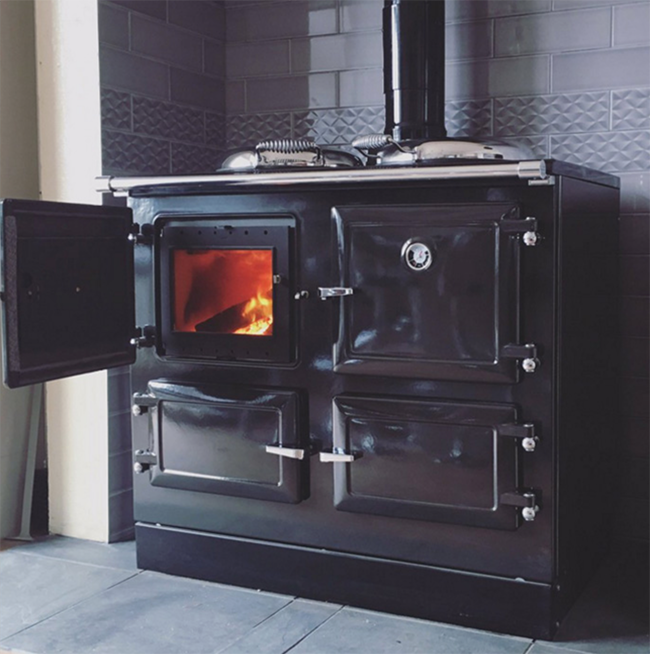 Esse 990 Cast Iron Cook Stove Matte Black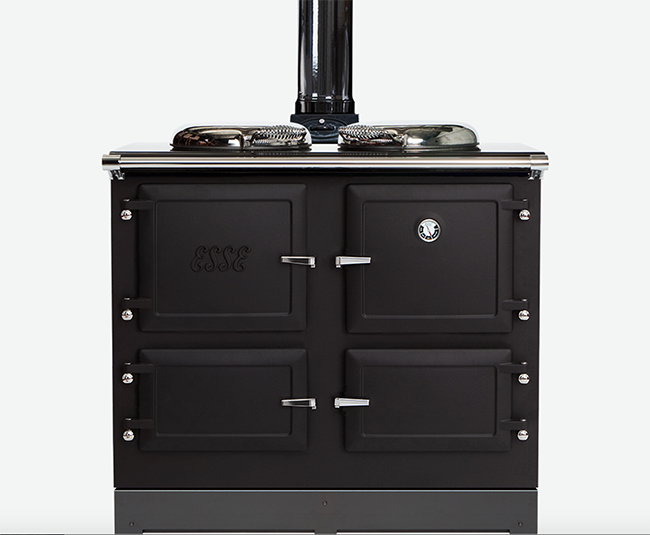 Esse 990 Wood Fired Baking Oven White Enamel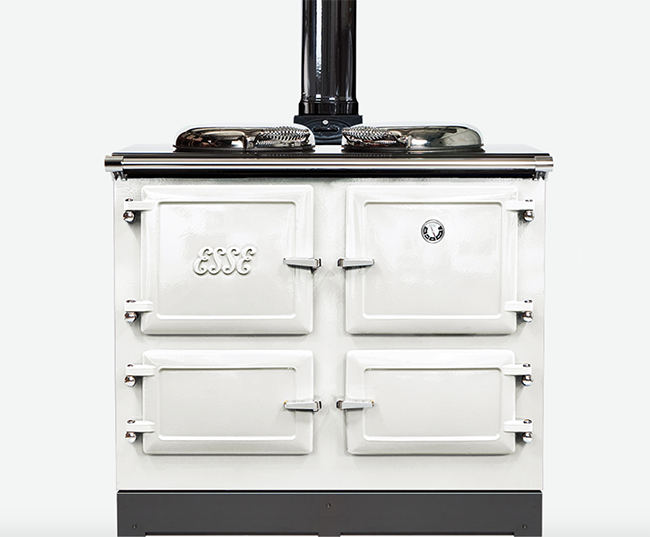 Esse 990 Cookstove - Cook Top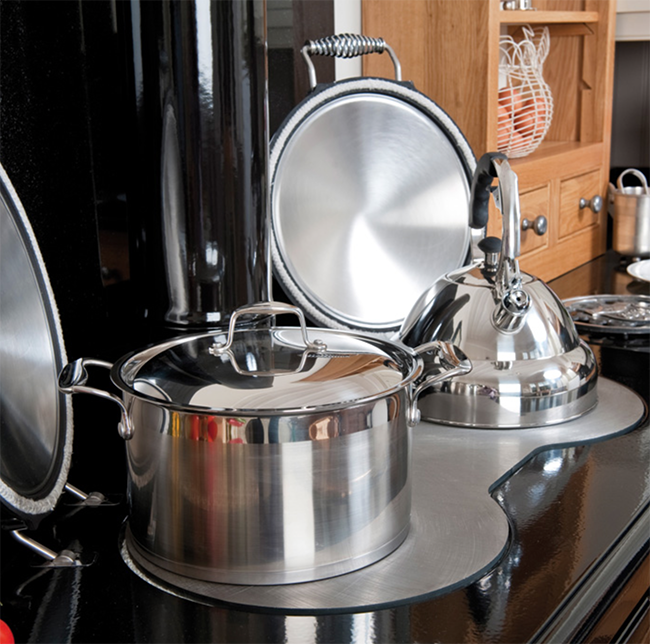 Esse 990 Wood Cook Stove - Firebox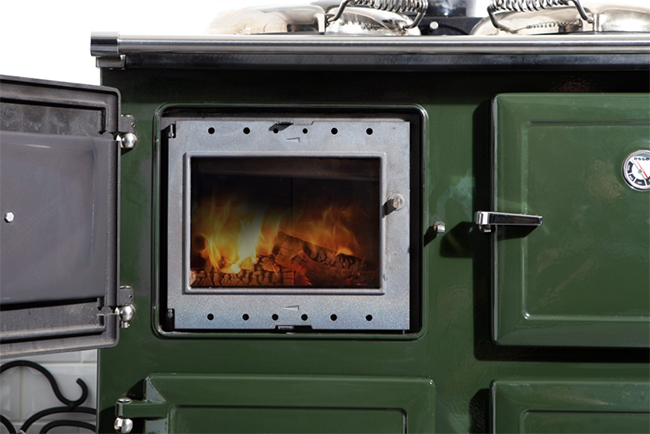 Esse 990 Wood Cookstove - Firebox Door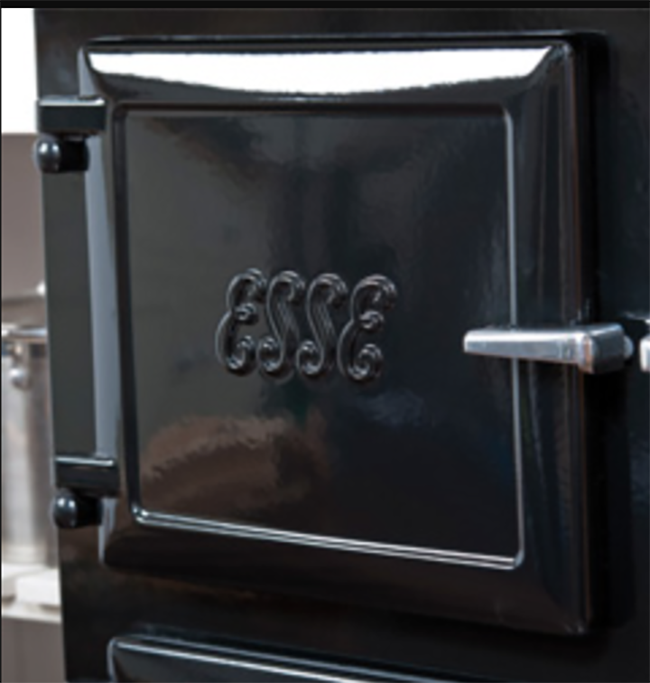 Esse 990 Wood Cook Range - Handle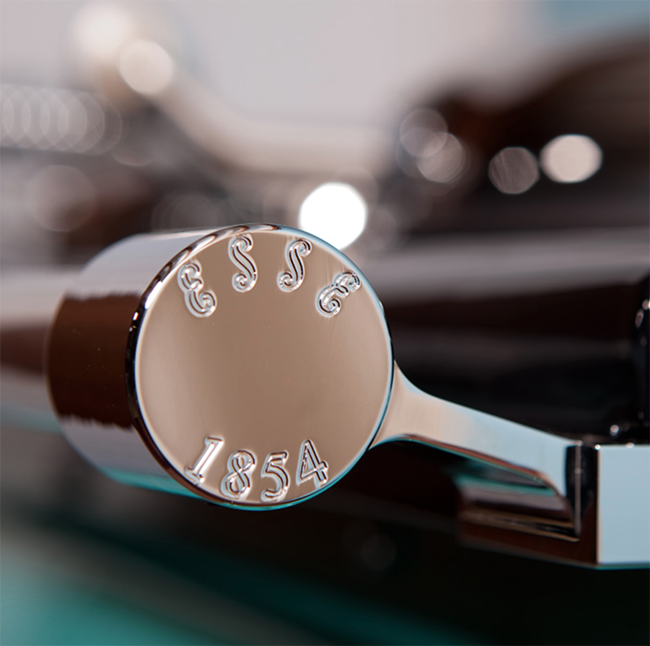 Esse 990 Wood Fired Cooking Range - Baking Oven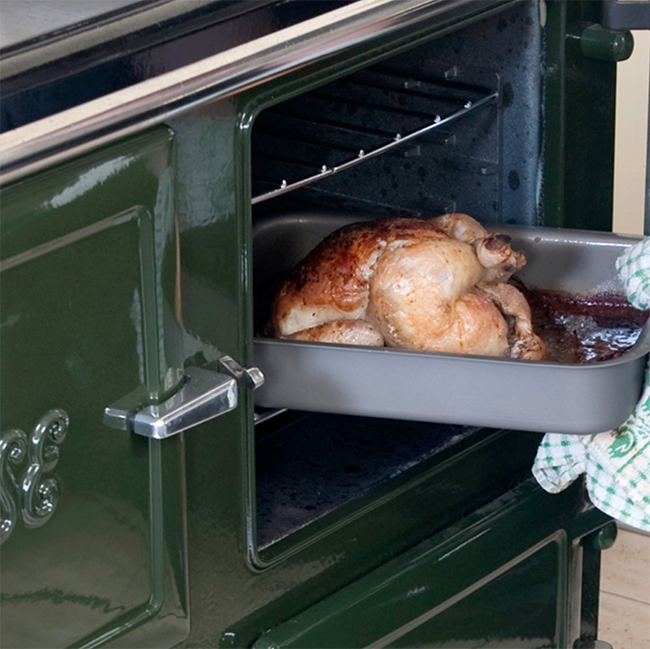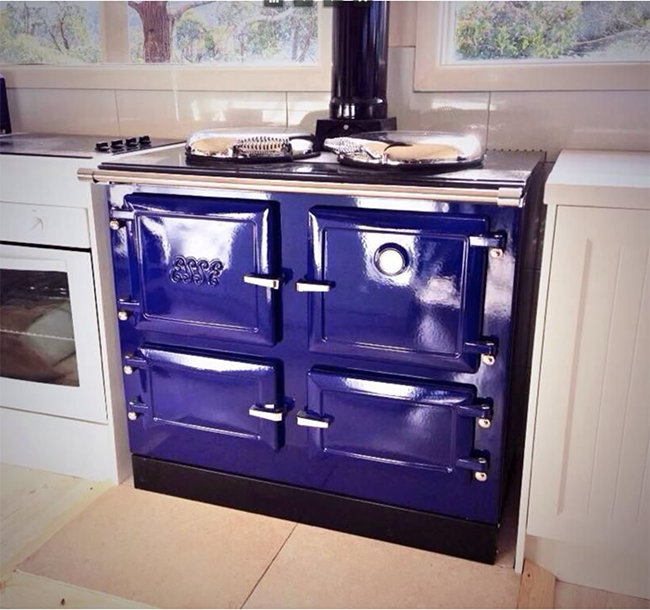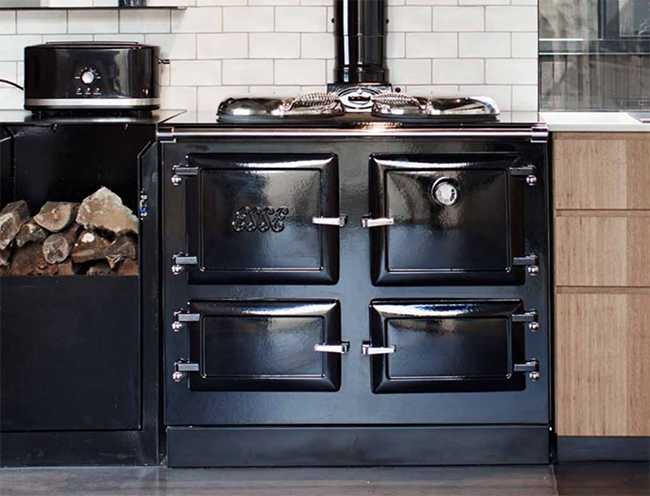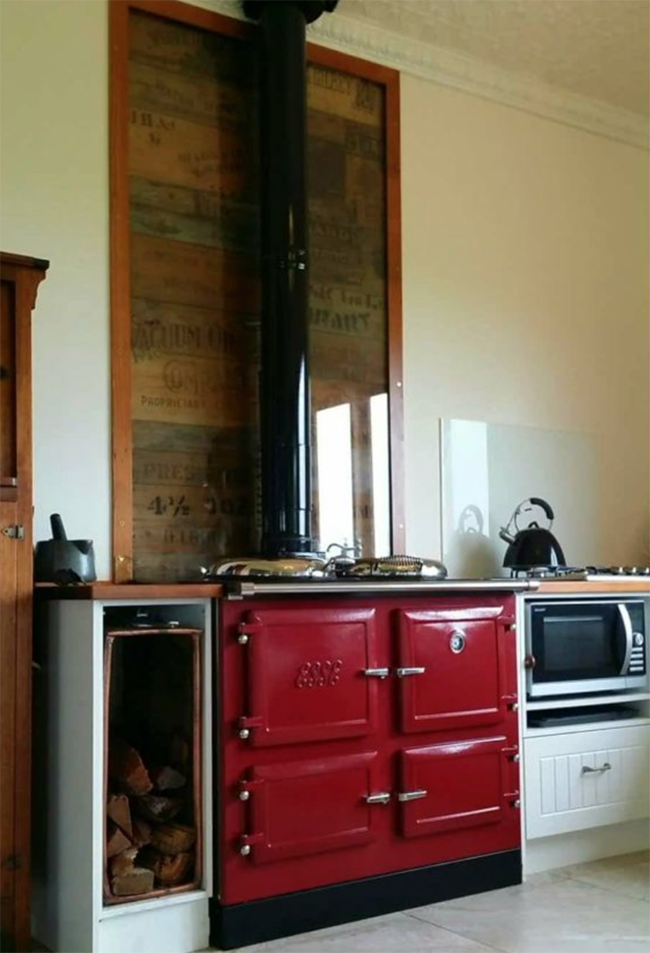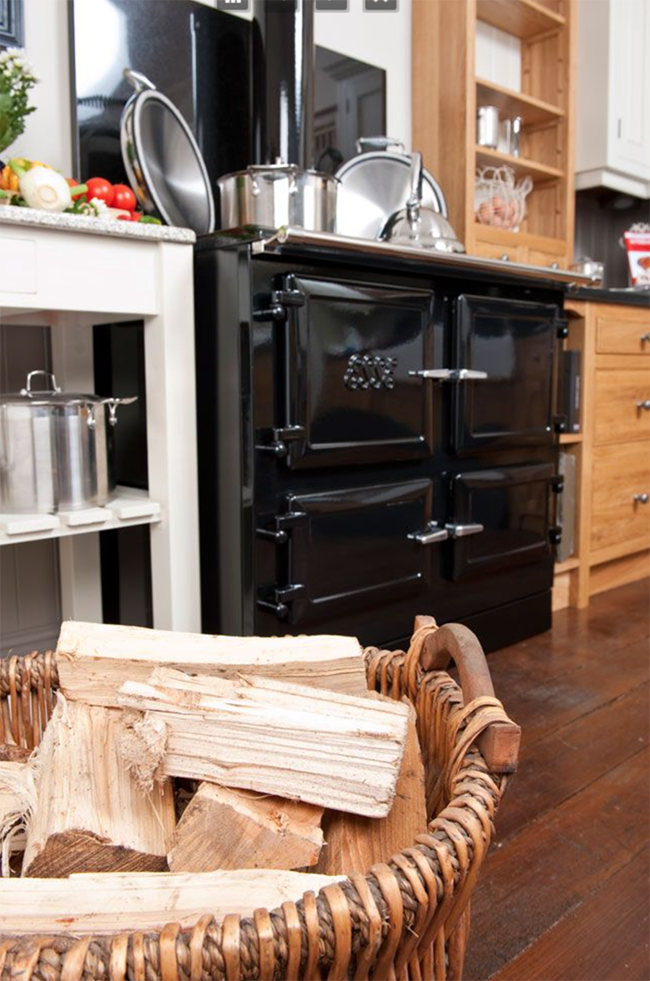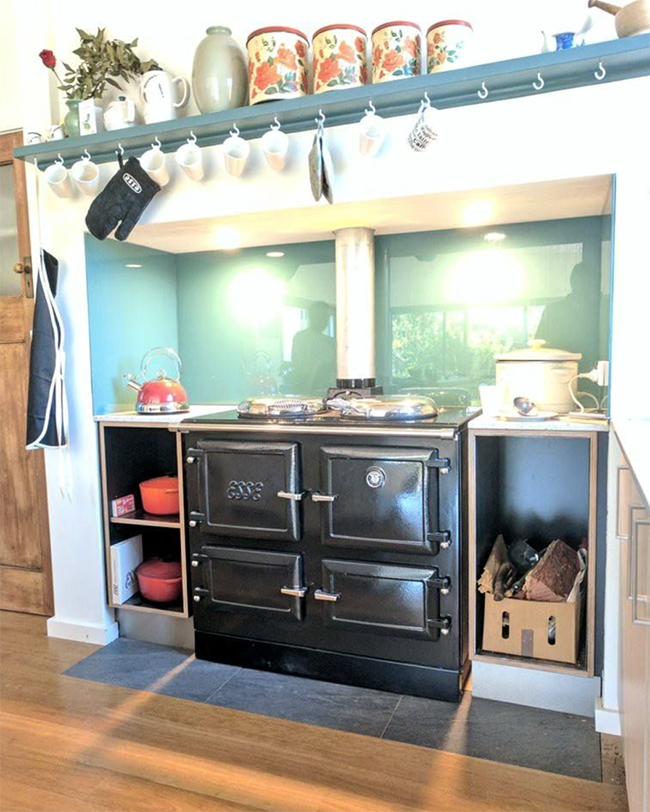 *Free Shipping within the contiguous USA.
Be sure to check out our newly improved Cookstove Community website cookstoves.net; the best place online to connect with other cookstove users over stoves, self-sufficient living, alternative energy, and more! Take a look at our selection of videos, articles, and photos, and be sure to visit the forums to connect with like-minded folks from all over.
If you are planning to cook with a cookstove, you will need to understand some basic fire safety. Remember, extinguishing a grease or oil fire with water is not a good idea.
Esse 990 Wood Cook Stove Intro Video
Esse 990 Wood Cook Range - Preparing Stove for use
Esse 990 Wood Cookstove - Oven Construction and Use
Esse 990 Wood Cook Stove - How to Move your Stove