Friday, December 8, 2023
Eko 25 Line Boiler - Discontinued*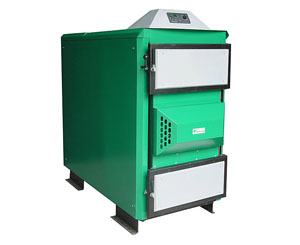 *PRODUCT DISCONTINUED - This page is for informational purposes only.
EKO Line boilers provide a convenient, safe and environmentally friendly way to heat your home and domestic hot water with wood. EKO boilers assure the independence and self-reliance that heating with wood provides. Because the Eko-Line boilers use wood gasification combustion, they give unusually high overall heating efficiency. They use substantially less wood than conventional boilers and outdoor water stoves with no visible smoke when fully operating.
Description
Specifications
Photos (4)
Pricing
Add Review
*PRODUCT DISCONTINUED - This page is for informational purposes only.
Gasification Nozzle - made of refractory concrete, mixes wood gases with the secondary air and a flammable mixture is produced that undergoes self-ignition at about 1000°F.

Sealed Wood Gasification Chamber - used simultaneously as a loading chamber. When appropriate amount of primary air supplied by the pressure fan is delivered, wood gas is generated.

Exhaust Reheat Space - the main combustion chamber, where temperature reaches about 2000°F serves as an ash pit. Very little ash remains, reducing maintenance.

Smoke Tube Heat Exchanger - (flue gas to water) heats up the water for heat transfer, cools the exhaust temperature virtually eliminating chimney fires!

Combustion Fan - linked to the microchip controller, monitoring the quality of the whole burning process, increasing burn efficiency.

Safe Guard Thermostat - each boiler is equipped with an additional safe guard thermostat, which switches off the fan while the water gets up to 180°F.

Boiler Body - boiler casing is made of welded boiler plate steel sheets that are 6mm thick, whereas the remaining walls are 4mm thick.

Heat Exchanger- smoke tube heat exchanger made of tube with dimensions 57 x 4mm.

Insulation - boiler thermal insulation is composed of glass wool of Nobasil 20mm thick, while the external casing consists of metal sheet panels 0.8mm thick (powder painted).

Nozzle- ceramic element made of refractory concrete (working temp. up to 2100° F).

Chimney Flap - made of high quality steel. Tight flap adhesion to the combustion duct assures the burning chamber tightness.

Boiler Regulator - placed on upper boiler cover. The regulator is fixed to the boiler cover by stuck catch.

Chimney Flue - made of 4mm steel tube.

Ash Pit- steel bottom of the burning chamber, ceramic ash pit added (working temp. 2100° F) and additionally covered by refractory concrete.

Boiler Door - produced of high quality steel, insulated with Nobasil thermal insulation and inside covered by refractory concrete layer.

Also protected with heat-resisting fiberglass cord.

Resources:
| | |
| --- | --- |
| Specifications | EKO 25 |
| Power Range | 85,000 |
| Weight | 1280lbs |
| Height | 51.5" |
| Height of Heating Water Exit | 48.5" |
| Height of Heating Water Entry | 8.3" |
| Height of Outlet Valve | 5.1' |
| Height of Chimney Flue | 37.4" |
| Width Including Handle | 24.8" |
| Width Including Casing | 23.6" |
| Depth | 41.1" |
| Hot Water Exit | 12.6" |
| Diameter of Chimney Flue | 8.0" |
| Diameter of Hot Water Exit | 2.0" |
| Diameter of Hot Water Entry | 2.0" |
| Kind Of Connection | Thread |
| Drain Diameter | 0.5" |
| H2O Capacity | 20gal |
| Fire Box Volume | 31gal |
| Power Consumption | 50watts |
| Wood Moisture | 15-25% (Recommended) 10-35% (Acceptable) |
| Max Log Diameter | 7" |
| Max Log Length | 20" |
| Average Flue Temp | 340°F |
| Max Working Pressure | 25 PSI |
| Required Chimney Draught | 15-20 Pa |
| Volt/Frequency | 120/60Hz |
| UL/CSA Tested and Certified | Yes |
| Warranty | Limited 20 years |