Monday, December 4, 2023
Harmony III Efel Non-Catalytic Wood Stove - Discontinued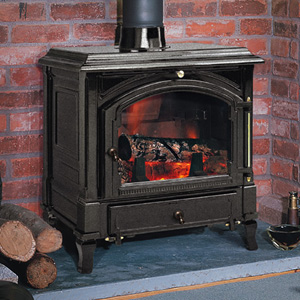 This product has been discontinued, this page is up for informational purposes only.
The Harmony by Efel could be a comforting, efficient addition to your home with classic styling and advanced non-catalytic technology. Providing you with the most heat from the wood you burn, the solid cast iron body provides superior heat retention. Enjoy a generous view of the flames through the wide, glass-paneled door which is kept clean by an Airwash system that burns off creosote. Whether you wish to heat a small home or a large living area, the Harmony I will effectively provide for your needs.
Description
Specifications
Photos (1)
Pricing
Extended Info
Videos (2)
Add Review
Features
Saves wood with 76% efficiency (24" log length - 10 hour burn time)
Firebox capacity: 2.89 cubic feet
Heats up to 2,000 square feet
Rear clearance as little as 10"
Durable, rugged cast iron construction for optimum heat retention
Double-glazed window
Side and front loading doors
Top venting 6" flue collar
Adjustable primary air intake for heat control
Direct draft mechanism to avoid smoke spillage during refueling
Generous built-in Ash pan, masked by the stove's lower door
Cast-iron door and protection plates in combustion chamber
Meets or exceeds international emissions standards
Includes fire safety glove, poker, handles and touch-up paint
Fast igniting; warms your room more quickly
Made entirely in Belgium, using no Chinese components
Color: Graphite Black (Painted)
Limited Lifetime Guarantee
Clean-Burning and Controllable: Remarkably this advanced combustion technology keeps the glass crystal clear, even when the stove burns on low setting. With the optional remote kit (sold separately), you'll have something never beforeavailable in wood stoves: precise control over the size of the fire, with the touch of your finger, from the comfort of your favorite chair. Reach out, press the button and the flames will obey your commands. You can even precisely program the desired temperature. A calm fire, a roaring blaze or dancing flames; you decide.
Built Smart and Tough: Using a patented design, highly trained artisans and a specially programmed robot welder, Efel fabricates the Woodbox Technology firebox from two layers of 3 millimeter steel. The double layer design is highly efficient and nearly indestructible. The double-glazed window is safer and cleaner, too. Cast iron body is made from recycled materials. (Stoves without Woodbox Technology are made entirely of cast iron. All stoves carry a Limited Lifetime Warranty.)

Resources:
Specifications
Efel Harmony III
Flue collar size
6"
Flue position
top
Max burn rate
96,600
BTU/hr EPA Output range
12,000-60,900
BTU/hr Particulate emissions
2.72 g/hr
Heating capacity
1,600-2,000 sq ft
Max. burn time
up to 10hrs
Max. log length
24"
Loading
front and side
Weight
386 lbs
Minimum floor protection
55"W x 45"D (USA and Canada)
Clearances
Rear and Side Clearances
Connector Pipe
A B
C D
Single Wall
18" 13"
32" 20"
Double Wall
14.5" 10"
28.5" 17"
Corner Clearances
Connector Pipe
E
F
Single Wall
16"
27"
Double Wall
17"
18"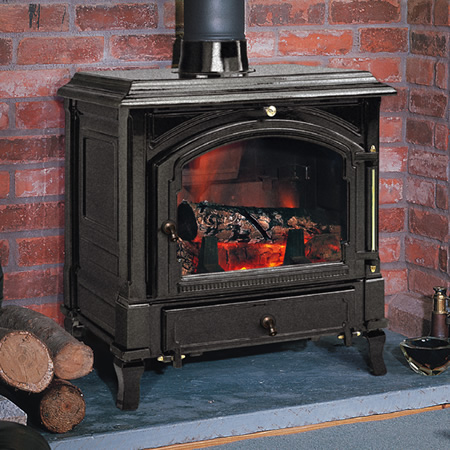 Be sure to check out our newly improved Cookstove Community website cookstoves.net; the best place online to connect with other cookstove users over stoves, self-sufficient living, alternative energy, and more! Take a look at our selection of videos, articles, and photos, and be sure to visit the forums to connect with like-minded folks from all over.
If you are planning to cook with a cookstove, you will need to understand some basic fire safety. Remember, extinguishing a grease or oil fire with water is not a good idea.
For help choosing and installing a wood boiler, see the links and posts below.
Boss of the Swamp: Woodstove & Chimney Maintenance (Part 1)
Boss of the Swamp: Woodstove & Chimney Maintenance (Part 2)