Friday, December 8, 2023
DS Stoves 400-09 Kozy King Furnace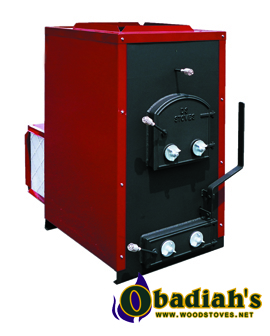 The Kozy King DS400-09 coal burning furnace is Amish made and is built for maximum efficiency and less fuel consumption. This coal furnace's efficiency is partly due to it being fully automatic with a secondary afterburn. The Kozy King is manufactured in the USA and is UL listed.

Description
Specifications
Photos (18)
Pricing
Videos (1)
Reviews (1)
Add Review

The DS400-09 Kozy King coal furnace by D.S. Machine Stoves is Amish designed and hand crafted to be clean burning and amazingly efficient - the 300-09 furnace has 85.14% efficiency! Hot water or hot air bimetal regulators are standard in all DS Machine Stoves and the DS400-09, a larger version of the Kozy King DS300-09, also has the following features.
Features:
• Burns coal
• Cast iron shaker grates
• Cast Iron, airtight fire and ash door
• Large loading door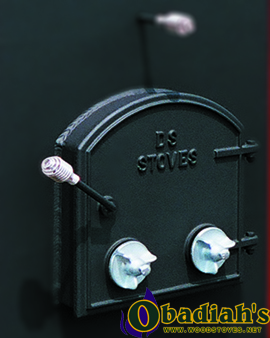 • Large ash pan
• 3-speed blower
• 3/16" plate steel
• Fully automatic
• Wall thermostat controlled
• Fan and limit safety controls
• Cast iron baffle
• Special tubes through fire box for maximum heat circulation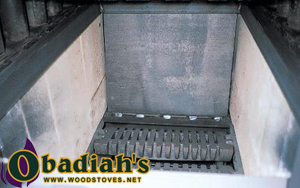 • Removable oxygen afterburner
• Forced draft
• Insulated cabinet
• 80/20 combustion bypass
• Filter box left or right intake (18" x 18")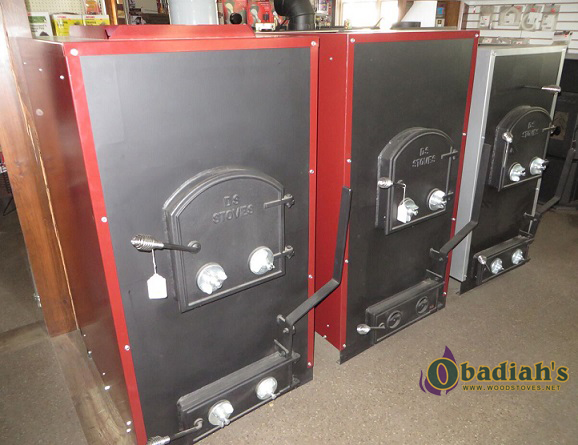 Resources:
Specifications
DS Stoves 400-09 Kozy King Furnace
Fire box size
16" X 29"
Fire Chamber Volume
8 cu. ft.
Weight
820 lbs
Width
28.5"
Height
53"
Depth
36"
Depth including filter box
56"
Flue size*
8"
Warranty firebox
5 years
Height to center of flue
47"
Ash door size
6" X 16.5"
Load door size
14" X 14.5"
Heating sq. ft.
Up to 4,000 sq. ft.
BTU rating
205,000
Blower capacity, 3-speed
1650-1350, 1100 cfm
Blower Static Pressure Low
-1.47 psig
Blower Static Pressure High
-1.42 psig
Plenum outlet size
18" X 18"
Efficiency
85.1%
Clearance from combustibles
Side and rear
18"
Front
48"
Top of plenum to ceiling
2"
Flue to wall
18"
*All units require a class "A" all fuel chimney installation that must conform to local and state codes.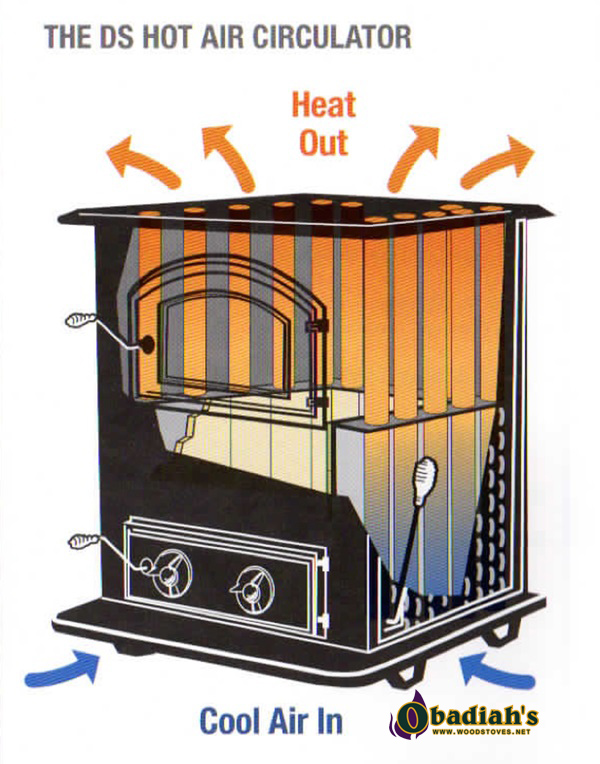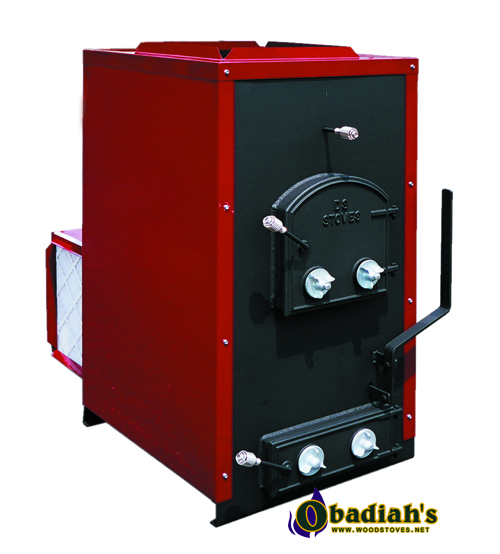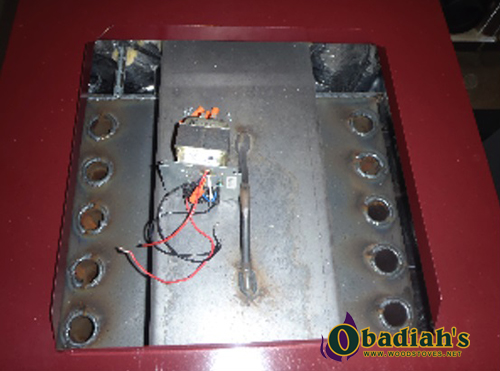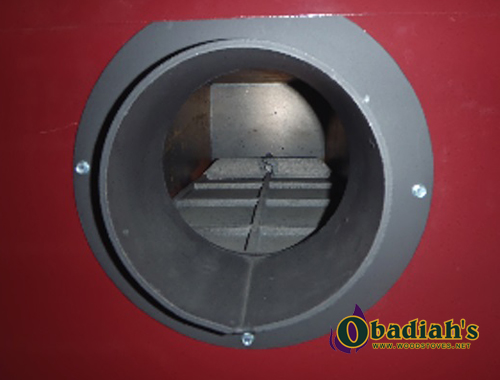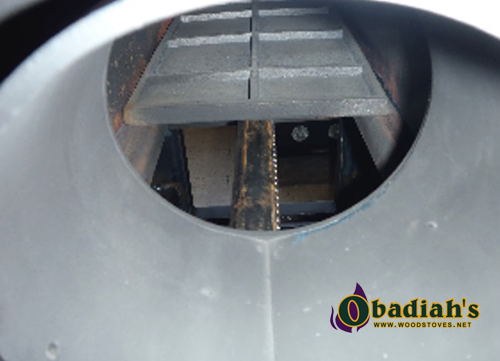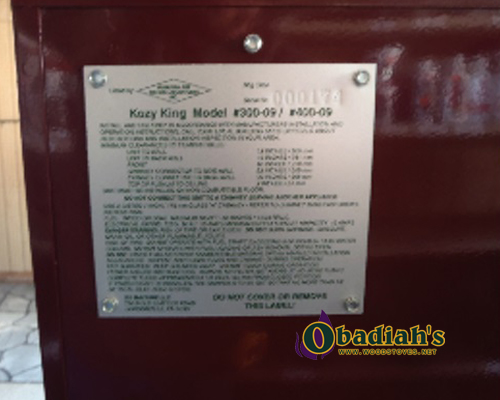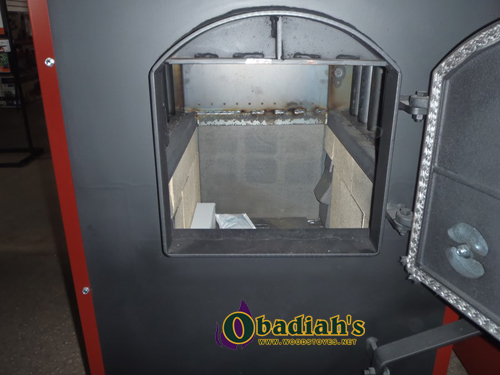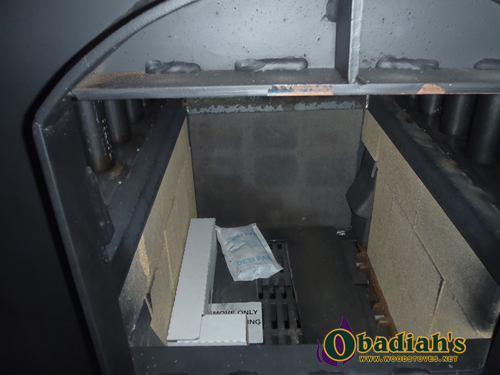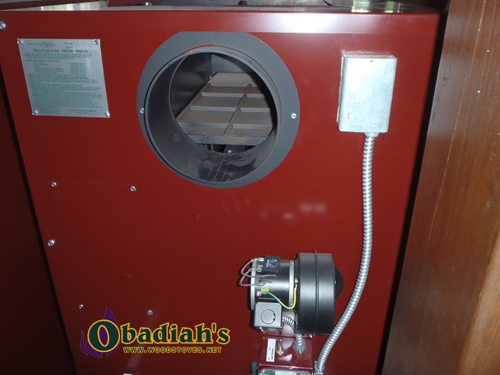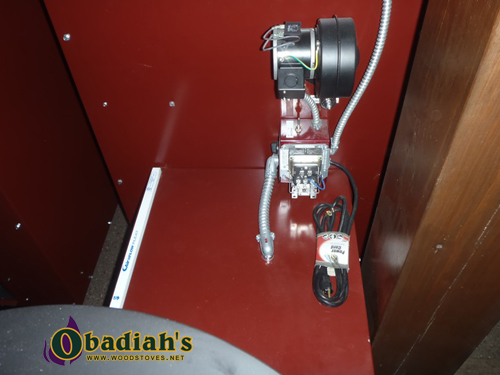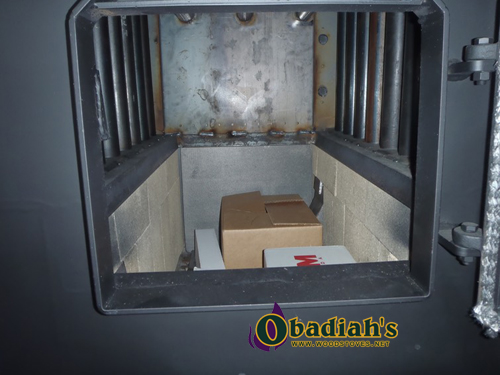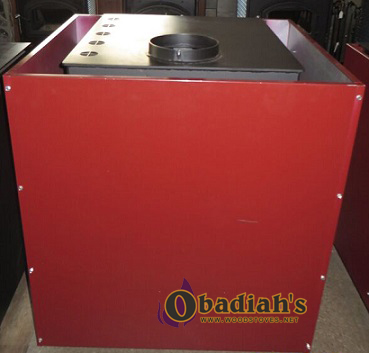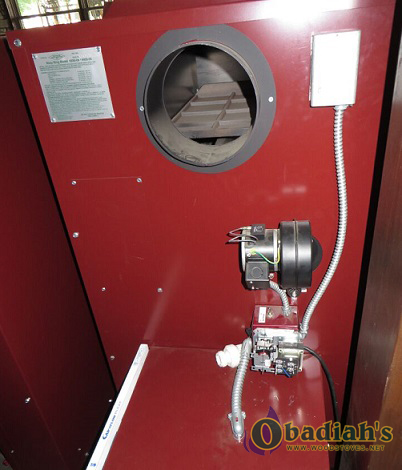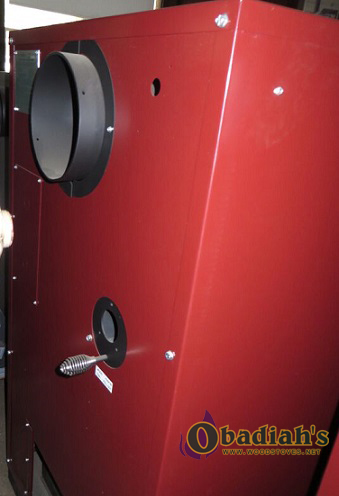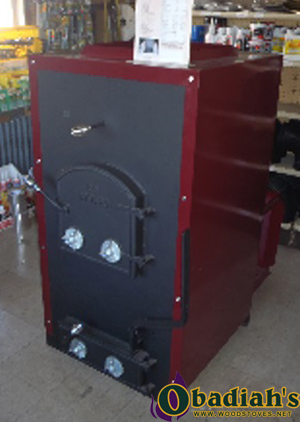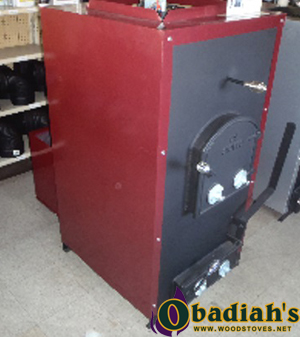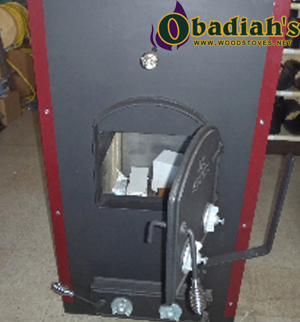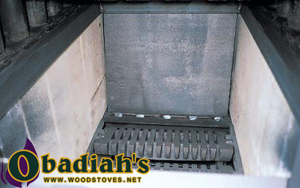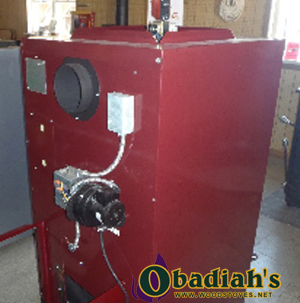 Please call or email us today for a quote on pricing and shipping.
Please call or email for a price quote and specify the model you are interested in and your zip code. One of our sales associates will be glad to answer your inquiry.
Freight truck deliveries may be on a truck that is over 60' long. Please inquire with our sales staff if you have specific shipping needs such as international, freight terminal and/or business deliveries or if you need a smaller size truck. Click here to see Obadiah's Shipping Terms.
Obadiah's offer's a 20% discount and free shipping on most complete chimney systems. Email our chimney specialists for an exact quote.
CLICK HERE TO VISIT OUR NEWER WEBSITE WHERE YOU CAN FIND PRICING AND MORE INFORMATION
Wood Stoves with Domestic Hot Water View Review
Very pleased
February 18, 2016
Reviewer: Victoria Barrows
I was very hesitant to continue with an indoor wood furnace, but I am very happy I did after purchasing this model. I was a little leary the first few burns, as it did put off quite a "hot metal" smell, but I am midway through the Vermont winter and the smell has slowly faded away. I did call DS, as well as Obediah's to help me with a few questions, both were extremely helpful. My house is about 2800 square feet and this furnace keeps it beyond warm. I have to let the fire burn out at times because my home quickly can reach the 70+ temperature mark, and that is with the fan on low and below zero temps outside! I think this winter I will heat my entire house for less than $1000. Totally worth it!