Monday, September 23, 2019
Cunningham 203 Amish Made Wood Stove - Not Available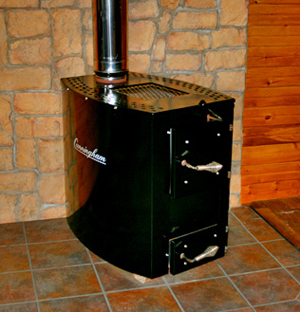 This stove does not meet current EPA regulations and is no longer available for sale.
The Cunningham 203 comes in a porcelain enamel finish with your choice of black, blue or green.
With its output of 75,000 BTU's you will be sure to stay nice and cozy next winter.
Description
Specifications
Photos (1)
Pricing
Extended Info
Videos (2)
Add Review
In those days they were much plainer, painted and not Porcelain.
The Cunningham has seen many improvements and is now also a wonderful convection heater thanks to Pioneer Stoves re-design.
Convection heating is far superior to radiant, which is hot up close and cool the farther you are from the stove. With Convection Heating you'll find it is cooler near the stove and warmer in the furthest corners of the room.
Woody says the Cunningham Stove is one of his favorite woodstoves, "Because of the huge firebox, heat output and ease of operation, the new Convection Technology is the icing on the cake". Although this stove is not an EPA approved woodstove, it does burn well.
This is the perfect stove for someone out in the country with the ability to burn whatever is available. Because it is possible to cook on top of this stove and others, you will find the Cunningham in both our woodstove and cookstove categories. If you're looking for a small footprint stove that can easily heat a couple thousand square feet, and you live in an area that doesn't require EPA certification, this is your stove as long. The Cunningham is ULC listed and does meet insurance company regulations for woodstoves.
Features
Large firebox
Ashes can be easily removed via the front ash door.
Large fuel door
All interior parts are replaceable
The primary combustion chamber is fire brick lined
Secondary combustion chamber for better efficiency and a cleaner exhaust
BTU output 75,000

Resources:
Specifications
Cunningham 203
Dimensions
35"H x 35"D x 24"W
BTU Output
75,000 BTU
Weight
400 lbs
Fuel Capacity
5 cu. ft.
Thermal Efficiency
Up to 80-87%
Recommended Fuel
Wood
Lining and Grates
Louvers and Firebrick
Max Log Length
18"
Fuel Door Opening
11 1/2" x 11 1/4"
Body Material
14 ga.,10 ga. and 3/16 steel
Smoke Collar Pipe
6"
This model is NOT EPA approved.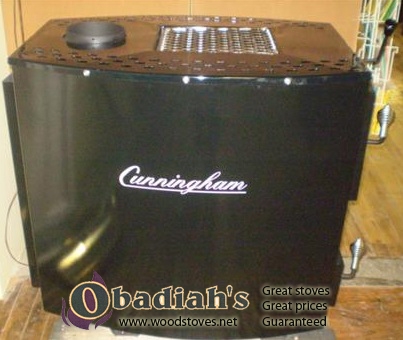 | | |
| --- | --- |
| Prices | |
| Cunningham Wood Stove | $1,695.00 |
Please call or email for a shipping quote on the Cunningham stove. Please specify the model you are interested in and your zip code.
Be sure to check out our newly improved Cookstove Community website cookstoves.net; the best place online to connect with other cookstove users over stoves, self-sufficient living, alternative energy, and more! Take a look at our selection of videos, articles, and photos, and be sure to visit the forums to connect with like-minded folks from all over.
If you are planning to cook with a cookstove, you will need to understand some basic fire safety. Remember, extinguishing a grease or oil fire with water is not a good idea.
For help choosing and installing a wood boiler, see the links and posts below.
Boss of the Swamp: Woodstove & Chimney Maintenance (Part 1)
Boss of the Swamp: Woodstove & Chimney Maintenance (Part 2)