Saturday, December 2, 2023
Crown Royal Pristine Phase II Wood Furnace - Not Available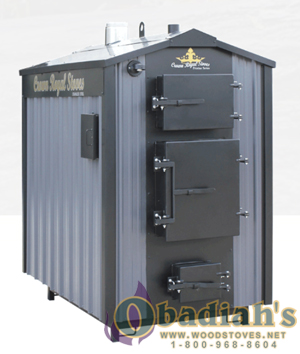 No longer available from Obadiah's.
The Pristine Series Wood furnaces are manufactured with the most advanced heat exchanger tube technology that achieves improved combustion and has greater efficiency than traditional furnaces. This allows it to be one of the few EPA Phase 2 Qualified Outdoor Wood Furnaces on the market!
The Crown Royal Pristine Wood Furnace offers improved combustion and thermal efficiency, fewer emissions, all resulting in less wood consumption = saving more dollars $$ for your pocket. The Pristine Wood Furnace is clean burning, energy efficient, easy maintenance, reliable design, extended burn times, refires automatically, smoke free combustion, renewable heating source and reduced carbon foot print.

Description
Specifications
Photos (8)
Pricing
Videos (1)
Add Review
Crown Royal Pristine Wood Furnace Gasification Process: Gasification happens when a regular fire burns at temperatures of 395ºF to 535ºF releasing gases from the wood. These gasses are known as synthesis gas or syngas. Syngases are found to contain 50%-80% heat content from wood. Traditional furnaces allow these syngas to escape. Wood gasification captures these gasses, producing highly efficient, smoke free combustion and low emissions.
Features
High Grade 409 Stainless Steel
Class A Stainless Steel Chimney
Ceramic Secondary Combustion Area
Large Firebox Door
Large Access Cleaning Doors
High Quality EBM Fan
409 Stainless Steel Firebox & Water Jacket - Developed and designed to withstand high temperatures up to 1400°F; 409 Stainless Steel will ensure the best corrosion resistance, maximum heat transfer, and strength needed for furnace firebox and water jacket conditions.
Digital Control Panel – Illuminated digital controls are simple, effective and easy to read.
Firebrick Refractory – Durable, custom design to withstand and store heat used in re-igniting wood and gasses quickly to achieve low thermal conductivity for greater energy efficiency.
Easy Maintenance – Insulated front and rear heat transfer doors provide you with easy access to heat transfer tubes to perform general cleaning.
Stainless Steel Chimney – Equipped with Class A insulated stainless steel chimney and can be easily extended when needed.
Insulated Rear Access Door – Large rear access will ensure easy installation of necessary pumps and includes two separate feed and supply lines for multiple building hookups.
Water Level Indicator – Easy to read water level indicator will keep you informed when additional water must be added to the system.
EPA Hang Tag – Our Pristine models are US EPA Phase 2 Hydronic Heater Program qualified.
Design Features

Firebox Door: Insulated and manufactured extra large to accommodate easy loading of fuel and equipped with a double safety latch handle to keep you safe.
Primary Burn Chamber: Large sealed firebox chamber door allowing wood to burn only when air is introduced.
Air Delivery Tubes: Designed to distribute preheated outside air evenly within the firebox allowing the most even possible burn.
Secondary Burn Chamber: Exhaust gases from firebox are injected with air to achieve temperatures up to 2300 Deg F and 99% fuel combustion.
Secondary Combustion Chamber Door: Wide insulated door provides necessary access to chamber to perform general cleaning.
Heat Transfer Tubes: Strategically placed in the water reservoir to efficiently transfer maximum heat, generated in the secondary burn chamber to the water achieving high efficiency and low emissions.
Heat Transfer Doors: Large Insulated doors for easy access to clean heat transfer tubes.
Stainless Steel Flue: Conventional flue exhausts has temperatures of 800ºF - 1000ºF. The RS7400E has flue exhaust as low as 280ºF.

Maintenance
With the newest clean burning technology available the RS7400E has simple maintenance steps that are done to ensure the unit is burning with the most efficiency as possible and maintaining your RS7400E has never been easier.
Step One: Cleaning of the secondary burn chamber is recommended weekly. Simply use the rake (included) making a few sweeps through this area will prevent build up of fine ashes.
Step Two: Biweekly cleaning is recommended of both horizontal and vertical heat transfer tubes to prevent build up of fly ashes. Easy access to heat transfer tubes is easily achieved through the over sized large doors located in the front and back of the stove. Simply place the small brush included with our stove down each tube.
The Crown Royal Difference: Why Purchase a Crown Royal?
20 YEAR LIMITED WARRANTY - Some outdoor wood burning stove manufactures offer little to no warranty and are usually limited to 10 years. CROWN ROYAL offers a 20 year limited warranty on ALL stoves we manufacture.
TYPE 409 STAINLESS STEEL – 409 10 gauge stainless steel is superior to mild steel and others stainless steel grades in terms of thermal expansion properties, along with better corrosion resistance than mild steel. Competitors using mild steel need at least 3/8" or ½" to get the same corrosion control and by doing that lose heat transfer efficiency.
FULLY ENCLOSED OUTDOOR WOOD BURNING STOVES - All CROWN ROYAL outdoor stoves are fully enclosed. Many manufacturers do not have floors which results in rodents and other animal problems that will damage the stove, wiring, and R Value of the furnace. *Excludes Indoor Units
RESEARCH, DEVELOPMENT, AND TESTING - What better location to develop and test an Outdoor Wood Burning Stove than International Falls, Minnesota, with the coldest temperatures in the continental United States. All Crown Royal Stoves undergo a 24 hour pressure test after final assembly, before shipment. All manufacturing is performed at our Minnesota plant.
EPA PHASE 2 QUALIFIED STOVE - Along with the complete line of traditional models, CROWN ROYAL has also developed and offers EPA qualified units that fall far below the EPA requirements for smoke emission standards, with the current 7400E, and the 7300E that is waiting for formal approval. These units are a great option for those people that live in areas with restrictions.
THE CROWN ROYAL ADVANTAGE – These stoves are designed to be very user friendly & easy to maintain. They have the "ORIGINAL" Shaker Grate System, easy ash removal, pull out ash pan, easy access rear door for seamless installation and maintenance, large firebox door for easy loading of wood, and heat transfer tubes for more square feet of heating capacity. Our stoves are UL approved to burn WOOD, COAL, AND CORN, giving end users the choice to heat with multiple fuels. The stoves are also equipped with a turbo draft system equipped with two blowers – primary and secondary. This system provides the following advantages: burns secondary gases, burns a hotter fire, provides much more heat transfer, higher efficiency, burns less wood, faster heat recovery, less ashes and low smoke emissions. With all of the advantages we have the best performing, highest quality stove on the market!

Resources:
Specifications
Crown Royal Pristine Wood Furnace
Models
RS7300E
RS7400E
Weight
2500lbs
3200lbs
Dimensions
51"W x 80"L x 92"H
54"W x 89"L x 102"H
Wood Length
32"
34"
Chimney Size
6"
6"
Door Size
20" x 20"
22" x 26"
Supply Size
2 1-1/4"
2 1-1/4"
Return Size
2 1-1/4"
2 1-1/4"
Water Capacity
290 gal.
400 gal.
Fan Capacity
150 cfm
150 cfm
Approx. Sq. Ft.
4,000 - 5,000
7,000 - 8,000
Approx. BTU's
225,000
300,000
Insulation Walls
R 30
R 30
Insulation Roof
R 40
R 40
409 Stainless Steel
Yes
Yes
EPA Phase II (2) Certification

409 STAINLESS - THE BEST CHOICE FOR OUTDOOR WOOD FURNACES

There has been much debate over the best type of metals to use for the firebox and water jackets on Outdoor furnaces. The firebox and water jackets and these parts must withstand expansion & contraction, corrosion and high temperatures. Many manufactures promote the advantages of carbon steel vs stainless, but are comparing carbon steel to grade 304 stainless, not grade 409 stainless steel. All Crown Royal Stoves are manufactured with 409 stainless steel.
Learn the facts about grade 409 Stainless Steel

STRENGTH - 409 Stainless Steel possesses higher strength compared to a number of carbon steels. The 11% chromium content of 409 stainless steel accounts for these beneficial properties. Although grade 304 has a higher tensile strength, potential problems results in more thermal expansion as shown in the Thermal Expansion graph below. (Scale in 1000 PSI)

THERMAL EXPANSION - Other stove manufactures compare the thermal expansion - Which is, how much the metal moves during heating and cooling - to grade 304. Crown Royal Stoves use grade 409, the same grade that the automotive industry designed into exhaust systems in the early 1980's. The lower amount of thermal expansion, the better. The graph shows the Coefficient of Lineal Thermal Expansion (CTE) in 10 - (6)/degrees F, based on room temperature to 212ºF. (Sources - ASM Int. Ready Reference: Thermal Properties of Metals. AK steel 304 and 409 Data Bulletins.)

GRADE 409 RESISTANCE TO OXIDATION - Higher temperatures encountered in the firebox lead to higher rates of scaling and loss of material for carbon steel compared to that of 409 stainless steel. The 11% chromium content of 409 stainless steel provides a lower rate of oxide formation.

Under cyclic oxidation conditions, thermal expansion and contraction of the formed oxide and base metal substrate causes the oxide to spall or flake. Spalling or flaking of 409 stainless steel is significantly minimized under cyclic conditions due to is relatively low coefficient of thermal expansion compared to that of the 300 series stainless steels.

GRADE 409 CORROSION RESISTANCE - Type 409 stainless steel provides excellent resistance to stress corrosion cracking (SCC) in chloride-containing environments. No 409 stainless steel failures have been reported due to Chloride - SCC in the wood-burning furnaces. Crown Royal Stoves are also made with the highest quality stainless steel filler rod for all weld joints.

HEAT TRANSFER - Type 409 stainless steel's heat transfer capability is similar to that of carbon steel when thickness is taken into account as 409 is significantly thinner then the heavy gauge used for carbon steel. For example, Crown Royal use 1/8" thick 409 for the firebox and water jacket, while many carbon steel stoves are 1/4" or heavier wall.


Crown Royal Pristine Outdoor Wood Furnace RS7400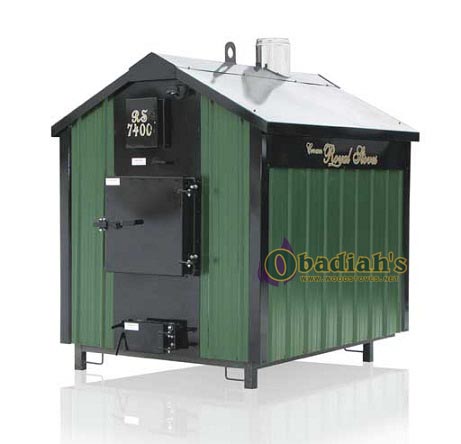 Crown Royal Pristine Outdoor Wood Furnace RS7400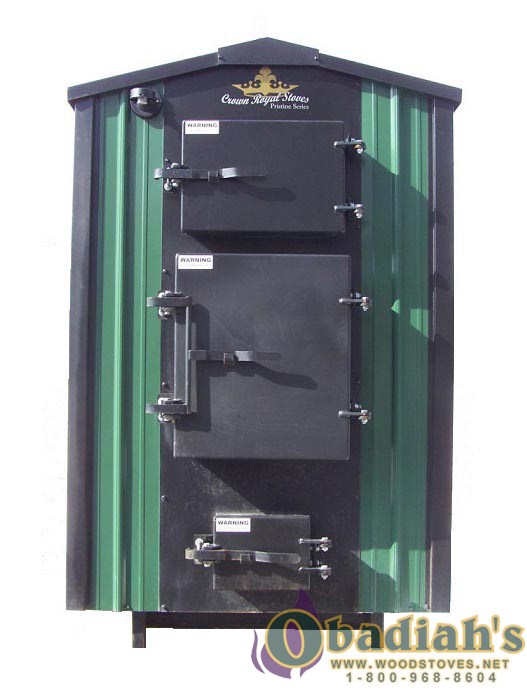 Control Panel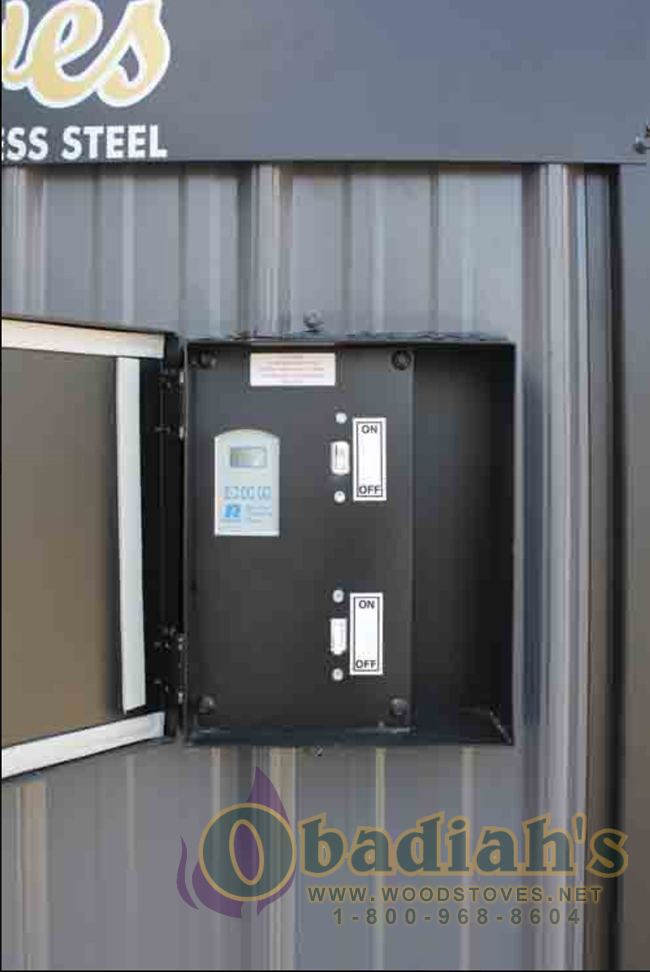 Back Door Access Panel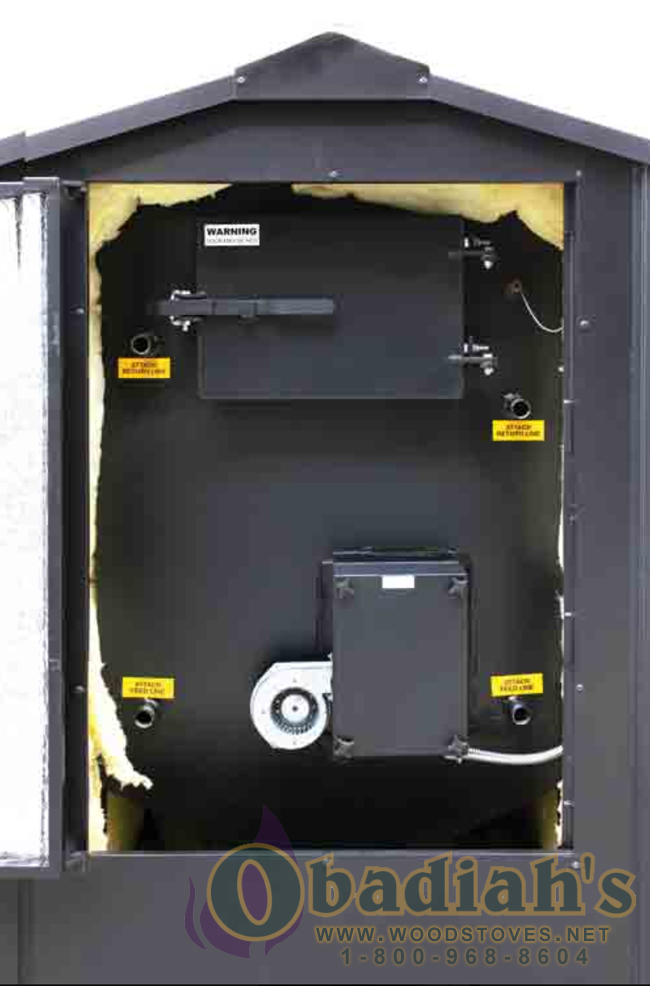 Firebrick Lined Firebox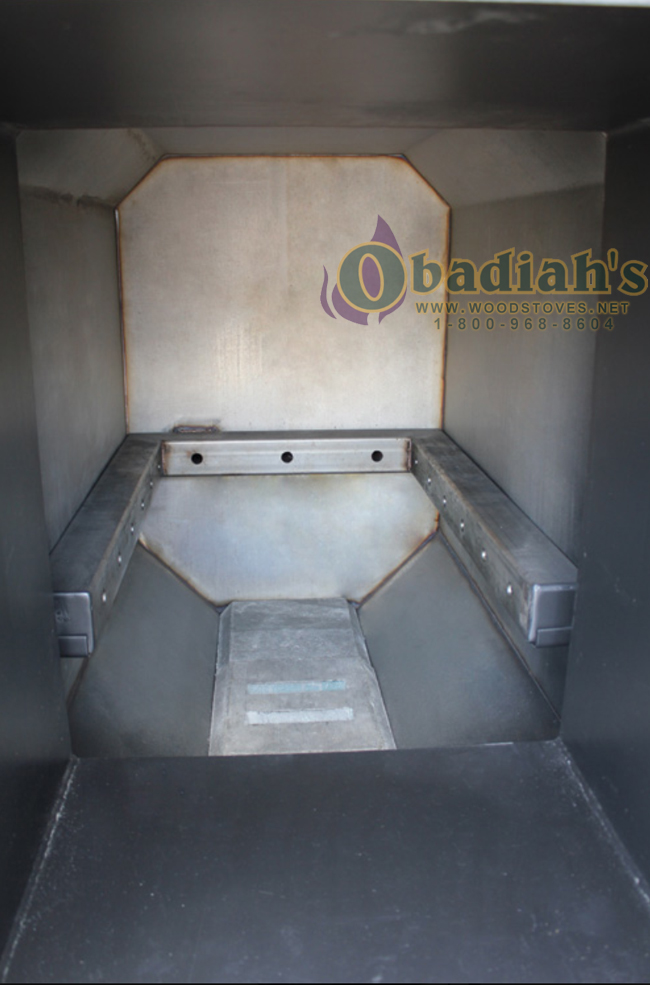 Fire Refractory Brick Lined Firebox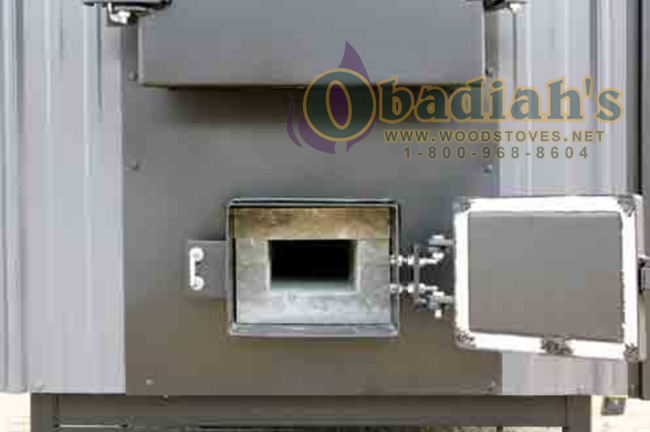 Heat Exchange Tubes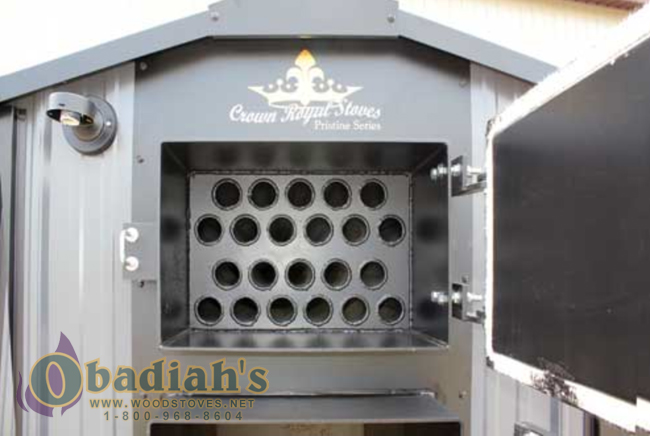 Chimney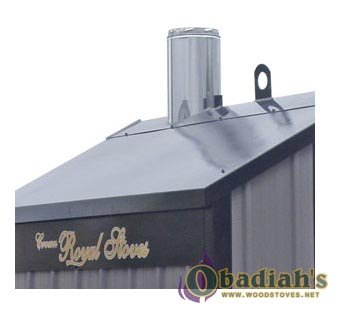 Crown Royal Wood Furnaces Product Video Commercial