Monday, December 4, 2023
Crestwood Ultimate Above Ground Pool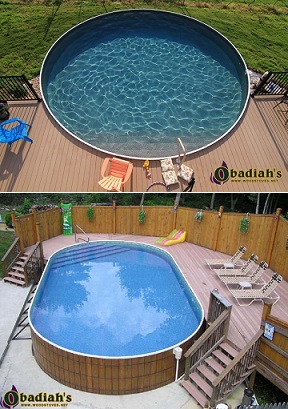 The Crestwood Ultimate Above Ground Pools push the boundaries of the pool industry. The unique and revolutionary design is exclusive to Crestwood Pools and is built to last for many years to come. The sidewall contruction of these pools will never rust, pit or corrode. Unlike other above ground pools, Crestwood Pools do not require water to be in them in order for the pool walls to stand freely. The pool wall's structural integrity is maintained without having to rely on anything else. Enhance your pool by adding customized walk-in stairs and other upgrades that are available to you. All of the features and benefits associated with Crestwood Pools make this an easy decision for anyone in need of an affordable, long term pool investment. Order yours from Obadiah's Woodstoves today!
Click here for pool heaters!
Description
Specifications
Photos (7)
Pricing
Videos (1)
Add Review
Naturally Beautiful - The Crestwood above ground swimming pool will enhance any home, wood deck or existing landscaping. The unique, natural look is a perfect compliment to log cabins or any backyard setting.
Real Wood Construction - Derived from America's largest renewable resource, Crestwood pools use only the finest #1 grade, 1 1/2" thick, pressure treated, kiln dried southern yellow pine. All wood components are pre-machined and require no cutting or drilling during assembly. The unique interlocking pattern gives the Crestwood a superior exterior finish and unparalleled strength. There are no flimsy metal walls to corrode or collapse.
Innovative Design - Crestwood's design is so original that it is protected by U.S. Patent #4974266 and other patents pending worldwide.
Cables - Galvanized steel aircraft cables are PVC-coated and provide 3 times the required strength necessary to support the pool. These incredibly durable cables give the Crestwood its unique look and form a structure that is completely self-supporting.
Certified Value - The Crestwood swimming pool is a worry free investment which will pay for itself with benefits enjoyed by your entire family. Much like a quality hardwood floor, Crestwood guarantees that your pool will bring years of enjoyment and trouble free service ... and it's in writing! Crestwood's unique combination of an initial 5 year guarantee, followed by a 25 year warranty is the most comprehensive in the industry.
Swimming Pool Professionals - With over 125 years of combined experience in the swimming pool industry, Crestwood's experts have created an On-Ground, real wood pool that exceeds all standards for strength and durability, while offering lasting beauty.
Exclusive walk in stair option - Crestwood pools are the only on ground system to offer a true walk in stair system. In the past, this was only available to in ground clients, but our design gives you a real in ground benefit in an affordable on ground platform.
Unique Beaded Winter Cover and Self Drain System - A Crestwood winter cover completely seals your pool from the elements and saves your water and chemicals.
Heavy Duty Liner - Warranteed for 15 years, this extra heavy, full 20 mil. virgin vinyl liner is guaranteed to take on any family. Crestwood pools have an attractive full-print liner with tile border.
Coping - The extruded PVC Coping is non-corrosive and treated with special UV protection. This exclusive coping makes installation and removal of the winter cover an easy task. No disassembly of the pool is required should the vinyl liner ever need to be replaced.
Color Options - Whether left natural or stained, you are assured of long lasting beauty for your Crestwood pool. Select a stain that compliments your home, deck or landscaping motif. You can stain, paint or leave it natural. The choice of color is yours. (Water repellent or clear stain IS recommended if leaving natural color)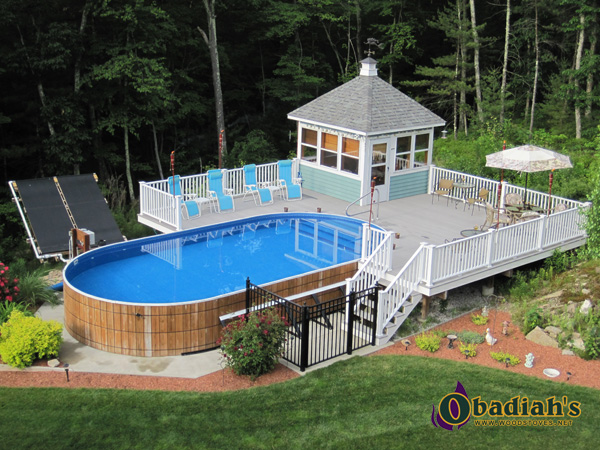 Pressure Treated Wood - The Crestwood Pool
Pressure treated wood wall above ground pools are an attractive, safe and long lasting alternative to the standard metal wall above ground pool. Crestwood Pools uses only the finest Grade 1 Southern Yellow Pine in all of its pools. This stringently graded type of lumber is not only the most easily and completely treated wood available, but also, selected from the best parts of the tree. Only boards that met strict guidelines for knot size and quantity, limited amount of wane (bark remaining along the edge of the board), grain consistency and structural integrity can be graded as #1. Although only #1 Lumber is used, Crestwood Pools acts as the final inspector monitoring the moisture content, bowing, crooking and surface appearance. The pressure treatment process begins by completely immersing lumber in a pressurized tank filled with a water based solution of CA (Copper Azole). As wood is exposed to moisture it swells similar to a sponge. When most commercially available pressure treated lumber is exposed to sunlight and lower humidity it begins to dry out and shrink. These tendencies of the treated lumber are often considered undesirable. Drying of the wood (and the accompanying shrinkage) is what contributes to bowing, warping and crooking of the treated lumber. These characteristics would be unacceptable to above ground pool wall construction. To eliminate any potential problems, Crestwood Kiln Dries (dries in a large oven) all its lumber and continually monitors its moisture content. By doing so, Crestwood can insure stable wooden components that have been dried to their equilibrium moisture content. After drying, the boards are again inspected for warping, twisting, bowing or cracking. All pressure treated wood will weather and show signs of checking with time. This natural aging process will not affect the woods' useful life or affect its' warranty. However, customers should be advised that an application of Wolman Brand Stains or Water Repellent Coatings every two years will reduce the number of check and cracks, as well as retard the weathering process.

Resources:
Included in each pool kit:
Pressure Treated Boards (Including Skimmer and Return Cut Outs, 2x4 & 2x6 Fillers), Coated Cables with Stainless Steel Studs, Coated Lugs, Stainless Steel Cable Hardware, Stainless Steel Coping Screws, Protective Cable End Caps, Double Track Coping, Coping Clips, Full 20 Mil Virgin Vinyl Savannah Tile & Sandstone Print Liner, Wall Foam, Hayward SP1090 Skimmer, Hayward SP1408 Return Fitting with Directional Flow and Installation Manual.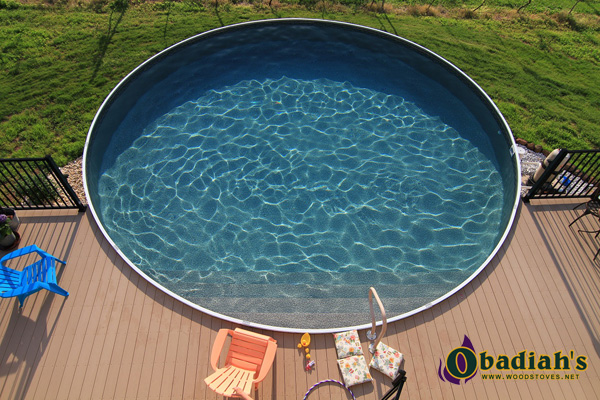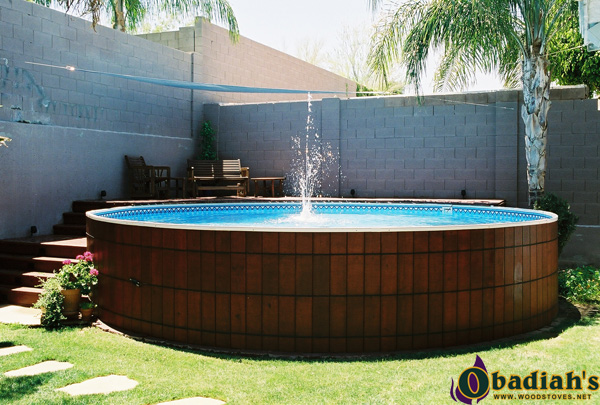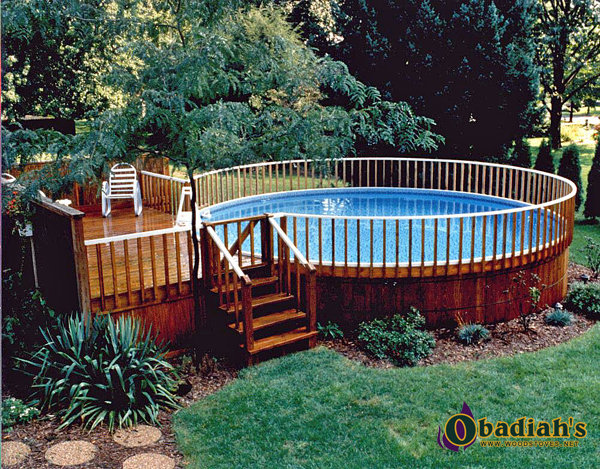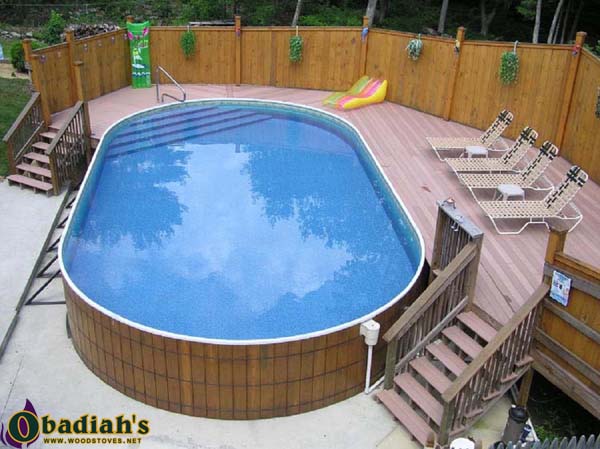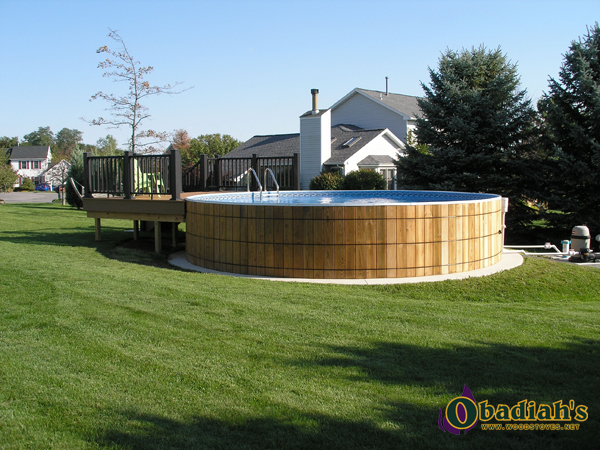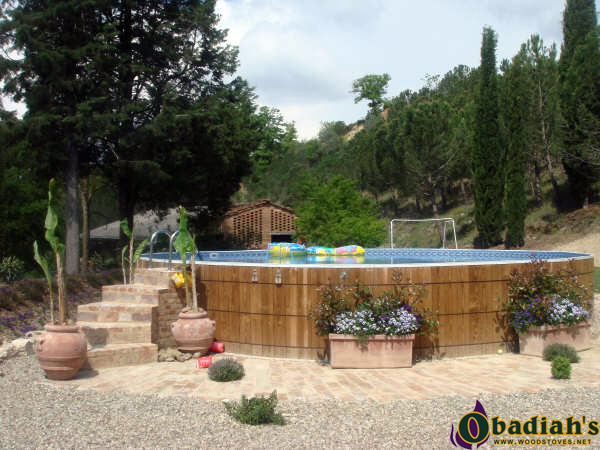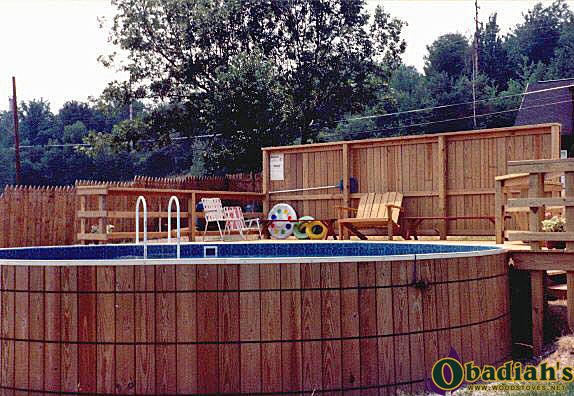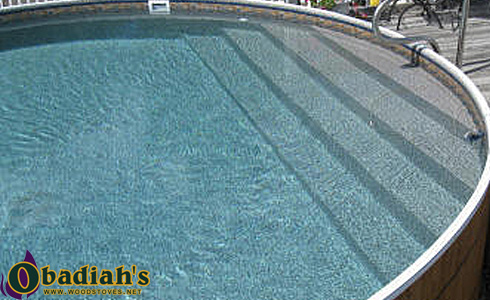 Crestwood Pool Winterizing