Saturday, September 23, 2017
Vermont Bun Baker Cookstove 1500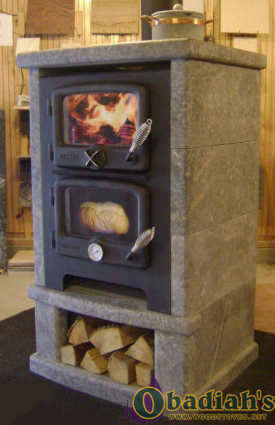 The Vermont Bun Baker 1500 Wood Cook Stove is a perfect addition for a small cabin or home where space is limited. This little beauty has plenty of space to cook and bake for the entire family while keeping everyone cozy by the fire. The cooktop is spacious enough for four large pots or saucepans and includes two removable rings for wok cooking. This model comes with a beautiful 2 3/8" Soapstone Veneer, Hearth and Wood Storage Pedestal that helps maintain warmth and radiates heat for hours to keep you toasty all night.
Click the tabs below for useful information, reviews, videos and more!
Description
Specifications
Photos (8)
Pricing
Videos (13)
Reviews (3)
Add Review
Features
2 3/8" Soapstone Veneer, Hearth & Wood Storage Pedestal
Bottom and rear heat shield enables closer clearances
Non-catalytic combustion technology
Overnight burn time
Fire brick refractory
Metallic black finish
Ash lip to prevent embers from falling on the floor
Steel cook top, front and firebox
Oven rack
Bypass damper
Spacious cook top
Two removable lids
Cast iron and glass firebox and oven doors
78% efficiency
EPA Exempt (learn more here)
Note: The Vermont Bun Baker is the same stove as the Baker's Oven. Our distributor has been given the privilege by the Australian manufacturer of naming it the Vermont Bun Baker and adding the option of soapstone to this unique cook stove. The Vermont Bun Baker 1500 is adorned with 1,200 lbs of 2 3/8" thick soapstone.
At Obadiah's we feel knowledge is power! Please check out our videos on the tab above and find tutorials on everything from installing your Vermont Bun Baker to cleaning your chimney properly. Can't find the answers for your questions? Give us a call or email us and speak to our knowledgeable staff with 50+ years of combined wood-burning experience!
Specifications
Vermont Bun Baker 1500
Overall Dimensions
28.5" W x 51" H x 25.5" D
Oven Dimensions
14.5" W x 11" H x 13.5" D
Fire Box Dimensions
13.5" W x 15.5" H x 11.5" D
Flue Size
6"
Heat Output
Up to 30,000 BTU/hr
Heating Area
Up to 1,000 sq ft
Efficiency Rating
78%
Soapstone thickness
2 3/8"
Maximum Log Length
14"
Stove Material
Steel-1/4" thick top and front 5/16" firebox
Clearances
Single Wall Pipe
Double Wall Pipe
Back of Stove
14"
8"
Side of Stove
14"
10"
Corner of Stove
11.5"
6.5"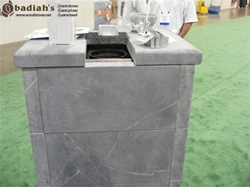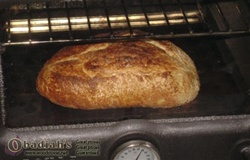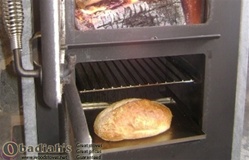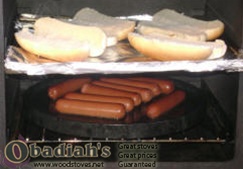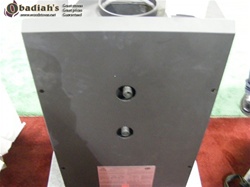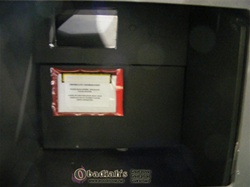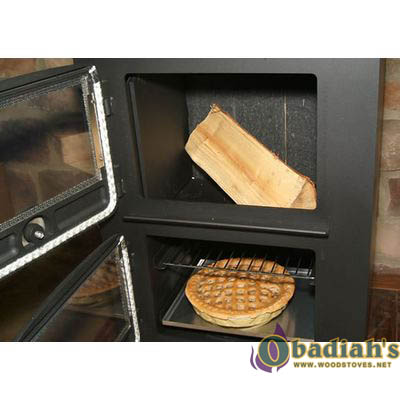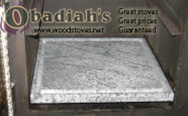 | | |
| --- | --- |
| Price | U.S. Dollars |
| Vermont Bun Baker Cookstove 1500 | **$7,595 |
| Hot Water Heater (Not UL Listed) | $350 |
** Residential, curbside delivery via freight truck with a lift gate is included for shipping in the Continental U.S.A. (some exceptions may apply). Please inquire with our sales staff if you have specific shipping needs such as international, freight terminal and/or business deliveries or if you need a smaller truck size. Click here to see Obadiah's Shipping Terms.
Please call or email us today to order! One of our sales consultants will help you on your way to great, home wood-fired cooking!
vF0y0PN:title}
vF0y0PN:video}
vF0y0PN:title}
vF0y0PN:video}
vF0y0PN:title}
vF0y0PN:video}
vF0y0PN:title}
vF0y0PN:video}
vF0y0PN:title}
vF0y0PN:video}
vF0y0PN:title}
vF0y0PN:video}
vF0y0PN:title}
vF0y0PN:video}
vF0y0PN:title}
vF0y0PN:video}
vF0y0PN:title}
vF0y0PN:video}
vF0y0PN:title}
vF0y0PN:video}
vF0y0PN:title}
vF0y0PN:video}
vF0y0PN:title}
vF0y0PN:video}
vF0y0PN:title}
vF0y0PN:video}
Great stove!
September 5, 2013
Reviewer: Woody Chain
We have owned the Bakers Oven for over 7yrs. We use it in our 36' Avion coach as I am also a professional firefighter. http://wildfirefighters.com/ When we're fighting fires up in the Rocky Mountains, even in the summer, it can get fairly chilly (30s) at night. We'll build a fire in Bakers Oven at night to stay warm and it will be ready to heat up a pot of coffee in the morning. Although I'm not much of a cook, I've made a pot of chilli on the cook-top. I've also used the oven to heat up frozen pizza's, lasagna and garlic bread. This stove does have a small firebox, but I can get a overnight burn out of it. The Soapstone option really makes a big difference in storing and radiating the heat and takes a good stove and makes it a great stove! (I am the owner of Obadiah's)
Exactly what we hoped for!
September 5, 2013
Reviewer: HM
We had the opportunity to "fire'er up" already and we got the inside temp of the house up to a toasty 82f. We put a load of wood in before we went to sleep and the soap stone was still warm in the am and the house was a good 20 degrees warmer than out side. The Vermont Bun baker is exactly what we hoped it would be!
Great stove!
September 5, 2013
Reviewer: Sam
We use our stove to heat our 1200sqft home. It keeps it at 72 degrees with outside temperature of 26 degrees. A load of wood lasts about five hours. The only problem is the small firebox. You learn to cut wood in a different shape. Watch YouTube. Overall, I would buy another one if we move, or a replacement. I'm sure the fuel would last longer if we packed it into it. Great stove!