Friday, July 3, 2020
Buck Traditional Series 21 Stove or Insert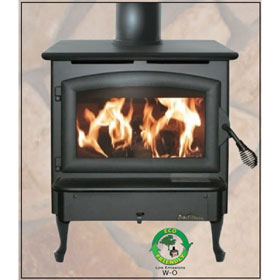 The Buck 21 Non-Catalytic Stove body can be installed as either a freestanding wood stove (with the choice of leg or pedestal option for model 21FS) or as an insert model (with the choice of surround and trim kit). The Buck Stove Company is known for quality hand-crafted, secondary combustion designed, American made products, at an affordiable cost.
Description
Specifications
Photos (10)
Pricing
Videos (7)
Add Review
The Buck Wood Burning Non-Catalytic Freestanding Model 21 can be used as a fireplace insert with optional insert kit, pre-fab insert, or as freestanding unit with optional Queen Anne legs. With a heating range of 800 up to 1,800 square feet, the Buck Wood Model 21 is an ideal choice for zone heating or small homes. The Buck Model 21 wood unit is now approved for Washington & Oregon State Standards!
Buck Stove Company, since 1975 Commitment to Excellence
New Buck Corporation proudly produces all of their wood stoves in the United States of America. Striving to provide each customer with Unmatched Service on our Unmatched Product made by Unmatched People with Unmatched Pride. From the designing of the stove, to bending and shaping of the first piece of metal, to welding each piece together and painting and packaging for shipping, all of our stoves are assembled by hand with care and precision. We are confident that whichever Buck Stove product you choose, you will receive many years of operation and enjoyment. We would like to thank you for your decision in choosing Buck Stove and are happy to welcome you to the Buck family.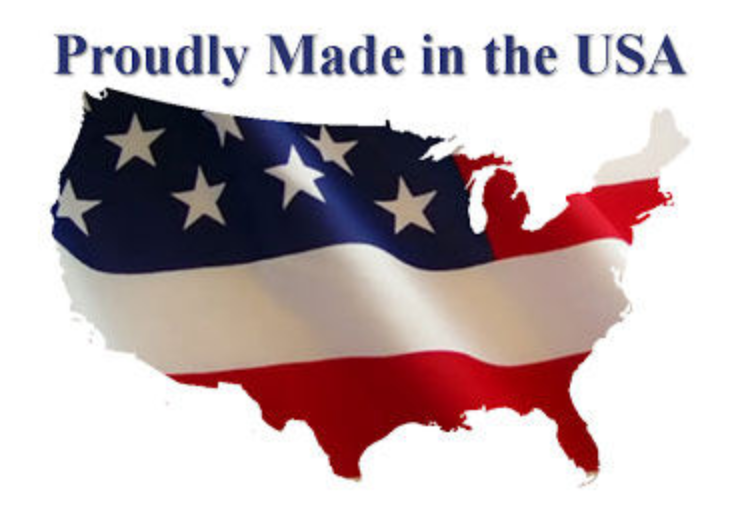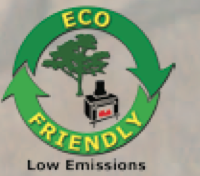 Features
Stove Dimensions: 29-1/4" H X 23-3/8" W X 18-1/2" D
Heat Capacity - 800 - 1,800 Sq. Feet
EPA Tested Output BTU/H - 41,200
Emissions G/H- 4.4
Firebox Volume - 1.6 Cubic Feet
Max Firewood Length - 11"(front to back)
Flu Size - 6"
Efficiency - 76.89%
This model is not Pre Fab Approved
This model is Mobile Home Approved
Weight - 342 Lbs
Hearth Pad Size 33" W x 40" D

Options
Door - Available in

Black, Pewter, or Gold

Spring Door Handles Available in

Black or Gold

Perimeter Trim Available

in Gold or Black

Surround Kit Available in

Standard or Oversize

Pedestal Style

Freestanding Leg Style

Queen Anne Legs 7 3/4" Available in

Black, Pewter, or Gold

Queen Anne Legs 8 11/16" Available in

Black, Pewter, or Gold

Resources:
| | |
| --- | --- |
| Specifications | Model 21 Non-Catalytic |
| Stove Dimensions | 20-1/4" H x 22" W x 18-1/8" D |
| Minimum Fireplace Dimensions | 21" H x 23-1/4" W x 15" D |
| Heating Capacity | 800 - 1,200 Sq. Feet |
| BTU output | 41,200 |
| Emissions | 4.4 g/h |
| Efficiency | 76.89% |
| Firebox Volume | 1.6 cu ft |
| Log length | 11" Front to back |
| Ash pan | No |
| Pedestal | Yes w/model FS21 |
| Blower | Optional |
| Flue Size | 6" |
| Hearth Pad Size | 33" W x 40" D |
| Weight | 342 lbs |
| Mobile Home Approved | Yes |
| Pre Fab Approved | Yes (check approved list) |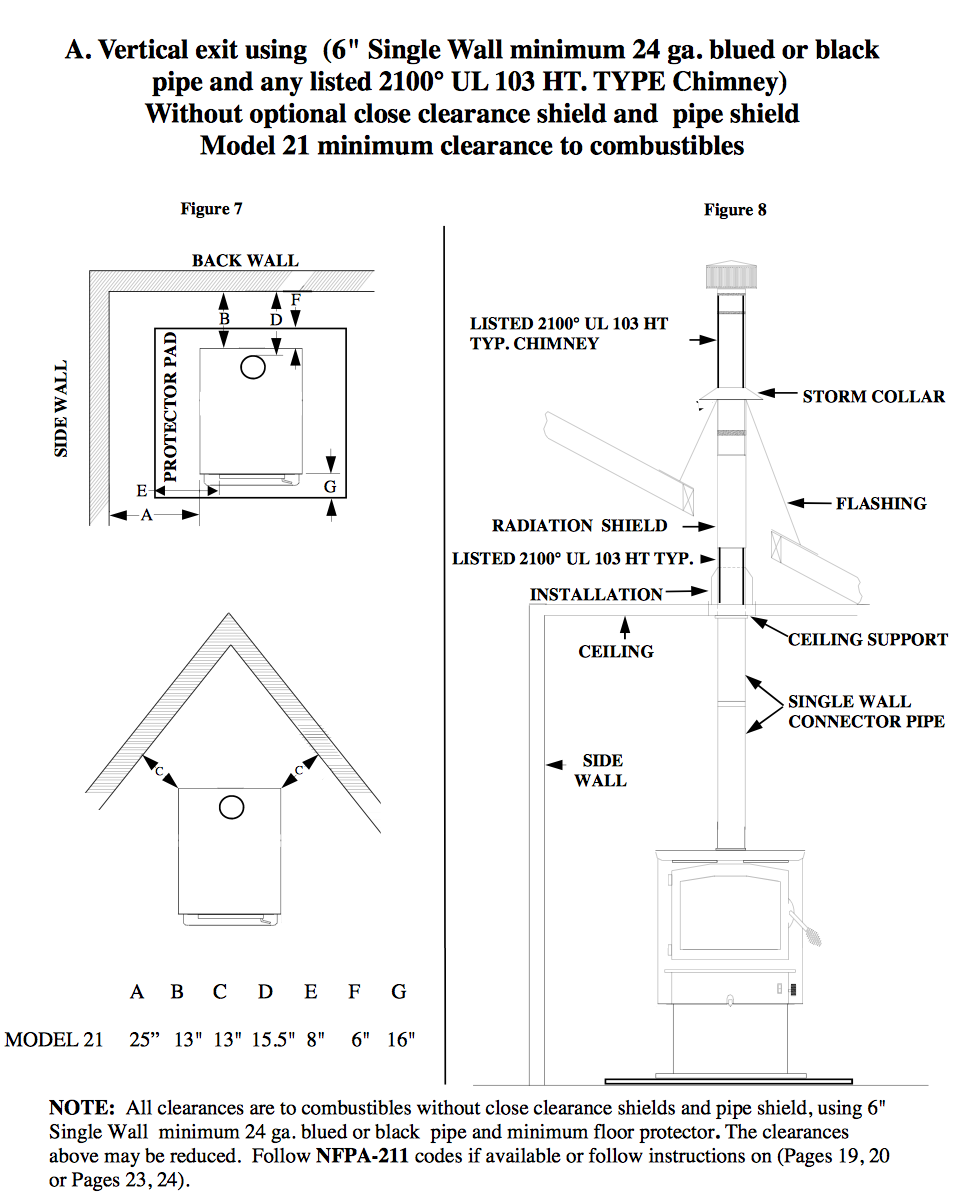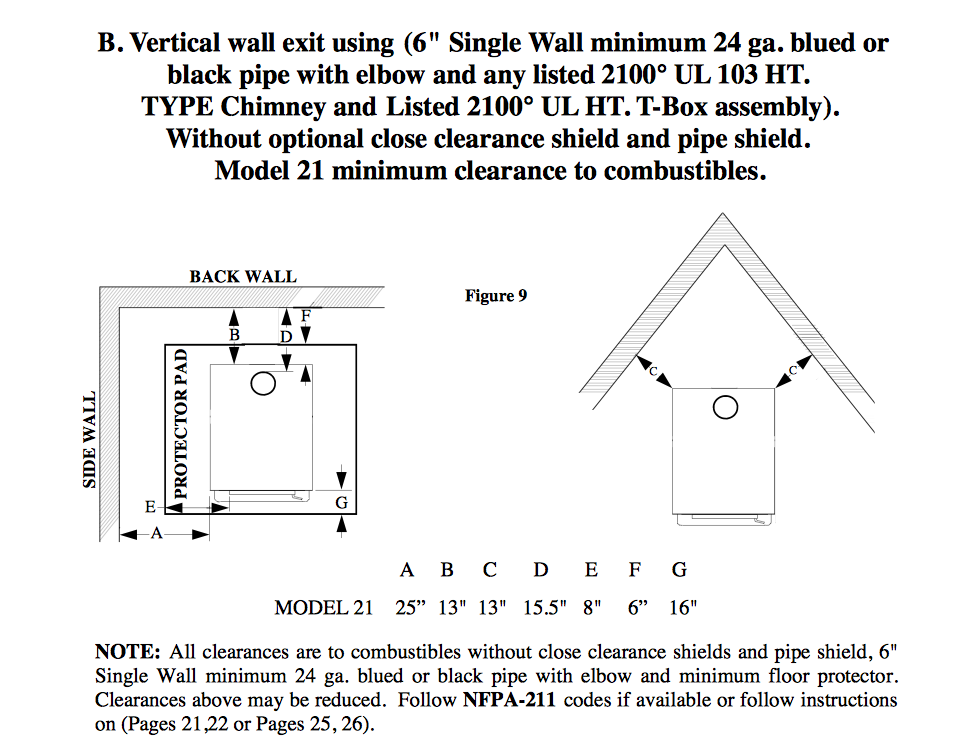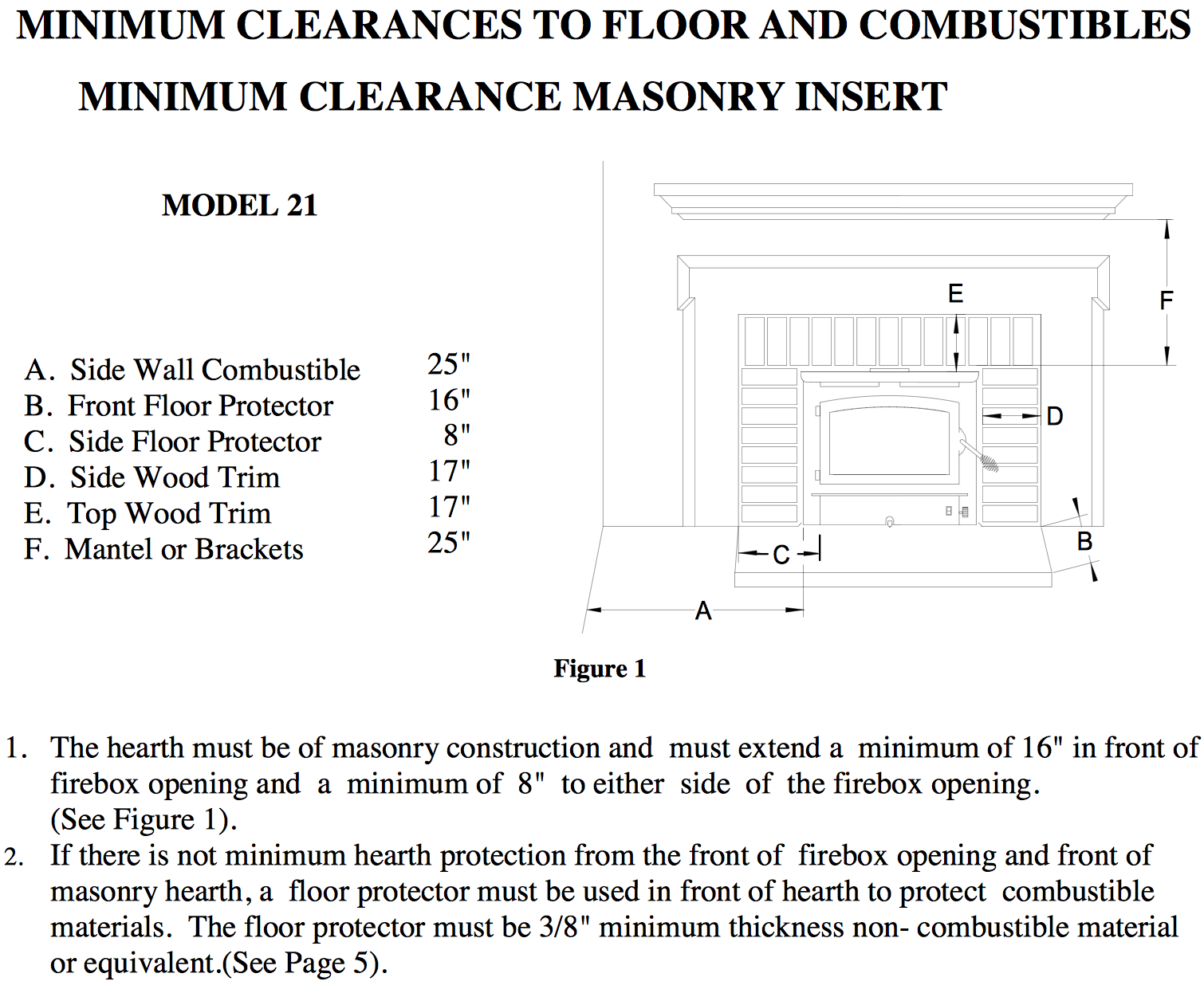 Buck 21 Freestanding Wood Stove-Gold Door, Legs, and Spring Handle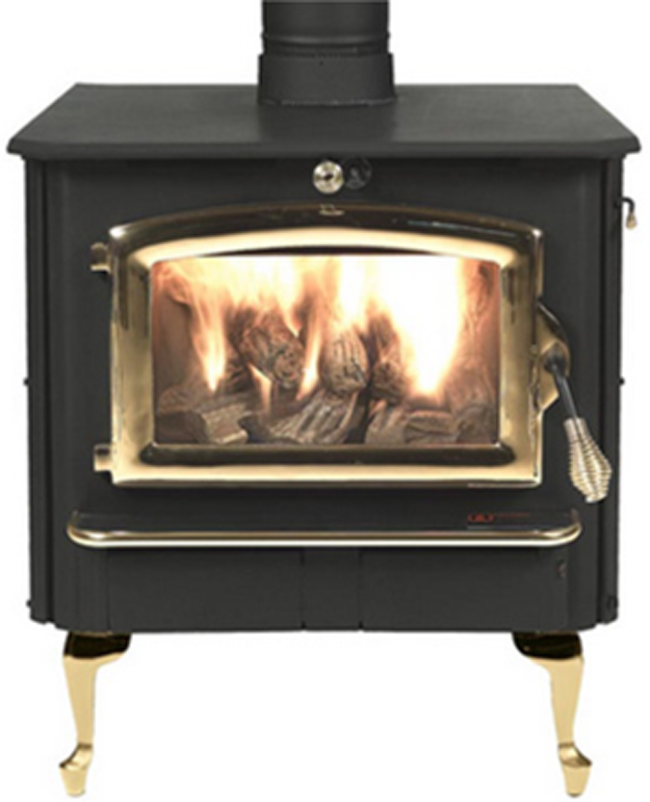 Buck 21 Freestanding Wood Stove-Pewter Door, and black legs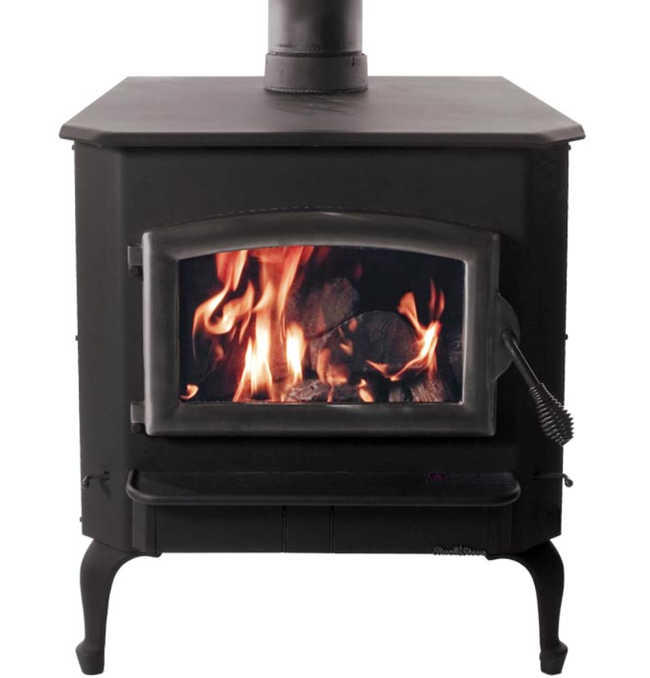 Buck 21 Freestanding Wood Stove-Black Door and Legs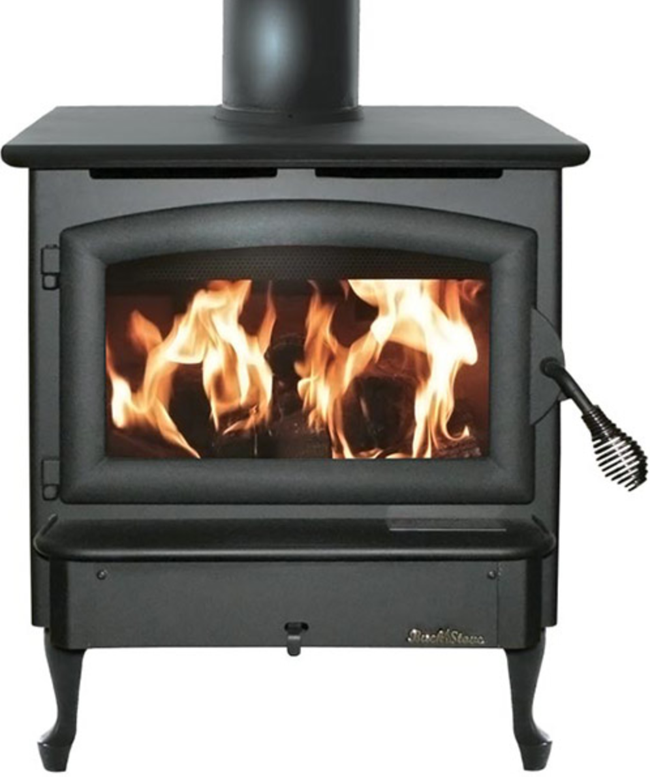 Buck FS21 Freestanding Wood Stove-Pedestal, Gold Door, and Spring Handle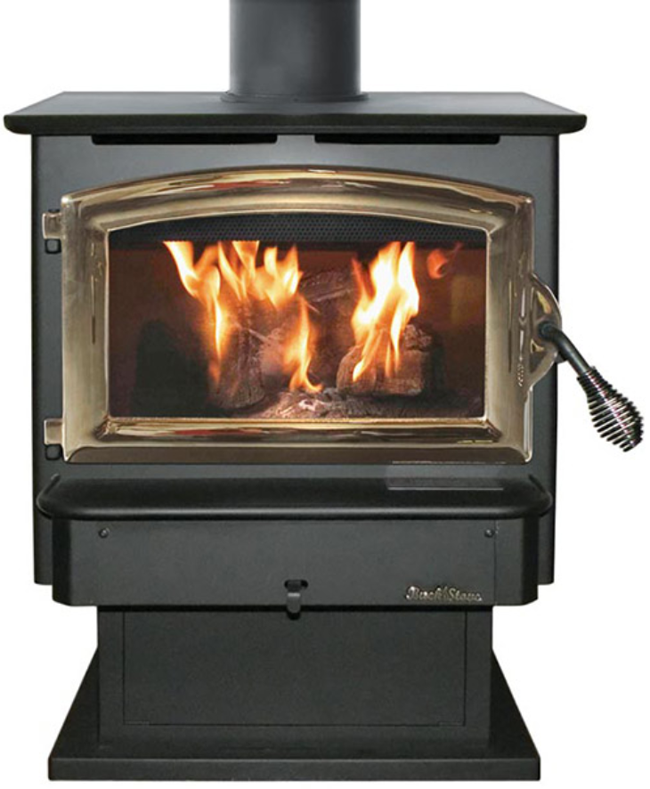 Buck FS21 Freestanding Wood Stove-Pedestal, Gold Door, and Spring Handle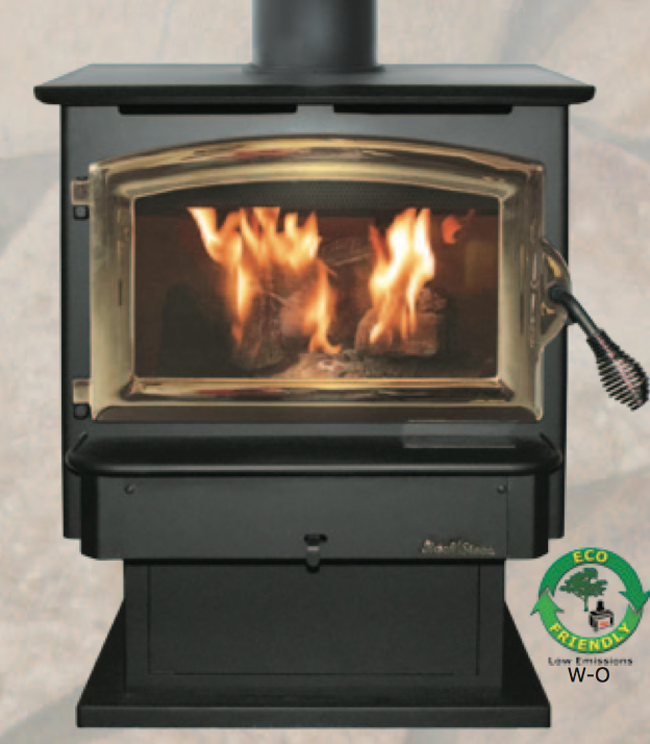 Buck 21 Wood Insert Shown with Black Door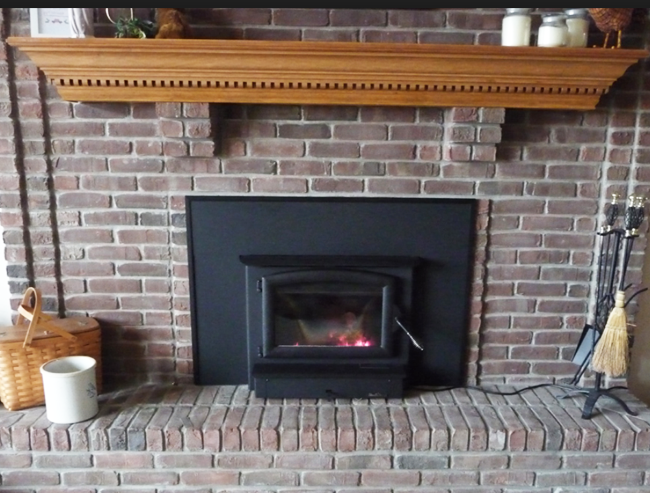 Buck 21 Wood Insert Shown with Black Door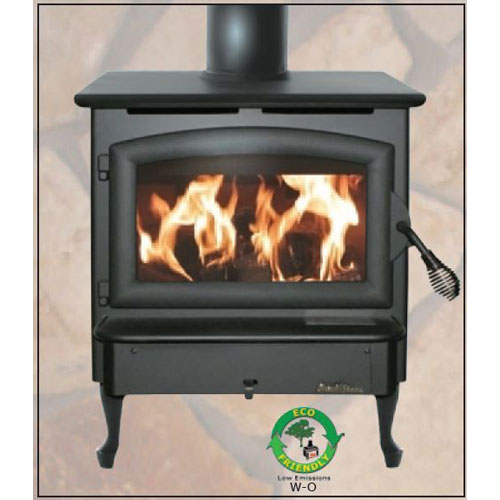 Buck Traditional Series Model 21 Wood stove or Insert - Insert w/ Black Door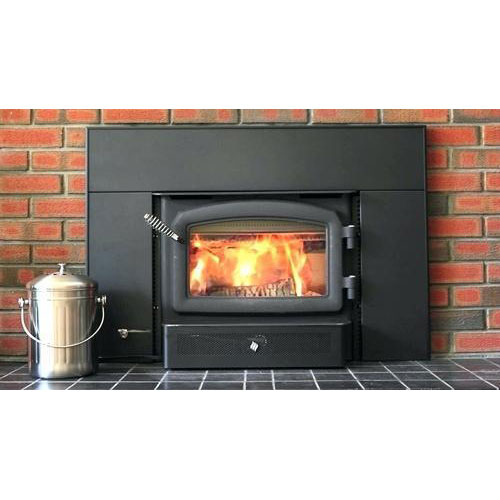 Buck Traditional Series Model 21 Wood stove or Insert - Insert w/ Pewter Door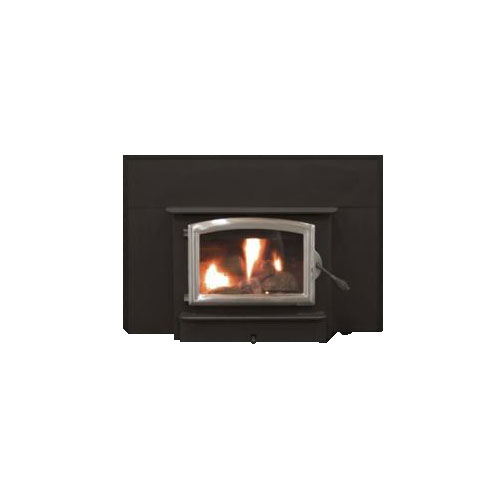 Buck Traditional Series Model 21 Wood stove or Insert - Insert w/ Black Door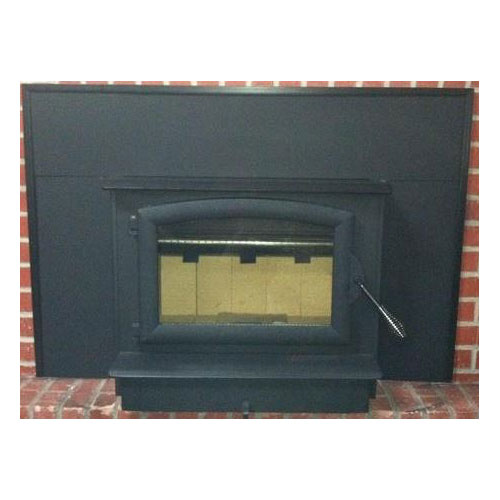 | | |
| --- | --- |
| Price List | Buck 21 Wood Burning Stove/Insert |
| Black Door Black Stove Body | $1,373.00 |
| Gold or Pewter Door Black Stove Body | $141.00 |
| Required Accessories | Freestanding Stove Installation |
| Black Legs Regular | $146.00 |
| Black Legs Large | $168.00 |
| Gold or Pewter Legs Regular | $266.00 |
| Gold or Pewter Legs Large | $288.00 |
| Required Accessories | Insert Installation |
| Trim Kit Standard 29"H x 39 3/4"W | $153.00 |
| Trim Kit Oversize 32"H x 45 3/4"W | $243.00 |
| Optional Accessories | |
| Blower Kit | $186.00 |
| Spring Door Handle (Gold) | $11.00 |
Chimney Liner Installation - Chimneys 101
Chimney Liner Installation Part I - Preparing the Liner
Chimney Liner Installation Part 2 - Inserting the Liner
Chimney Liner Installation Part 3 - Connecting the Liner & Damper Insulation
Chimney Liner Installation Part 4 - Final Touches
Boss of the Swamp: Woodstove & Chimney Maintenance (Part 1)
Boss of the Swamp: Woodstove & Chimney Maintenance (Part 2)