Saturday, March 23, 2019
Buck Bay Series 18 Stove or Insert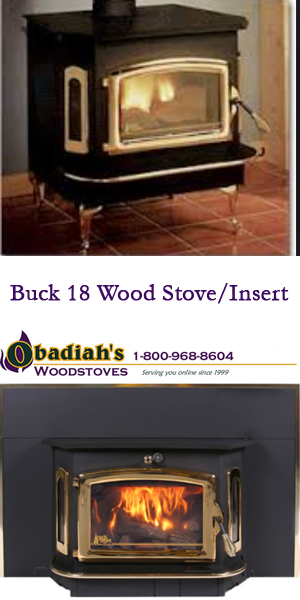 The Buck Model 18 is a highly efficient non-catalytic wood stove designed as a masonry or pre-fab fireplace insert. Used as a freestanding stove with the optional pedestal or traditional Queen Anne legs, or as an insert with surround option. The Buck Model 18 Wood unit is rated at 22,400 BTU's and can heat up to 1200 square feet (depending on the design and layout of your home). The 17-3/4" height allows the Buck Wood Burning Model 18 to fit almost any U.L.listed pre-fab fireplace. 3.0 grams meets and exceeds Washington State emission standards!

Buck Stove Company, since 1975 Commitment to Excellence
American Made in the U.S.A.
Unmatched Product, Unmatched People, Unmatched Pride
Handcrafted design and workmanship
Description
Specifications
Photos (8)
Pricing
Videos (7)
Add Review
The Buck 18 Non-Catalytic Stove body can be installed as either a freestanding wood stove (with the choice of leg or pedestal option) or as an insert model (with the choice of surround and trim kit). The Buck Stove Company established in 1975 is known for quality hand-crafted, secondary combustion designed, American made products, at an affordiable cost.
Units with this logo meet or exceed EPA emissions standards for the continental United States. A "W-O" below this symbol ensures that the unit is also fully certified for use in Washington and Oregon

Zero-Clearance PreFab installation: The Model 18 may be installed into any UL listed prefabricated fireplace that is large enough to accept it.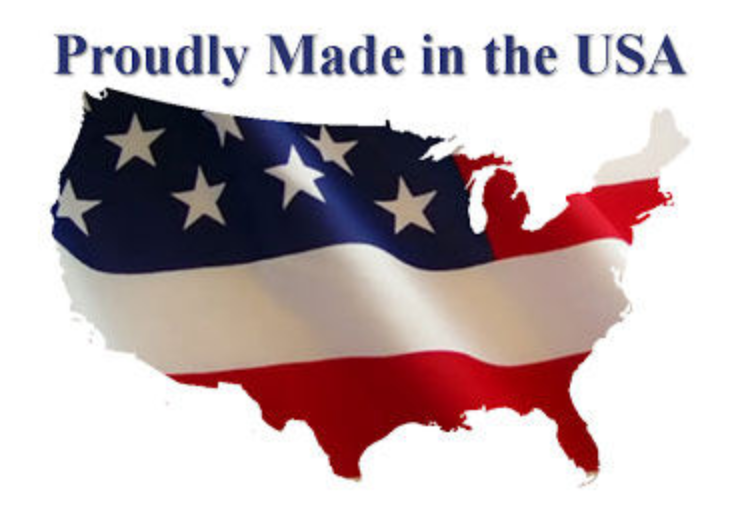 Options
Door Colors Available in: Black, Pewter, and Gold

Spring Doors Handles Availble in: Black (standard), or Gold

Freestanding Models Available with Legs (Black, Pewter, and Gold) or Black Pedestal

Large Leg Kit

Regular Legs

Insert Models Available with Standard (29 3/4H x 38"W) and Oversize (32 3/4"H x 44"W) Surrounds
Surround Trim Kit Available in: Black, and Gold


Resources:
| | |
| --- | --- |
| Specifications | Model 18 Non-Catalytic |
| Stove Dimensions | 17 3/4"H x 30-5/16"W x 21 3/4"D |
| Minimum Fireplace Dimensions | 17 7/8"H x 25 3/4"W x 11"D |
| Heating Capacity | 800 - 1,200 Sq. Feet |
| BTU output | 22,400 |
| Emissions | 3.0 g/h |
| Efficiency | 63% |
| Firebox Volume | 1.6 cu ft |
| Log length | 16" |
| Ash pan | Yes (comes standard) |
| Blower | Yes (comes standard) |
| Flue Size | 6" |
| Hearth Pad Size | 33" W x 46" D |
| Weight | 326 lbs |
| Mobile Home Approved | Yes |
| Pre Fab Approved | Yes |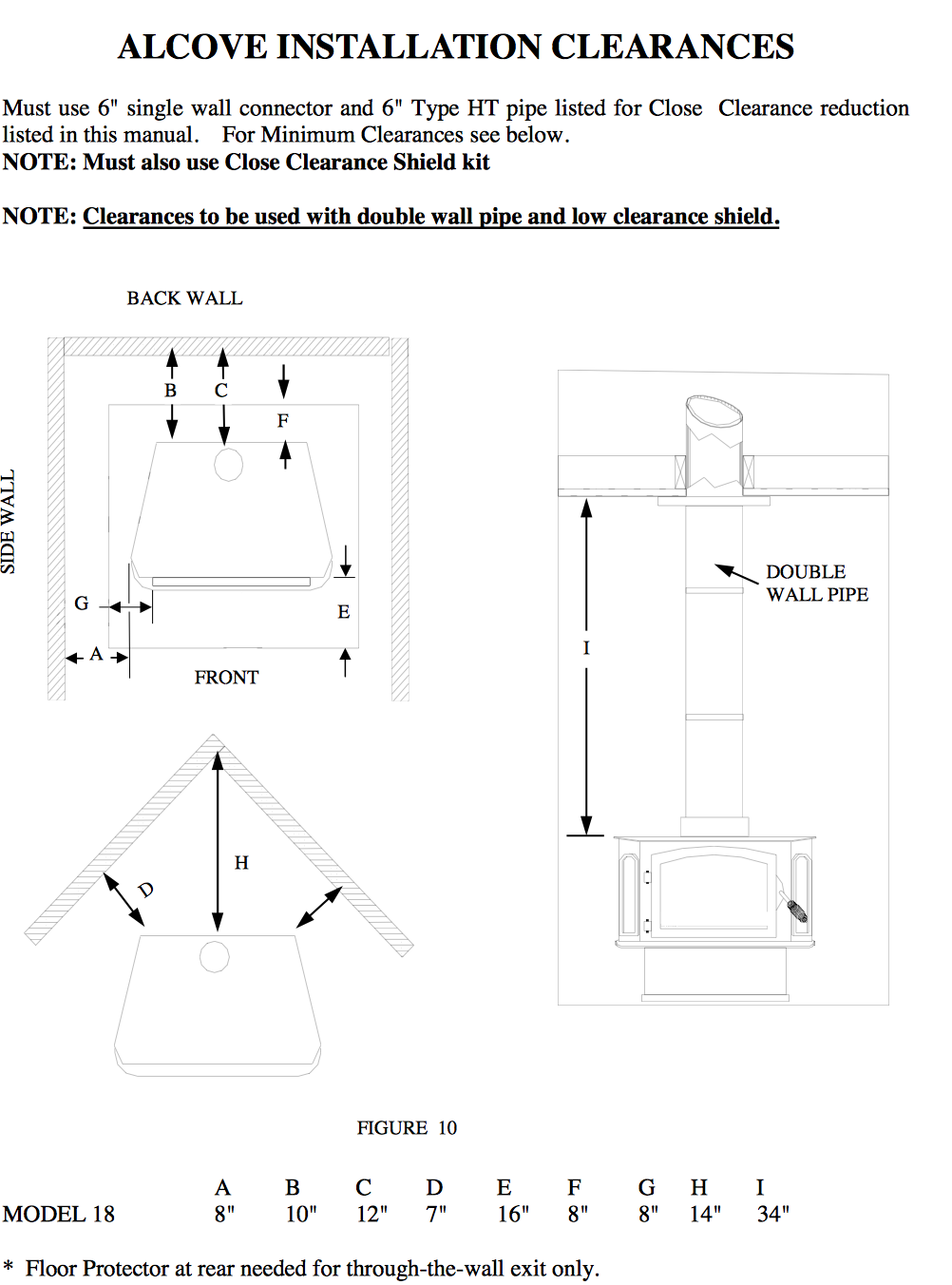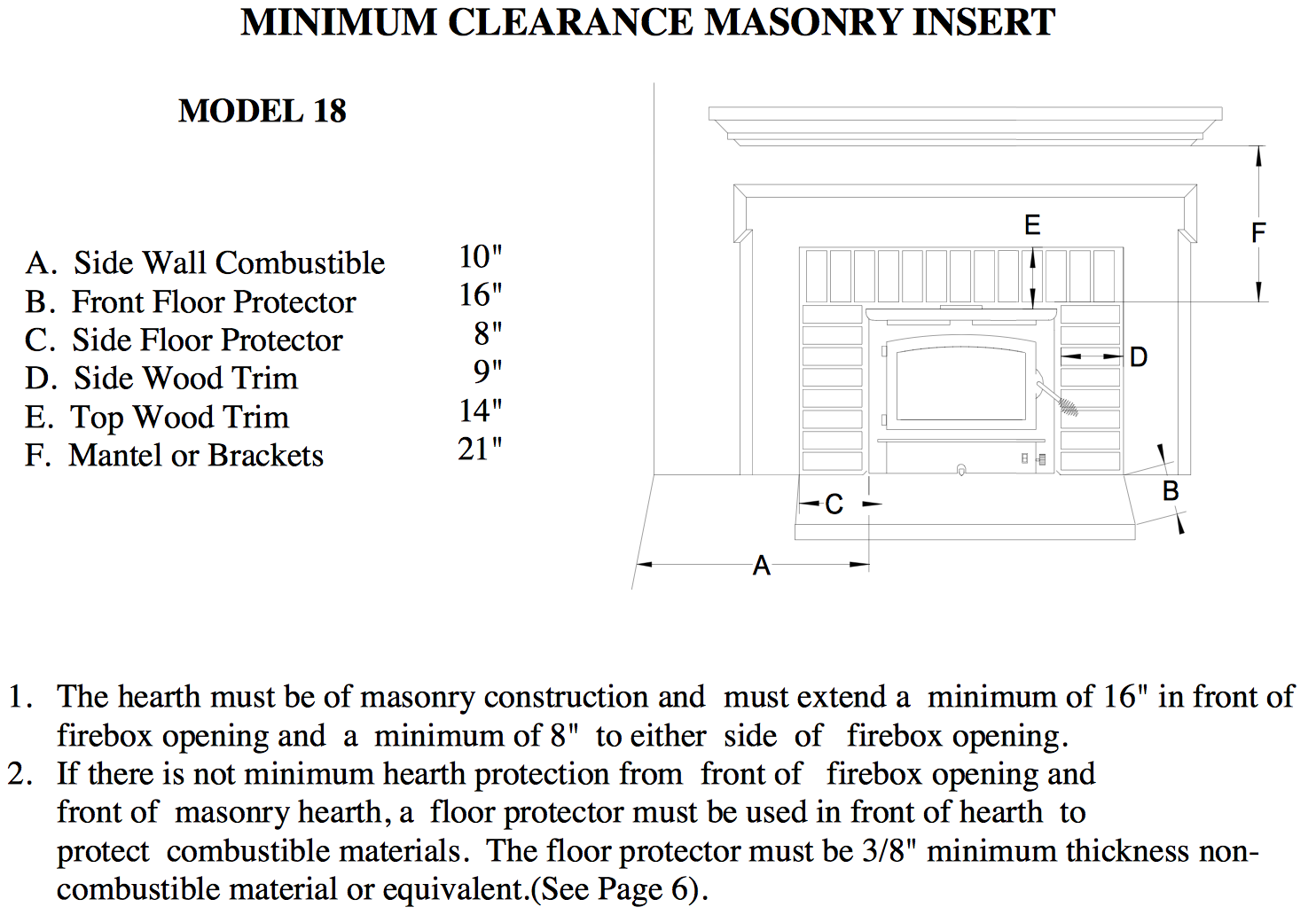 Buck 18 Non-Catalytic Wood Stove Body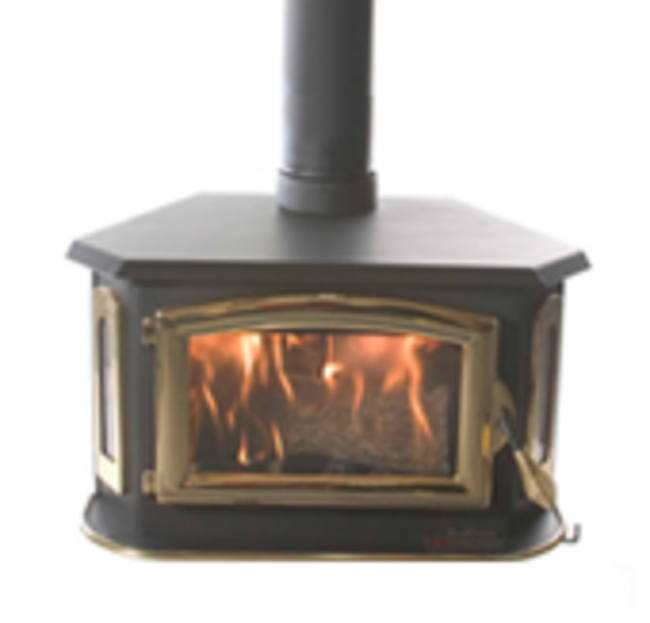 Buck 18 Non-Catalytic Wood Stove Body with Gold Door and Bay Windows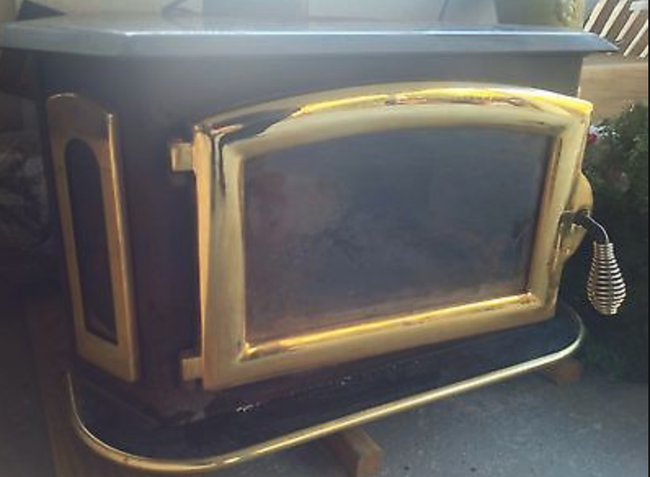 Buck 18 Non-Catalytic Freestanding Wood Stove Shown with Gold Door, Bay Windows, and Legs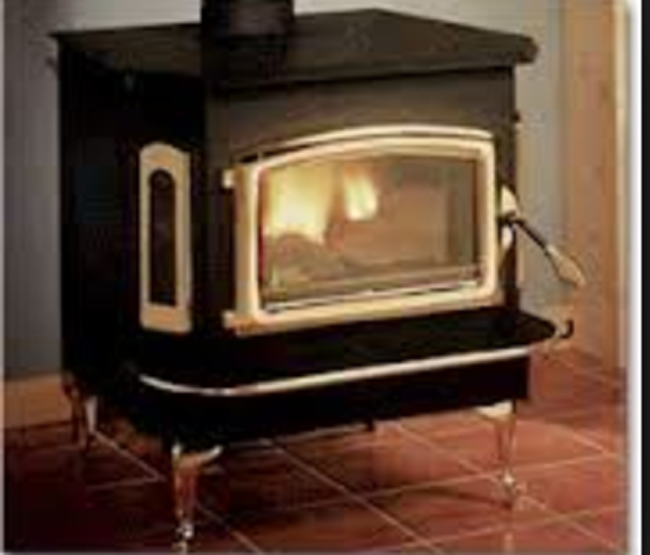 Buck 18 Non-Catalytic Freestanding Wood Stove Shown with Gold Door, Bay Windows, and Pedestal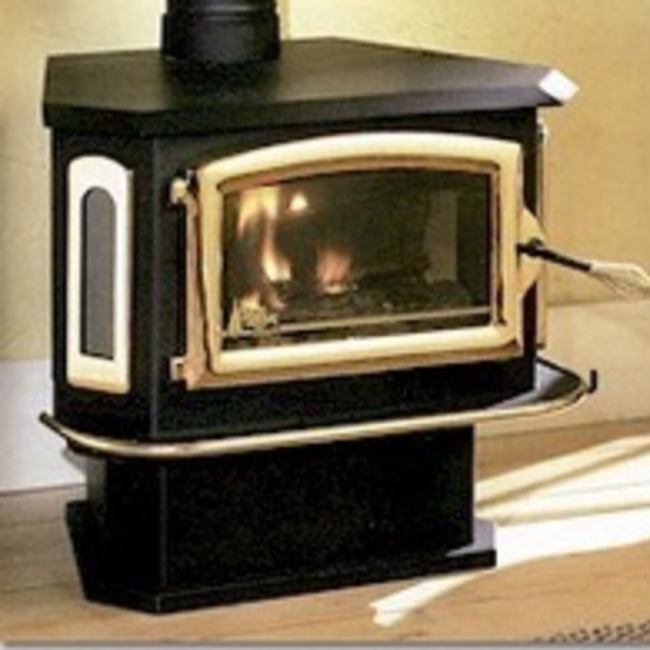 Buck 18 Non-Catalytic Freestanding Wood Stove Shown with Gold Door, Bay Windows, and Pedestal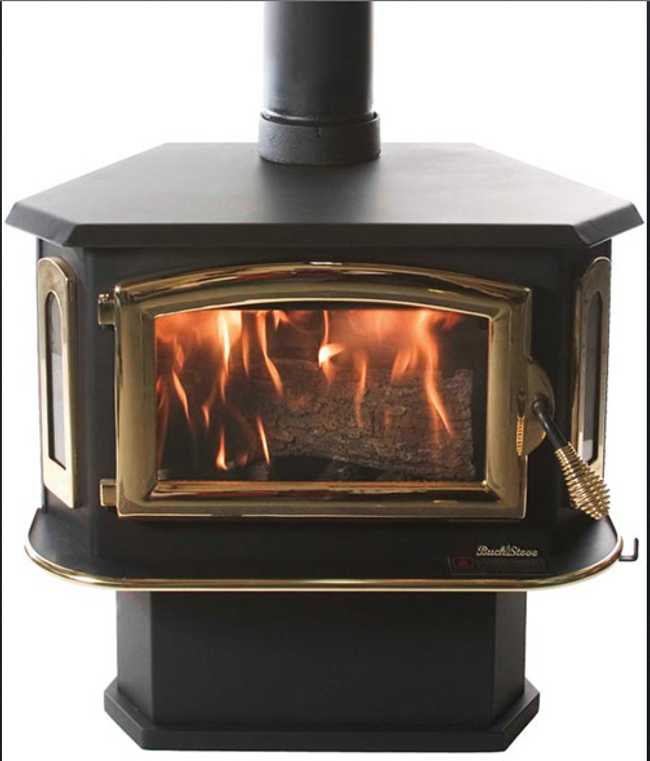 Buck 18 Non-Catalytic Wood Insert Shown with Pewter Door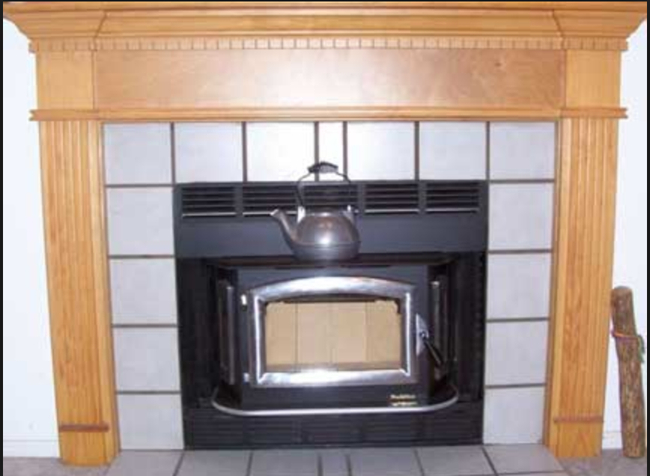 Buck 18 Non-Catalytic Wood Insert Shown with Gold Door, and Bay Windows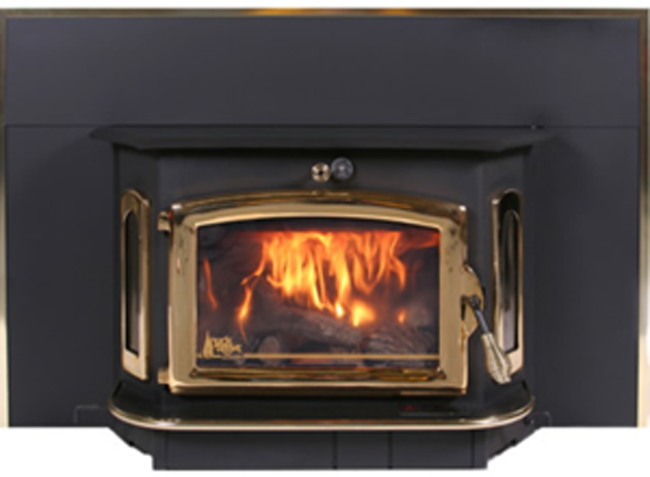 Buck 18 Non-Catalytic Wood Insert Shown with Black Door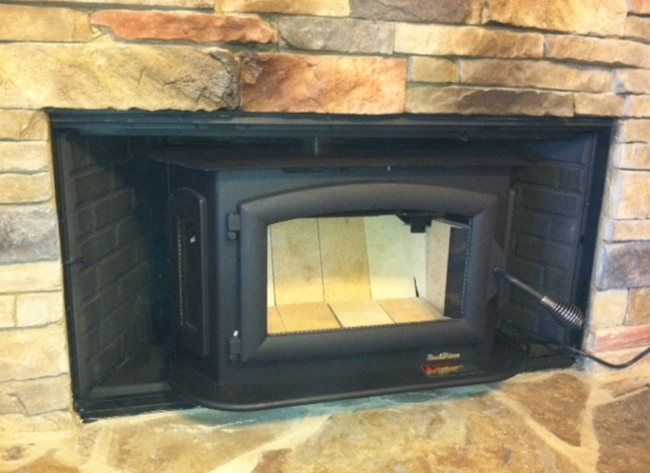 | | |
| --- | --- |
| Price List | Buck 18 Wood Burning Stove/Insert |
| Black Door Black Stove Body | $1,936 |
| Gold or Pewter Door Black Stove Body | $2,168 |
| Required Accessories | Freestanding Stove Installation |
| Hearth Support | $50 |
| Pedestal | $146 |
| Black Legs Regular | $146 |
| Black Legs Large | $168 |
| Gold or Pewter Legs Regular | $334 |
| Gold or Pewter Legs Large | $357 |
| Required Accessories | Insert Installation |
| Trim Kit Standard 29 3/4"H x 38"W | $146 |
| Trim Kit Oversize 332 3/4"H x 44"W | $231 |
| Optional Accessories | |
| Close Clearance Shields | $133 |
| Gold or Pewter Bay Windows | $139 |
| Spring Door Handle (Gold) | $12 |
| Spring Damper Rod (Gold) | $7 |
| 8" Cast Iron Flue Collar | $77 |
| Gold Hearth Trim (Freestanding Stove Only) | $39 |
| Standard Size Surround Trim (Gold) (Inserts Only) | $65 |
| Over Size Surround Trim (Gold) (Inserts Only) | $74 |
Chimney Liner Installation - Chimneys 101
Chimney Liner Installation Part I - Preparing the Liner
Chimney Liner Installation Part 2 - Inserting the Liner
Chimney Liner Installation Part 3 - Connecting the Liner & Damper Insulation
Chimney Liner Installation Part 4 - Final Touches
Boss of the Swamp: Woodstove & Chimney Maintenance (Part 1)
Boss of the Swamp: Woodstove & Chimney Maintenance (Part 2)