Saturday, December 2, 2023
Buck 80ZC Catalytic Phase II Stove - Discontinued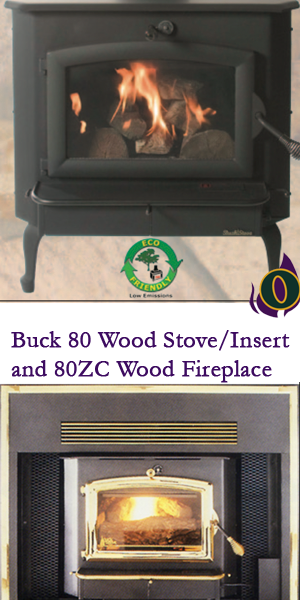 This product has been discontinued as it does not meet 2020 EPA Emission Standards. This page exists for informational purposes only.
The Buck Model 80 can be installed as a free standing wood stove, a wood insert or a ZC zero clearance fireplace. It is perfect for your new construction or remodeling project. The Model 80 ZC will save the expense of a masonry fireplace while enjoying all the warmth and efficiency of a Buck Stove. Model 80 ZC Catalytic unit features a factory installed variable speed blower and ash pan as standard equipment.
Buck Stove Company, since 1975 Commitment to Excellence
New Buck Corporation proudly produces all of their wood stoves in the United States of America. Striving to provide each customer with Unmatched Service on our Unmatched Product made by Unmatched People with Unmatched Pride. From the designing of the stove, to bending and shaping of the first piece of metal, to welding each piece together and painting and packaging for shipping, all of our stoves are assembled by hand with care and precision. We are confident that whichever Buck Stove product you choose, you will receive many years of operation and enjoyment. We would like to thank you for your decision in choosing Buck Stove and are happy to welcome you to the Buck family.
Description
Specifications
Photos (4)
Pricing
Videos (7)
Add Review
The Buck Model 80 catalytic wood stove is ideal for most homes. Versatile installation capabilities enable the Buck Model 80 to be used as a free-standing or masonary fireplace insert. With 2.6 cubic feet, the Buck Model 80 large firebox rates among the roomiest in it's class. The firebox can accept up to 22" firewood for load that will be a perfect long overnight burn times, to keep you and your family warm. No need to reload your firebox until late morning!
Features
1.Bypass Damper: The bypass damper control is located in top center of heater front just under top. It is operated by pushing or pulling the rod. The damper is fully open when the handle is pulled out and fully closed when it is pushed in. The damper must be open before the door is opened.
2. Blower Control: The blower control (Rheostat) is located at bottom under hearth. This switch controls the variable speed blower. For blower to operate turn switch from "OFF" position to either "LOW", "MEDIUM" or "HIGH". When stove temperature reaches 110o blower will automatically come on.
3. Primary Air Controls: The primary air intake draft controls are located at the left and right side of the hearth. They are operated by moving in and out to control the amount of primary air entering the firebox.
4. Warm Air Outlets: Provides heat extraction from the top of the firebox.
5. Baffles: Directs air flow around the unit for maximum heat transfer.
6. Air Inlet: Allows cool air near floor to be circulated through blower and back into warm air chamber of heater.
7. Stand: Elevates heater above the floor for safety and a neat appearance.
8. Door: Provides an "airtight" feature. The door allows a much higher burning efficiency than can be obtained with an open firebox.
9. Hearth Extension: Offers protection from spilled ashes and cinders.
10. Power Cord: Provides electrical power to operate the blower.
11. Chimney Connector: Used to connect unit to chimney or direct connect kit.
12. Catalysts: Enables the unit to burn cleanly and efficiently.
13. Catalyst Monitor: Hole is located to the right of the damper rod on the front. Remove plug and insert probe provided by manufacturer.
14. Cover Door: Conceals blower, blower controls and ash pan.
15. Airway: Primary air is directed in such a way as to provide a "sweeping" air wash over the glass to assist in keeping it clean.
16. Ash Pan: Provides for easy ash removal.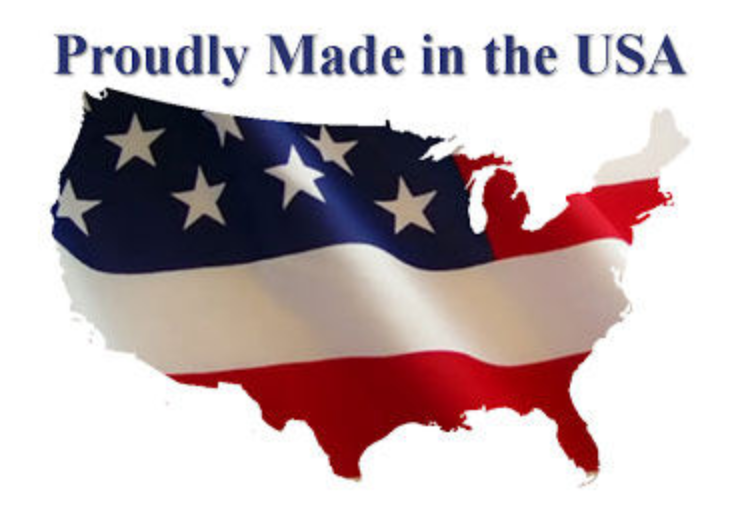 Buck Wood Burning Units with this logo meet or exceed EPA emissions standards for the continental United States. A "W-O" below this symbol ensures that the unit is also fully certified for use in Washington and Oregon

Options
Door Colors Available in: Black, Pewter, and Gold

Spring Doors Handles Availble in: Black (standard), or Gold

Freestanding Models Available with Legs (Black, Pewter, and Gold) or Black Pedestal


Large Leg Kit

Regular Legs

Faceplate: Insert Models Offer Standard (30 5/8"H x 38"W) and Oversize (33 5/8"H x 45 5/8"W) Surrounds
Surround Trim Kit Available in: Black, and Gold


Resources:
| | |
| --- | --- |
| Specifications | Buck 80/80ZC Wood Stove/Insert/Fireplace |
| Stove Dimensions | 29 1/2" W x 23 3/4" H x 22 7/8" D |
| Framing Dimensions | 47 1/2" W x 41 1/2" H x 29" D (From Finished Wall) (Measurement from back of cabinet to beginning of flu pipe 8" or 12" for dead center of flu pipe) |
| Heating Capacity | 1,500 - 2,600 Sq. Feet |
| BTU output | 40,500 |
| Emissions | 3 g/h |
| Tested and Approved | EPA Phase II |
| Firebox Volume | 2.6 cu ft |
| Log length | 22"(side to side) 17"(front to back) |
| Ash pan | Yes (comes standard) |
| Blower | Yes (comes standard) |
| Flue Size | 6" |
| Efficiency | 72% |
| Weight | 660 lbs |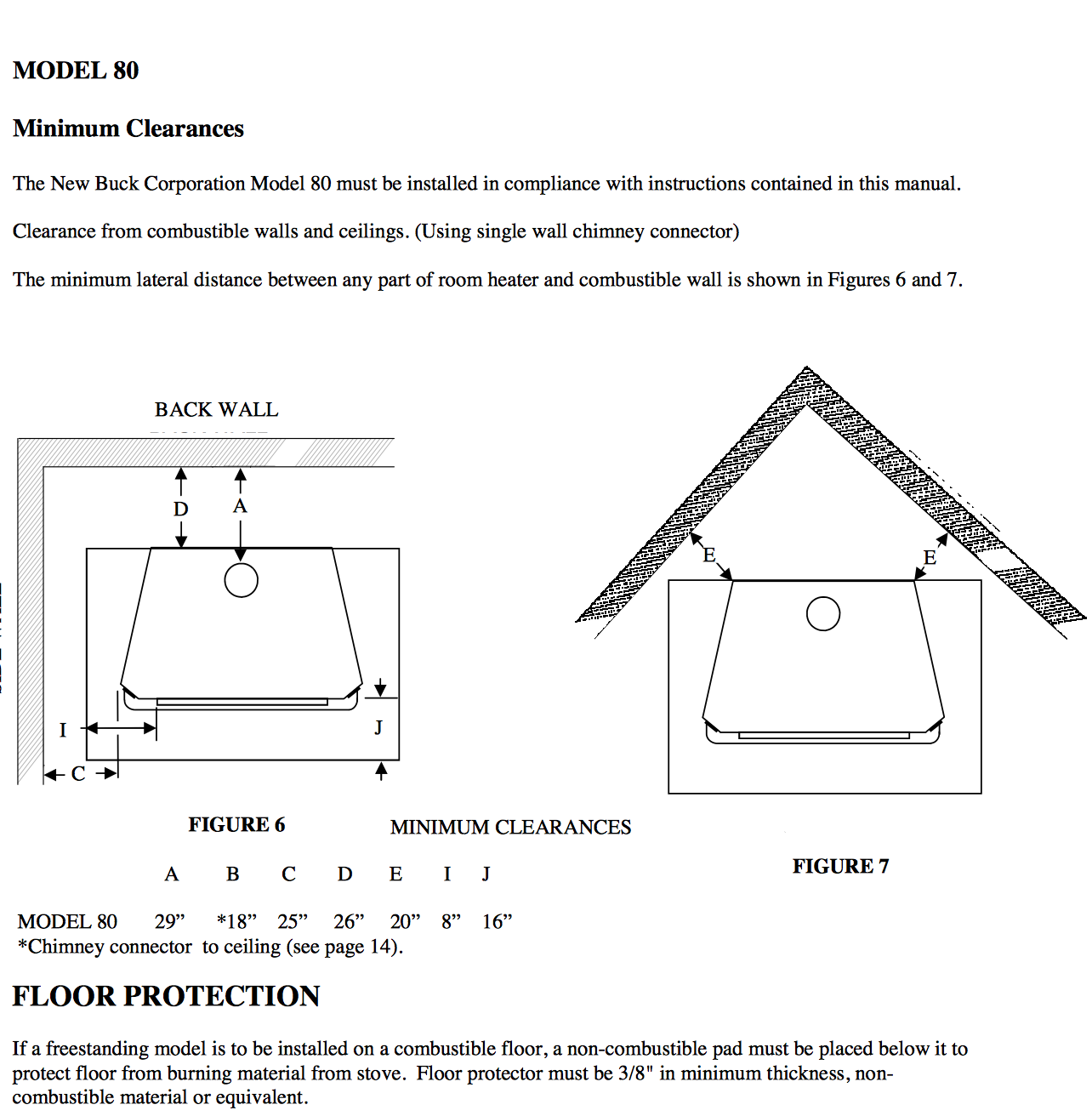 Masonry Insert Installation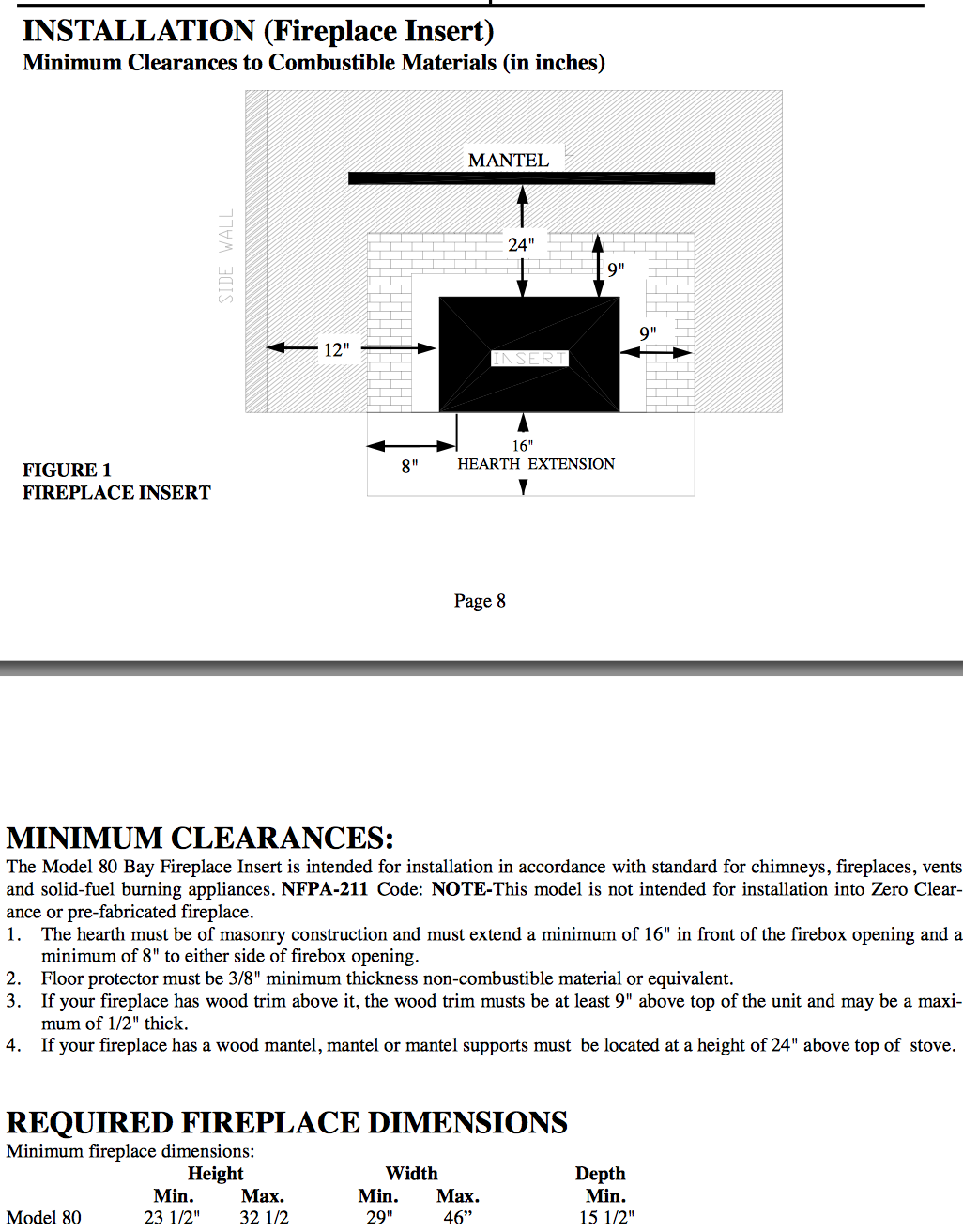 Buck 80 Freestanding Wood Stove Shown with Black Door, and Legs

Buck 80 Freestanding Wood Stove Shown with Black Door, and Pedestal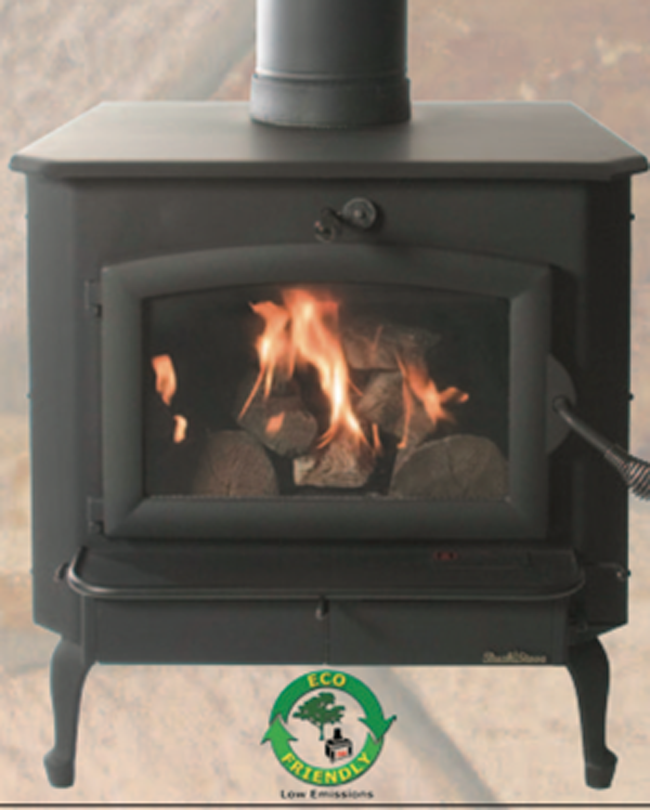 Buck 80ZC Zero Clearance Wood Fireplace Shown with Gold Door, Spring Handle, and Trim Package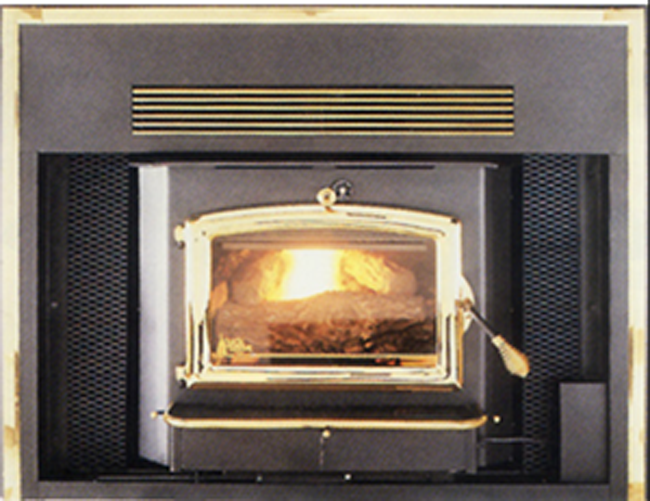 Buck 80 Wood Insert Shown with Black Door

Chimney Liner Installation - Chimneys 101
Chimney Liner Installation Part I - Preparing the Liner
Chimney Liner Installation Part 2 - Inserting the Liner
Chimney Liner Installation Part 3 - Connecting the Liner & Damper Insulation
Chimney Liner Installation Part 4 - Final Touches
Boss of the Swamp: Woodstove & Chimney Maintenance (Part 1)
Boss of the Swamp: Woodstove & Chimney Maintenance (Part 2)