Monday, September 16, 2019
Buck 20ZC Catalytic Phase II Stove - Discontinued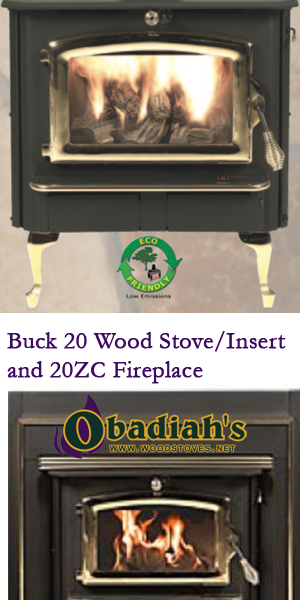 This stove has been discontinued, this page is up for informational purposes only
The Buck Model 20 and 20ZC is versatile with its heating capabilities. Whether you need a freestanding wood stove, prefab insert, or masonry insert, the Buck model 20 and 20ZC arethe perfect American Made products for your new construction or remodeling project. The Model 20ZC will save the expense of a masonry fireplace while enjoying all the warmth and high efficiency of a Buck Stove. The Buck Model 20ZC non-catalytic Wood Burning Fireplace features a factory installed variable speed blower as standard equipment. The Buck 20 and 20ZC meet both Washington and Oregon State Emmision's Standards!
Obadiah's is now Offering: Buck Stove Company, since 1975 Commitment to Excellence
Made in the U.S.A.
Unmatched Product, Unmatched People, Unmatched Pride
Handcrafted design and workmanship
Description
Specifications
Photos (5)
Pricing
Extended Info
Videos (7)
Add Review
This stove has been discontinued, this page is up for informational purposes only
The Buck Model 20 Catalytic Wood Stove delivers impressive heat in a small package, making it perfect for those tight installations. The Buck 20ZC Catalytic Wood Burning unit transforms your pre-fab or masonry fireplace into a 37,500 BTU efficient catalytic heater with a heating range up to 1,800 square feet. The Buck Model 20 can also be used as a freestanding unit with optional Queen Anne legs.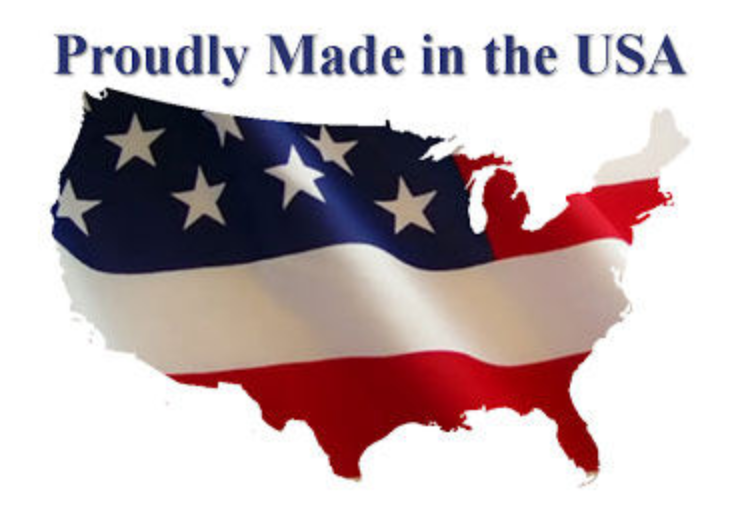 The Model 20ZC has been tested with the following UL listed manufactured Pre-Fab Fireplaces:
MAJESTIC—M-36, M-43, L-36, L-42, MD36, MD42, MD36-AO, MD42-AO
HEATILATOR—FP36, 3036, 3042, 3048, 3138, 3138 EP
PREWAY—DW36, DW42, BI36, BI42, BI36B, BI42B, BI36EM, BI42EM, BI36CEM, BR42CEM, BI36SEM, BI42SEM (NOTE: A Preway unit has to use insert trim panels.)
Buck Wood Burning Units with this logo meet or exceed EPA emissions standards for the continental United States. A "W-O" below this symbol ensures that the unit is also fully certified for use in Washington and Oregon

Options
Door Colors Available in: Black, Pewter, and Gold

Spring Doors Handles Availble in: Black (standard), or Gold

Freestanding Models Available with Legs (Black, Pewter, and Gold) or Black Pedestal


Large Leg Kit

Regular Legs

Insert Models Available with Standard (30 5/8"H x 38"W) and Oversize (33 5/8"H x 45 5/8"W) Surrounds
Surround Trim Kit Available in: Black, and Gold


Resources:
| | |
| --- | --- |
| Specifications | Buck Wood Burning Models 20 and 20ZC |
| Stove Dimensions | 21-13/16" H X 27-1/8" W X 23-1/6"D |
| Framing Dimensions | 37 15/16"W x 34 5/8"H x 25"D |
| Heating Capacity | 1,200-1,800 |
| BTU output | 37,500 |
| Emissions | 3.14 g/h |
| Tested and Approved | EPA Phase II (WA & OR) |
| Firebox Volume | 1.9 cu ft |
| Log length | 15" |
| Ash pan | Yes |
| Blower | Yes (comes standard) |
| Flue Size | 6" |
| Efficiency | 72% |
| Weight | 520 lbs |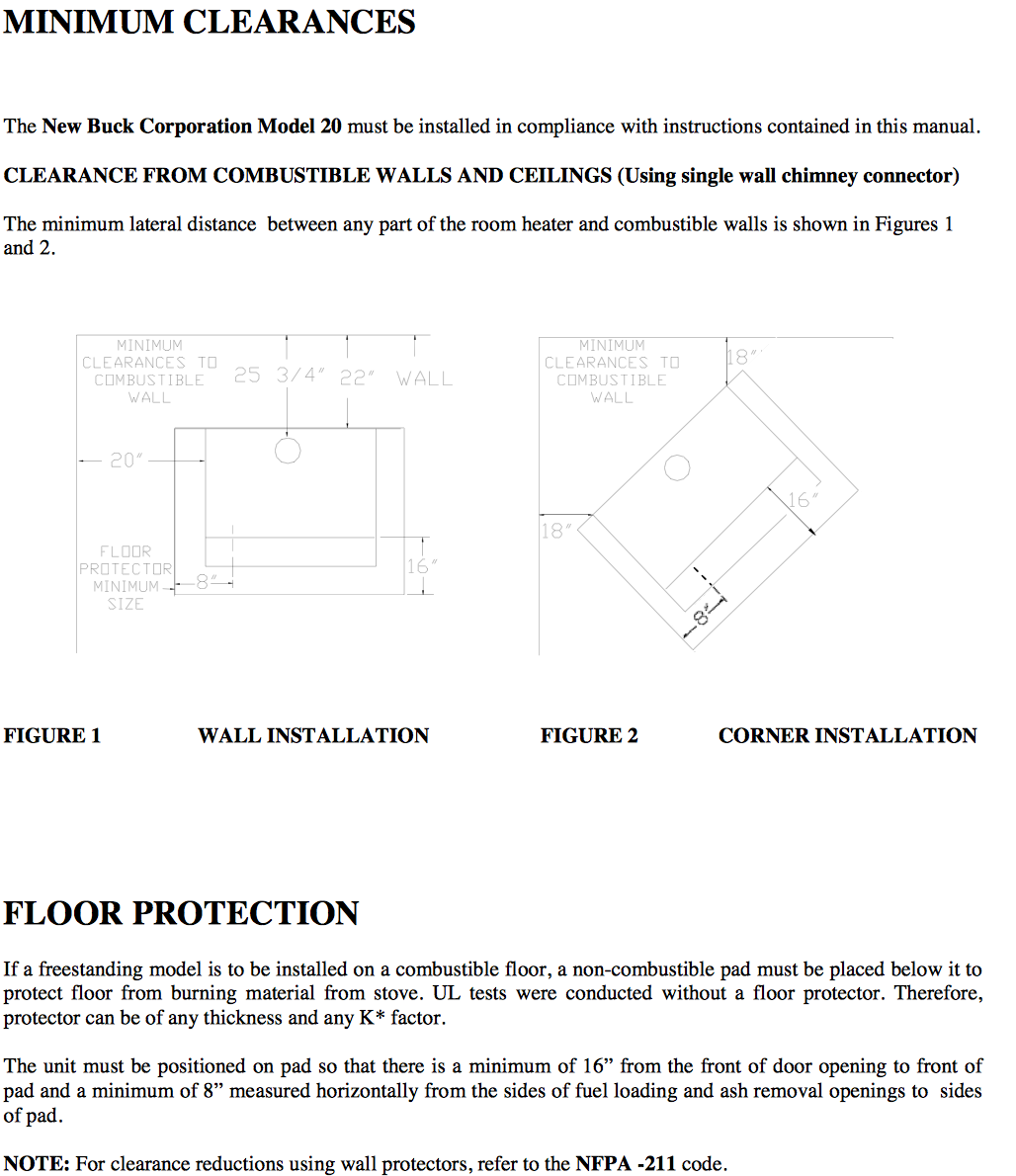 Note: Double Wall Class-A Chimney Close Clearance Installation is required with any Mobile Home Installation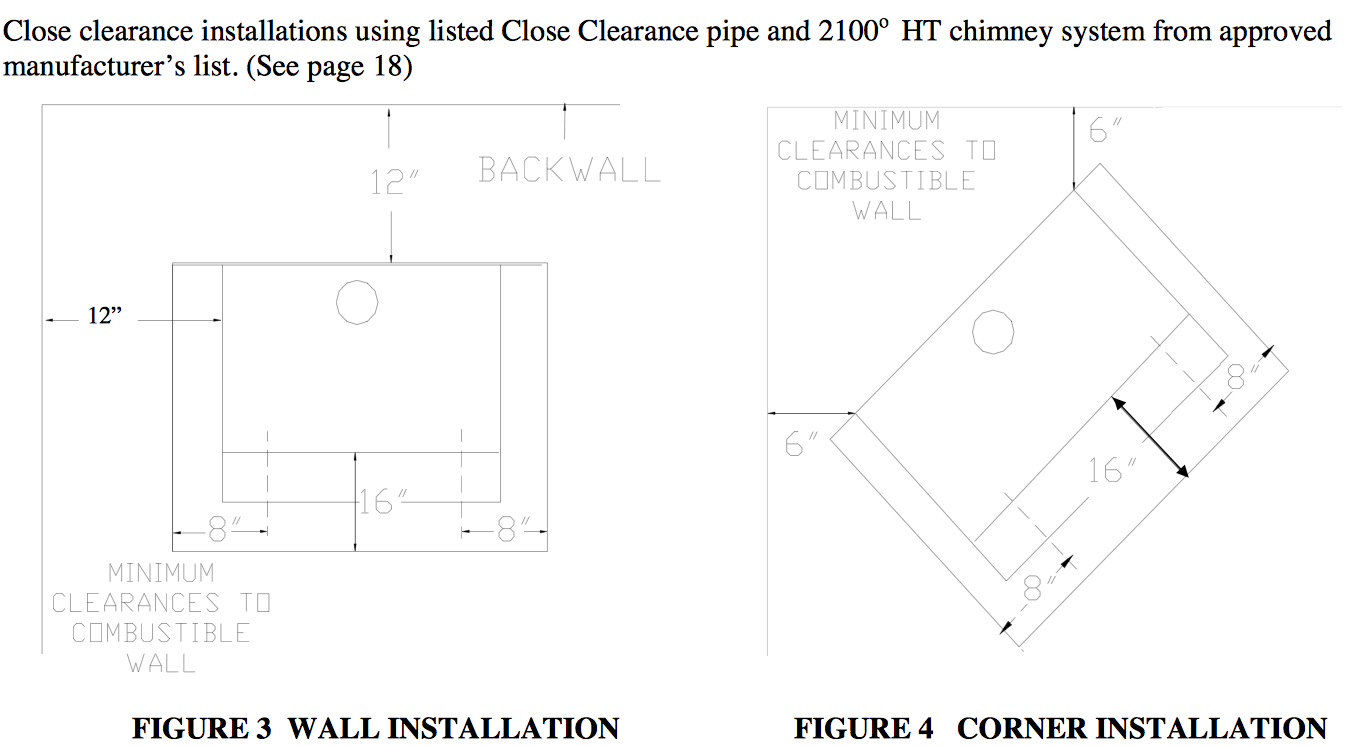 Clearances Required: Masonry Installation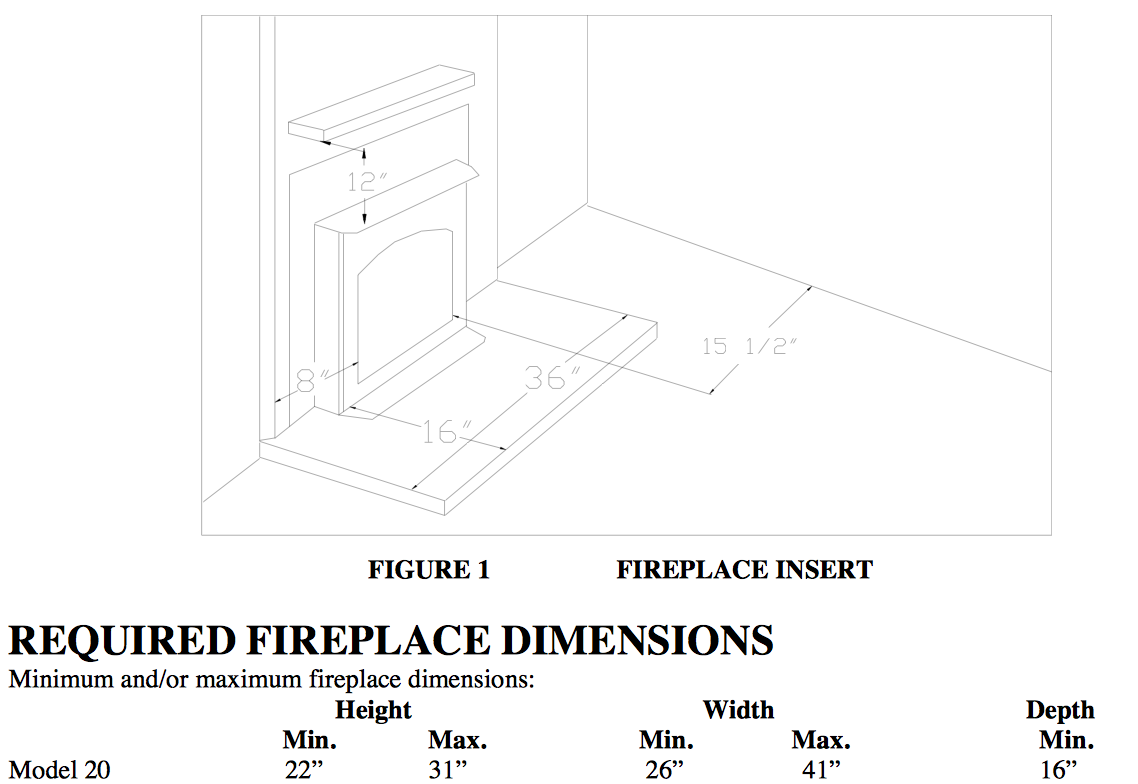 Buck 20ZC Freestanding Wood Stove Shown with Gold Door, Legs, and Spring Handles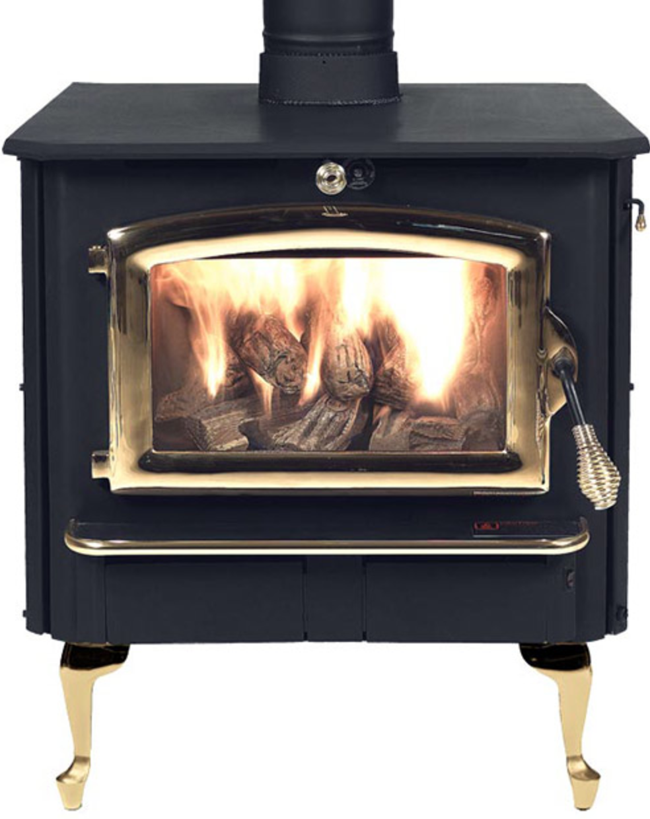 Buck 20ZC Freestanding Wood Stove Shown with Gold Door, Legs, and Spring Handles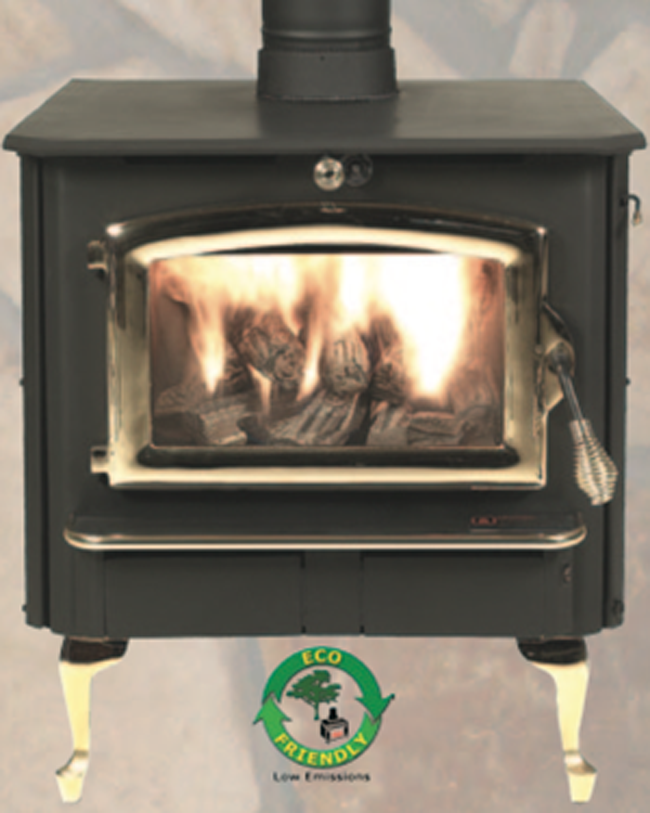 Buck 20ZC Zero Clearance Wood Fireplace Shown with Gold Door, Spring Handle, and Trim Pacakge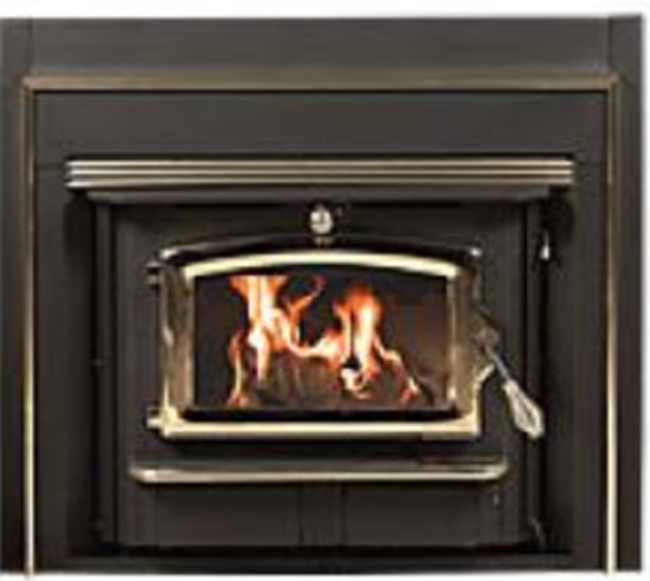 Buck 20 Wood Insert Shown with Gold Door, and Spring Handle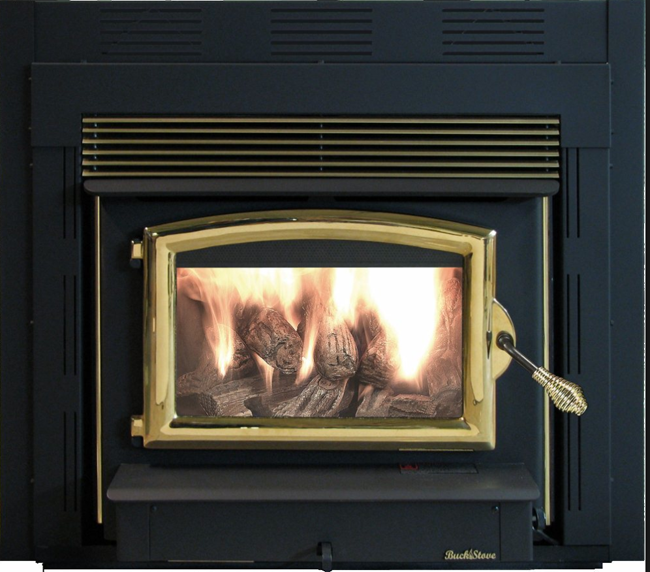 Buck 20ZC Zero Clearance Wood Fireplace with Black Door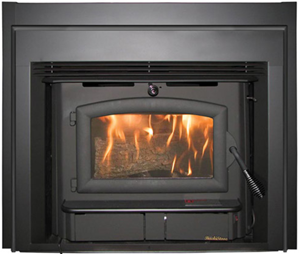 Be sure to check out our newly improved Cookstove Community website cookstoves.net; the best place online to connect with other cookstove users over stoves, self-sufficient living, alternative energy, and more! Take a look at our selection of videos, articles, and photos, and be sure to visit the forums to connect with like-minded folks from all over.
If you are planning to cook with a cookstove, you will need to understand some basic fire safety. Remember, extinguishing a grease or oil fire with water is not a good idea.
For help choosing and installing a wood boiler, see the links and posts below.
Chimney Liner Installation - Chimneys 101
Chimney Liner Installation Part I - Preparing the Liner
Chimney Liner Installation Part 2 - Inserting the Liner
Chimney Liner Installation Part 3 - Connecting the Liner & Damper Insulation
Chimney Liner Installation Part 4 - Final Touches
Boss of the Swamp: Woodstove & Chimney Maintenance (Part 1)
Boss of the Swamp: Woodstove & Chimney Maintenance (Part 2)