Friday, December 8, 2023
The Breckwell Mahogany Stove - Discontinued*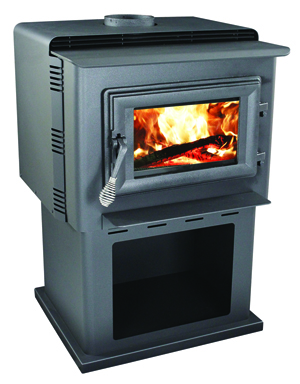 *PRODUCT DISCONTINUED - This page is for informational purposes only.
This highly efficient non-catalytic wood stove has even more going for it than first meets the eye. Built by an award-winning engineering and design team, this stove can be used as a free-stander or as an insert-with no additional parts. In addition, the unique Quad Radiant and Convection Air Heat Systems assures even and rapid heat distribution.
Description
Specifications
Photos (1)
Pricing
Videos (1)
Add Review
The many options provided by the Breckwell Mahogany stove allow you to choose anything from retro/old school to sleek and modern. Options for the free stander includes Pedestal with ash bin, Pedestal without ash pan, Pedestal with door that stores wood; and cast iron legs.
Features
Creatively designed as both a free-stander and as an insert-no additional parts
Unique QUAD radiant and convection air heat system: including top shroud vent, side louvres, and bottom cavity: for even and rapid heat distribution
The positioning and configuration of the firebox channels and concentrates the radiant and convection heat at the front of stove to maximize the temperature and provides a clever stay-clean glass door
Multiple appealing options. One includes a log storage area with a door that opens from the bottom and slides/tucks away at the top with non-stick components.
As an insert it fits masonry and zero clearance fireplaces
Front top can be used as a steamer or cook area
Stay-clean large glass doorMeets and exceeds safety requirements, including dual level steel bottom
Engineered for a long, very efficient, and clean burn
Designed for easy installation, cleaning and maintenance
Mobile home approved
Options
Optional blower and outside air kit
Colors: black, brown, and red

Resources:
Specifications
The Breckwell Mahogany
Combustion System
non-catalytic
EPA grams/hr
2.28
Heat output
9,500-37,000
Exhaust diameter
6"
Weight
430 lbs
Depth from face
21 5/8"
Width at top front
25 1/16"
Heating Capacity
up to 1,800 sq ft
Approx burn time
7-9 hours
Log Length
18"
Width at sides
25"
Used as a freestander
Height w/ log storage pedestal at front
37 1/8"
Height w/ log storage pedestal to shroud top
38 13/16"
Height w/ pedestal at front
31 1/4"
Height w/ pedestal to shroud top
32 7/8"
Used as an insert
Height w/ large flasing
32 1/16"
Height w/ medium flashing
30 1/16"
Height inside fireplace
20 1/2"
Height in front
18 13/16"
Width w/ medium flashing
42"
Width w/ large flashing
48 1/2"
Depth inside fireplace
15"