Monday, September 16, 2019
SP7000FS Breckwell Solstice Pellet Stove - Discontinued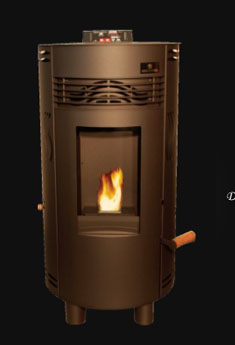 This stove has been discontinued and ALL inventory has been SOLD. This is an informational page for those who have already purchased the unit.
This industry's leading honor was awarded to Breckwell for our latest pellet stove: The Solstice. The criteria upon which the Vesta Award is based includes the Innovation in Design, Construction, Technology, and Advantages to the Consumer.

The elegance of this new pellet stove leverages the modern, sleek feel of the European circular stove style with reliability, durability, and efficiency of American craftsmanship. Packed with features and benefits in a compact 22" wide design, this stove provides you with exceptional heat and outstanding value.
Description
Specifications
Photos (1)
Pricing
Extended Info
Videos (2)
Add Review
P7000FS Solstice Features:
• Up to 80 lb. Hopper Capacity allows for extended burn times!
• Heavy Steel Construction for long-term reliability and durability.
• Unique "Tri-source" heat distribution for maximum coverage.
• "Hot-Rod" Fire Starter ensures the stove lights quickly and safely.
• Solid cast iron burn pot that is removable for easy cleaning.
• Large and easily accessible ash drawer
• Special air wash system helps keep the glass clean for improved viewing.
• Quiet motors and blowers.
• High thermal efficiency offers superior heat output.
• Environmentally friendly: meets or exceeds all federal emissions standards.
• Available in multiple colors - Black Metallic, Rich Brown Metallic, and Designer Shimmering Red (shown in picture).
•Limited Lifetime Warranty
• Proudly Made in the USA.

Resources:
P7000 Specifications
Height
43.125"
Depth
26"
Width
22.25"
Flue Outlet
3"
Burn Time
Up to 45 Hours
MAX BTU Input
45,000
Sq. ft. Range
400 - 2200
EPA Status
Excempt
Hopper Capacity
Up to 75 lbs w/corn - 85 w/pellets
Approved Install
Alcove, Mobile Home, Conventional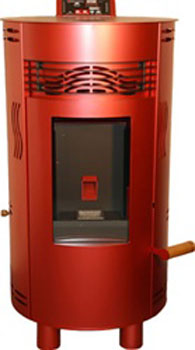 Please call or email for information regarding Breckwell products. Please specify the model you are interested and your zip code.
Be sure to check out our newly improved Cookstove Community website cookstoves.net; the best place online to connect with other cookstove users over stoves, self-sufficient living, alternative energy, and more! Take a look at our selection of videos, articles, and photos, and be sure to visit the forums to connect with like-minded folks from all over.
If you are planning to cook with a cookstove, you will need to understand some basic fire safety. Remember, extinguishing a grease or oil fire with water is not a good idea.
For help choosing and installing a wood boiler, see the links and posts below.
Pellet Install
Breckwell Branded