Sunday, April 22, 2018
SP2000 The Tahoe Breckwell Stove/Insert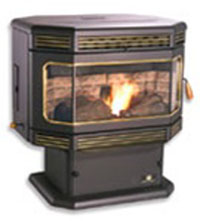 Biggest, Brightest Wood Flame
Top of the Line!
Available in Free Standing and Insert Models.
The Free Standing Model comes Standard with a Black Door and Pedestal.
The Insert Model comes Standard with a Black Door and Medium Black Flashing.
Select from the available options and accessories below.
Description
Specifications
Photos (1)
Pricing
Videos (2)
Add Review
Breckwell P2000 Tahoe - The hallmark of our pellet stoves is their contemporary look and style. They feature the best-selling operational features, plus these models feature a bold 180 degree bay view of fabulous flames from every angle. Warm and inviting is its generous bay window. The P2000's are at home in most any decor, with timeless styling and standard gold embellishments. The P2000's feature smoke-free operation and an impressive burn time of up to 65 hours. The P2000I Insert also offers an ingenious front-hinged hopper that opens to 126 square inches of access, and closes with clever concealment. As a result, the P2000I extends a mere 8-1/2" onto the hearth.
Features:
Digital control panel
Up to 60 hours of heating from one fuel load
Large ash drawer
Automatic fuel feed
Whisper-quiet blowers
"Hot Rod" automatic igniter
Heavy steel construction
Limited lifetime warranty
Options and Accessories:
Thermostatic Remote Control: Radio
Controlled within a range up to 100 ft.
Door upgrade Kits: Gold Plated or Nickel Plated
Flashing for Insert Model: Small, Medium and Large with Gold or Brushed Nickel Trim
Flashing Trim for Insert Model: Medium Nickel Trim (Trim Only)
Ash Drop for Insert Model
ZC Skirt for Insert Model
Telescoping Legs for Free Standing Model
Decorative Realistic Ceramic Log Kit
Decorative Brick Kit
Specifications
P2000I
P2000FS
Flue Outlet
3"
3"
Weight
185 lbs
250 lbs
Burning Time (3)
(in hours)
up to 60
up to 70
Max BTU Input
45,000
45,000
EPA Status (2)
Exempt
Exempt
Hopper Capacity (3)
Up to 60 lbs
Up to 70 lbs
Approved Installation
Masonry, Zero-clearance, Mobile Home Z-C, Built-in
Alcove, Mobile Homes, Conventional
Dimensions
Width
22-3/4" (at rear) 29-3/4" (at opening)
29.125"
Depth
27-1/4" 17.375" (in fireplace)
24.75"
Height
20" (in fireplace)
30.5"
Flashing for Inserts
40.5" x 28.25" 44.5" x 30.125" 48.5" x 32.125"
N/A
Clearances
Front (Hearth)
6"
6"
Side Wall
5"
9"
Mantel (from Stove)
14"
-
Alcove
-
48" High (min) 36" Deep (max) 41" Wide (min)
Corner
-
1"
Back Wall
-
3"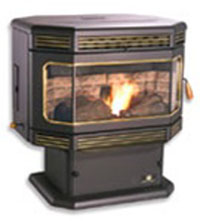 | | |
| --- | --- |
| SP2000 The Tahoe Breckwell Stove | Price |
| SP2000 - Stove | $2993.00 |
| SP2000I - Insert | $3031.00 |
| Options | Price |
| Door Kit | $489.00 |
| Decorative Log Kit | $209.00 |
| Decorative Brick Kit | $189.00 |
Please call or email for information regarding Breckwell products. Please specify the model you are interested and your zip code.
Pellet Install
Breckwell Branded