Monday, December 4, 2023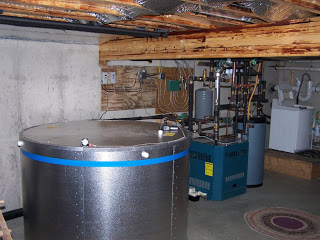 Where to install your wood boiler?
Your choice here should always be indoors in my opion. If you have a walk out basement, build a boiler room with a wood room and a shoot to feed the wood downstairs. Everything is nice and warm. If you don't have a walk out basement, some boilers are extremely heavy and most stairways cannot support the weight. Have a pro look at it first.
If you want the smoke and mess out of the house, I agree. Add a shed on the back of the house, or build a freestanding boiler house to shelter your boiler and the wood you'll be feeding it.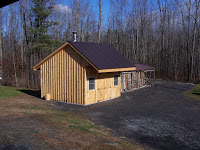 Here are some pictures of a perfect installation in my opionion. Hopefully they will give you some ideas on how best to plan your new wood boiler installation.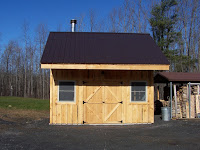 This is a very professional clean installation belonging to our customer Charlie Woltz. We can not take credit for this installation, but it is something everyone would be proud of.
It is very well thought out and clean! It is obvious that the installer really took pride in their workmanship. There are many componets to a properly installed boiler system. If installed properly, a wood fired boiler system should give you 30 yrs of trouble free service.
Posted on Friday, February 1, 2013