Tuesday, November 12, 2019
DP 75 Attack Boiler - Discontinued*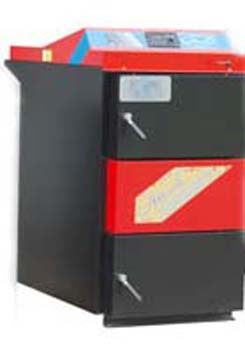 *PRODUCT DISCONTINUED - This page is for informational purposes only.
The Attack DP is a wood gasifying boiler that is designed to use dry wood for fuel. When the feeding chamber is full it can continually burn for 8-12 hours. It provides an efficient and environmentally friendly means of heating. With an output range of 102-255 kBTUs this boiler is a good fit for many applications.
The Attack DP is simple to use and easy to clean. It features an automatic off switch which is triggered when it runs out of fuel. The Attack DP also uses "negative draft" to keep any emissions from exiting the chamber during refueling.
Description
Specifications
Photos (0)
Pricing
Extended Info
Add Review
*PRODUCT DISCONTINUED - This page is for informational purposes only.
Click here for Single Line PEX Pipe
Click here for Dual Line PEX Pipe
DP 75 Features:
Models DP 35, 45, and 75 Profi

Modern design

Wide output range of 102-255 kBTU

Burns soft and hard wood

Large combustion chamber enabling longer heating at one load

Possibility to load big wood logs

High combustion efficiency – low fuel consumption - low emissions

Minimum waste

Simple use and cleaning

Automatic boiler stop when fuel burns out

Flue ventilator ensures balanced and effective combustion and dustless operation

Modulated fan rotations

Equipped with cooling circuit against overheating of water in the boiler

Quality boiler steel of 6mm thickness is used for boiler production

Refractory pieces are resistant up to the temperature of 1500°C

Resources:
| | |
| --- | --- |
| Attack Model | DP75 |
| Normal Heat Output | 102,000-255,000 BTU |
| Max. Operation Overpressure | 45 PSI |
| Water Capacity | 32 Gal |
| Combustion Chamber Volume | 92.5 Gal |
| Electrical Input | 70W (115v/60Hz) |
| Min. temp of return water at operation | 149 F |
| Flue Gas Temp | 500 F |
| Weight | 1,433 lbs |
| Noise Level | 65 dB |
| Specified Chimney Draught | 23 Pa |
| C.H. Water Connection | 2" |
| Flue Connections | 6" |
| Height | 53.1" |
| Width | 29.5" |
| Depth | 63" |
Be sure to check out our newly improved Cookstove Community website cookstoves.net; the best place online to connect with other cookstove users over stoves, self-sufficient living, alternative energy, and more! Take a look at our selection of videos, articles, and photos, and be sure to visit the forums to connect with like-minded folks from all over.
If you are planning to cook with a cookstove, you will need to understand some basic fire safety. Remember, extinguishing a grease or oil fire with water is not a good idea.
For help choosing and installing a wood boiler, see the links and posts below.