Saturday, December 2, 2023
AHB 170 America's Heat EPA Corn or Pellet Boiler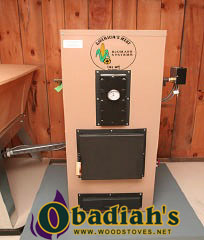 This model meets all EPA NSPS regulations.
The America's Heat Wood Pellet or Shelled Corn Boiler is a name you can trust, featuring quality construction for long lasting performance, ASME certification and offering a 20 year limited warranty. With quality construction and most up to date safety features, the America's Heat boiler is one of the safest and most efficient biomass boilers on the market today.
Description
Specifications
Photos (0)
Pricing
Videos (1)
Add Review
The America's Heat boiler is manufactured with a wide BTU Range from 30,000 - 170,000 BTU's. Each boiler is made as a stand alone unit or as an add-on to your current system. Our boilers can be used with baseboard registers, radiators, in-floor loops, water to air exchange and can also pre-heat your domestic water for everyday use.
Features
Fuel: Wood Pellet or Shelled Corn
Storage Bin: 14 bushel capacity for up to 10 day operation on a single load
Corn Metering Auger: Transfers kernels from storage bin to furnace auger
Ash Pan: For easy removal of ashes
Pressure release valve
Low limit shut off
Pressure Gauge
Barometric Damper
Combustion Chamber: Induced air flow generates maximum efficiency. Burn 99% complete, leaving about one pound of residue from 100 pounds of corn
Click here for Single Line PEX Pipe

Resources:
| | |
| --- | --- |
| Specifications | America's Heat AHB 170 |
| Dimensions - Boiler | 59"H X 22"W X 30"D |
| Dimensions - Bin | 48"H X 36"W X 52"D |
| Weight - Furnace | 520 lbs |
| Weight - Bin | 50 lbs |
| Flue Pipe | 6" Class A |
| Heat Tubes | 16 |
| Heat Exchanger | 6 gauge steel |
| Fire Pot | Cast Iron |
| Combustion Blower - 100,000 BTU | 50 CFM |
| Combustion Blower - 170,000 BTU | 60 CFM |
| Tank Capacity (ASME Certified) | 18 gals |
| BTU's (2 Models) | 30,000 - 170,000 |
| Low Water Cut-off | UL Required |
| Water Pressure | between 12 - 14 lbs |
| Pipe Size | 1 1/2" |
| Bin Capacity | 14 bushels |
| Voltage | 110 volts |