Friday, September 22, 2023
Firebelly Razen Wood Cook Stove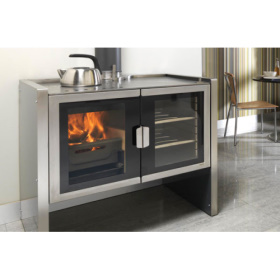 We've been talking about it for years, and its finally available!
Introducing the Firebelly Razen Wood Cook Stove from England
This model is UL, and ULC listed for homeowner's insurance.
The Razen Wood Burning Cooker is EPA Exempt and meets WA State Standards.
Low Clearance to Combustibles 5.5" From Rear & Sides
Description
Specifications
Photos (10)
Pricing
Extended Info
Videos (13)
Add Review
Luxury Wood Cooking - Luxury Wood Baking - Luxury Wood Heat
The Razen Wood Cook Stove by Firebelly sets the standard for contemporary wood heating, cooking, and baking. This Wood Cooker provides attention to detail where its wanted, satisfying your every desire in a modern wood cook stove. It features a large glass viewing areas on the wood firebox, and the baking oven for your optimal viewing pleasure. The cook stove is finished in stainless steel providing a sleek and contemporary style to match the modern home. The Razen offers everything you could possibly want in a modern wood fired baking stove.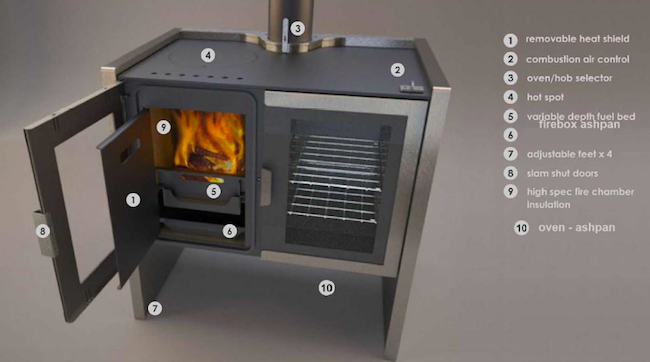 The Razen is one of the most luxurious contemporary wood cookstove in the world. It fits seamlessly with modern fireplaces, providing wood cooking, and heating without any loss to contemporary style. The Razen holds great appeal for architects, interior designers and consumers who are choosing modern design in record numbers.
Features
Stainless Steel Exterior
Large Glass Viewing Area Firebox & Baking Oven
Low Clearance to Combustibles - Note: Double Wall Black ICC Chimney Must be Installed on this model.
Large Firebox for Overnight Burns
Ash Pan for Easy Cleaning
Top Vent 6" Flue
Turkey Sized Baking Oven
Convection Style Heat Air Flow
Clean Contemporary Style
Adjustable Oven Racks - 2 Racks with 5 Possible Levels
Hotplate Cook Surface Provides Gradient temperature with rapid response hotspot
Wood Fired Baking Oven - Circulated flue jacket for even oven heating and rapid heat up
Controls: 1) Combustion air inlet and 'airwash', providing clean glass for your viewing pleasure 2) Flue damper control 3) Oven/hotplate heat ratio damper
Imported from England - Quality, Luxury Product

Resources:
Razen Firebelly Wood Cookstove Specifications 
Cookstove Dimensions
35"H x 35-3/8"W x 23-1/2"D
Cooktop Height
34-3/8"
Shipping Weight
400lbs
Maximum Log Length
18"
Firebox Dimensions
11-1/4"W x 19"D
Oven Capacity
11-1/4"W x 15"D
Glass Viewing Area - Firebox & Oven Doors
20-7/8" H x 14-1/2"W
BTU Heat Output
36,000 BTU's
Heating Capacity
400-1600 sq. ft.
Efficiency
75.2%
Flue Size
6" Top Vent
Minimum Chimney Height
15'
Safety Certification
ULC 5627 - 00 / UL 1482 - 11
Clearance to Combustibles - Note: A Double Wall ICC Chimney must be installed on this model to Maintain UL / ULC listing
Rear
5.5"
Side
5"
Corner
6"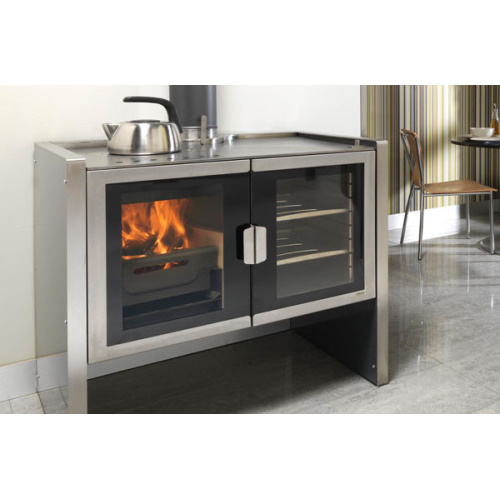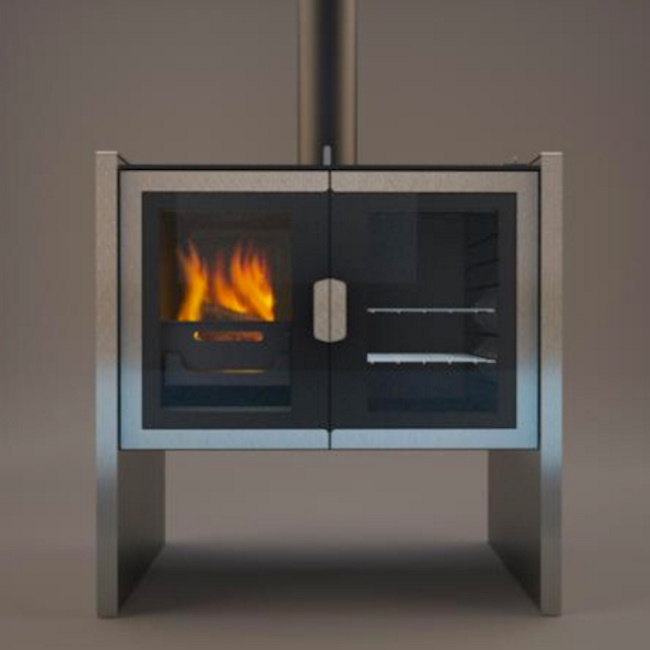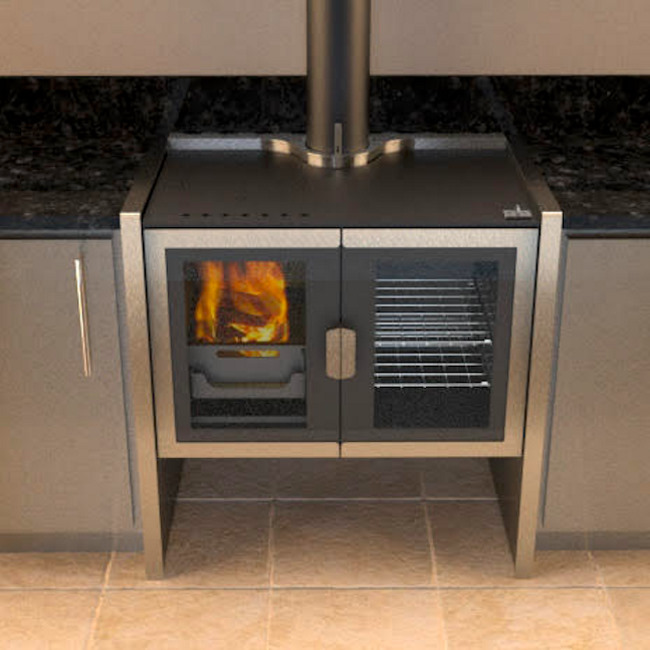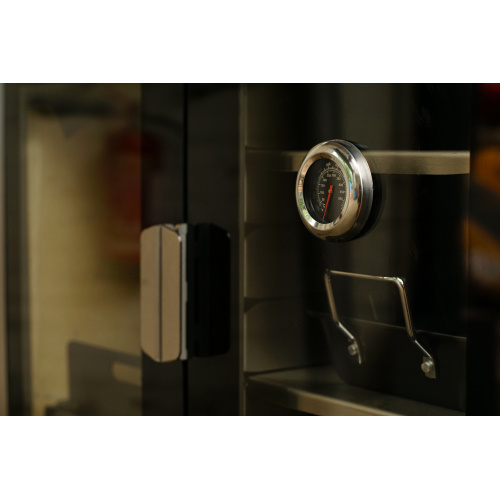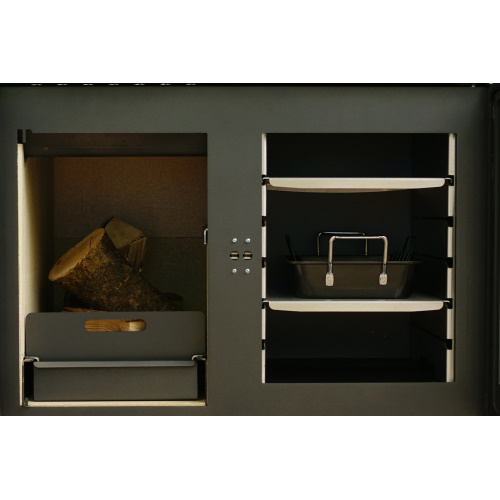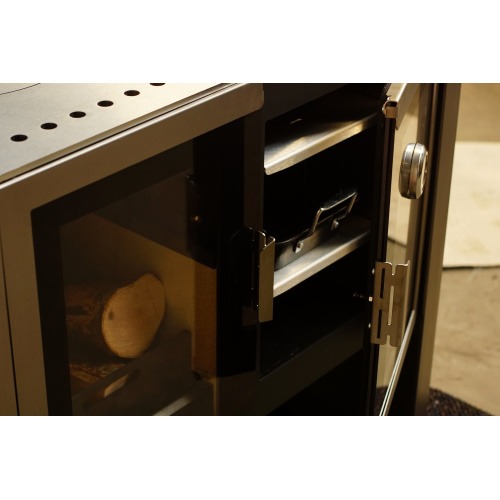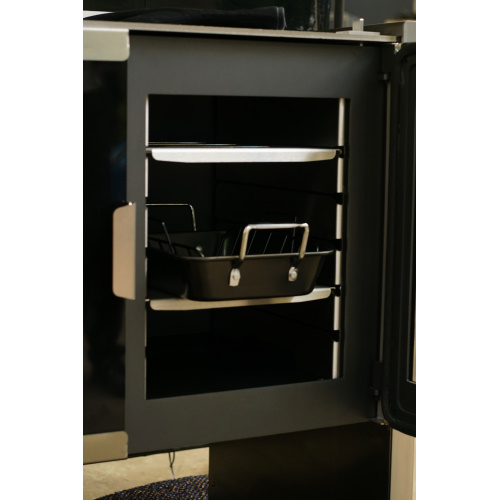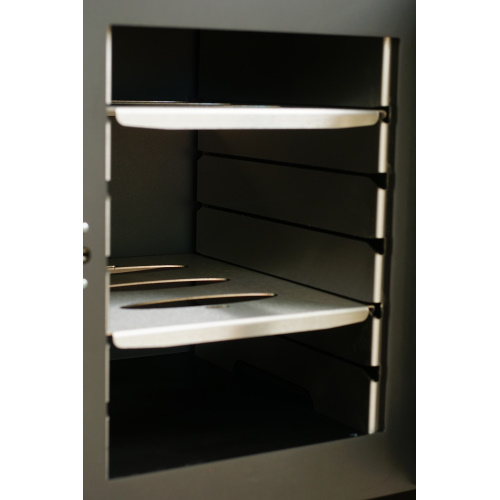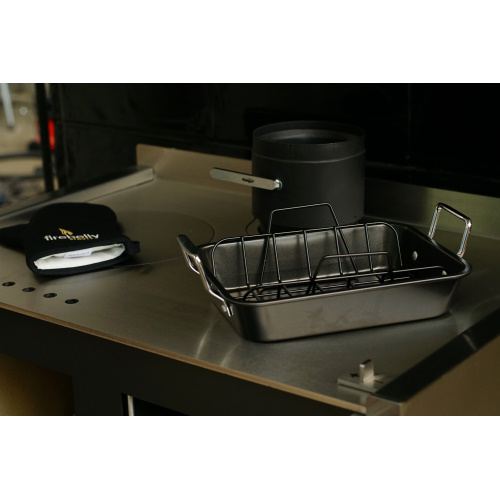 Be sure to check out our newly improved Cookstove Community website cookstoves.net; the best place online to connect with other cookstove users over stoves, self-sufficient living, alternative energy, and more! Take a look at our selection of videos, articles, and photos, and be sure to visit the forums to connect with like-minded folks from all over.
If you are planning to cook with a cookstove, you will need to understand some basic fire safety. Remember, extinguishing a grease or oil fire with water is not a good idea.
Firebelly Razen Wood Cook Stove - Overview and Product Features
Firebelly Razen Wood Cook Stove - What Comes With The Stove?
Firebelly Razen Wood Cook Stove - Baking in the Oven
Firebelly Razen Wood Cook Stove - Cooking on the Cook Top
Firebelly Razen Wood Cook Stove - Technical Overview
Firebelly Razen Wood Cook Stove - First Burn - Lighting a Wood Fire
Firebelly Razen Wood Cook Stove - Temperature Readings
Firebelly Razen Wood Cook Stove - Wood Stove Cleaning & Maintenance
Firebelly Razen Wood Cook Stove - Cook Top Changes
Firebelly Razen Wood Cook Stove - Door Gasket Replacement
Firebelly Razen Wood Cook Stove - Replacing the Cooktop
Firebelly Razen Wood Cook Stove - Replacing the Door Glass with Door Installed
Rizzoli S90 vs. Firebelly Razen Stainless Steel Contemporary Cook Stove Comparison