Sunday, September 23, 2018
520 heco Wood & Coal Cookstove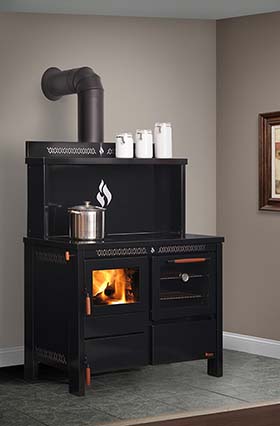 Now Available heco wood cook stoves, manufactured by the Amish in Lancaster County, PA - Amish country.
The model 520 is a wood and coal burning cooking and heating range built to quality Amish standards with 18 gauge plate steel stove body, and 1/4" thick cooktop with reinforced steel frame. The 520 wood burning stove with baking oven is designed with functionality, and ease of use in mind. The firebox door comes in either solid door, or a glass window with a large viewing area, so you can see a first class view of the blazing fire. The oven is also available with a solid insulated door or glass door option for the ability to view your baked goods without opening the door!
All heco cook stoves meet WA State Standards. All Wood Burning Cook Stoves are currently EPA Exempt from regulations.
Obadiah's is the exclusive online retailer for heco wood cook stoves.
Description
Specifications
Photos (10)
Pricing
Extended Info
Videos (4)
Add Review
Obadiah's is partnering with heco to exclusively represent the leading edge Amish line of wood and coal burning cook stoves. The heco wood fired heating stoves with baking ovens are the one of the few advanced kitchen cook ranges that provide secondary combustion reburn tubes inside the firebox that are currently available in the North American market. The heco product line of cooking and heating ranges are built with quality USA materials, and are fully assembled and shipped direct from the factory in PA. This beautiful wood cook stoves offers everything you would expect on an Amish heating stove, with a 5 year warranty to boot!. The heco has many upgraded features to meet the demands of modern day cooking. The standard porcelain enamel cook top provides easy clean up for spills while cooking. The 420 wood burning cook stove provides the oven clean out on the front of the stove for easy access cleaning, perfect for tight clearance applications.
The heco wood cook stoves are manufactured and produced by the Amish in PA. Obadiah's has contributed various design ideas which have been collaborated into these wood burning cook ranges. This wood cookstove is sure to please all your heating, cooking, baking, and hot water needs. With upgrades options and styles to fit any style decor.
Heco wood cook stoves are made from American steel.

Features
Heating capability up to 2,500 sq. ft.
External Shaker Handle (for coal burning)
Automatic Thermostat Damper Control
Ash Pan below Firebox
Oven Cleanout located directly below Baking Oven
Burn times up to 13 hours or more*
Black porcelain enamel finish standard
Large firebox with easy loading access
(3) damper controls - Bypass Damper on Front, Airwash on Front, Thermostatic Damper control on rear
Food Grade Porcelain Enamel Lined Oven
Fully Removable Oven for Easy Cleaning
Removable tray in bottom of oven for easy cleanup
Secondary combustion system
1/4" Thick Memory Steel Cook top or Standard (3) Piece Removable Porcelain Cook Top
Oven Thermometor
Air tight firebox and oven doors
(3) Stove Clean Outs - Front Oven Cleanout, Rear Sidewall Flyash Cleanout, Rear Chimney Cleanout
EPA Exempt (learn more here)
Washington State Approved (learn more here)
*Depending on fuel quality and type of fuel being burnt.
Options
22 Gallon Stainless Steel Water Reservoir
Glass Firebox Door
Glass Oven Door
Stainless Steel Water Coil (For Domestic Hot Water Heating)
View our article on how to plumb a wood cook stove with domestic hot water system.
520 heco Wood Cook Stove Product Specifications
Overall Dimensions
33.5" L x 50" W x 35.25" H
Height to Warming Shelf
53.5" H
Hearth Pad Requirements
62" W x 48" D
Cooking Surface - steel with porcelain finish
50" W x 21" D
Warming Shelf
7" x 37"
Back
37" W x 20-1/4" H
Oven Dimensions
21" D x 18" W x 13" H
Oven capacity
2.84 cubic feet
Firebox Dimensions
19" L x 16" W x 17" H
Firebox Size
2.99 cubic feet
Log Length
18.5"
Firebox Door
16" W x 9.5" H
Approx. Burn Time
Up to 13 hours
Approx. Heating Area
1,400 to 3,500 sq. ft.
Output
Up to 90,000 BTU/h
Flue Outlet Size
7" round
Water Reservoir Capacity (sold separately)
22 gallons
Weight
825 lbs.
Clearances
Unit to Left Wall
18" / 457MM
Unit to Back Wall *from flue collar not from back of stove
18" / 457MM
Unit to Back Wall w/ Heat Shield
12" / 305MM
Unit to Right Wall
12" / 305MM
Front
48" / 1220MM
Unit to Ceiling
36" / 915MM
Chimney Connection to Wall
18" / 457MM
Corner Installation
10" / 254MM
Flooring Protection
Set the cookstove on a solid, noncombustible floor
Use a code approved noncombustible floor board (Type 1 Board)
The material must extend at least 16" in front of, 8" on either side of, in back of and underneath of the chimney connector
420 / 520 heco Wood and Coal Cookstove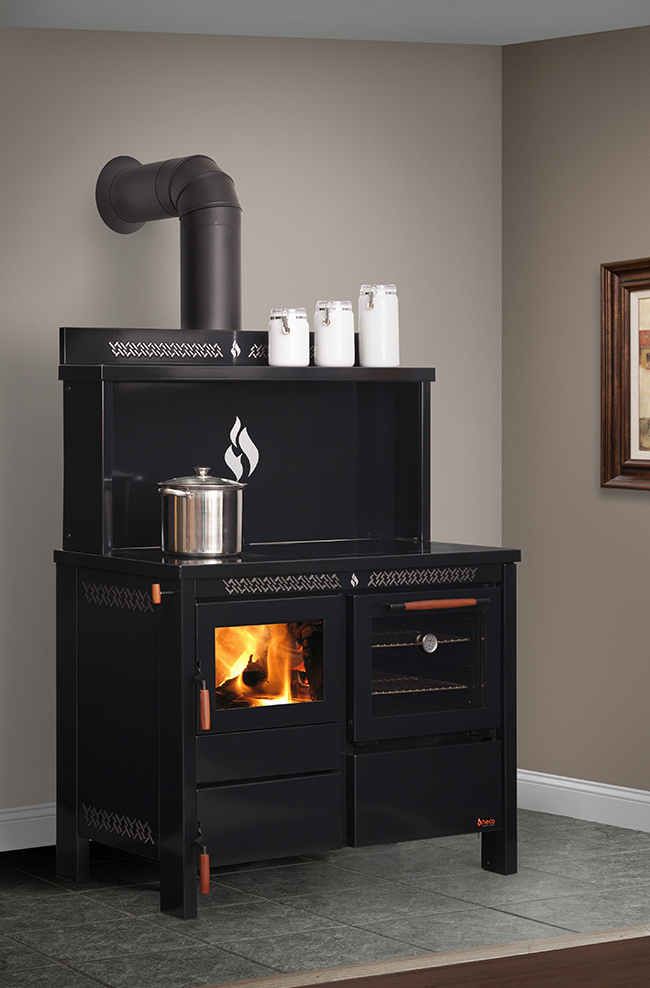 420 / 520heco Wood and Coal Cookstove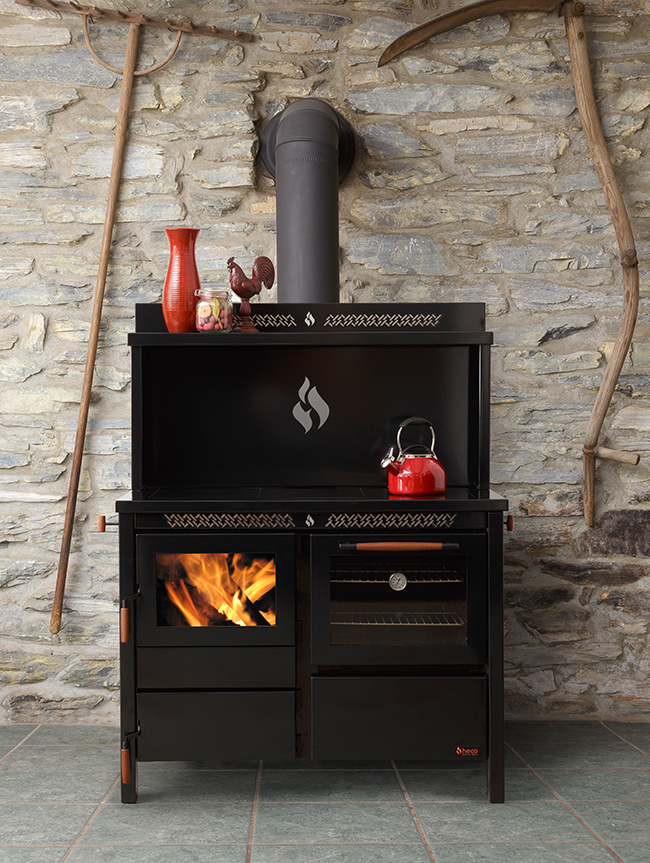 420 / 520 heco Wood and Coal Cook Range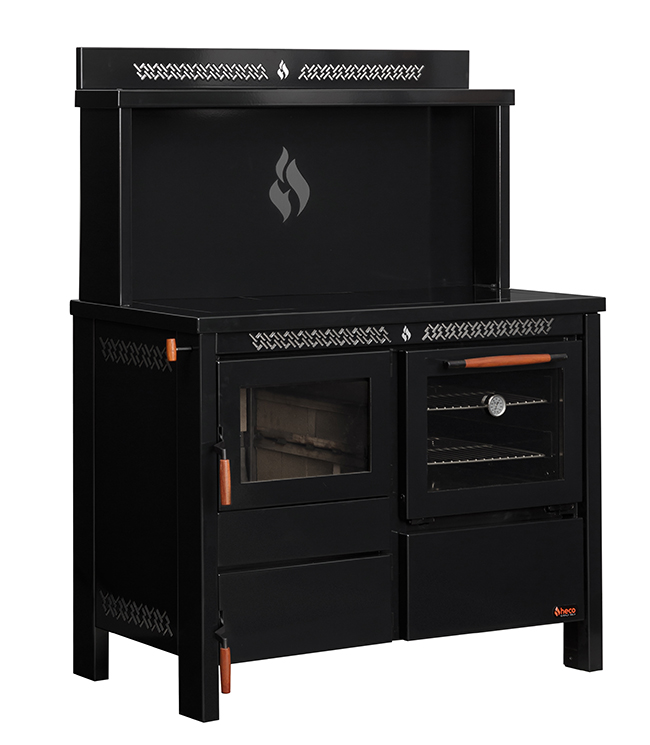 420 / 520 heco Wood and Coal Cooking Range - Porcelain Enamel Finish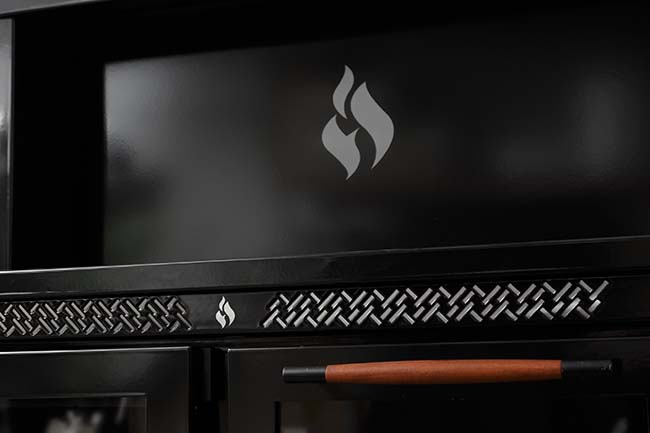 420 / 520 heco Wood and Coal Burning Cook Range - Backsplash and Shelf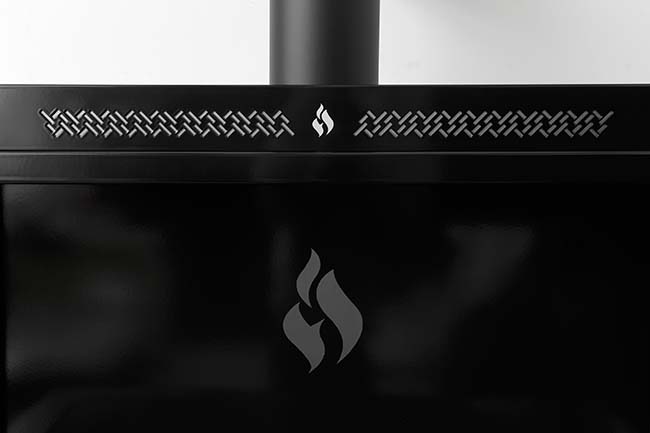 420 / 520 heco Wood and Coal Burning Cook Stove - Glass Firebox Door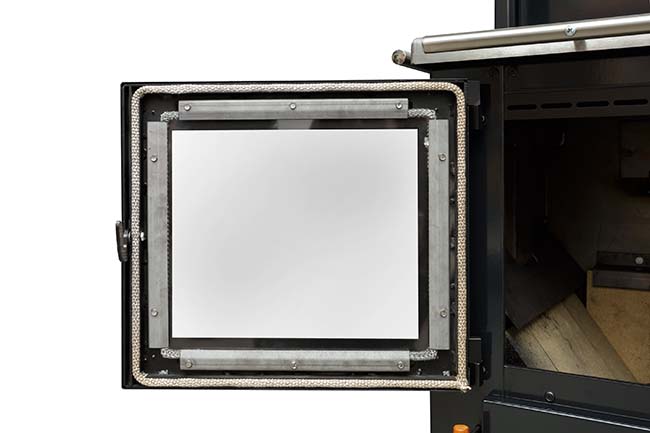 420 / 520 heco Wood and Coal Burning Cookstove - Firebox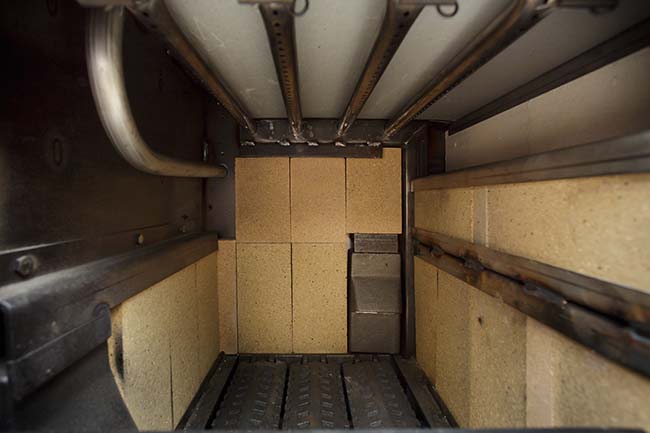 420 / 520 heco Wood and Coal Fired Cook Stove - Oven Door Handle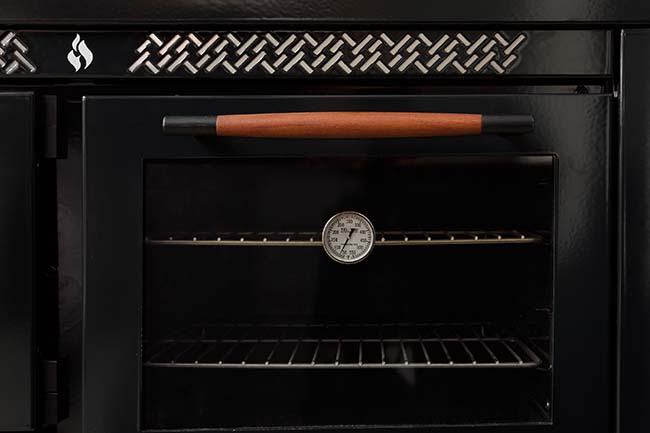 420 / 520 heco Wood and Coal Cook Stove - Domestic Hot Water Coil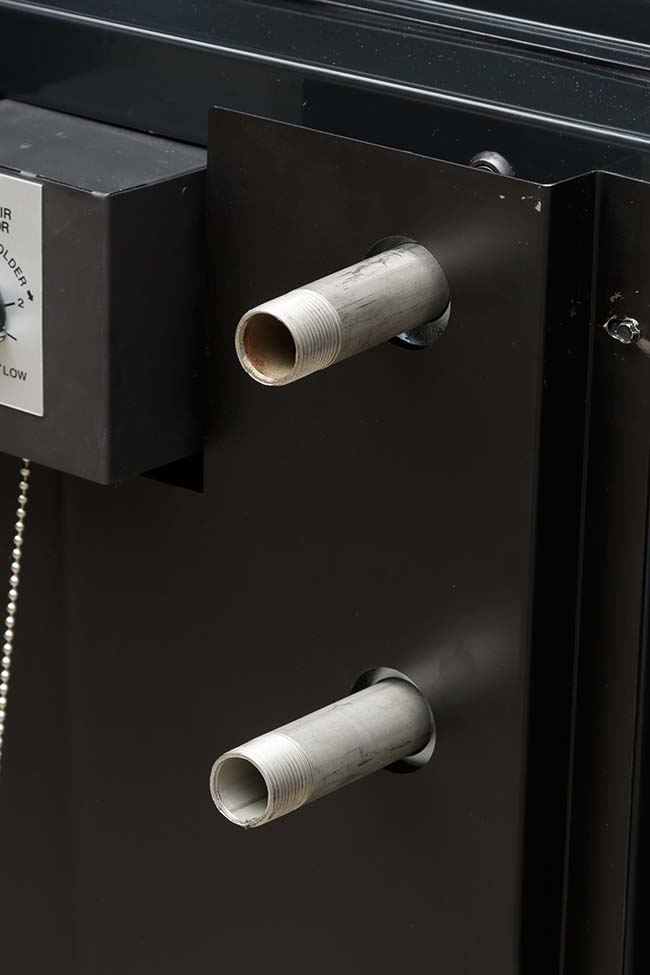 420 / 520 heco Wood and Coal Cook Range - Oven Clean Out Access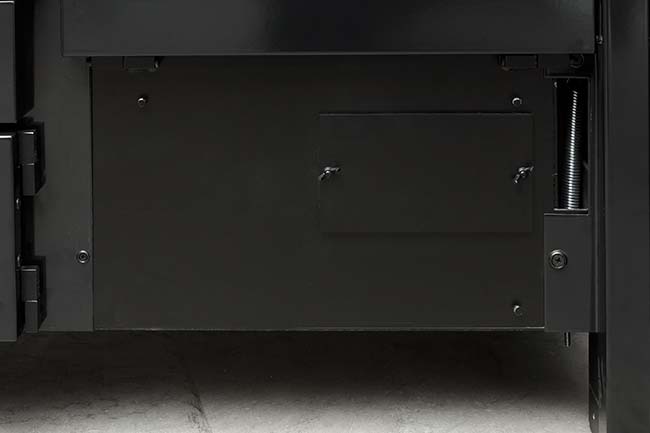 | | |
| --- | --- |
| Price List heco 520 Wood Cook Stove | |
| 520 Cook Stove -Insulated Solid Doors, includes Backsplash and Shelf | $3,589 |
| No Shelf / BackSplash | -$130 |
| 1/4' Steel Cook Top (instead of porcelain cook top) | -$70 |
| Glass Firebox Door (instead of the solid door) | $200 |
| Glass Oven Door (instead of the solid door) | $200 |
| Warming Oven with Back Splash Panel (in place of the shelf) | $325 |
| Stainless Steel Water Reservoir (22 gallon) | $300 |
| Stainless Steel Water Coil (Domestic Hot Water) | $100 |
| Optional Heat Shield for Flue Collar (reduces clearances to 12" when using a double wall stove pipe | $100 |
| Summer Grate | $100 |
| Heco Water Reservoir Coil Kit - 3/4" x 12" Fits all Series | $229 |
| Heco 45 Gallon Wood Water Heater | $1,759 |
This product qualifies for free residential delivery with lift gate service within the lower 48 states. A large freight truck (18-wheeler up to 60' long) is standard on all deliveries. If you need a smaller truck, please call our office (406) 300-1776 to request a smaller truck size. Note: an upcharge may apply for small trucks.
Be sure to check out our newly improved Cookstove Community website cookstoves.net; the best place online to connect with other cookstove users over stoves, self-sufficient living, alternative energy, and more! Take a look at our selection of videos, articles, and photos, and be sure to visit the forums to talk to like-minded folks from all over.
If you are planning to cook with a cookstove, you will need to understand some basic fire safety. Remember, extinguishing a grease or oil fire with water is not a good idea.
Heco 420/520 Wood & Coal Cook Stove - Product Overview
Heco 420/520 Wood & Coal Cook Stove - First Burn
Heco 520/420 vs Kitchen Queen Cook Stove - Review
Cooktop Review: Obadiah's 2000 Wood Cookstove by Heco