Saturday, June 3, 2023
de Manincor Heckla Wood Cookstove - Discontinued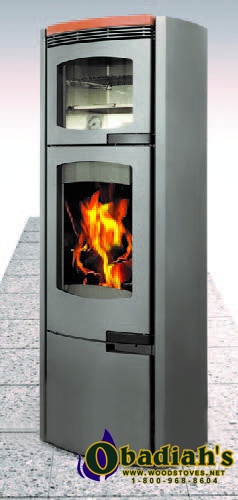 This product was discontinued in 2017. This page is provided for informational purposes.
Obadiah's is pleased to introduce to you the tall and elegant Heckla freestanding, wood Cookstove by Romotop. Modern European design integrates functionality with attractive efficiency for a unique comfortable wood stove that is a must have for the most discriminating buyer.
Description
Specifications
Photos (6)
Pricing
Videos (4)
Add Review
This product was discontinued in 2017. This page is provided for informational purposes.
The Wittus Heckla Wood Stove is the answer for those looking for solutions. Vlastislav Vyborny has created a unique, technologically advanced wood stove in the Czech Republic that is both 78% efficient, clean-burning, and aesthetically pleasing. Designed for heating but also used for cooking, the oven can reach over 500° F! This stove is EPA Certified and meets UL 1482 and ULC S627 Standards. Obadiah's is one of the oldest and largest online wood stove suppliers in North America. We work hard to bring you the best stoves available anywhere. We are proud to partner with Wittus to offer you the de Manincor and Heckla line of wood stoves, online from Europe, exclusively in the USA. These stoves are unique and of very high quality, UL listed and EPA exempt.
Every chef knows that cooking on a wood fire brings out the foods natural taste, there is just something about it that is amazing to the taste buds. Maybe that is why so many folks have purchased pellet grills and wood fired pizza ovens these days. The Heckla comes with an oven rack, a solid tray rack and a baking stone. There is also a drawer for storage underneath the firebox. The body of this stove is made of high-grade steel in a gray finish and the exterior of the Heckla is available in several finishes such as, burnt orange, white tile, gray steel, sandstone and a natural stone, to meet just about any decor demands. We feel that this stove will meet the demands of anyone looking for a unique cookstove with a European flair, or lives in an area where wood smoke is an issue and regulations are already in place restricting what you can install. Most folks can install a wood fired cooker without any issues. Please check with your local ordinances to be sure.
Features
Multiple racks for the oven including: oven rack, solid tray rack, and baking stone to optimize cooking and baking potential
User friendly special spring handles for a compact appearance
Additional storage located underneath the firebox
Available in 4 finishes with 30 tile color options
Made with high-grade steel in a grey steel finish for maximum durability
EPA Exempt
Additional Information
Tile Color Options and Part Numbers
Clearances to Combustibles
There are listed clearances for your stove which were determined in a laboratory test, using various "classes" of stove pipe or chimney. Minimums are first established for the stove itself and then increased, based on how much heat is transferred by each class of pipe.
| Clearances | Length |
| --- | --- |
| A | 18" |
| B | 15" |
| C | 18" |
| D | 5" |
| E | 18" |
Protected Wall Clearance
If the wood stove is installed adjacent to a protected wall system, the variance must be approved by your local building official. Normally, the protected wall system is defined as a non-combustible material, with a minimum of 1" air space behind it. Check your local building codes or consult a qualified installer.
Floor Protection
This appliance requires a non-combustible floor protection to protect against burning embers. If the floor is to be stone, tile, brick, etc., it must be mortared or grouted to form a continuous, non-combustible surface. If a chimney connector extends horizontally over the floor, protection must cover the floor under the connector and at least 2" (51 mm) to either side. The floor protection must extend completely beneath the woodstove and to the front, sides, and rear as indicated.

USA REQUIREMENTS
16" minimum to the front of the glass door
8" minimum beyond the sides of the door opening
0" minimum to the back of the stove body

CANADIAN REQUIREMENTS
18" minimum to the front of the glass door
8" minimum beyond the sides of the door opening
8" minimum to the back of the stove body
Operation
| | |
| --- | --- |
| 1 | Secondary Air Control |
| 2 | Grate Lever |
| 3 | Ash Drawer |
| 4 | Tool Drawer |
| 5 | Door Handle |

Resources:
Specifications**
Wittus Heckla Wood Stove
Fuel
Wood
Overall Dimensions
66" H x 24" W x 21" D
Weight
600-880 lbs
Firebox Height
29"
Oven Height
15"
Heat Output
Up to 38,000 BTU/h
Heating Area
Up to 1,600 sq ft.
Flue Size
6"
Efficiency
78%
Max Log Length
12"
Warranty
5 Year Limited (See Owner's Manual Above)
Optional Finishes**
Grey Steel
Sandstone
Tile, Grey Frame*
*30 tile color variations available
Natural Stone, Grey Frame
**This stove is NOT Mobile Home Approved.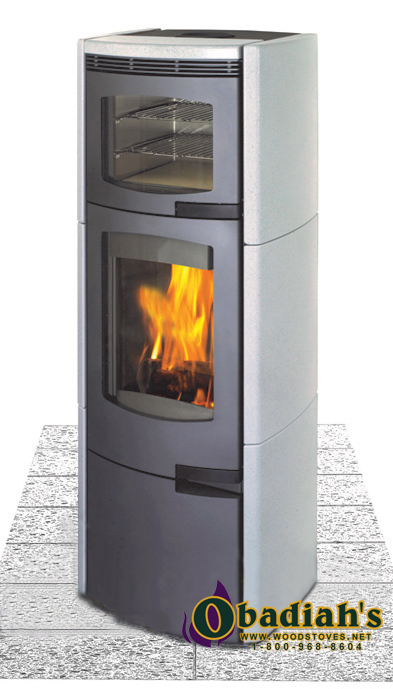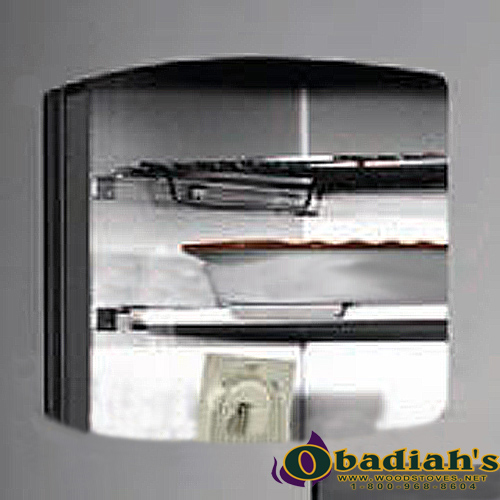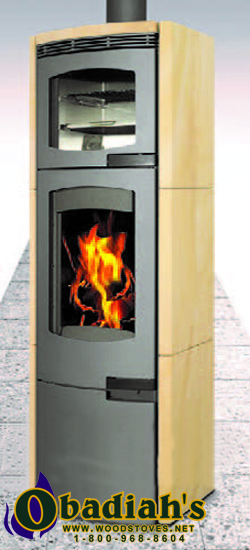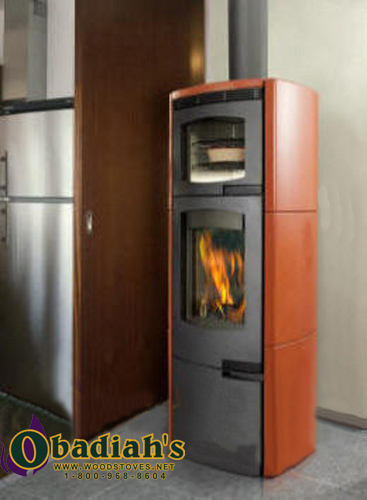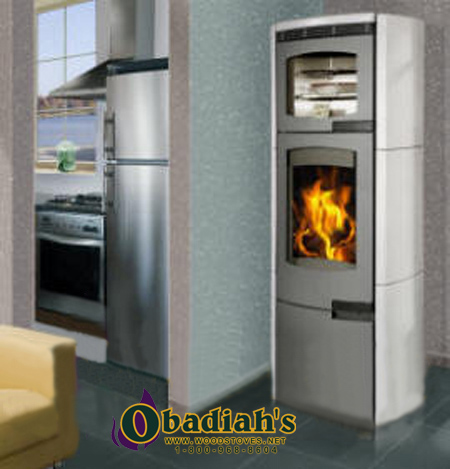 Cross-section of the Heckla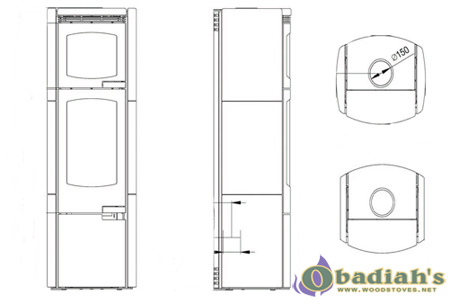 This product was discontinued in 2017. This page is provided for informational purposes.
** Residential, curbside delivery via freight truck with a lift gate is included for shipping in the Continental U.S.A. and some parts of Canada (some exceptions may apply). Please inquire with our sales staff if you have specific shipping needs such as international, freight terminal and/or business deliveries or if you need a smaller truck size. Click here to see Obadiah's Shipping Terms.
Please call or email us today to order! One of our sales consultants will help you on your way to great, home wood-fired cooking!
You can also leave your information with our office and one of our sales consultants will return your inquiry during our business hours:
Monday-Friday 8am-5pm Mountain Standard Time
Toll Free: 1-800-968-8604
Pouring Water on an Oil Fire
Stove Delivery and What To Look For
Boss of the Swamp: Woodstove & Chimney Maintenance (Part 1)
Boss of the Swamp: Woodstove & Chimney Maintenance (Part 2)