Saturday, July 21, 2018
Heartland Blackwood Wood Cookstove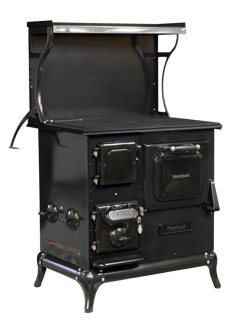 The Heartland Blackwood cookstove is trusted for dependable wood-burning and classic charm. It's nostalgic styling and rugged performance are in the tradition of the iconic Heartland Sweetheart and Oval Wood Cook Stoves.
Check out the tabs below for more useful information!
Description
Specifications
Pricing
Extended Info
Videos (7)
Add Review
Features
Warms up to 1,500 square feet
1.7 cubic feet oven
Solid cast iron cooking surface
Top or front fuel loading
Large firebox for improved efficiency (less chopping and stoking)
Ash pan on sliding track
Plate rack included
Temperature gauge included
Ash scraper
Poker
Tool rack
Lid lifter
Cooking surface lift handle
Color: Black
Optional Features: Coal Grate Kit (required for coal burning), Fresh Air Kit, Heat Shield, Summer Grate Stand, and/or a Water Jacket
EPA Exempt (learn more here)
Washington State Approved (learn more here)
Options
Coal grate package
Stainless steel water jacket
Heat shield kit
Fresh air kit
Summer grate stand
Blackwood Wood Cookstove
Fuel
Wood or Coal
Overall Dimensions
34-1/2" W x 29" D x 51-1/4" H
Cooking Surface Dimensions
29 1/2" x 21"
Oven Size
1.7 cubic ft
Weight
413 lbs
Flue Size
6"
Maximum Log Length
16"
Heating Capacity
Up to 35,000 BTU/hr
Heat Output
Up to 1,500 sq. ft.
Safety Certifications
UL 1482 / ULC S-627
*The specifications found here are for reference only. Consult the owner's manual for the manufacturer's warranty and proper installation instructions prior to installing your stove.
| | |
| --- | --- |
| Item | Price |
| Heartland Blackwood Wood Cookstove | $2,999** |
| Coal Grate Package | $280 |
| Stainless Steel Water Jacket | $446 |
| Heat Shield Kit | $270 |
| Fresh Air Kit | $88 |
| Firebrick Replacement Kit | $362 |
** Residential, curbside delivery via freight truck with a lift gate is included. Please call or email us today to order! One of our sales consultants will help you on your way to great, home wood-fired cooking!
Be sure to check out our newly improved Cookstove Community website cookstoves.net; the best place online to connect with other cookstove users over stoves, self-sufficient living, alternative energy, and more! Take a look at our selection of videos, articles, and photos, and be sure to visit the forums to talk to like-minded folks from all over.
If you are planning to cook with a cookstove, you will need to understand some basic fire safety. Remember, extinguishing a grease or oil fire with water is not a good idea.
8Riq1HZ:title}
8Riq1HZ:video}
8Riq1HZ:title}
8Riq1HZ:video}
8Riq1HZ:title}
8Riq1HZ:video}
8Riq1HZ:title}
8Riq1HZ:video}
8Riq1HZ:title}
8Riq1HZ:video}
8Riq1HZ:title}
8Riq1HZ:video}
8Riq1HZ:title}
8Riq1HZ:video}