Monday, November 30, 2015
Napoleon 1400C Banff Cast Iron Stove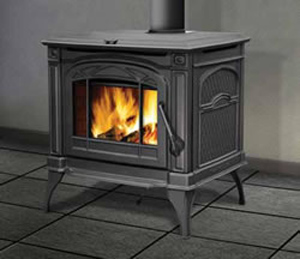 The new EPA approved 1400C Banff™ cast-iron stove features Napoleon's advanced wood-burning technology that provides you with the cleanest, most efficient heating experience. With an impressive capability to produce up to 70,000 BTU/h, the 1400C comfortably heats up to 2,000 ft². The solid cast iron design boasts a European style, a single decorative arched door with ceramic glass and a large view of the fire. An elegant and convenient lift top lid exposes the hotter surface of the stove's heavy gauge steel top - ideal for quick cooking. Available in a traditional painted black or rich porcelain enamel Majolica Brown finish.
Check out the tabs below for useful information, installation manual, photos, and more!
Description
Specifications
Photos (3)
Pricing
Videos (2)
Add Review
Features
EPA approved featuring Napoleon's advanced wood-burning technology
Solid cast-iron European design
Single arched cast-iron door with ceramic glass
Standard rear shield reduces clearances to combustibles
Ash pan comes standard
Full refractory lined firebox allows complete combustion and higher efficiency
Mobile home approved
Available in Metallic Black or porcelain enamel Majolica Brown
Options
Variable speed blower
Thermostatic sensor control
Outside air kit with 4 ft. insulated flex pipe and through the wall vent
Specifications
Model 1400C Wood Stove
Overall Dimensions
28" W x 28.5" H x 27" D
Firebox Capacity
2.25 ft³
Weight
450 lbs
Approved Area Heated
Up to 2,000 ft²
Heat output
Up to 41,300 BTU/h*
Heat output (high burn)
Up to 70,000 BTU/h**
Burn Time (low fire)
9 hours
Emissions (grams per hour)
3.5
Catalytic combustor
No
Mobile home approved
Yes
Maximum log length
18"
Blower kit available
Yes
Flue diameter
6"
Clearance to Combustibles
Single Wall Connector
Double Wall Connector
Side Wall
12"
10"
Side Wall to Flue
21¾"
19¾"
Back Wall
12"
6"
Back Wall to Flue
16½"
10½"
Corner
6"
4"
Ceiling
84"
84"
* EPA (Environmental Protection Agency) rated BTU/h with softwood test fuel (for emissions only) - no refueling
** Wolf Steel's own test results showing realistic BTU using hardwood logs with regular refueling. Heat output will differ on chimney draft as well as type, moisture content and size of wood.
Note: Figures may vary with individual conditions such as floor plan layout, insulation value/heat loss of the house, geographical location and firewood use. Please refer to the manual for installation specifications and warranty.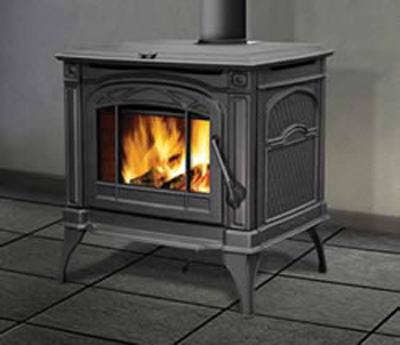 Optional Heat Circulating Blower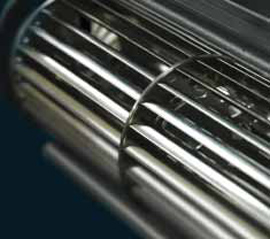 Lift Top Lid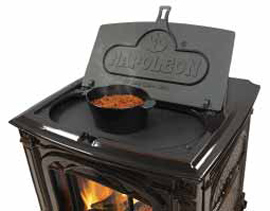 Don't use water to put out a grease fire!
Pouring Water on an Oil Fire